The Veil is a story-driven adventure game that dives into Windows Phone first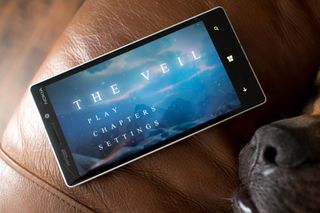 Recently, we've been pointing out games and apps from iOS and Android that have been making their way to Windows Phone Store. It's not often that we see things first on our favorite platform. Here's a promising title that Windows Phone users get to try out first.
The Veil (theveilgame.com) is an episodic adventure game that has just been released. You control a submarine and navigate through icy caverns. There are voiceovers that help you to understand the underlying story and mystery. Head past the break to watch the official game trailer.
Features
Rich, immersive environments to explore and discover.
Dynamic ambient soundtrack by award-winning Wrench (Unmechanical) combined with audio design by Power-Up Audio (Towerfall).
15-25 minute chapter format is perfect for short play sessions on the bus or on break.
Relaxing, story-focused gameplay organically woven into a beautiful underwater world.
The Veil is highly focused on storytelling. The game mechanics is very simple. Press and hold anywhere on the screen to guide the submarine. The idea comes from the Canadian Northwest Passage and the ships that vanished there - some of which were never found.
Wayward develops The Veil. The game studio is based in Vancouver, Canada with a background working in the Theatre, which explains the importance of storytelling in their games. In February 2013, the developers received funding from Microsoft and Nokia's AppCampus program.
This initial version of The Veil includes the first chapter and a prologue mini-chapter. There are going to be four chapters in total. As you navigate the submarine, you'll hear several voices, which helps build up the story. If you don't care much about the story, the game becomes boring really quick. The submarine moves very slowly and it gets very frustrating when you reach a dead end, requiring you to turn around.
The Veil is a free download from the Windows Phone Store. Are you interested in this kind of story-driven games? Go download it now and let us know what you think in the comments!
Windows Central Newsletter
Get the best of Windows Central in your inbox, every day!
This kind of looks like the game Sparks. Posted via the WPC App for Android!

Haha I have a 920, I'm commenting off my work phone, an Optimus G Pro. ;p Posted via the WPC App for Android!

Or turn off the auto-signature ...

What's your problem with someone commenting from an android device? I don't get it...

None at all. But the auto signature is just obnoxious. I'd have the same problem if the Windows Phone app did it. It would be fine if it didn't look like part of the comment (eg smaller, more subtle). But appending it to the comment text is rude on the part of the app developers.
Posted via the WPC App for Windows Phone!

+520
Posted via the WPC App for Nokia 1100!

Oh ok, you're right on that ;)

The signature is so annoying.
Posted via the WPC App for telegraph.

LOL Posted via the WPC App for MS-DOS!


Posted via My WPC App for junkdroid

Don't complain people.
Posted via WPC app for iPhone 5s!

I like reading comments.
Posted via the WPC app for Potato.

I was in a random bad mood - that fixed it thank you :D

Uggg, Wi-Fi download only. I've got Unlimited Data Microsoft, let me download as big a file as I want!

So? Turn on Wifi. Its Not that hard.

If I had Wi-Fi and had no problem downloading the game, do you think I would have made a comment. I pay for Unlimited Data so I don't have to have slow as hell Wi-Fi.

Please try to comprehend that not everyone sits around at home all day.

Weak point u made right there.

It is if you are out and about

I have the same problem, Microsoft should add the ability to download through mobile data via option on Data Sense, if you have selected the unlimited option :v

Agreed, or give us an option to set a download size limit ourselves.

You can bypass the download over WiFi only restriction by tapping on the title in the downloads area. It will ask you it's you want to download anyway. Select yes. I do this all of the time when the app is < 5 Mb.

That works on under 100mb. Anything over 100mb (I'm pretty that's the limit) requires Wi-Fi. Also, in 8.1, you have an option in Store\Settings to bypass the Wi-Fi downloading but, there's still the limit.

I'm in the same boat (bad pun for a submarine game). At home no wifi as I have unlimited data. Very bad gaming on windows phone as every good game needs WiFi to download. By the time I'm back at work on Monday (where I do have WiFi) I'll have forgotten about this game. Sorry devs, complain to Microsoft for me, they don't listen when I do.

I cant download anything over 50 mb without wifi. stupid restrictions.

That's not Microsoft; it's your wireless carrier.

I think i might give this game a miss, the graphics look terrible and the gameplay boring and mundane.

Are we getting spoiled already??? I actually think it looks pretty good and we should applaud dev's that are exploring WP first!!!

Completely agree. It's one thing to not like a particular game, but we still have to appreciate.

Look my opinion is exactly that, not everyone will share it and i don't expect them to.

I'm with you Robbie. Graphic doesn't meet today's standards. Game looks like 90s graphic.

In comparison to Lost Echo, which I just finished (ended way too early, but it was fun), The Veil's graphics do look less polished. Even so, I'm glad to see another story-driven game. Nice to play a new game genre for a change.

Looks good downloading now.

Will give it a try. Just because the developers made it to WP first.

Awesome, I'm very excited to try this out! I'm not a big mobile gamer, because frankly I don't think a touch screen is worth a damn as a control device for must games. But it is rather well suited for adventure and story-focused games, and so I'll always be interested in giving those a shot on my phone. Plus it's free!

Another app that made its way into Windows Phone first before other platforms is called picturex. I'm not sure if wpcentral ever covered it. It's an app that you can use to create albums and share with friends. And you can also get your friends upload pictures to the album. It's like vyclone for photos. Go to picturex.ch for their website.

Gonna download because Windows Phone :D

Cant download :( 'there not enough storage'. And that's a lie

Just incase you didn't know you usually require double the space which the app will take up.

Sometimes 3x or 4x as well.

I will definitely give it a try. What I don't understand is that it says "unlock the prologue mini chapter for free" does that mean that the rest cost money?

I would guess that they may charge for future chapters.

Dat dog face on the first picture tho :3

Those screenshots remind me, weirdly, of Ecco the Dolphin.

Oh... Sega Genesis? IIRC?

This game is ok. Its shorter than 15 minutes. If u don't get stuck in the dead ends. My first thought were: What are they talking about :/. Game could have been made more magical besides the story. Graphics are not evenly the same. For this short chapter it could have been better. I think it needs another chapter or 2 now, to really give it a score. I'll be checking the other upcoming chapters out for sure.

Finished capter 1 now waiting for 2

Very good game, I love that the game launched first for Windows Phone. I hope they choose to launch the game universel to Windows 8,1 in the future.

LOL "May the wind be ever in your sails. Anyway, some really nice touches when you start the game. For example, the pause with audio to give you a chance to adjust volume before, ahem, diving in.

There is only 1 chapter.the sound is amazing.graphic is very beautiful.waiting for chapter 2

I absolutely hated it. What a pointless game. Someone mentioned Ecco. That was infinitely better, maybe 20 years ago, and was probably smaller. I recommend most people to not bother with this. Uninstalled, who cares about chapter 2.

Just because you find it dull, it doesn't mean everyone will.

I did say most people, not everyone.

Well downloading now and from watching the video, I feel that if you lack any sort of imagination or have the attention span shorter than a fish (I know several people, who are severely annoying - never take / go with these people to the cinema lol) you will find this game dull and not engaging enough lol.

Nice game! Posted via the WPC App for Amiga!

Wow, thnx for the tip, insta download.

Don't understand what people like about this "game".

For me the story and the great visuals and representation aren't enough to make up for the boring gameplay. I'm in no way disliking chilled games, but there really isn't a game in here. Each of the times I'll asked myself why they keep letting us discover other paths if they keep leading nowhere, but hoping you're on the wrong path is really the only 'game'. Great presentation, great story telling, but for me this should be an audio book or a short film, not a game.

Looks awesome, but unfortunately my English is pretty bad.

Honestly, these games need to be universal apps. Any serious game that I want to play on my phone, I want to be able to move to my Surface or my desktop and play it. It's nice that we're getting teams with really in depth games, but we need to have more flexibility with how we play them.

I really like the game the story is a good begin and the graphics a good no really good if you see how the lighting is use in the game . And sure there are people who wont like games about a story let them play a pointless shooting in the wild game. Everyone has a different. Taste for sure

The sub lacks autodrive - as this is now, it's like a weird audio novel where you have to move your finger.
To much interaction for kids nowadays!

One of the worst apps for Windows phone (excluding the real shit, like... WhatsApp features... )