There are now over 300,000 apps in the Windows Phone Store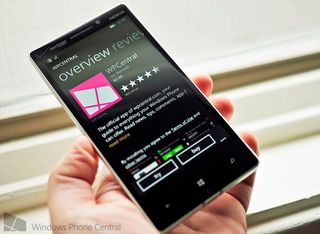 Microsoft has just updated its "by the numbers" page to represent that the Windows Phone Store has surpassed the 300,000 app milestone. That's a hefty number, and even more exciting considering that Microsoft reported it had 200,000 apps on offer back in December of 2013 — at this rate of growth who knows what the app catalog could look like by the end of the year.
With most leading apps now available on the platform, and the back catalog of more obscure apps filling up (as evidenced by this newly-announced 300,000 number), it makes you feel a bit more positive about the direction the Windows Phone Store is headed. Download all of the apps!
Source: Microsoft (opens in new tab); @JulieMorgan
Windows Central Newsletter
Get the best of Windows Central in your inbox, every day!
How many of those are just garbage though? Its not about quantity, it's about quality...

You must be kidding, no one in this place has been an android user like me and I challenge anyone here. Most apps in android are garbage: Not everyone has the same software, people des install apps like Facebook because of horrible quality, sometimes you have to update your phone software to install some apps because they are not compatible,etc. You have to be in different gardens to describe each one.

I've been an android user as well as windows phone since the Droid x. My point in my comment is that windows phone has way to many garbage apps. Just go to the top charts and look at what's there. Not to mention the tons of crap being published daily. In the Google Play store the top charts are filled with genuinly quality apps. That's my point. Android honestly didn't have anything to do with my original comment but there you go.

The real problem is that all the BIG useful apps are at their absolute worst on Windows Phone, compared to iOS and Android.. The support just isn't there.. I've been so close to buying a Lumia 930 several times lately, but then i start looking up the apps i need and just.. no.. :-( I've owned several WP devices, but i'm starting to realise that the apps will never be up to scratch. Apps i use often, like Facebook Messenger chat, WhatsApp, Wordfeud and Quizkampen (swedish quiz game, quite popular here) are all basically crap on WP, especially the last two. And ofc, this applies to most apps. Sure, many of them are actually ON WP now, but in 9/10 cases they are poor versions of their iOS/Android counterparts. And that annoys me.. Sigh.. I really like owning and being in ecosystems. I have an XB360, Xbox One, gaming PC and i'm seriously considering buying a Surface Pro 3. But damnit.. I want a Lumia 930 (Icon in the states?), but the apps.... :-(

Facebook Messenger and WhatsApp have worked great for me on WP. Have you used them recently? Not that I disagree with your main point that the big apps are generally behind... especially MS apps like Skype and GroupMe.

WhatsApp is good, but... Messenger is slow, and don't have voice notes...

PsycheEye you are my hero! I actually have the Icon (my first WP) and its getting the job done. Its a phone not a toy lets remember that firstly, secondly I do agree that the quality of the popular apps here are not up to par, is it the development or the phones OS, I am not entirely sure. I love having my Xbox stuff on here and Microsoft office, but man that isn't gunna keep me here much longer!

Well, the app developers would be more likely to make their apps better if more people like you would make the switch and give them a reason to make it better! ;)

Sadly, I concur with PsycheEye. The numbers themselves don't tell the whole story. Some of the apps I use on a daily basis, such as Amazon Kindle, Audible are terrible on WP. They haven't updated Kindle in years, and it doesn't even support dictionary, highlighting, notes and many other features that iOS and Android users have had for a while. So while you can say that technically Kindle is in the WP Store, it is a crappy version that doesn't get updated, ever. The same is true for other apps which are available, but are inferior versions of the same apps in iOS.

That's true about Android, but also true about WP. I've seen it. This is the reason why Apple's submission process is long, because they have lead junk on your store. ADMIT IT.

No doubt Apple has more polished apps than WP. However, that ecosystem is waaaaaaaaaay too closed for me. I'm quite happy being in the middle of extreme ends. I get to have apps(ahem, emulators and ummm movie apps looking at you) that are not on iOS or At least I don't have to jump theough hoops to get 'em.

If you mean gameboy emulators, Apple has them, and you don't need to jailbreak.

Well this isnt about android. It is about windows phone. But to satisfy you, it doesn't matter what garbage android has, the problem is that windows phone has it too. Posted via Windows Phone Central App

The problem is guys that you don't notice the growth. It's not a matter of being blaming Microsoft or. Windows phone, no other OS has grown so fast as windows phone. I always see the good things in everything. Stop comparing windows phone with apple and android.

but but but.. Im sorry. I dont want to fight. But please. Look at the first four comments. Posted via Windows Phone Central App

How do you get this in your posts "Posted via Windows Phone Central App"

I'm on an android using the WPC app. It is a signature. I'm not sure if windows phone app for windows phone has the ability to add signatures. I think it should. It would be in account settings. Posted via Windows Phone Central App

Wake me up when it's 3 years and instagram is still in beta and hasn't hit ver 1.0 yet... going back to sleep

Who uses the instagram app? Lol ... 6tag all the way ;)

Many people use Instagram..not 6tag

I do. And don't get me wrong, I love Rudy for his hard work and dedication to the WP community, but we really need Instagram official app to be decent at least.

You got that right ortizang. Even the "good" apps for android are alot of hype and of very little lasting value.

It gets depressing when I look for a game on the WP store that I play on my Android device, and all there is are "guides" to the game made to look like the actual game. That's why these numbers mean nothing really.

It gets worse. Try searching for WhatsApp. You'll find tons of guide and tip apps for whatsapp(!!!) that try to look like apps that'll ad features to the messenger :D

at least the apps we want to use are available. everything is made for android and ios.

WOW, kind of sure of yourself there aren't you? I will challange you on Android use, and tell you that 150K of those windows app are fake aps or garbage. I NEED Delta, Hertz, Marriott, just to name a few for my business travel. There is no real Marriott ap, and the Delta and Hertz aps on WP are pure garbage, while the Android aps are awesome. I carry a Note 3 and a 925. I love the 925, but it just does not give me all I need to make it my main phone.

He's right, like when you search for YouTube there's like 3 good ones and 60 craps ones. Posted via Windows Phone Central App

But you only need one good one. So you have three to choose from. That's awesome.

And how, exactly, is this different from iOS or Android?

Android does not have 10-20 YouTube apps as Google does not allow it Posted via the WPC App for Android!

Pin the mobile version of the YouTube website to your start screen and hey presto! You have just made a YouTube app. Just how many do you need? A lot of people whinging about no apps for this and that site just try using the mobile versions of the site, they are practically the same thing and often have MORE functionality than the apps. Just moaning for the sake of it, an announcement is made that there are 50% more apps than there were since last December and everybody's complaining. The developers must wonder why they bother at all sometimes. You wanna hear yourselves, it's pathetic.

There are like 8 or 10 terrific YT apps.

Some apps are works in progress too remember... They also are less likely to be developed if people don't use them ;)

I guess you're that one guy who has 30 different flashlight apps on your phone.

No not really, I'm just joking around. But he is right, most of the apps in the Store are complete crap anyways.

But, how many of those are useful, and high quality apps?? That's the point...
.........................
The fact is that if the store increased by 200k apps by the end of this week it would greatly benefit a lot of people because out of those 200k apps there's DEFINITELY going to be a lot more useful, and fun, apps available in the WP store...
.............
That's why the number is important❗

one could say that about Apple or Android as well though. Although I agree we need a few more official apps.

As someone who owns a couple of Android tablets, I can say that there still is a serious app gap. Not so much with the big players like Instagram, but with stuff like seeing local government/city related apps only available in IOS or Android.

but with stuff like seeing local government/city related apps only available in IOS or Android.

BFD. How often do you use a "local government" app? And how much more awful is it to use your browser to get whatever information you need every blue moon that you need it?

If you live in that community, you may want to use these apps like every day. For example, there is an app that lets you buy a train ticket on your phone for the MBTA, but it's iOS or Android only. Don't live in the Boston area, you'll never care. Live there, and you'll miss it all the time.

Ahh, yes.. I was wondering when the how dare you criticize Microsoft crowd would show up.

No we don't...third party devs support there apps more than orginals.

Don't matter. Still 5/10 @ the Verge.

Actually, WP ecosystem at the verge is 7/10

I agree, unfortunately, the app count war is not based on quality but on quantity. Numbers are easier to argue and support than quality. That is the biggest arguement that Android and IOS use as to why people should not go with Windows Phone. So numbers is the key.

+ agree but the crappy & the original apps are both growing .. Which is good!

So called "Garbage" apps are everywhere including Android and iOS.
Point? Mooted.

I think not. App quality on android & IOS is usually better, the amount of quality apps there is much greater.

But that is relative... Android and IOS both have over a million plus apps.... How could you not say that they have just as many...if not more crappy apps that windows....just the probability in ratio of apps between the three would tell you that..... I think the perception is both Android and IOS gave so many apps that they have quality over the quantity..i beg to differ and instead believe..that the quality of apps are about even in all three stores based on their app count...for every good app..there are probably about 5-10 bad ones... Windows doesn't suffer any harsher reality here than the other two!!!

Right, but my original comment had nothing to do with ios/android. Just because they have a ton of garbage doesn't make it okay on windows phone.

Actually it does. So long as customers only care about numbers. I know it is wrong, but that is all you ever hear from the competition. Also, if you can come up with a way to catch up with the competition while keeping all garbage out of the store, you would be a genius who should be running Microsoft. It is not so simple. Being the third platform, apps will not be higher quality until the companies feel it is a worthy investment for their resources. All hope is not lost though as we have seen in recent months that some big companies are returning and updating their apps. Some of these have been apps which haven't seen updates in 2 years and were considered abandoned by most. Patience is a virtue. As Windows Phone continues to grow, hopefully important apps that are missing will appear and ones that currently are sub par will be updated.

Yes, patience is a virtue. And.. while we wait, people can always buy a Samsung.

Yes on Android there Are crap apps but unlike Windows Phone when you check out the top apps chart or even the recommended for you section there are genuine quality apps just see the Skype app on android, it's much better than the crap on WP Posted via the WPC App for Android!

The amount of trash is also much greater. It's an exercise in futility sifting through the trash to find something decent. Did Google ever get a decent scientific calc app? I was on Google up until a year ago and there wasn't a single science calc that didn't look like it was drawn with MS Paint.

And your metric for this?

'better'. Uhm..... I see.... No.

So your tell me that I can't go to the android app store and find about lets say a thousand or more junk apps like scales that don't work or fake apps that the only purpose is to fake people into thinking they broke your phone or apps that make you android look like I iPhone not useful apps really stupid apps really that are junk same on the iPhone they use them to pad there numbers so they look better take them away half of the android and ios app stores are gone look you make a list of all the crapp titles on windows phone and ill post a list of all the the crapp apps on android and ios and we will compare them and see how many crapp apps apple and android really got I bet they will have more then windows phone will crapp apps are apps that either dont work like they say like the app on ios that is supposed to make traffic lights change or a app that only purpose is to make your android look like a iPhone well lets compare before you make a complete fool of yourself

What does android or IOS have to do with my comment? Were talking about windows phone specifically. So what if android has the same problem? Sucks for them to! At least they have a wider selection of good apps then we do, but that isn't the point I was making. The point is when most of the apps are garbage, why brag about 300,000 apps? Same goes for apple and android even though I didn't bring them up in my original comment. Learn to read instead of going on a trollish rant.

It's only a trollish rant if I go to a android or IOS website and post this this is clearly a windows phone website so all I'm doing is speaking about something in passionate about on a form with like mined people then we get people like you that no matter what ms does or how good WP gets or how many app WP gets thinks they need to put it down I guess some people just don't care about all the good stuff ms and WP is doing right now they just wanna focus on there bias view cause there could be no way that anything could possibly be as good as there android or there iPhones sarcasm just cuz you think your views are right don't mean they are but everyone is entitled to there option I just wish you would voice it on a android form or a IOS forum were it belongs but don't come on this form and call me a troll when I love the WP experience and I am tired of people like you who always find fault and dont understand that the bigger number of app in the store crap or not help give WP and ms leverage to get more big name apps faster therefore improve there market share that's the bottom line

So your saying we shouldn't allow opinions on this website that are negative or differ from yours? That's a pretty troll viewpoint if you ask me. I love windows phone, there's alot to love. That doesn't mean I wont express my completely valid opinion. You just want people to not criticize Microsoft at all and that's just stupid. Troll.

I agree with you, only if you had used commas & periods too!!

Was that all one sentence?

Does that make it okay to have them on windows phone too? Posted via Windows Phone Central App

Agree. But I felt like most windows phone app have higher quality than android, though don't know how many junks are there.

Some do. Alot of the times you have to pay yet the same apps are free on ios/android though.

You know why lets see the developers know that if they try to charge on android all people have to do is go into settings find the setting to let apps be installed from 3rd party sources and then go online and download a crack version of said software for free so that force the to make the app free with ads or in app purchases witch I hate I would rather pay a small fee up front with no ads but they can't do that cuz they wont get payed you can also jailbreak your iPhone and get cracked apps so if I were a developer personally I wouldn't touch amdroid I might ios and definitely would WP cause I would get payed and not be forced to put crap ads in my apps or in app purchases in my my app to make sure I make money

Search the iTunes for "fart" and spend your life browsing through 10,000 apps that come. Then. Search the WindowsPhone store for "fart" and come back here and tell us what shows up. 1/3rd of Apple devs make apps for Windowsphone. Thank God it's not more than that!

Your right, but I wasn't talking about IOS or android. Just because they have app garbage doesn't make it okay that windows phone does. You missed the whole point.

You missed his point. Out of a million apps on iOS, 800K are trash. Out of 300K WP apps, 175K are trash.

Um no, probably only like 30,000 usable apps on wp Posted via Windows Phone Central App

Just checked the WP store for "fart", got 50 apps and a little more than 30 of those are not actually fart apps. Funny thing is 2 of them were religious apps.

Just bring android apps to the platform and be done with it, dont worry about loyalty or any of that crap. Im sick of it now, I just want the apps I want on this awesome platform.

Yes, because after all that happen, the amount of people in WP will be big enough for Developer to start making a version of it too (and of course support it)

No, Android apps need to stay on Android. It's the rare droid app that doesn't look like the ui was finger painted.

Your insane. I can think of plenty of beautiful android apps. Reddit Sync, Flow, Google Play Music, Talon for Twitter are a few of my fave. Your a bad troll.

That kind of thinking is what will send people back to Android and iOS. I came from Android because I thought the OS itself was far superior to Android, but I've since realized that Microsoft had so much stuff locked down (like Apple) that devs weren't able to make a lot of the apps that they can on Android. Now that Microsoft is starting to open up more API's, hopefully we will start seeing a lot more quality apps. If not, ultimately people want the apps and will go to whoever has them. Supercell, just one example, pretty much made it clear that they won't bring Clash of Clans to WP. If there was a way to get Android apps on WP, then people like me would be more likely to stay as I prefer the OS, but the apps are the meat and potatoes. Also, I agree with the comments above about too many crap apps. It also doesn't help that the store doesn't seem to organize them that well yet. I can go to the game section and over 90% of the top games are junk and even if it is a big name game, it still doesn't work like it does on other platforms.

I hope im the last to comment on your post: The point is windows phone has a lot of terrible apps. Who cares if ios or android has more? This isnt about them. No one makes windows phone look better by saying android or ios has a lot more garbage apps... This isnt about android or ios. This is about how many terrible apps windows phone has. Stop it with all of the tu quoque people! The question is how many garbage apps does windows phone have... Now how many app are garbage in comparison to the other OSs... Posted via Windows Phone Central App

Thanks. It's just... Ayy! This isnt another bad presidential race. Lol.. I guess people just felt you were attacking WP. Posted via Windows Phone Central App

Well its a valid criticism. For all the whining over the tiniest things that goes on here, you'd think they wouldn't be so buthurt.

Talk bad about the Xbox Music app and everyone cheers you on. Talk bad about the quality of apps in the store and you suddenly have an angry mob chasing you with pitchforks and torches!

Typical move the goal posts. For the longest time it was "there are no apps". "it is a wasteland". Now that that argument isn't valid, it is now all "heck, we didn't really mean all that stuff about quantity we have been saying for years. It is REALLY about quality, because quantity doesn't matter any more.". What will the new meme be when quality bits the dust, upgrade times maybe, and then after that?

I've never complained about no apps on Windows Phone. I solved that problem by carrying an android phone. However I have always said there is too many garbage apps on windows phone.

That's a false dichotomy. People don't want quantity or quality. They want both. In the beginning.. The quality of apps wasn't that great. And windows phone still needed apps. But that doesn't mean "okay. Give them all the crappy apps!" People do not want to settle for mediocrity. I don't want to settle for mediocrity. Posted via Windows Phone Central App

People don't want to settle for less is what your saying funny cuz anyone with a android already are what's that point of having apps if everytime you open an app it does the program not responding wait or force close anyone that has ever owned a android knows that screen i got tired of paying more and getting less but I guess it fine for android to be less the perfect and people say all it so much better but the truth is it is the windows M.E of this generation with the blue screen of death and all everybody use to give ms a hard time for this but since its google its ok for there is to have error messages all the time it makes them a great OS

What android have you been using? My Moto X runs great. So does my Icon and 8X

The 520 and 620 are good Windows Phones. But I assure, as soon as you put Android in them, the phones will run like crap. That's just the nature of Android - it turns good phones into crap.

Okay. Posted via Windows Phone Central App

Lol, you might be confusing android for wp. My note 3 never crashes. Those 3gb ram 8) Posted via Windows Phone Central App

Ok not the 700 hundred dollars android phone crash but not every one has that kind of money and not everyone wants to sign a two year commitment either the problem with android is there are no set standards people like you like it cuz you can afford a high end phone but for the poor folks that have to get cheap android phones that's were android leaves a sour taste in your mouth because they suck lets compare cheap android 600 mhz single core processors and less the 500mb storage runs the lowest version of android and not upgradeable to the needs version cuz its cheap vs Nokia 520/521 1ghz dual core processor 8 gig storage and will be upgraded to the latest version of windows phone my point is yes if you can afford a high end android there fine but they let so much crapp phone get released with little chance of future upgradability that it basical obsolete before you pull it out the box unlike windows phone were they got standards so yes high end windows phones are faster but the cheaper ones are also fast smooth and upgradeable as far as crash I've owned 10 different WP none crashed I had 13 or 14 android phone I forget the exact count but half of the had issue after issue after issue

The 520 and 620 also don't crash, and they cost much less than your Note 3. But I assure you, put Android into the 520 and 620 and those good phones will suddently work like crap.

My old Gingerbread phone that I got for free with contract had some of those issues, but honestly, I have an Acer Iconia tablet and it never crashes or has errors. My Ativ S Neo on the other hand, has had screen glitching issues, froze up on me several times, has to be charged about three times a day without even being used, and you can't even do NEAR as much as you can on Android. I'm not attacking MS, nor am I an Android "fanboi." I'm just stating the fact that WP has its issues too and as far behind as they are, they can't afford it. I'm already putting up with almost year old issues due to using dev preview (partly Sprint's fault for not pushing 8.0 GDR3 and will probably take forever for 8.1), not to mention that there are more than a handful of games and apps that I use all the time, but I have to grab my Android tablet to use them.

We already have quality. Everyone else's main barrier to entry is lack of quantity. So I'm glad the number is increasing. It also gives devs more confidence to develop for WP. Hooray WP!

I saw a report earlier that claimed 65% of IOS apps are considered DEAD apps. Any app that has no update or has less than 10 reviews is defined as a DEAD app. The DEAD apps are there to be counted as a part of app statistics but nobody bother to use them. Obviously, there are certain percentage of WP or Android apps could also be considered to be Dead apps. This shouldn't be a surprise to us. But we just don't know the actual count. Do you? The important thing is how many good apps you can find in the Windows Phone store and whether those apps can satisfy your needs? So far, I have around 230 apps installed on my phone and I am quite satisfied. 300,000 is just a number to me.

+929 Just because we have all these apps, take a iPhone and a Windows Phone 8.1 device, download the same apps on BOTH phones, then compare the APPS not the iOS and you will see the OP is correct here. I had my wife get a Nokia and told her she needed to hold on to it for 10 days (14 day return), she showed me 25 apps, that she used on her old iPhone and compared them to the Windows Phone version, after about 10, I told her to return the Nokia and get a new iPhone.... A lot of apps are not even close...they are like version 1.0 and the iPhone/Android versions are 10.1....

Compare Facebook, Whatsapp, Messenger, Skype, Instagram, Twitter, Youtube, True caller etc of WP version with Ios and android version...These are the most popular apps and they are either beta or lacking important features or is slow as hell or crashes a lot on WP..Oh i forgot to mention some important apps are just web wrapper.. We still dont have apps like Flipboard, Hangout, Google maps(We all hate google but u have to admit Nothing can beat their maps) etc Lastly we need apps both in terms of quantity and quality

Facebook, WA, Messenger and all the others you've mentioned are working great on my L930. I understand WA had been slow in the past, but with WP 8.1 it works flawlessly. I understand that some of them are web wrappers, but give it time. 300.000 apps should motivate developers to develop more for the platform and make it more mature.

Facebook might work great but it doesn't have all the features like tag review, attach photo in comments and many more..Messenger is very slow to load up 1st time whereas Android version is so smooth and fast..Whatsapp now works fine but sometimes it crashes and doesn't give push notification..

>I understand that some of them are web wrappers, but give it time. I guess it's the only thing we can do"give it time" if we own a Windows Phone device. Crap, I have been hearing that statement when I got my HTC Trophy....Nothing new... If you are a WP owner and you want SOME apps, plan on waiting for ever...as I am wondering if they will even happen in my life time..

Ask Google if its about quantity or quality, they allow anything to get published.
And in no way there can be thousands of apps without including garbage ones.

Lol xD Posted via Windows Phone Central App

There are very good 3th party apps, just discovered poki for pocket! Its just, we need more like that.
I mean, I bought WP for the OS, but to be honest I feel like the good apps are on ios..
There just need to be more developers like the ones from poki! :D
I think I might start developing on,my own as well, there is a lot of crap so when you start to make quality you should get on top quite easy rigth? :D

Right! Lol. Is poki the nut app? If it is, my girlfriend loves it. She uses that on her laptop. But i might be mistaking it. Posted via Windows Phone Central App

Alhough it works better than competing app stores.

Well, we shouldn't complain in the comments section, no company is reading that, I found a twitter initiative which rallies WP users to tweet to companies they want apps, the more people tweeting the higher the chance the developers start publishing!
Follow @we_want_wp_apps and rt ofc! :D

The shittiest guy to comment first.Shame to spoil this post.If you love garbage then go buy and android and ios phone there you'll find tons of garbage.

Look who's talking. Obviously you can't read since he was complaining about the garbage, not how much he loves it. All platforms have garbage apps, but at least Android and iOS have a huge pile of treasure on top of that garbage whereas on WP you have to dig through the garbage to find the few rare gems.

Were getting there. Few more official apps and I could care less about the amount.

Agreed. I'd be interested to know with this latest update how close (or far) to parity they are with Android and iOS features. One I'd still like to see on WP is two apps opened side by side.

Android features aren't uniform. They differ from OEM to OEM.

Agreed. Amount isn't the problem, quality is....
I still can't use Facebook in landscape mode, or edit my own comment.....wtf seriously....

Yup true. We can't delete our tweets in official twitter app. Instagram still in beta. WhatsApp for WP has less functions than the WhatsApp for s40 series(yup, I installed one through a work around)!! . Many main stream websites don't even advertise their windows phone app. It's like they are ashamed or something. Thanks to people like Rudy Hyun, we are surviving somehow.

Great point about landscape mode. I am noticing many apps not supporting this, and it's nothing other than devs taking shortcuts. My apps support landscape in all but the Settings and About pages, and it does not take that much to implement it. Really annoying.

MS has claimed that 500 WP apps are added daily on the average. If this rate can be held up, we should see 370,000 apps by the end of year and 550,000 apps by the end of next year. Of course, that is a big 'IF'.

If you have all the apps you need than GREAT ! but, not everyone does and this is the big problem with the "Windows Phone store"...

The important thing is not how many apps are there but how often are they updated.

Its not the size of the wave but the motion in the ocean. Or something like that lol

This has nothing to do with fat chicks.

Yeah true. I would like to see more app support. But the more apps the merrier

Well I woulda lost a bet on that for sure

I think directing this request to TD Bank would be more effective.

Lol. At least he said 'Please' :)

Hi, this is TD bank. What can I do for you?

Yes please get o, the bandwagon. Thnx.

Please Follow @we_want_wp_apps and rt ofc! :D so we can let TD bank know we all want a WP app!

WP - fastest growing OS
YAAAAAAAAAYYY!!!!!!

That's not what most people think unfortunately! That's the first argument ios and android users have so the number at least is on the rise showing that people are developing apps for windows phone!

No wonder the verge gave WP ecosystem 7/10

Should be higher really, an app store is not an ecosystem. It's how many platforms you interconnect with.

Well, on both fronts, Android and iOS have that down. WP has a lot of catching up to do to come even close to that, so trying to beat them with the app store or ecosystem really isn't the way to go. They need to do something to get people to want to leave the huge ecosystems they have already invested in and convert to WP.

Why they don't optimize subways surfers for 512 ram its take a lot for open 40 sec

Why would you be asking that here? Go elsewhere with your silly questions.

Why don't YOU update subway surfers?

Did you read Dan's article about not making off topic posts?

Not just quantity, but support. Most of those apps are already dead. *cough instagram beta

The download app link isn't working

Absolutely irrelevant number as the WP store is full of crap and clones that cost an outrageous amount of money. The few quality apps in there charge meanwhile their iOS and Android versions are free. Microsoft must not be praised but should be embarrased at the state of their store. I am forced to carry around a tablet just to check my banking app bc WP store fails me again and again.

Perhaps you should change banks then or nag them to make an app. That's not MS's fault. I have a WP app from my bank that is great.

Yes nag the bank via their website. And bank from the website. I'd deal with a mobile website sooner than I would carry another device.

Ur priorities are that of an crazy person. Changing banks instead of the phone? No wonder this country is in financial meltdown. For WP to become a force in mobile it must appeal beyond u insipid fanboys to the general public. As it is, I am less efficient, less capbable, less productive with WP as my main device. Hell, I can't even share links to and from the Twitter app, nevermind manage attachments from messaging. I gave WP a chance and it has failed miserabley in small and great ways. My only conflict is switch to the Note 3 now or put up with WP till the Note 4 comes out.

It was a tongue in cheek response. The point was it is your bank's fault they aren't supporting WP, not Microsoft's. Evidence of other decent banking apps suggests this.

But it's a common pattern and a difficult catch 22. Large institutions that offer Android and iPhone don't bother with WP because it is just not important enough, not wide spread, won't hurt them if they don't offer it and so on. Same applies to smaller firms. As soon as WP gets traction enough to make it necessary to offer an app, because it is a real player, these places will do it. How does WP get traction? Many ways, but in part by offering to users the apps that are important to them such as, e.g. their bank, super market app, chat app, and so on. I would say this is the number 1 problem for Microsoft to crack and it's tough. Making the phone OS more featured as they are doing is important and obviously a good approach, but perhaps still won't fundamentally put the phone over the critical mass to make it a first class citizen with the others, due to the large lag time it has had. I can show anyone in my office dedicated to iPhone, a bunch of great features on my WP that they don't have - and it won't matter... They are locked in now, it's not worth their while to change, they love their iPhone or Android. That's that. Never understood why Microsoft do not market the phone.. There is almost nothing in my country, and I suspect this is not isolated. Never see it on TV, at a cinema commercial, in a magazine. Nothing. Potential users don't even know it exists. I would make the biggest worldwide ad campaign for it now it has matured. Anyone remember the campaign for the Windows 95 release? Everyone on the planet had heard of Win95 after that, even little old ladies. That's the kind of push it needs... Build up awareness and put it in peoples faces. I don't even think there's a marketing group in WP at Microsoft.

I mean, U could just go to the website, not that big of. Deal. I use royal bank and TD. I have the royal app and pinned the TD website. And never miss a beat. The pinned website is actually more functional than the app. Just smaller. So if that's the only reason U carry a tablet, maybe try using the website

I shouldn't have to go to the website; suggesting the web over the app is simply failure on WP ecosystems part. Perhaps most of you are poor and dont do much but check ur pitiful balances but the app does important things that the website simply cannot do like depositing checks. On iOS and Android and in come cases BlackBerry I don't have to entertain ridiculous work arounds like "go to the web" (that itself defeats the entie purpose of having a mobile device) I go straight to the app; WP doesnt have this and is why their 300k number is horse puckey!

Then perhaps WP is not for you. Putting aside your groundless insults about the size of anyone's checking account, if a banking app is that important to you then you should go where they are fulfilling your needs. There is nothing ridiculous about people suggesting that you use the website as it still allows you to do the basics outside of depositing checks. If you do not understand or like the fact that Microsoft does not have a hand in every single individual app on the store and you are unwilling to ask your bank to provide access for the millions of people on Windows Phone, then perhaps you should move to an ecosystem that does not require that much effort on your part.

All of you will be moving to an ecosystem other WP if things keep going the way they are. no company can keep losing billions of dollars on a product noone wants. Ur mindless cheerleading in support of WPs obvious failures reminds one so much of waltzing on a sinking Titanic. Enjoy irrelevancy.

You have absolutely no credibility in your statements because of your insults and to be honest you should be banned.

Oh? And where is WP going if I may ask? We've been deluged with official apps since the end of last year, the number of people using the phones continues to increase, Microsoft is steadily adding new features to bring us up to speed, and there are a bunch of new OEMs who have signed on to create Windows Phones. Can you explain to me how you managed to miss all of that and conclude that because your bank, not MS, hasn't given you an app the ecosystem is going down in flames? How did you bank before there were apps? Is your bank 20 miles away and the only way to make deposits is through an app? I'm simply dying to know.

If a company doesn't satisfy your wants or needs why are you still using them? Ditch MS or your bank. There are banks with apps on WP. I moved to Wells Fargo precisely because my previous bank didn't have an app and couldn't tell me if they had plans for one.

yay 300 000 how many seam faster?

None, but 286,492 seem faster! ;) I think we both just broke the posting rules, lol. All in good fun, I hope.

I have every app installed on my phone.

Quality matters more. And I have to say some of the apps on offer are great. Like the Barclays banking one.

We've got 3 Square Enix games, a guy called Rudy working for us and folders on my start screen....fu£k da police

But only 3 Square Enix games :(

Hmm, I could probably ask my husband to check with them. He works on their juke boxes.

That would be nice to know because sometimes I just don't feel like bring my tablet out just to play music

I asked and he said currently there are no plans which stinks as he uses WP too.

Yet people still think there are no apps. Friend went in to purchase a Nokia on her parents family plan through Walmart this past Saturday. She was given the choice of some android LG phone or a L521. The mobile (expert) as he labeled himself told her there was no way she wanted a Windows Phone. One, there aren't any apps or games, then told her that if she did want an app or game she would have to pay alot of money since Windows Phone doesn't offer any free apps or games whatsoever as Microsoft doesn't believe in free. Needless to say, I asked her to give me the name of all the apps and games she wanted and showed her all of them in the app store except one junk game. She has taken the LG back and now has a L521 and the (expert) feels like an ass. This whole bs about apps\games is stupid these days.

Well played. These so called experts, on commission, and with a personal bias, need a hard kicking.

Apps, yes.
Games, no.
Yeah, use the example of one junk game but ignore all the major games from major publishers. Arkham, Plants vs Zombies, Worms, Pinball FX, Scribblenauts and many others.
When the app and features gap between systems is this thin, then guess what? It starts boiling down to the trivial things. When your wives, girlfriends , sister and moms want to play a junk game like Hay Day, then what?

WP has had Plants vs Zombies for a long time. Which of those others did you not bother checking either?

He probably meant the latest one, which is Plants vs Zombies 2.

Either way, the average consumer, above 17 doesn't care about games like that.

You're in denial. But that's okay.

Actually, look for that game in the WP store and you'll find a rip off game made to look like the real Plants vs Zombies 2. That game is a perfect example of why numbers are meaningless.

How am i in denial? As a 43 yr old around other adults near my age, unless they're a geek, which is a minority, could care less about those games. They care about FB, Instagram, Pinterest, News, Weather, Email, EBay, Amazon, Maps, Music, Taking Pics... Games are very very low on their list of priorities. They buy the phones the social groups they hang around\work with\related to buy which is 9\10 times a stupid iPhone. You may think I'm in denial but I can tell you, as a developer, a former landscaper as well as someone who used to build cell towers and lives downtown in New Orleans which is heavily populated, i am always around alot of people and pay attention.

I never asked you where you lived or what you've done your entire life, but when you make a statement like "only people under 17 play games like PvZ 2".. It gives me a chuckle. I bet more adults play games on mobile phones than kids do.

I was making a point that no, I'm not in denial. I actually pay attention to what people do. I also didn't say no one over 17, I said the AVERAGE consumer, not EVERY consumer. Your in denial if you don't understand what the average consumer buys for.

Lol....above 17 ? Yea, I am a lot older and Xbox games I do CARE about and enjoy, talk for your self.

Where did I say anything about Xbox? The convo is about android\iphone\WP. Quit commenting just to be noticed.

My wife has found every game she likes to play. My 4 yr old daughter actually plays more games on our phone than she does her android tablet. My mom prefers WP apps over android because she's not hounded by a million popup ad warnings. Could go on and on. Truth is. People like you on the internet spreading fud is the reason people wont give WP a chance and are seriously misinformed about WHAT IS available to them.

Yeah that's insane because WP has the best (quality) games because of Xbox. Although they don't have all the crappy fad games,for example the Kim kardashian one

Windows is catching on the app game..... And use of the windows phone is growing.... However I agree that im a bit upset always seein available on iOS and Android and google playstore for apps advert

Yeah, that's true.
My friend has an android, I switched a month ago from android to wp8 (before that wp7)
But there are way more games on wp8 than android, at least they run smoother, are better looking and dun freeze up the phone
I feel sorry for my friend >_

About 66% of the apps on the Apple app store didn't even reach the consumer back in 2013! I don't know if we need so much more apps. BUT GAMES!!! ;)

Candy crush saga, can l have it? At least my gmail still works.

We need more major game developers to bring their games. Such as Square Enix, Nickelodeon, Cartoon Network. Niece and nephew (and I!) demand it!

Well, we shouldn't complain in the comments section, no company is reading that, I found a twitter initiative which rallies WP users to tweet to companies they want apps, the more people tweeting the higher the chance the developers start publishing!
Follow @we_want_wp_apps and rt ofc! :D

Very soon we will get the available on Windows for app advert.

I've used both Android and IOS and there are significant differences in the quality of some major apps. It's annoying but not enough to make me spend a ton on a smartphone that will have them. I really wanna see quality of apps improve and see companies supporting Windows Phone better. I think Microsoft unifying Windows and Windows Phone to create universal apps will help

Studies show that any count that reaches 300,000 becomes too large for anyone with a life to verify by counting. So the sky's the limit for the next count!

even though some apps are yet to be available, and there is a lot of crap in the store, but still there is a lot of good apps. And besides no matter what other say, i will always love my windows phone, as they have the best UI, best community, best growing rate and the mostly their universal app. :)

Only complaint I get from customers is "illegal apps." they can't get the music apps they're familiar with from android that allow them to download free music (or movies). Not talking about streaming. I think there's a bit torrent app now but its still different. I'm not saying WP needs more illegal apps just repeating what some of the customer base wants in their phones. I'd be happy if more banks and credit unions did it

Sounds like the same people who the first to scream and bitch about their identity being stolen. The illegal apps have to be side loaded avoiding Google's playstore. That being said, WP does have torrent client in the store.

One of the favorite and a very well written app (Flash Videos) has recently been pulled out of the store and when I contacted the developer, he told me that MS is pulling all the apps that streams from websites. I don't know why MS is doing that but stuff like this is what's really hurting the app development on this platform. I was hoping for an XMBC app but I guess MS would never let it happen.

Just bring android apps to windows phone and be done with it! Im sick of it now......

The quality of the apps have to improve,period,they just don't compare with the other platforms and are most times very frustrating to use. Apps have to be fun to use. Yes,the Windows phone UI is great,I have been using it from the start,using the apps on this platform,sucks.

Still lacks some officials

420,000 is a bit closer, or so says some info MSFT gave us at my job. Posted via Windows Phone Central App

Still no Official Facebook, NBA, WatchESPN, Time Warner Cable. And I want Push for Pizza...

Facebook is here. Its official (Ma and FB team up)

It's not official or the newsfeed would filter/sort itself the same way it does on the webpage. Facebook doesn't allow Microsoft access to their sorting algorithm.

I want Dish Network's sling app....iOS and Android have it....yea, I have been pestering them..

I have every app I need but Capital One, and I use their mobile site to access my account. Glad to see the apps increasing on WP, but I'd rather see the quality and updates of the apps to improve. Garbage web apps like what 9Gag and Bleacher Report has on the WP doesn't cut it in comparison to iOS and Android.

Not all apps on all platforms are quality apps; most of them are fart apps. Having a wide array of official and quality apps matter, quantity doesn't.

Which fart app is your favorite so far?

Also developers are not dummies. They notice 3.2% global marketshare = waste of $$$$ developing for this platform.

True. There is a reason that Microsoft never released Microsoft Office for Linux. The same goes for a lot of software that are made for Windows and Macs only. Notice what Linux did to help with that though; Wine. Microsoft needs to suck it up and admit that they are too late to really catch up due to the Catch-22 (apps won't come without marketshare and marketshare won't come without the apps) and release something to allow Android apps on WP the same way that Linux has Wine to use Windows software. Then, people that are hesitant to make the switch based on lack of apps will have that barrier removed and marketshare will increase and the official apps will come.

I love Windows Phone, but I've never been closer to heading to iOS (will always avoid Android) because there is such a scarcity of local apps in Ireland, no matter how times you contact these companies they just ignore it. I've never been a big app person but there is apps I just need and I'm not getting anywhere with them. #frustrated

Haha I like that final sentence!

+520
Lol
Andrew wants us to download all of apps..., 300000?????
Ha ha ha

There will always be complainers.

"Download all the apps" - hahaha um, not until MicroKia builds a 1020 replacement with 64GB storage standard and an SD card slot... "Download all the apps" - lmao hahaha

Still wish UBS would add an official Banking App to the WPhone Market. It's the ONLY thing I still miss after my change from iPhone. Other than that I'm quite content with what I have.

So? This is the same argument I had for iPhone. Can I install 300k apps on my phone?

The quality isn't there, even though the numbers are. WAAAAY too many 1.0 apps and way too many that are just a wrapper for the mobile site while the Android/iOS counterpart is chock full of features (I work for Homedepot.com...we're very guilty of this with our crap, rarely updated WP app). Also, there are very few current US devices, so there is no mindshare. :-(

Congrats , it's been a nice up scale road MS as been on !!! Don't stop!!!

Current priorities for Microsoft should be to secure the support of additional gaming studios. Gameloft's support is amazing, yes, but we also need Electronic Arts, more support from Ubisoft proper, Square Enix, etc. Secondly, keep pushing on local app support, i.e. banks, transits, taxis, restaurants, movie theatres, gyms, etc.

Well am always going to use WP has long has god give me life I like it more Dan Android and IOS Nokia Lumia all di way

I only want to see Google apps there now.. Im fine with the current selection of apps. Although lots of apps still need some optimisation and some refreshing UI over all this time.

Congrats Devs, still working on my app, so myself not included yet. Now, where's this report (for iOS & Android as well) that shows quality apps? Can this even be measured?....

Not measured, only repeated over and over... Apparently without any real thought

Sometimes I don't even know why I read the comments on this site. It's not everyone of course, but every bit of good news that's posted on this site is challenged by a wave of glass-half-empty perspectives ready to tear down any scrap of success that WP gets. When the platform finally succeeds (as it has been doing), all of you naysayers are gonna be on here saying that you knew WP could do it all along. But now you're dooming to failure every step of the way. Have some hope for a change. Keep up the good work Microsoft!

I agree, I see great potential in WP.

Completely agree with you..

+1 To this. So many negative Nates here that turn every bit of good news into bad.

Yea, some people may be just trying to spell doom and gloom all the time, but some are legitimate complaints. Especially when so many people are blind fanatics that ONLY see the good and rip anyone's ass that says anything remotely bad. Those naysayers are more challenging the fanatics to stop pretending that everything is perfect and nothing can be improved on. It's almost as bad as Kansas City Chiefs fans acting like the Chiefs are the greatest team ever. They always do really good and start off really great, but when it really matters, they choke every time. It's great if you love the Chiefs, but don't try to tell everyone that they are the best team ever. With that said, here's to hoping that Microsoft will eventually catch up and I don't have to switch back to Android!

I read a article and through pretty complex research it found that people generally use only 25 to 30 apps, so any OS is fine, its just reviewers who keep putting that in our minds

I have 147 so far... But that is only because I can't delete the ones I tried from the my apps section of the store that I do not like....man I wish that was possible!

That's 25 to 30 apps *at a time*. Many people use an app for a while, then junk it. I have maybe a dozen apps on my phone that aren't 'stock', but the My Apps list on the Store has close to 300.

I have about 40 Xbox games, never mind the tons of other apps I use....to each their own..

The problem with that is that everyone has different use cases. I could have a totally different set of 25-30 apps than you. Another person could be missing their top 25-30 apps that other platforms have. That's why the numbers are important to some people, though I would rather have quality over quantity.

I looked at my own app use, and since I've been using WP, I have downloaded 600 apps, which is 0.2% of 300,000. Now, here's the kicker, I currently have 68 apps on my phone, of which maybe 25 are used frequently, respectively that means that I have 0.02% of all available WP apps on my phone and I am using 0.008%. Yes that's it. So, Really? The app gap, sounds so ludicrous, however I do agree that there are a few that are available on other platforms that I would like to have.

oh that's so great.. so much appz and gamezz... give me a break, windows x86 got like what? 20 billion apps? who cares? i dont have more than 10 apps that i actually use, a music player, chat app(skype) and web browser, what else do you need? really? this app counting nonsense could only come from butthurts like apple and google, thats so great they have 200k fart apps, or 500k anti mosquito apps, lol i bet 80% of the apps are just 0/5 star, spam bs, the thing that matters is how good are the apps that are really important,

Exactly. I care more about missing big name apps like Clash of Clans (or Candy Crush for some people) than I do about them catching up with numbers.

I'm going to be that guy...ahem
"this is what it should have been since day one".

Im here to witness the growth of windows phone.

The truth is, the store is a mess. I'm going back to ios as it seems like windows phone is frowned upon by developers and without then its a sinking ship.

They should think about their apps quality then their quantity. I have been using my brothers L720 and even the Instagram app is still in beta without support for video recording. Posted via the Windows Phone Central App for Android

Where's the yeeaahhh guy meme?

Yeah. I hate that "ecosystem" is considered app store size. Ecosystem should be based on what you use. In the MS ecosystem, well, that's a 9 on every platform. In the Google ecosystem? That's a 10 on Android, 9 on Apple, 1 on Microsoft.... This was supposed to be a reply to someone else. Bad wpcentral app. Bad boy.

So many of them are just stupid web wrapper apps (apps that just load a web page) Examples like pinterest, or some of those crappy "Facebook HD" apps that only load Facebooks mobile interface. These are the types of apps that really shouldn't have even made it into the store. I honestly think the Windows 8 Store is even worse than Windows Phone's store in terms of pollution of generally useless and low quality apps.

It's true that we have some questionable apps but if we don't install and support the developers we never going to se an improvement. We need to show them that we want and need the apps.

All I want is a Citibank app already!!! Maybe a Schwab app too!!!

Anyone knows how many of those apps are universal?

Niiice hopefully when we reach a million Microsoft can remove garbage or incomplete apps

I think there's a lack of weather apps though. We need more weather apps!

Yes and photo apps as well

I don't care about quantity, I care about quality. I don't care about how many apps ios and android has. Half of those apps are garbage. Let's not rush to create the most, but the best. I love the Windows store. Has what I need so far. Missing a few things like Square but I reached out to them and they refuse to make an app. For cases like that I kist switch companies. Cube in the windows store works well.

Great news. Quality over quantity any day but this does shows the pace with which Windows Phone platform is growing and that developers are finally ready to embrace the platform. I could almost dance with joy.
Game on. We are here to rule!

Here's the breakdown: 185,000 Weather apps 60,000 Flappy Bird clones 12.500 3rd party social media clients for sites that don't support WP natively 285,000 apps that don't run on 512MB or arean't available in India. And yes, I suck at maths. ( :

It's okay to suck at math when you are so good at hyperbole.

Lets be real tho, who needs that much for their life? I mean I only need facebook, twitter, insta for social, but even measurement converters I only use for a semester then I delete it. Games? Majority are some ugly looking games. My Xbox and steam gets all the good stuff. Do we really need a lot of apps?

Im I the only one wondering WHERE THE HELL IS FLIPBOARD???

Yet still no iFunny or Wonderpolls

Good to see this number, but I can't help thinking that it still is not enough, and then again, I doubt about the quality of some apps

That's good news for windows phone

I'm waiting for candy crush

I'm pretty happy with the app selection. And I switched from an iPhone.

My little brothers hate Windows Phone. I did too at first but I grew to like the platform. And now with Windows Phone 8.1 GDR1 everything just got a hell of a lot better. I don't know why they don't like it. My little brother has an Apple iPhone 5S and the other is currently using a 4 and he loves the Google Nexus. My little sister has a Samsung Galaxy S5. I have a Nokia Lumia 521. I'm stuck with an entry level device. I want a Nokia Lumia 1520. But t mobile doesn't have a flagship Lumia. All major 3 platforms together right now. Cortana is better than Siri and Google Now. Cortana is clearly the winner because she can do far more. Anyway back to the topic of app count COOL

You should get the Lumia 1520, its an awesome phone, never had something smoother in my life before..well except butter cookies :3

WP app store is filled with junk? Anyone can say that about any app store both android and apple. Yes, our apps are STILL in BETA (looking at you Instagram) and we get put on the bottom of the to-do list but i also know that 60% of apple apps have yet to be downloaded once. http://www.phonearena.com/news/400000-apps-in-the-App-Store-have-never-been-downloaded-says-report_id32943 ( that is from 2 years ago but it hasn't changed). if you dont like that source Bing it and you'll find more than one source saying the same thing. I'll take Quality big name apps over filler apps that just take up space in the store. http://mashable.com/2014/07/10/zombie-apps-ios/ 80% of apple store apps are basically lifeless. "according to a report from mobile analytics company Adjust about the iOS app life cycle, nearly 80% of the 1.2 million apps currently available are just sitting in the App Store with hardly any downloads at all." So your android and apple store is filled, but filled with dead zombie apps. With that being said, its a good problem to have i guess. BUT i prefer to have apps that are out of BETA and get updates just like on other platforms.

300,000 Apps, and yet I only have 50-60 on my WP (Lumia 635) and 16 gigs of free memory. Something tells me I need to make an effort to load more apps. Shame I'm not an app junky or a gamer.

Big deal - what good is it if you don't have the latest update! Microsoft if you care and or really want to gain on market share you had best lite a firer on verizon as I for one am close to jumping ship and if I do I won't be back any time soon!

If only they update those with ios or android

I think they should by any means bring all of this apps to windows store, except those apps using specific phone functions, it will give windows store a head start in threshold or windows 9, what ever it is called. What you guys think?

Update more apps. INSTAGRAM BETA should be updated to have more features. FACEBOOK must add cover photo editor, feelings option add photo/take photo on comments, faster uploading,able to share pages photos to other social sites, METROTUBE (Youtube app) lags so much in HD. Xbox Music add some editing option and Recently Added. Player plays at the lockscreen not on top of the screen.

Malwares are vulnerable on Android devices unlike on WP which don't even need an antivirus.

Only because WP is so locked down that you can't do anything with it (like iOS).

Jet pack Joyride hasn't been updated for nearly 2years Posted via the WPC App for Android!

Does it need updating? No diff with the android version..

Hmm.. All my needed apps are available in wp store. All are working better than my previous android apps.

Google playstore is full of malwares :-p - Game over

It's not a sprint, it's a marathon. But I still say that Microsoft should hire Rudy Huyn and buy Gameloft.

Once you go Android, you never go back. I switched from a lumia 710 to a Htx 8x and that twas it for windows phone. I then got an lg g2 and now currently use a note 3 and I don't think I can go to wp unless they put out some serious hardware on T-Mobile. Something like an updated 1520 with specs that the note 4 will carry. Posted via Windows Phone Central App

4x less apps then App Store and the big name apps that are there get neglected for months.

two years ago and the situation was even worse, there was no sd card, no games, nothing... windows phone is far for being good plataform for a high end smartphone, but there is no another option at the lumia 5xx price range, so windows phone did what firefox OS was suppose to do. i think that many things will happen in the next 365 days, so we need to have patience. like or not, at this point windows phone is the third plataform.

Android may have crap apps but Play Store is much better than WP store at hiding them Posted via Windows Phone Central App

+920. I strongly agree to that Posted via Windows Phone Central App

I second that! Like I said in another post, Play store is a pile of crap with a bunch of treasure on top. WP Store is a pile of crap with a few gems hidden underneath. The only way I find some of gems is from WPCentral reviewing them.

A good time to remind MS that things are getting better and so PLEASE do not bring that android virtual machine thing into Windows Phone and kill developer intrest.... That is if that is what they are doing.... In case its something smart like.... The developers can leverage most of the business logic code written for android without any change while only having to make the Windows Phone UI/UX... then it will be great....


Mainstream apps are needed , plus WP logo right next to iPhone & Android..... App gap is still real, I had a couple twenty something year olds ask if I like my WP phone when they saw me using it. I said I love it, they replied " we were going to get one, but it didn't have the right apps, so we went with Android"

I don't use many apps on my phone. The main ones (fb, twitter, podcasts, mail,

I don't use many apps on my phone. The main ones are available on WP (mail, browser, facebook, twitter, podcast, audible, banking, camera, runtastic) I only miss Threema (they are coding now for WP) and a full version of 1password (they only have a read-only version) I use apps on my iPad (because there is more space)

Take Pinterest(BETA), it's just a wrapper around their mobile site. That's pathetic and typical of what plagues Windows Phone. Today Pinterest added the ability to engagein messaging on Pins, good luck ever seeing that on Windows Phone, much less a proper native app.

We should start a twitter campaign or something, complain to the companies and make your self heard! WE WANT WP APPS! WE WANT WP APPS! :G

It has most of the apps we need... Just missing some good fps games for low memory devices.. I have been looking for long and still no lock..

Honestly I think if Microsoft Windows Phone OS + stock apps were "best of breed", Windows Phone sales would double overnight. The OS and their apps are under their control, and yet they drop the ball on Music and Video apps.

I have about 150 apps on my phone but there are still so many missing. Just got to give it time.

It's just a number. It would be more interesting to know which of the 300000 are relevant are how many new quality apps have arived. The rest is all more of the same, and questionable if its fair to count that. It would be nice to know how many collaborations have come from this number of total apps.

Yes certainly IOS will have a lot of app than WP because its store is matured an d became more relevant years back before the WP store. Talk of Android ,yes .because they've got different types of app that only works on their OS and not even IOS. That is live wallpapers, launcher themes etc. This has really helped to increase the number of apps in the playstore . and also because of its "OpenSourceness". But look on the bright side, most of the major apps are on WP .its just that the quality is not top notch. Posted via Windows Phone Central App

I think its a positive step for WP, But nobody will be happy here cause they want apps to be perfect and free, there's a lot (and I mean a lot) of shite on ios/droids. And you could spend your wages on crap very easy. Its sad how apps rule , But well done wp for at least trying to keep trolls happy.

I think ios apps are pretty.

They should make it possible to run ios apps on WP instead of android apps xD
-edit: I know, android is open source and ios isn't so possible very hard or impossible to do, but would be awesome tho

And still no plants vs zombies 2

NEVER mind we have it yay !

Inching our way towards the number of Apps Microsoft abandoned with Win Mo

Why doesn't Microsoft quietly throw a few million at co developing/funding more of the big name apps to get them on board.. Once the big apps arrive so will the users... Im about to move banks just cos ANZ AUS does not have a windows phone app lol what a pain in the ass....

Still waiting for SiriusXM...

all those apps and yet no google support...smh...

There isn't any apps on ios even close to the beauty of Mytube, Metrotube and Wikipedia. Just to mention few.

Out of 3,00,000 only 3 apps are useful ,, 1.Asphalt 8 , 2.Fantasia editor , 3.Creative camera

Glad to know WP app number breaks another 100,000 threshold, and which WP app will display the real-time app number and changes in the tilt for every peroid of time? I'm now using AppFlow, but it only displays at number of 220,948 today, which is obviously far from 300,000, and let alone wp7applist, it stopped updating in tilt long time ago.....

body {background: #383838 !important;}div {background-color: #383838 !important;}header,nav,table,th,tr,td,dl,ul,li,ol,fieldset,form,h1,h2,h3,h4,h5,h6,pre {background: transparent !important;}* {color: #B6AA7B !important;}a:link,a:link *,a:link:hover,a:link:hover *,a:link:active,a:link:active * {color: #B6AA7B !important;}a:visited,a:visited *,a:visited:hover,a:visited:hover *,a:visited:active,a:visited:active * {color: #D9C077 !important;} 300.000 apps so categorized: - A huge amount are fake, mediocre copies of official apps - A fair share are old Nokia/Microsoft apps with subpar performances and features - A terribly huge share are copies of copies. This means some bear same or similar names while others even have same icons (Copyright and originality being just an opinions in WP world). Paperplane icon...is found i endless apps or features in different apps for example...so many other icons. - Majority of apps (not only Devs faults but due to MSFT limitations in terms of APIs) are buggy, useless and missing key functionalities. - A huge amount of apps people need to work are simply not there and Microsoft offiicial apps don't fill the gap (I am looking at you Office, Skype, Bing, IE, Keyboard inputs, News etc. etc.). It's true Android has a lot of trash. But premium apps are there (and i bought them). Microsoft gave me two free vouchers.....they are both unused. Couldn't find apps to buy not even with a voucher. That's how good it is for me. I found some good newsreaders, some good calendars, One Note is a good app, Nokia Camera is a good one. When i look inside the market to find something i need seldom find what i need. Microsoft has to put a patch to the quality of the apps and to the "photocopy apps" that are in there. And while they are at it, they may also fix the search results for apps. They rarely show what i need. Normally unrelated results. Go guess! 300.000 apps that are not only subpar but also hard to search....The essential is that there is Cortana anyways...all the rest fades in the background.....

Exactly! Microsoft doesn't want to put work into the store because "app count is all that matters". If they start preventing copies and fakes from being submitted to the store, then their app count won't increase as fast as they want it to.

I am a windows phone user and a android user both platforms have some lame apps. Posted via Windows Phone Central App

True. But I have about 10 times more QUALITY apps on my Android tablet than I do on my WP. The only reason I haven't switched back to an Android phone is because I'm hoping and praying that WP will catch up one of these days. Don't get me wrong, they are doing a lot to help, but they still need a way to get past that 10% marketshare mark or we will never be on the radar.

All Android and iPhone users say that WP is a great platform but it doesnt have enough apps. And im asking myself "How many apps does these people have on their phones? More than 300.000? How much memory those phones have, 3TB?" We all can say that WP has almost all the important apps which are maybe 100 at maximum. So there are 299.900 apps that wont be used at all. (and some hidden gems)

I am only one man but i have converted four people to windows phone. They love it. Lets grow together and soon we will be the best. I think its the best experience and we need numbers to encourage development. Competition is good for consumers..

Please bring Talkray app on windows phone Please bring Talkray app on windows phone Please bring Talkray app on windows phone Please bring Talkray app on windows phone Please bring Talkray app on windows phone Please bring Talkray app on windows phone Please bring Talkray app on windows phone

most of the apps on WP are garbage, Only chance for WP to survive is to bring Android apps on WP like 1Mobile Market or Amazon Appstore (like in Blackberry)