These are the Surface Pro 4 accessories you can buy in India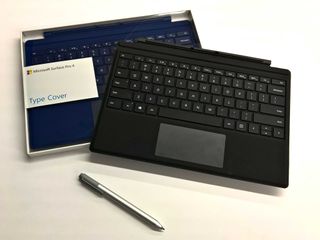 While the Surface Pro 3 and Surface Pro 4 were launched in India today, not all the variants of the accessories will be available for customers in India.
Surface Pro 4 Type Cover
Apparently, Microsoft will sell the Surface Pro 4 Type Cover for Surface Pro 4 buyers, but those are the only Type Covers to go on sale. Even if you buy a Surface Pro 3, you'd need to buy the new Type Cover, which isn't necessarily a bad thing. The Type Cover is sold at a price of ₹12,490 ($187).
However, Microsoft would only sell these Type Covers in two colors – Blue and Black. The other colors – Bright Blue, Teal, and Red, won't be available. Also, the Surface Pro 4 Type Cover with a fingerprint reader will not be sold in India.
Surface Pen
While the Surface Pro 4 comes bundled with a Surface Pen, if you are buying a Surface Pro 3, you'd need to buy the Surface Pen separately. The new Surface Pen comes bundled with the Pen Tip Kit. While the new Surface Pen is available in three colors – Silver, Black, and Dark Blue – in the U.S., Indian customers will only be able to purchase the Silver color variant. The Surface Pen costs ₹5,990 ($89).
Surface Dock
Surface Dock instantly transforms the Surface Pro 4 into a desktop PC. All you need to do is to plug in the SurfaceConnect cable to charge your device and access external monitor, keyboard, mouse, and more. The Surface Dock will be aimed at enterprise users, and available for ₹20,990 ($314).
Windows Central Newsletter
Get the best of Windows Central in in your inbox, every day!
Ebay has things at a lesser price

MS are insane with the prices on surface pro. It's like they don't live on the same planet with the rest of us.

I purchased the surface pro 4 from new York i5 version and red type cover Iam happy I brought it there...thou I got Lumia 950 from India as there was not much price diff and got free display dock thru amazon India pre order

I don't understand the logic behind such decisions. Why they put such limits outside the US

Because the World outside US is a myth, doesn't exist...

Hahaha, well than Hello from the other side

This is no joke!!! Just take a look at apple marketing. You can find the same stuff in every country.i call this poor marketing

₹12000 for a simple type cover???
What is this? This has no value for the money spend

I know it sounds **** but its not aimed for us

Too high price. At the price of these 3 combined I could buy a brand new laptop with touch screen and a phone.

It is not meant for everyone, premium product range plus high import taxes leads to this.

@Etios : Any idea how much import tax are the MS is paying for surface pro4? For eg., the configuration that I am interested in is SP4 core i5, 8G ram, and 256GB SSD. In US it's around $1300 (Rs. 86,900). In india, the same would cost around $1800 (Rs.1,20,000). It's nearly $500 (Rs. 33427) extra. Before blaming MS for this insane price difference, I would like to know how much our indian government is collecting tax from MS (indirectly from us!) for buying SP4.

Pricey Posted via the Windows Central App for Android

They should have launched the iconic teal coloured type cover.When we think of surface its the colour we associate to.
Windows Central Newsletter
Thank you for signing up to Windows Central. You will receive a verification email shortly.
There was a problem. Please refresh the page and try again.