These are Windows Central's top picks of MWC 2015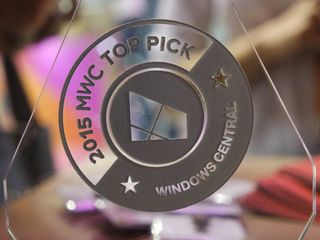 Our favorites from Barcelona's big mobile show
So, Mobile World Congress is done for another year, and that means that before we left we had to pick out our collective favorites from the event. MWC isn't just about the devices, though, it brings together app developers, accessories, something to cover the whole mobile ecosystem. As such, we've been able to pick a good selection of top picks from this year's event.
So, here's what made the cut and why we chose it.
Microsoft Lumia 640
The Lumia 630/635 was an incredibly popular device launched under the then Nokia name. That's all in the past now, though, and Microsoft held it's first post-acquisition MWC press conference to announce a bunch of new things. One of which was the Lumia 640, the successor to the Lumia 630. And it's a worthy successor, too. We've got a front facing camera this time round, we've got a flash on the rear camera, Cyan is back as a color choice, Lumia Camera 5 with Rich Capture is included along with Windows Phone 8.1 Update 2.
And it still doesn't cost a lot.
Microsoft Lumia 640 hands-on
Microsoft Lumia 640 XL
The Lumia 640 XL is the successor to the Lumia 1320 in all but name. The new XL moniker makes plenty of sense when you look at how the device is positioned. And it's really nice. It's got some of the looks of the 1520 round the back combined with the regular Lumia 640 round the front. It's large without being too large (and is actually smaller than the 1320) and has a decent spec list for not a lot of money. And as with the smaller phone it has Lumia Camera 5 and Windows Phone 8.1 Update 2.
It's still a mid-range device, but one thing's already clear. We want one.
Microsoft Lumia 640 XL hands-on
Microsoft foldable Bluetooth keyboard
Microsoft made it a hat-trick of awards with this. Better still, with Windows Phone 8.1 Update 2, we can finally use it with our phones as well as our tablets. Microsoft has made some well designed, mobile focused keyboards before, but this one's the best yet. It folds, so it's ultra portable, while still offering a great typing experience. A perfect addition to any travellers gear bag.
Microsoft foldable keyboard hands-on
Kazam Thunder 450WL
Kazam has only been on the mobile scene since 2013, formed by two partners fresh out of a past life with HTC. Kazam has been making predominantly Android devices so far, but is now firmly on-board and working with Microsoft to get Windows devices out of the door. Of the two new phones announced at MWC, the Thunder 450WL is by far our favorite. Combining premium design with solid hardware and a great price point, Kazam is offering a highly attractive device to its European audience.
Keep an eye out for this brand going forwards. With a commitment to Windows Phone and Windows 8.1 already established, expect to see much more in the future. For now, we'll sit patiently and wait until we can spend some quality time with this one.
Opera Mini preview
We love to see big software companies bringing apps to Windows Phone, and Opera is no different. Opera Mini for Windows Phone is getting a major overhaul, and the team was on hand to show it off for the first time in Barcelona. It's such a dramatic improvement over the current offering, even in this very early preview form, that it's one of our favorites from the whole show.
Hopefully it'll be publicly available in April for Windows Phone users to get their hands on, but we've managed to snag an early copy and we'll be bringing you much more on that soon. So stay tuned.
First look: What's next for Opera Mini on Windows Phone
Acer Liquid Leap+
There's a lot to like about Acer's latest wearable. Not least that it has Windows Phone support and will be a lot more widely available than the Microsoft Band. It'll handle your fitness and activity tracking, basic notifications, music player controls and come in a bunch of different colors.
And at 79 Euros it's not at all expensive. One we're looking forward to spending some time living with.
HP Spectre X360
MWC is traditionally more about phones and tablets but HP bucked that trend with the announcement of its latest Ultrabook, the Spectre X360. And what an Ultrabook it is. Packing 5th generation Intel CPUs inside a sleek, all metal body with some neat design touches and full convertible capability, this is going to be one to consider if you're spending some money on a new laptop this year.
Lenovo MIIX 300
Lenovo isn't short of Windows 8.1 tablets but the MIIX 300 is one of the latest, and it's a solid mid-ranger that doesn't cost the earth. You get a sleek looking 8-inch tablet, 64GB of internal storage, an Intel Atom CPU and all for the very reasonable price of $149. Low-cost tablets aren't un-common, but at this price point we're excited to see one with 64GB of storage on board.
Acer Liquid M220
OK, Acer's new Windows Phone is a bit of a let down when it comes to the hardware. But, that's not the whole story. We love the design, for one. We'd like to see a bigger display and smaller bezels, but the detail on the edges and the Thai Silk inspired pattern on the rear is very nice for a cheap Windows Phone.
The bigger news is that Acer is on board with Windows Phone again. And with a commitment to update this device to Windows 10. We're thrilled to have another big brand on board making phones, and reading between the lines this could be the start of something with Windows 10 on the horizon. Acer is a known brand around the world, and we're happy to see it back on Windows Phones.
Honorable mentions
Sadly there's often some little bits and pieces that turn up after the awards have been handed out. MWC had a couple of those worth mentioning. So, while these missed the cut, they're also worthy of some love and attention.
Not a bad show all round for Windows devices, here's to an even better MWC 2016!
Get the Windows Central Newsletter
All the latest news, reviews, and guides for Windows and Xbox diehards.
Managing Editor - Tech, Reviews
Richard Devine is a Managing Editor at Windows Central with over a decade of experience. A former Project Manager and long-term tech addict, he joined Mobile Nations in 2011 and has been found on Android Central and iMore as well as Windows Central. Currently, you'll find him steering the site's coverage of all manner of PC hardware and reviews. Find him on Mastodon at mstdn.social/@richdevine
opera mini UI is cool. Wps users love things which first have great UI.

SanDisk worlds largest microSD card? What was the size of it?

We got a post in that link all about it. 200GB.

Didn't that post also say something about an experimental 1tb card, or was that speculation? I can't remember.

Is the 640 the best WP device today? If not, can you please tell me which device has the best hardware?

HTC One M8 for windows. Has the best specs. Except for the camera.

The 930 as well. And the 1520 for big screen lovers.

Pound for pound it would be the M8, 1520 and 930 in that order if your after specs. Otherwise the 730 / 830 would do you just fine.

Thanks guys. I'm using 920 with the amazing camera and I just wanted to know what is better than this.

Parden my being rude; just tired of waiting for an upgrade worthy device. The 640 choice is a kiss butt choice. Picked the 640 over the Surface 3? A $50 phone with 2013 specs. Um, yeah, that's technology. SMH. (Wait for the WM10 devices to show up later this year - or get the Samsung S6 or HTC M9 that stole the MWC show if you must have someting today.)

How if u put Nokia name on the 640?

Microsoft bought Nokia's mobile division but the company still exists, so Microsoft cast use their name on new products. They're making Android products now.

Honestly the Lumia 640 is jolly impressive, but it's not even close to bring the best, sorry to say. Compared to other phones that were released.

Like what? I don't know of any other phones with those specs, at that price range, that are better.

Blu studio 6.0 lte is at that price and better speced

yeah, with an absolutely atrocious operating system running it.

That atrocious operating system is having 80% of smartphone market share. Thats a fact.

I love facts. Here's another fact: potato chips outsell caviar.

A perfect example of the Achilles Heel operating system it is running: requires 4GB of RAM just to function properly. Awesome job, Google!

Just to function properly? I love your techniques of downplaying a good phone, there is a fine line between being a fan and being a fangirl. I can clearly see which one you're in. Lol Good day.

I used Android for 3 years on a flagship phone. It was awful. I gave it more than a fair chance.

Of course its not. Its a mid-range device.

Acer is going to bitch about their phone not selling and blame it on Windows Phone. That's the shittiest WP I've seen so far... counting the WP7 days.

Well it's a low end device, what do you expect? Besides they did realise a very cheap and inexpensive band which supports windows phone.

seriously ... Operamini and Lenovo ?

The Foldable Bluetooth keyboard and Opera Mini update was my favorites. I however get shivers everytime I hear Lenovo. Just helped a friend clean out her brand new PC and OMG what a misery. Thnx Anti-Malewarebytes, saving me in the most desperate hour(s). Now pleeeeze Microsoft get update 2 for WP out and don't skip it like the rumors are suggesting. (Update 2 will only be on new devices). At least give us BT keyboard support!

Nice. Love the picks. The HP looks slick! ;)

Lumia 640xl is best. Does any one tell what will the price of Lumia640xl 3g version including tax in India and when it will be released

Good stuff. Haters gon hate I guess. I like the picks. Read the whole article. Good stuff!

What a sad showing for Windows Phone. Lumia 640 was basically the only worthy phone shown, a mid-ranger. Kazam-shazam and other low end crap like Acer don't even deserve a yawn. l I just hope they are working on solid devices behind the scenes. I also hope that likes of Sony, LG, Samsung, and HTC can get quality devices for WP as well...one can only dream :-(

We have rebooted with WP7 in fall 2010, rebooted again with WP8 in fall 2012, rebooted again in late 2014/early 2015 with W10. Each time saying - Now THIS is the year. Just wait! Wait until fall!! Meanwhile the market share dropped below what it was for Windows Mobile, and still hasn't recovered. Bring back Windows Mobile, maybe that is the solution.

Do you know what your even asking?... Lol... There was no major upgrade path for Windows CE.

want that tablet for my wife

Wow, I didn't realize how weak the showing at MWC was this year.

Damn, that Kazam Thunder phone looks good with the brushed metal, and the subtle WP logo.

Maybe I'll check out the Lenovo tablet.

Personally I like the liquid leap+, am I the only one?

Contacted Acer about the liquid they said it will be available in Africa this match, just hoped ms band would do same

Coship X1 deserves better. Its specs are strong comparing to 640XL with 2GB RAM and 16GB memory. With 5.5" display size, it could appeal to larger crowd. The only thing we don't know about it is the price. If it is priced the same as 640XL, it would be a hot seller.