Sandisk's new 200GB microSD card brings massive storage in a tiny size
SanDisk bills their latest microSD card has having the world's highest capacity, and at 200GB we have little trouble believing them.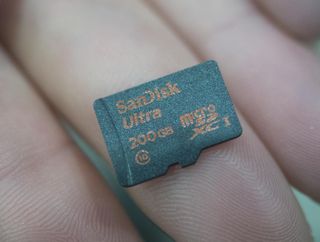 The just-revealed 200GB SanDisk Ultra microSDXC UHS-I "Premium Edition" is indeed the most capacious card we've seen, topping the 128GB we've previously seen from several manufacturers, including SanDisk.
The are three questions you probably have in mind:
1) Will this work in your phone or tablet? Probably — if your device says it supports microSD cards up to 128GB, it will accept the 200GB card. The "SDXC" standard succeeded SDHC, which was capped at 32GB. SDXC technically supports up to 2TB of storage space (yes, two terabytes). While we have no doubt there's a lab somewhere in SanDisk headquarters with a 2TB SDXC card floating around in it, right now that's probably too expensive and difficult to produce to be feasible for a public release. Someday — we're not that far off at the rate storage capacities have been increasing. Of course, there is the possibility that your phone could be arbitrarily limited to 128GB cards, but we certainly hope not.
2) Why 200GB? So far we've seen SD cards advance along a base 2 sequence, leading to iterations of 2, 4, 8, 16, 32, 64, and most recently 128GB. It'd be logical to assume that 256GB would be the next step, but instead just one year after the first wave of 128GB cards we're now seeing a 200GB card. While the SanDisk reps we spoke to were mum on why, we suppose we can see how they got to 200GB instead: 128GB + 64GB = 192GB, and that extra 8GB would be nothing. A proper 256GB microSD card is no doubt in the works, but for now it remains out of consumer reach.
3) Alright, alright: how much and when? Hold on to your knickers… worldwide availability is projected for Q2 2015 (so sometime between April and June) for $399.99. Maybe save it for Treat Yo Self Day.
More: How to move apps and games to an SD card in Windows Phone 8.1
Source: SanDisk
Windows Central Newsletter
Get the best of Windows Central in your inbox, every day!
Derek Kessler is Special Projects Manager for Mobile Nations. He's been writing about tech since 2009, has far more phones than is considered humane, still carries a torch for Palm, and got a Tesla because it was the biggest gadget he could find. You can follow him on Twitter at @derekakessler.
Where are the 2TB storage cards I was promised this year? :P Posted via the Windows Central App for Android

That's what I was thinking.

I did too then I read the article! lol

Still remember the time when I got 128Mb

I remember rockin with a 2MB..10 years ago.

Hmm. I believe I used something like 32 MB (that's thirty two) back in 2004 or so, unless I remember it wrong. I'm not sure, it's too long ago :). Memory cards definitely were a lot more expensive back in the days.

I remember loading programs with a tape in my TK90X in the early 80's.

2TB storage cards? That will be $1999. :P

Judging from the price of the 200GB, a 2TB would be $3999.

It's a simple proportion: 200(GB) : 400($) = 2000 (GB) : x ($). x is 4000, so you get 3999$

Yeah, but price is usually exponential with storage, not linear :)

It would appear that SD cards are on sale (suddenly a 128GB is $100), but if one does math: $25 (Orig. Cost) / (Sandisk Ultra UHS-1) 8GB = 3.125 or approx. $3.13/GB $40 (Orig. Cost) / (Sandisk Ultra UHS-1) 16GB = 2.5 or $2.50/GB $70 (Orig. Cost) / (Sandisk Ultra UHS-1) 32GB = 2.1875 or approx. $2.19/GB $100 (Orig. Cost) / (Sandisk Ultra UHS-1) 64GB = 1.5625 or approx. $1.57/GB $200 (Orig. Cost) / (Sandisk Ultra UHS-1) 128GB = 1.5625 or approx. $1.57/GB Now add the $400 / Sandisk Premium UHS-1 200GB = 2 or $2.00/GB ...then one can see that the trend with SD cards is that the higher the GB, the lower the cost per GB, and that once one reaches 64GB, the per GB price levels out, no longer decreasing. However, factoring in the $200GB card, one will spend an extra $0.47/GB, which adds up to an extra $33.84 ((200-128)*0.47) when compared to the per GB price set by the 64GB card, and it doesn't take math to know you can by two 128GB cards for the same price as one 200GB card and end up with more memory (albeit on separate cards). And if one were to figure what the rate of increase is between the 128GB and the 200GB card (I came out with 0.00652777778), one can do the math to find the cost of a 2TB card: 2TB = 2048GB, 2048GB - 200GB = 1848GB Difference * 0.00652777778 rate of increase = 12.0633333 rounded up to $12.07 increase per GB, $12.07 increase + $2 orig. $/GB = $14.07 * 2048GB = $28815.36 The math (permitted I have made no errors) goes to show that in todays age, factoring in the cost of the 200GB card, a 2TB card would cost $28,815.36. That is more than a new car. You could get a small house in some places for that.

Uhm, could everyone just stop doing calculations? I just gave a random big number just to point out that a 2TB would be really expensive!!

Probably subscribers of /r/theydidthemath (reddit).

Nah man, how else are you going to store the fuel for your new Wankband? https://youtu.be/RzjeAaLbM5k After all, data plans keep getting more and more expensive while storage devices get cheaper and cheaper, only makes sense if you care about the environment. xD

400$? HELL NAW. But 200GB on such a small card is impressive.

You can buy two 128GB SD cards for 100$ each (cheaper and more total space).
And its nice to see this improvements in tech each year.

Geezus! My first PC had a 3.2 gig hard disc lol...

Lol yeah...back in 2000..with windows 95 and Pentium II processor...

Yeah, and Windows couldn't recognize more than 2GB or something similar to what we have with Windows and HDs w/more than 2TB. Of course there were and are today, work arounds, but the average pc user wouldn't know what to do.

My first PC had 2 720KB Floppy Disk drives, with no Hard Disk. I later got a 200MB HDD and a Tape Backup system that stored 800MB per tape. A tape that would read at about 100MB per hour on a straight sequential read, and was the size of an old 8-Track tape. Compare that.

Hahaha i beat you any time, 8086 with a uge 40mb harddrive running dos :P

How about C64 with 64kb of RAM and only a tape drive?

How about my first computer the VIC20 with around 5kb by Commodore prior to the C64.

But do you still have them....? I do! LOL

C64 had one of the best sound chips available.

C64 was my first, but I skipped the tape drive and saved up for the floppy disk. I remember the disk drive was a $250 add-on. I re-roofed my parents house to pay for it.

My first PC had 2 5.25" floppy drives. Had to choose s different disk for every piece of software I wanted to use. Until my dad upgraded it, with a 10MB hard drive - "We will never have to switch disks again!!" he said. It felt like a revolution...

I had a 30 meg MFM drive was like a cinderblock in my 286/16. Then I had the nerve to daisy chain two of them. Ballin'. lol

That was the specs of my fourth computer. I was pretty sure, at the time, there was no way to fill it up.

My first Windows PC had a 128MB HDD ...

Was it running Windows 3.0 or Windows 3.1 perhaps? The first PC I used for home use on a regular basis, was a Compaq Presario 486, 8 MB RAM, 200-something megabytes of hard drive space, 33 MHz SX CPU. Several years later, I upgraded it with a dirt cheap second-hand DX2 CPU @ 66 MHz. After that, Windows 3.10 suddenly booted crazy fast :)

My first PC had a 50gb hard drive...dang, how old is everyone here?

Being the in-between young and old myself, I usually see comments making me go the opposite: how young are people here, really? So, I am surprised to see there are people older than me telling their stories :)

My first PC had 40MB HDD. How old does that make me?

Mine had a Seagate 2 GB hard drive - and that was double the size of my friend's, so it was considered a lot, LOL. OS: Windows 95 (build A). RAM: 32 MB EDO RAM.

My first pc has 500 GB Hardrive and 2 Gigs of ram

My first PC had 500gb WD HDD and windows vista, and its still running, watching tv on it right now.

3.2 gig, that was spacious (as in, as big as Space) when I had my first computer by the end of the 80s. That had a 40MB HDD.

My first PC was a Compaq portable, one of those suitcase 20-30 pound jobs. It was $5000.00 and it had a 20 Meg harddrive.

My first PC had a 20 MB hard drive, and it ran Windows 2.0. It was a VAXmate with an amber monitor. /What/ are you going to do with a 20 MB hard drive?? /How/ are you going to fill it up!?!

First pc was an 80x86 long live the days, I had a compaq psario suitcase too upgraded to 6mb ram on sx25 processor, the screen was monochrome lcd! Mario, ghosted like a beyatch! Had to run doom at half screen due to ghosting too! The hard drive was 20mb compressed to 40mb

My first PC - Laptop= 500gb hdd, 4gb ram and I wonder what my son's first PC would be like? Lol.

Wow, just wow, science sometimes is unbelievable

dude, the most unbelievable thing is your smartphone..!! specially our lovely windowsphone with unbelievable internet science...

Errrm that is a lot of storage for a lot of money but I guess it's good if you have a lot of photos(like a LOT) and full movies. But with all that it could be quite slow... Also does anyone know if Surfacw Pro 3 supports it (I think it does but I'm not sure)?

The article suggests that it should, since it's SDXC.

"Massive price" should have been added to the title.
30% memory upgrade and %130 price increase.

Um, Newegg has 128GB MicroSD's for under $100. That's a 400% markup for the extra 56.25% storage.

What brand?
It's been a while, but I paid about $125 for mine.

Even @ $125, that'd be over 300% increase. As for brand, quite a few, including Sandisk. They start out around $95.

On a $/GB it is not that different from the first 128GB cards on release, but now a year later they are often under $1/GB and continuing to fall. A year from now these cards will cost less than half the release price. I really hope the next gen flagships will have SD support!

You can't compare it like that. That 30% more storage space also has to go somewhere, with other words: this requires improvements to the technology. Of course it cost more then an additional 130%.

Its new. You are paying development costs on any new cutting edge device. No getting around that. I'd wait a year and see if the price has dropped.

Lol!!!! $399. It's not even April and we getting trolled...

Treat yo self! Parks and Rec puts the awesome in the sauce.

I love the treat yo self reference!

Yea I'm kinda disappointed in the finale, though. Love watching seasons 1-5, then it kinda wasn't as funny from then on. Anyway, loved the show so much I made my gamer tag damnitjerry lol

Every funny show has someone that they just bag on all the time. Family guy... The Simpsons.. Etc

Xbox Music would be sooooo slow if I had this thing. I'd fill it with all the songs.

I would buy one more smartphone with that money

You will need to buy six NL930, NL920, or Six NL1520 to get all that storage.

Didn't they make a 512GB SD card last year?

There is a large difference in physical size between the 510GB SD and 200GB Micro SD (hint: Micro is much smaller in physical size).

Oh, so it wasn't micro SD, got it.

Newegg has a 256GB SD, but there's a diference, this is a MicroSD. They always have less storage, because of physical space.

Wowwwwwwwwwwwwww! 200GB on such a small card I'm impressed. We sure have came along way with having these huge amounts of storage in small packages. But $400! Nooooo thanks! I'll pass. With the right price, I wouldn't hesitate to get it. But I wonder if it'll work on a Lumia 1520? I have a 64GB now in it, but going for that much I'm not sure if it can support it.

This means price will go down on 128GB...

Why oh why does the world of technology want me to be broke all the time? Why I say! They could store these things in a safe at the bottom of the Atlantic when they're released and it wouldn't stop me from blowing the 400 bucks.

OK, you won the internet tonight!

Is that the blue sparkle Lisa Frank edition?

$399 is to expensive for an sd card that's a new phone almost lol

The question of "why 200gb rather that a 256gb?" The answer is simple..... Why sell a 256Gb, when you can sell 200gb first and cash in on that... Then 4 months later release the 256gb. It's all about the almighty dollar. Hehe.

Almighty Dollar vs Mighty Morphin who's better ?

Meh, I'd sooner buy two 128gb cards than spend four hundred on this.

Your phone has 2 micro sd slots.... Wow...

You need that much space on your phone? Wow...

Oh.. Imagine a $150 lumia 535 with $400 SD card... Umm.. That's not balancing..!!

$40 Lumia 635 with a $90 micro SD here

What? Just give us USB otg function

Err what has SanDisk got to do with USB OTG? lol.

Today I read on GSM arena or another site that its coming with windows 10 , but its not near :D

It was on Windows Central yesterday

I will wait for them to come down in price

When (supported) in India? 2024? :) Now max. 32 GB seems to be the standard.

My 2 year old 620 handles a 64gb card just fine. Most new Lumia's can take any SDXC card... Including this one. Even in India

We have cards like this now, but what are the chances the next flagship Lumia has 32GB memory and no SD card slot?

By the time next flagship Lumia comes out this will be old tech...

So, does this mean we can see 2TB full-size SD cards soon? I mean, at that density we can surly be pushing over 1TB by now for the larger form factor right? Or are we going to see M.2 continue getting smaller and cheaper while offering more performance?

400$? I'll get a Lumia 1520 with that price , well , 32 GB in the 1520 is enough for me But really , it deserves this price , this shit is so awesome !!

It's very nice 200 GB, Windows phone support,

200gb on something the size of a nail... mental... A flagship + one of these...


Well, the compromise is speed and number of write cycles.

Well yeah, that is a given. Generally speaking when a user has more space than they need, the frequency and amount of data transferred usually decreases.

I remember when my Dad told me about the time when his office got a computer, with 8 MB of storage. 8MB!!!!! That computer cost a fortune, and was rather large. Accounting for inflation, storage today is dirt cheap.

Don't forget, the ram also was rather minuscule in comparison to what is the norm today.

"expandable memory up to 128GB" You really think they said that just because there isn't a bigger one at the time? Maybe there is more, maybe there is something related to read and write that keep this at just 128GB.

Probably be pretty expensive even a 128gb micro SD card is pricy right now

Just bought a 64gb MicroSD card for my Surface Pro 3 yesterday lol

Like really. It's hard to believe that all these intelligent individuals still don't understand that when a new technology is introduced it costs more than it will a year from now. Anyone for some cheese?

Ah that would turn this 1520 to more of a beast!

I'll buy one...for "science"

Why is this more impressive than 128GB?

Same size, more storage..

200gb is nice but what are the read/write speeds on this thing? My Samsung 64gb writes at 69Mb/s.

The SPEED is where the real tech is in these cards, not the storage. Still nice to see storage improvements and innovation in such a small size! ​

But isn't the speed also dependent on the reader on the phone? I've always wondered what are the read speed limits on certain phones.

$400? I expect to see it on Amazon for $80 or something.

But how much will be really usable on this SD card, 180 GB?. My "16" GB SD card on my phone, only uses 14 GB...weird.

40 meg hdd, IDE. 386 DR DOS. 1 Mb RAM, upgraded to 4. 5.25 and 3.5 inch floppys. 28.8 modem. That was my family's first PC...

They'll release that one ina few months once everyone's bought one of these!

I think they should focus in improve the writing speeds instead of the card size

Oh dear God!!! I remember installing my first 1GB HDD (1994). MS-DOS 6.0 had serious problems dealing with such amount of storage. And now.. 200GB in the tip of your finger.

Lets hope that windows 10 will let us install apps to an SD card (as in tablets, not phones)

Why don't we have this built Into our phones tho?

I would love the space but couldn't imagine trying to replace it if my phone gets stolen. Hopefully there is a replacement plan.....

I still have the huge 32mb memory card of my N-gage which has so many games! XD

I won't one Posted via the Windows Central App for Android

Donna and Tom done treated their-selves to 200gb on the Windows Phones they use on Parks n Recreation!

Now is this even possible..

"128GB + 64GB = 192GB, and that extra 8GB would be nothing" Consider that 200 of the storage sales-person's gigabytes (GB instead of GiB) is only 186.2 GiB so those 8GB are part of the loss. And that's $399? Amazon.com is listing Sandisk's 128GB microSDXC card for $92.64 today. Buy two for less than half the price of the 200GB and get 238 GiB. This is probably marketing tactics of Sandisk to divert the interest from the faster flash memory Samsung announced recently.