Attach storage, Ethernet, and more to your USB Type-C Windows phone with an iClever hub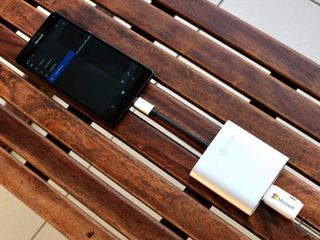 While Windows 10 Mobile brought USB OTG (on-the-go) support out of the box, the USB Type-C arrived at the same time to ruin your party. Essentially, this meant that you couldn't use your microUSB flash drives or those cheap microUSB-to-USB adapters to move data to-and-from your phone, or add some extra storage as and when you need.
You can, of course, buy one of the newer flash drives that come with Type-C connectors or pick up a USB hub that works with all Type-C devices (that includes Android smartphones and MacBook as well). I used these two hubs from iClever for a week with my Lumia 950 XL (and HTC 10) with a variety of flash drives, and this is how my experience was. I often used them to transfer photos from my DSLR camera by plugging a card reader to the hub – it might sound complex, but when you're out and about and need to get work done, sometimes all you need is the right accessory to move things along.
First up, there's the iClever IC-TCH001 hub that packs in Gigabit Ethernet as well. It sports three USB 3.0 ports (backwards compatible with USB 2.0/1.1/1.0) enclosed in an aluminum shell with silver finish. It looks nice, and is quite light for the obvious portability. The construction is solid, so it can take a bit of a rolling in your backpack.
Note that this hub does not transfer power thought the post. While the Ethernet network throughput for the hub is decent, and similar to most mid-range hubs/docks, it is limited with a USB device in parallel. The more USB devices you plug in, the slower the networking performance.
At $12.99, the iClever IC-TCH001 hub is a handy accessory to have in your backpack to augment your network speed instead of being wireless or add extra storage on need basis.
See at Amazon (opens in new tab)
Then there's the iClever 3-Port USB 3.1 Type-C Hub with Power Delivery 24W Charging Port. Apart from the three USB 3.0 outputs, this USB hub also packs in a USB Type-C input (DC 14.5V/2A) for super-fast charging. It's handy when you need to transfer data but your device is on low battery — plug in with this hub attached to your USB Type-C charger and you'll be able to recharge and sling files at the same time.
This iClever hub is compact and slim, and the unibody aluminum construction is sleek and looks durable. At $21.99, this one is more expensive than its Ethernet-equipped sibling above, although I prefer this one between the two. It's stylish, and fits well in the sleeve of my bag without making a lump.
See at Amazon (opens in new tab)
Windows Central Newsletter
Get the best of Windows Central in in your inbox, every day!
Nice stuff! I feel kinda left out with my Lumia 640 XL not supporting any of these :(

People with money always get to enjoy the good stuff. Or teens who's parents have money to buy expensive phones for them :p I know 299$ for the 950 ain't a lot but my parents' budget for my phone was only 150€... So I got the 640 XL :) Still, I love this phone

Exactly. Remember when kids had to save up for stuff? Now I see eight year old kids with apple watches. I bought all my phones with my own money

Kids have gone greedy these days... And they follow the masses. If all of their friends have iPhones they have to have one too. I'm happy that even though I'm 17 I'm not doing any of that and I'm the only one among my friends with a Windows device. It makes me feel special :p Sorry for the long message !

I feel special too, I'm the only one with a wp too in my circle of friends

Can't wait for the ic-tch003 were they will add back the ethernet and remove two usb port in the process ...

So connecting wired Ethernet, via this hub, now works with Windows 10 mobile on 950 XL?
In an earlier post, just after the release of the 950XL, you talked about all the possible accessories that could be connected to it. And in that post you also tested some ethernet adapters which did not work. (Or is my memory incorrect?)

Your memory is correct, but in a later post, Daniel mentioned that the newer firmware brought Ethernet capability. (At least to the 950 series phones)

Ethernet support was added with the Anniversary Update i think, so now it should work

Ethernet support was added in RS1 (Anniversary Update) now works.

Nice! Should grab one of these

So the expensive one doesn't slow down Ethernet speed even if we plug in more than one usb with ethernet? Please answer this

The expensive one doesn't have Ethernet.

Thanks. So the first slows down Ethernet speed if we plug in more usb drives?

Then minix neo c is the best right?

'Note that this hub does not transfer power thought the post'. what does this mean?
Windows Central Newsletter
Thank you for signing up to Windows Central. You will receive a verification email shortly.
There was a problem. Please refresh the page and try again.