Watch us play charming Xbox One and Windows platformer 'Thomas was Alone'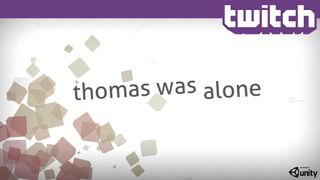 Every weekend, Windows Central streams an Xbox One game or two on Twitch for 1-2 hours and gives out free games to the cool people who join us during the stream. It's like a live podcast, only you also get to watch a game while chatting with our awesome readers and viewers!
Tonight at 8pm Central (9pm Eastern, 6pm Pacific, 2am GMT), we'll be playing Thomas was Alone from Mike Bithell and Curve Digital. A puzzle platforming game starring a charming array of characters, Thomas was Alone will melt even the coldest heart. We want you guys there, chatting along. So we're giving out a whopping 30 codes for Xbox One and PlayStation consoles!
Update: The stream has ended. Continue reading for impressions, contest winners, and the full stream replay on YouTube!
Thomas was Alone
This game tells the story of Thomas, a piece of software code who develops sentience by mistake. Thomas wakes up and tries to understand the world around him, but he also feels lonely. Soon he'll meet a variety of code characters like himself, all with unique personalities and abilities.
Thomas was Alone looks quite simple visually, but it features some fantastic narration for each level that adds personality and warmth to the many characters. You'll often need to switch between multiple characters to make it through a level, using each one's talents to help the others progress.
With 120 levels and 15 playable characters, Thomas was Alone is a robust and colorful game that every platforming fan should experience. Join us tonight and you might win a copy of your own!
Thomas Was Alone – Xbox One – 465 MB – $10.99 – Xbox.com Link

(opens in new tab)

Thomas Was Alone – Windows and Mac – $9.99 – Steam Link
The Contest
We'll be streaming Thomas was Alone for 90 minutes tonight, starting at 8pm Central (9pm Eastern, 6pm Pacific, 2am GMT). During that time, we'll be giving out a total of 30 game codes:
20 for Xbox One
10 for PlayStation 3, 4, and Vita (US accounts only)
To enter, just follow me at Twitch.tv/Eastxtwitch (making sure to enable email notifications!) and tune in during the stream. You can watch the stream right here in this post, but you need to actually participate in the stream chat to have a chance at winning. We'll deliver codes to the winners via Twitch message (PM) during the stream. No code begging!
I'll be available for a few minutes before and after the stream if you have any questions or just want to say hi. If you enjoy the stream, be sure to check our schedule and come back for more!
How to watch Twitch livestreams
What's the best way to experience Twitch? The Twitch website on your PC or Mac web browser. If you don't have or prefer not to use a computer, you can get the Xbox One, PlayStation 4, or Xbox 360 Twitch apps and watch from the comfort of your couch. Android and iOS both have official and unofficial Twitch apps to choose from as well.
On Windows Phone, you'll have to grab an unofficial app. There are several to choose from, each with different strengths and weaknesses. Only one app lets you search directly for our channel, though. If you use the others you'll have to find and follow us from a web browser first. Read the roundup to learn more!
Streaming schedule
Want to know what's next for Windows Central's Twitch programming? Here's this week's schedule. The stream always starts at the same time: 8pm Central (9pm Eastern, 6pm Pacific, 2am GMT).
Monday, April 13 : Toukiden: Kiwami for PlayStation 4 and Vita. Paul and Tyler take on the game in co-op!
Wednesday, April 15: htoL#NiQ: The Firefly Diary for PlayStation Vita. Paul tries out this unique puzzle adventure game.
Thursday, April 16: Tyler night! Tyler plays a game of his choice.
Saturday, April 18: Divekick and Threes. Two Xbox One games in one stream, and two chances to win. Don't miss it!
We hope you'll tune in as often as you can! Set a recurring alarm on your phone so you'll always know when it's time for the stream to start.
Winners
Come back here after the show to see the list of winners.
Xbox One
Evilernie667
Bushybro
Dakrkplayer2
Mongbox
Surrealsonicus
Ozznunully
Cecilkilmer
Cmuchippewa
Bic9
Sn0wpard
Majesticpanda89
Z0rbs
Betachris
Cgriffiths86
Nullvectorq
Mastere333
Mystictrust
Souza_rs
Freakystuff412
Bandit Gaz
Playstation consoles
Alexkywalker
Iccyasd
Bria5544
Rann7878
India Stingray
Xero on Twitch
Thanks to Curve Digital for providing tonight's prizes. Thanks also to our Twitch stream moderators for keeping the peace and giving away the prizes!
Paul Acevedo is the Games Editor at Windows Central. A lifelong gamer, he has written about videogames for over 15 years and reviewed over 350 games for our site. Follow him on Twitter @PaulRAcevedo. Don't hate. Appreciate!
Fun Fact: He was also a tank engine I'll be there for the stream

Awesome game....already have it and will be there to chat.

Awesome game with awesome soundtrack

Who is Thomas and why is he alone?! Lol. Have a good time Paul, let Jez play too.

This will be interesting to see for the tutorial aspects alone.

Such an intriguing looking game. Have a good stream guys.

Your streams are always fun to watch. I'll try to be there.

Oh cool. I've been intrigued by this game before. This could be a good way to find out more as well as a good study break haha

Hmm, might stop in, not sure. Already watched this in a previous stream and wasn't overly impressed. Seems like a rather light week of games on the way as well, in terms of what I have interest in. Win some, lose some.

Hope to still be awake to watch. The only problem of a late start of 2am.

Thanks to the developers for such a huge hawl of codes to give away!

Y iz dis on ps4 code. We Xbox fan!! #diesony

I love this game so much. I love the writing style, the narrator, the gameplay, and everything else. I'll be there just to watch this increadible game.

Played this in the pc a while back. I love the narration and the puzzle mechanics are neat. Hope you have great broadcast! Might not be able to make it, but we shall see.

i cant seem to log into twitch ! anyone else have this issue or is it just me? #StreamTeam FTW

Did you reset your password when they deactivated everyone's passwords about 3 weeks ago? You won't be able to log in again until you do.

Why did they make everyone reset their password? I almost thought it was a spam email until I looked closer and it was actually from Twitch. Posted via the Windows Central App for Android

Cool game. Thanks for the demo

Thanks to Paul for an awesome stream as usual! And thanks to Curve Digital for providing the codes! I ended up winning one and I can't wait to play it! Posted via the Windows Central App for Android

Which Twitch client would you recommend using on Windows Phone?

Unstream is easily the best one for Windows Phone.

Thanks, I'll look into it

I use 8Stream. After testing a few others, this one seemed the most solid for me. But I haven't heard of Unstream, I'll give that one a try too.

Ahhhh, now I don't know which to use. UnStream lets you easily view your own stream, which is awesome.

Thanks for streaming! The style of this game is pretty cool and unique and it's nice how there is some easing-in on the difficulty for the first levels. Would have been cool to win a code, but I might just have to pick this one up now for the price.

The puzzles, story and soundtrack to this game are incredible. I love how they managed to give more personality to little shapes than most developers do to actual humanoid characters. So much love for this game :D

Yay I won a copy! Thx to the developer for giving a generous amount of codes, so now more ppl get to enjoy it.

Yeah, just noticed that they gave out 20 copies! Superb.

Way to go Iccy, so did I, big thanks for the codes last night!

Yep, I won as well. Will play it a bit tonight. Traveling home now.

Nice stream guys as always!!! And thanks for the code!

Wasn't able to catch the stream unfortunately. Real busy and long day at work and ended up falling asleep when I got home. Will catch the replay though.

We missed ya! Glad you got some rest, Jack. :)

Nice game with great soundtrack! Thanks for a great stream!

Great time was had watching the stream, winning a generous game code for "Thomas was alone" and later on battling mystical beasts!

That was quick! Yeah, I seldom rush through games or worry bout their Achievements. I would like to finish Thomas eventually though. Congrats, man.
Windows Central Newsletter
Thank you for signing up to Windows Central. You will receive a verification email shortly.
There was a problem. Please refresh the page and try again.