Three more major game publishers are skipping the E3 2016 exhibit floor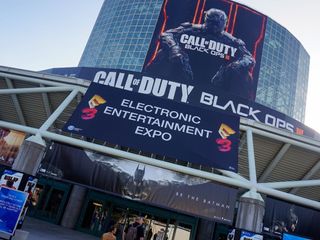 The 2016 Electronic Entertainment Expo trade show in Los Angeles is losing even more major publishers from the show floor of the LA Convention Center. Activision, Disney Interactive and Wargaming confirmed this week they won't have their own exhibits at the show, which runs from June 14-16.
Those companies are joining Electronic Arts who said in January it was going to hold an off-site press conference and exhibit in LA during E3 at the nearby Club Nokia venue at LA Live.
Buried in a blog post about their plans for the Call of Duty franchise, Activision said earlier this week it "won't have an Activision booth on the show floor." Instead it will be showing its games, like the next entry in the Call of Duty shooter series, at Sony's PlayStation booth at E3.
VentureBeat confirmed today that Disney Interactive won't be at E3, with a spokesperson saying the publisher will instead have "additional direct to fan engagements through the summer this year". Wargaming, best known for their free-to-play World of Tanks franchise, usually has one of the biggest E3 exhibits. However, a spokesperson told VentureBeat:
The Entertainment Software Association, the organization that runs E3, is stating, at least publicly, that these departures are not going to harm the future of the trade show. Rich Taylor, the senior vice president of communications at the ESA, told VentureBeat:
Source: Activision, VentureBeat
Windows Central Newsletter
Get the best of Windows Central in your inbox, every day!
Better for XBOX, less companies, makes xbox stand out...I guess

These are companies who publishes games. Games that play on the XBOX, as well as PS.

Activision showing the next Cod at the playstation booth?
Sounds like MS losing again, ego shooter kids are very important.

So how is MS losing when their game is available for both platforms?

The kids see it first over at Playstation and I think there was/is a timed exclusive deal for dlc.

"The kids" won't be at E3. It's an industry trade show, not open to the public, with no one under 17 allowed.

@jbowyer Was not aware of that, thanks for letting me know! My point is still valid, no doubt it would be better to have that action over at Microsoft.

CoD has DLC a month before Xbox and PC and gets exclusive skins and aps.

Maybe true. But they won't miss the ultra dominant pc gaming market just because one of the worker there is a fanboy.

Microsoft is most currently not losing. Everyone knows that's the PlayStation network can't hold a candle to Xbox Live. Microsoft has a "real" gaming network. Sony, has a house of cards.

Console makers charge their customers monthly just to play games online, and the idiots who are getting ripped off line up in droves to fanboy for it. Amazing.

It has it's pluses and it's downsides. But it is not all bad, no.

Idk. That infrastructure has been a little shaky lately ...

Is that in or near the rights to the Nokia theatre Microsoft purchased some time ago?

Not a big deal,.given the biggest is still going to be there and the other two didn't seem to be major factors otherwise. EA's omission is definitely bigger than the others, but with Nintendo launching new hardware and major exclusives from MS and Sony to reveal more about, E3 won't be hurting for content.

Other than your spelling mistakes, I can safely say your comment is very wrong. activision won't give up the sales that can be had on Xbox. They will squeeze every penny out of call of duty for as long as they possibly can.

Well if they can on U y not give up on xb1

Didn't Activation actually say that Call of Duty sold better on Xbox One? I'm sure somebody revealed that...

That was Ubisoft. Posted via the Windows Central App for Android

Ah, ok. So which game was it? Thanks

I think it wasn't sold better but had better user engagement and a higher average spend amount, however PlayStation has more consoles out in the field so profit and sales was probably higher on PlayStation, and as someone said above it was Ubisoft not EA. Posted from Windows Central for Windows 10

Is E3 getting too expensive for vendors?

This is my take on this news.

The thing is Activision is no big loss, the company are terrible just as they say robbing bastards customer relations are crap, with PlayStation they will get away with there money grabbing antics, good riddance I say

Actually xbox owners are more willing to throw money at publishers. At least that's what an article on WC said.

I know COD has become a very stale franchise but I still think it is a loose for MS when Sony got the dlc first deal. There are people who still love that game.

They can still love it, just a month later for DLC. Not like the actual game has a 30 day exclusive on PS4.

Exactly... it's not like people didn't play the previous CODs on the PS3/4 when MS had the DLC first. It really doesn't make a difference.

Dude, learn to spell. Also, read up on logic. Clearly you need both.

Microsoft **** on Sony . What's the difference between ps4 and Sega genesis. Only graphic improvements. But Microsoft Xbox on take the console beyond console with windows 10 and Cortana and backwards compatibility and Kinect and...

Since when is Disney a big publisher? What do they publish aside from some mouse games?

Disney infinity, they license the star wars games, I'm sure there's more, but you can look them up.

This is what happens when everyone knows Nintendo is arriving.
Make way for Major (Article Dominating) launch news. Posted via the Windows Central App for Android

They need to open e3 to public. That's why they're shying away. They want people to play these games.