Tiltagon - a slightly painful arcade game for Windows Phone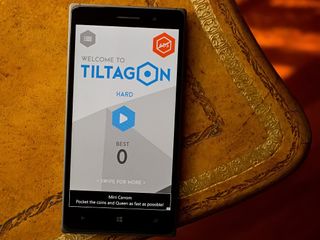 Tiltagon is a challenging arcade game for your Windows Phone where you have to balance a ball on a hexagon platform, collect cubes to generate more platforms and travel across as many platforms as possible before you fall into oblivion (and you will fall).
The official gaming title for the Windows Phone game is "Tiltagon - Tilt. Fall. Repeat.", which accurately describes game play. Available for low-memory Windows Phones, Tiltagon is a fun option to consider for the times you only have a few minutes to pass. There is also a slight addictive pull that helps the game fill longer gaming spells as well.
Your main menu with Tiltagon offers up a hamburger menu (and it looks good) to access gaming options and credits, as well as options to jump into game play. There are two difficulty modes with Tiltagon, hard and hard+. To switch difficulties, just swipe to the left to move to the harder level (if you dare).
Playing Tiltagon is simple. You use the tilt sensors of your Windows Phone to move your ball around the game screen. You start the game with your ball balancing safely on a hexagon platform. There is another hexagon adjacent to the starting point with a cube resting on it.
You will need to roll your ball across to the hexagon with the cube and collect it. When you do, another hexagon will pop-up with another cube rolling around on it. Repeat the steps until your ball falls off a platform.
Sound simple? Well to make matters difficult, there are mini-hexagons spinning around the platforms and other moving dangers that are dead set on pushing your ball off the platform, ending the game. You also have hexagon's that slope and those that have holes in them. In a nutshell, the game presents you with a rather hostile environment to navigate around.
Oh and for those with a sadistic streak, the hard+ difficulty level prohibits you from making contact with the little hexagons that spin around the platform. The slightest of contact will cause your ball to explode.
Each platform represents one point and as you might guess, you want to score as many points before your ball plummets to its fate. The game is a tough nut to crack and do not be shocked if your score stays in the single digits for a while.
Overall Impression
Tiltagon - Tilt. Fall. Repeat. isn't an overly difficult game to pick up and play but might drive you nuts as you try to master it. The minimalistic graphics look good, the game challenge is obvious and there is an addictive quality to the game. It is as if the game is daring you to play the game one more time.
The only glitch I ran across is that every now and then, Tiltagon would crash on startup. Nothing to cause you to run screaming from the room but noticeable.
Tiltagon is a free, ad-supported gaming title. You can remove the ads with a $1.99 in-app purchase. It is a fun, difficult, challenging game well worth trying. At last check, with only a few reviews in place, the game is pulling down a 5 star rating in the Windows Phone Store, which we see as being in the right neighborhood for Tiltagon.
If you give Tiltagon a try, let us know what you think of the Windows Phone game in the comments.
Download Tiltagon - Tilt. Fall. Repeat. for Windows Phone (Free)
Windows Central Newsletter
Get the best of Windows Central in in your inbox, every day!
George is the Reviews Editor at Windows Central, concentrating on Windows 10 PC and Mobile apps. He's been a supporter of the platform since the days of Windows CE and uses his current Windows 10 Mobile phone daily to keep up with life and enjoy a game during down time.
Best score in the screen screenshots is 0. :P

Looks cool.. Downloading.. :)

I prefer games with touch controllers to tilt based games.

I Cant play this game lying on bed.... This game is not for Lazy people

You can, the auto calibration takes care of that for you.

I'm noticing that lately more games that my friends are playing on their Android or IOS phones are becoming featured in the articles. This one is no exception. Please keep it up, devs, and thank you!

The challenge has always been keeping the momentum up.

We will! And thank you for the support :)


You A developer? That's so awesome man !

Yes, Tiltagon is made by me and my wife. We also had awesome support from Noodlecake Games who also published the game's iOS and Android versions. If you want to know more about us, check out our interview at Microsoft's Lumia Conversations blog:
http://lumiaconversations.microsoft.com/2015/05/22/appily-ever-after-meet-the-husband-and-wife-team-who-created-a-gaming-hit/

Top work Jyri. Rage quittingly addictive fun. Great music too, nice to see the Soundcloud links in there.

Thank you Chris! The music is actually made by two Finnish EDM artists. Be sure to also check out their other tracks available on Soundcloud.

3. I'm awesome according to this game.

You are too gud... I cant cross 3 even after 10 players

Got to 25 and then suddenly the board dissapeared and I fell through! XD

This game has been out for a while.

Big respect to the devs....BUT there could be new games out every day AND people would still moan on here.
Just saying

Why does this game wants to use ny phone's location?

It looks good, but I won't consider it without touch controls. I hate tilt-controls with a passion!

Wow! George, thank you very much for writing about our game! :)
- Tiltagon developer Jyri

Thank you for bringing the game to Windows Phone.

You are welcome! And please remember to tell your friends about the game as well ;-)

Why is it ' slightly painful' though

So you will click on the article.

Runns screaming from my room! ;)

I rate this! :D On 16 points after 20 tries :) Fair to say I won't get much exam study done over the next few weeks :P
Windows Central Newsletter
Thank you for signing up to Windows Central. You will receive a verification email shortly.
There was a problem. Please refresh the page and try again.