Tink Magician, an enchanted Windows Phone 8 tower defense game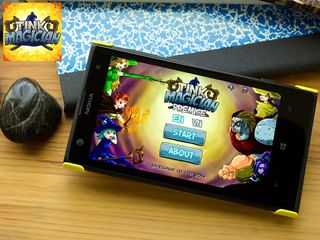 Tink Magician is a relatively new Windows Phone 8 game that has you defending a magical kingdom from a demon lord. You use your magical spells to summon elemental powers to destroy the invading armies of the demon lord. Tink Magician is a fantasy battle game that plays much like a tower defense game but also has RPG aspects.
As you battle your way through the map of your kingdom, you will earn experience points that can be used to upgrade your character and gold coins that can be used to buy power boosts. While Tink Magician is a fast-paced Windows Phone 8 game, it can also be rather exhausting with the volume of monsters and bosses you have to defeat.
Game Layout
The main menu for Tink Magician is minimal with options to turn music/sound on or off in the upper right corner along with options to view the About Screen and jump into game play.
Game play launches from a map of the kingdom with tiny arrows marking your current and past battle arenas/levels. The blue arrow marks the level you need to conquer and the gold arrows mark levels you've conquered and can re-play.
At the bottom of the map screen you will find three icons that will send you to: your heroes page where you can:
The Heroes page where you can upgrade the magician's abilities
The Upgrades page where you can upgrade your elemental spells
The Store page where you can buy health potions, immunity scrolls and other power ups
To start the battle, just tap on the blue arrow (or gold arrow to re-play a level).
Game Play with Tink Magician
The first few levels on the map serve as tutorials to get you familiar with game play but are not without challenge. Your magician will need to use elemental spells to defend their position from wave after wave of monsters.
The game screen has your spell choices in the bottom right corner of the screen, your character icon in the upper left corner, and along the right side of the screen you can toggle between viewing the next round of monsters or your power-up inventory.
Elemental spells include fire, lightning, rain, ice and more. You will start the game with just a sword swipe and will add more elemental powers as you advance through the gaming levels. Once you reach the fourth level of play, will have the opportunity to choose which elements you will take into battle at the start of each level but are limited to only four elemental choices.
Monsters include bats, wolves, blobs and other nasty creatures. The monsters move a various speeds and all take multiple hits (some more than others) to destroy. Some are more resistant or more susceptible to particular attacks. To find out more about the monsters, tap the small icon that appears in the right side of the game screen as the monsters appear on the screen. Eventually bosses will appear in the final wave of monsters (around level three) that are rather difficult to dispatch.
To strike at your enemies, all you need to do is choose your element from the icons in the lower right corner and swipe at the enemy monsters. Much like you would do to slice the fruit with Fruit Ninja. Each level will have a set number of waves to defend and as you slay monsters, your magician will build up energy that is reflected by a meter that circles your player icon. When the energy maxes out, you can tap the icon and unleash a super attack that will impact all the monsters on the screen. This attack may not take out all the monsters but will do considerable damage where only a few elemental strikes will be needed to finish them off.
As you progress through the game, additional magicians will join in on the battle and you'll have two points to defend. Naturally, if the monsters reach your magician and cause too much damage your magician will be defeated and the demon lord will run amok over your kingdom.
Overall Impression
While game play was definitely challenging with Tink Magician it was also extremely tiring. At the height of each level, you are constantly swiping at the screen in hopes of destroying the monsters before they destroy you. Add having to change elemental attacks during the heat of battle and the pace of Tink Magician really picks up. Look the other way for just a second or miss a screen swipe and the monsters will overrun your magician.
Overall Tink Magician isn't a bad Windows Phone game but could stand a little polish, mainly in the form of a help section. While the tutorial does a nice job of covering game play but there is enough to Tink Magician to warrant at least a reference section to explain what all those icons mean. For example, I like how you can pull up the monster information from the gaming screen but it would also be nice to have a centralized reference section as well. The pace of the game really doesn't allow much time to look up a monster's weaknesses and strengths while fending them off.
Luckily, Tink Magician is not a difficult game to get a handle on after a few tries. While you may experience hand cramps from swiping at your Windows Phone so much, Tink Magician is an entertaining gaming option to consider for Windows Phone 8.
Tink Magician is a free game that is available for Windows Phone 8 devices. You can find Tink Magician here in the Windows Phone Store.
Windows Central Newsletter
Get the best of Windows Central in in your inbox, every day!
George is the Reviews Editor at Windows Central, concentrating on Windows 10 PC and Mobile apps. He's been a supporter of the platform since the days of Windows CE and uses his current Windows 10 Mobile phone daily to keep up with life and enjoy a game during down time.
Nice looking game! I wish we could have trine 2 on wp.

Now that would be nice. I'd also like Trine 2 on WP.

Looks a lot like Kingdom Rush.

My thoughts exactly. Would be great if we'd be getting Kingdom Rush games on WP.. We could use some high quality tower defense games, since most WP TD games are utter crap unfortunately.. I have to revert to pc gaming and the Ipad just to satisfy my addiction to TD games.. Which is actually a shame really. Will try Tink. Perhaps it's a good addition..

Downloading in Brazil...Hope to see some performance improvements, i'm feeling the device a little bit slower than it was in WP8.

Sadly not available here in the Brazilian WP Store. :(

Sorry about it. I had trouble with PEGI certificate. Game was being improve so I will try to submit on Brazilian WP store in next version.

Thanks a lot!! You can also use ESRB to publish here. Please, let me know when become available so I can spread the news in here.

Sounds similar to Babel Rising, right?

Thanks for the reviewing. We are just a newbie group with 2 member. I know these have many thing need to be improve. We will try to resolve it. Hope everyone will follow this game. Best regards, Phuong
Windows Central Newsletter
Thank you for signing up to Windows Central. You will receive a verification email shortly.
There was a problem. Please refresh the page and try again.