How to fix the 'resuming' bug after uninstalling Live Lock Screen beta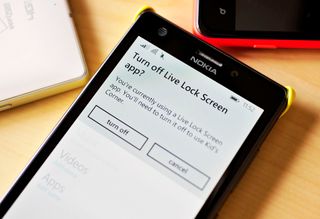 Last night after much anticipation, Microsoft released their first beta for the Live Lock Screen app on Windows Phone 8.1 (see our hands on video). The app is maintaining a 4.1 (out of 5) rating on the Store, though the biggest complaint by far is the delay when turning on the phone. The reason for that has to do with the Live Lock Screen being an actual app that runs and a few other complications that developer Rudy Huyn says he is diligently working on to improve.
Regardless, if you do not want to participate in the beta, or would like to sit a few rounds out to see if Live Lock Screen improves, then you can always uninstall the app. Case closed, back to normal, right? Not so much...
Uninstalling Live Lock Screen beta is seamless unless some bits of the app are left behind. If that happens, when you turn on your phone you will witness a brief blank display with a 'resuming' lag before you can see the Start screen. It is not clear yet how to recreate the problem, and it does not affect all devices (ours was fine on uninstallation, though others in our forums are exhibiting the problem).
To attenuate this situation is easy and just requires enabling (and then disabling) Kid's Corner:
Settings
Kid's Corner
Setup (if first time) or enable
If you still have bits of the Live Lock Screen app installed, you should see the message shown in our lede image asking you to 'Turn off Live Lock Screen', to which you select 'turn off'. Once completed, your phone is back to normal with the screen turn-on lag fixed. You can now, of course, disable Kid's Corner. (You could alternatively choose 'Bing' under Lock screen instead of photo).
Obviously being a first release beta there are some consequences. In this release, the app evidently does not disable the rotator when uninstalling causing this side effect. I hope that many of you are not suffering from this if you choose to uninstall, but if you do, at least you now know a solution.
Get the Windows Central Newsletter
All the latest news, reviews, and guides for Windows and Xbox diehards.
Daniel Rubino is the Editor-in-chief of Windows Central, head reviewer, podcast co-host, and analyst. He has been covering Microsoft since 2007 when this site was called WMExperts (and later Windows Phone Central). His interests include Windows, laptops, next-gen computing, and for some reason, watches. Before all this tech stuff, he worked on a Ph.D. in linguistics, watched people sleep (for medical purposes!), and ran the projectors at movie theaters because it was fun.
It's also been suggested that installing the app on WP storage & not SD helps. I've no idea if that works.

It definitely helps but the live lock screen still lags.

There's two other fixes for this mate one just been published by WPC & I've published one on the app part of the WPC app forum.

It's funny, I get no lag when the phones been off. But the phone's just been off for a few minutes and i still don't need a password, i get a 5 second lag after swipping up. At that point i see all my tiles, but nothing happens until 5 seconds is up. Anyone else get this? I'm using a 920.

I get the same lag. It lags to turn on and show the lock screen and then I lags when I swipe up. It takes a second or two before I can swipe/touch my phone with actual feedback.

Oh I'm so thankful for this article.. The lockscreen app is just awful as of now. Hopefully they improve it drastically for the release

Well I need the stripes unlocking screen dat showed up in video ..!! Dat looks so great :/

Waiting for API announcement (hope Soon™ too ;)

Here is: http://msdn.microsoft.com/pt-br/library/windows/apps/windows.phone.syste... But, CAN NOT deploy to phone...

I like the new change satellite tv for pc

Thanks a lot, nearly did a hard reset.

An easier method is to select "Bing" in the lock screen settings and then revert to what you had configured before installing "Live Lock Screen BETA".

I get sometimes very long 'resuming' lag with live lock screen enabled.

You could use the app that you used before the live lock screen beta and not even uninstall the app. It works

How do we fix the resuming bug in Xbox Music?

There will be news on that Soon™.

Now<----------Soonerino----------Very Soon----------Soon----------Soon-ish----------Soonish...er---------->End of Time

Told you Dan be's holdin' out.

Its not teasingly at all ... But its because the speed of the Microsoft to push the update

If the news is that the lag issue has been fixed, I'll tattoo WP8 on my lower back.

Make an appointment for next week then, then is the next Xbox Music update coming, with probably some performance improvements.

A tramp stamp? No time frame? Hmmm might as well just get it now

Soon is a Trademark of Microsoft

Actually it's belonging to Valve.

Thought it was Blizzard's lol

I'm not sure, both of them are pretty old.

No, they trademarked "coming soon" :-/s

No, they trademarked "when it's done" :)

Don't forget "Working as intended", for actual bugs.

Or MS's Dreaded Blue Screen of Death.

Soon™ hahahahaha I like that. Clever.

Soon™ is actually Blizzard's (the gaming company) way of defining the release dates.

Why is Rudy working on a fix of its a MS app?

He designed it for them, perhaps?

Live Lock Screen is designed by Rudy. Belfiore acknowledged that when it was introduced.

Lol @ "Soon™" I love WPC!

Awesome. Dan actually trade marked Soon. lol.

Uninstall, then burn. Once completed, install Zune for winP 8.0 and 8.1 devices. Ha ha. My bad dude. Couldn't resist. Anyway, last time I bitch about that. Alright, can't promise but I'll try.

I know an easy fix: 1. Use a different music app. 2. Stop whinging 3 ... 4. Profit.

Expecting a product to work is whining? Are you bored?

Yes, because it works good for me, so yeah stop whinging.

It works for you, meaning it works for everyone else. K Got it.

It works for me - it's supposed to work for everybody. If it's not - use another app, and stop talking bs deduction.

The issues with the app are well documented and you know it, which is the reason you made the comment in the first palce. The fact that you're trying to pretend it works fine is comical. te-he.

What documentation are you talking about? Mine is this one http://www.wpcentral.com/latest-xbox-music-update-ditches-initial-song-s...

Link doesn't work on my 1020

http://www.wpcentral.com/latest-xbox-music-update-ditches-initial-song-s... try this one

I'm just trying to figure out what "whinging" is.

Oh, if it works good for you then we should all stop complaining. Perhaps we should follow your advice, use a different app and trash all the DRM music we bought on Xbox. What an intelligent person you are.

If this complaint was one of the first on this site/forum, then I'd suggest in a different manner, but because users still don't learn lessons from other users experience - I'm doing they way I do. So you have issues as well, right? Of course I'm intelligent, any doubts?

By learning how to use the app or using mix radio

So I don't know how to use the app, and that's why it freezes and lags? LOL. Wow...

How about the second option in the statement above?

Not yet any lag on my 520, still working is ok as far as beta is considered

How did you installed app ... It requires 1 gb ram

You haven't read that article yet...go read it.

You can install it on devices with 512 RAM :)

® Read it first. Don't just jump in the comments

Yep...no issues on my 520 either.

Great application by the way. Thanks for the help Daniel. Now this help topic seems faster. For real

Uninstall?? I know not of this sorcery :D

How do I keep the lock screen on instead of it timing out after 5 seconds? I tried app, it's nice..but screen times out so quick.. Seems like a lot of effort for not much reward

Already uninstalled this app after i tested it for 3 minutes.
Im waiting for the api then use this app again as experiment.

I uninstalled it after. Ten minutes , stupid app I miss strips method , i will stay. On the old. One it's much better for me ;)

they should pledge to do biweekly updates to this app like cortana and xbox music

It's ok because just a beta .
, i think there are no real API for WP lock screen. Maybe they can add by next updates to the system if they want real animation for lock screen.

To me seems a bad programmed App that makes a screenshot of the home screen and have some basic animation...4 months for this ? After all the hype and Belfiore enthusistic tweets...? Deluded.

What are you talking about? Screenshot of the home screen?

When you start unlocking your phone, it seems that the home screen behind it is just a snapshot and not your actual live home screen. I am not 100% sure that is what he is referring to, but that's something I have noticed as well.

I also think it is a screen shot and hence the lag in displaying lock screen after pressing power button.

This fixed it for me. Thank you!

I'm liking the app and really hope it'll get better in coming days.. Only annoying thing is, when you unlock the phone it takes some time to show your actual start screen. I believe the app stores low resolution screenshot of the start screen when you lock.

But 3 out of 6 patterns are same with a different font...¬_¬

Another way is to set wpcentral as lock screen background. ;)

Is there any app that's bug-free? Smh

Nope, especially not betas. All programs have bugs.

lags. So much and it always gives me "resuming" when I turn on my phone. Then I uninstalled it , stupid app , I found. A solution for it , after I uninstalled it , I installed it again then uninstalled it , and its solved ;)

Thank god, really appreciate the article. I always forget that Kid's Corner exist so I wouldn't had even bothered trying to enable it. Thanks WPCentral

This App was so Hyped. There is nothing special about it.

Yeah man nothing special I uninstalled. It after 10 minutes , the old one is much better

Thanks for the tip! I was definitely experiencing this issue after uninstalling. They should've never released this app or should at least designate it as alpha/pre-beta.

Beta is just what it says it is - unfinished software. The fact that the term already implies that it may eat your Cheetos and make your kids cry is enough disclaimer. Don't blame MS because you chose to install a prerelease app and it monkeyed up your phone.

Umm.. I didn't blame them for anything. But this app is not ready to even be called beta. Your choice of words "pre-release" is suspect given the app was released to the unwashed masses for download.

A beta should not cause problems to the phone stability, anyway :/

Ridiculous! The whole idea of Beta is to get the app into the hands of people using different hardware and different configurations to see what issues pop up. The developer can only test so far.

Best solution I've discovered is to wait until the software comes out of beta and becomes official, then install. Works great! ;)

We still don't know if it will work flawlessly or not after the official release. MS can screw anything and everything now...

Just go to lock screen settings and choose another source like Bing or WPCentral. It will fix the lock screen.

I like this app. I can definitely see some potential. I love the first design best, but they're all cool.

I like the app, but the screenshot quality of last state before locking the phone needs to be improved, horrible compression atm

Totally agree. I pull the lock screen half way up and I see this ugly pixelated version of the previous window underneath. Yuck. I mean.. Common... A regular screenshot looks better. They got to work on that.

I freaked out and hard reset my phone and then I come on here and this is the first thing I see. Oh well..

Ever since I have gotten my icon there has been lag when trying to turn the screen on after leaving it off for a while. I feel this has something to do with the screen not having memory. But have yet to notice a delay. Of course even before I got the app I have seen delays do maybe I don't see notice a difference since it was already believing.
One other thing I've noticed with 8.1 recently is that it will give me a resume message when unlocking to the home screen (no apps are in the background). One time all my tiles were blank. Usually this is accompanied with the device getting got while locked for no reason at all and increased battery usage (I believe)
Anyone having similar situations occasionally?

Yap! Having similar issues :/

I don't have mine set to anything and works just fine. I just use my pics. Icon

Windows Soon™ Coming to stores near you... "soon!". SoonMusic, SoonDrive as well as SoonBox all coming SOOONNNN!!! hahaha. Ohhh MS u bitches!! Just bring Zune back wtf

Did you mean...bring Zune back soon? :P

There's beta and then there's bad coding.

Ever used Windows Millenium? lol

I used it and reverted back to my old Windows 98...

I had this problem ...actually i did not like this app...so i uninstalled it....then my lock screen keeps saying "resuming"...so i did a soft reset...pressing power button + volume down key....now its working normal....I dont know why they are not testing the app on their own phone before releasing it to the public use...i will rate 1 star to that app....

Thank god that was driving me batty

I want the circular live clock lock screen to also have the numbers on it, it is really difficult to guess the time otherwise

That's because it's a gimmick.

You know an app is bad when it doesn't even uninstall right. It has potential but right now it's a POS.

Nokia Brazil.. when you see http://i.imgur.com/qYheTkN.png

I have just disabled mine because it does not give my kids access to kids corner. Still using the old lock screen. Waiting for update to fix it

That's great. I love the beta, only thing is that there is an lag when you unlock it.

Thanks, I had this issue after uninstalling in my 1020!

The most annoying thing is that the only way to disable the bloody app is to uninstall it.

I have it installed. I switched my to Bing and then back to my old photo. The app doesn't interfere at all. :)

I don't understand why they didn't integrate it with lock screen settings...

Yeah, seriously. Makes it kind of pointless without that.

I get loading a few times a day after sliding up to unlock.

I've found a little trick for that problem. After you've uninstalled the app and there is the bug, install the app once more, try it once more and than uninstall it again. On my Lumia 1520 after the second time I've uninstalled it, the bug is now away and the locks teen and start screen works if there's nothing happening. Good luck.

Working great on my 720..

Hey umangpop77, this was supposed to support only 1gb ram phones for the official one, but keep in mind the app is still available in beta for 512mb ram devices.. please like my new page on facebook for more updates on Windows phone and other devices:- www.facebook.com/universalmobiletech
Also like
www.facebook.com/amazingmedifacts

No, just don't like FB...

I also published a fix, on the review. Funny how we don't get credit...

Uninstalled first and then set my lockscreen to bing and did a restart.. Fixed it for my 920..

Seeing a little delay on the L635 (512MB) but not enough to uninstall the app. Happy with the app.

Like the idea and will install when out of beta, should it work delightfully!

I don't uninstall live lock screen beta,I hope Rudy fix bug in the next update

Lol funny how people were demanding for this app then complained about it being delayed and now its out and bugs have reared its head complain. I'd rather it have been delayed a little but longer and it be a little less buggy.
Btw where's that darn cyan update for my 920. /sarcasm

Sarcasm isn't really your thing, is it?

I find the app really good. I haven't had any issue het. Lumia 1520 here

So Rudy Huyn developed this for Microsoft?

Yeah back at the original announcement they said he was working in conjunction with Microsoft on the app

I had this problem about an hour or two after I uninstalled it. My solution: Reinstall, reboot, enable, reboot, uninstall, reboot, put the picture of my cat back on the Lock screen. This may not work for everyone, and I just like to have my cat's picture on the screen.

there's another way, just install the app again & when it again asks for confirmation for setting it as lockscreen just press no &u can uninstall it again......

I think it also ignores the display settings, I mean the ones that let you choose how warm or vivid is the screen, I've it set to cold and using the same images on both the live and normal lock screen I see it clearly looks warmer on the live beta

This app doesn't work at all on my HTC tilt running Windows Mobile 6.5. Rudy is a bastard.

I had no problems with my 521 after an uninstall.

Actually its fine for me. Waiting for improvement

I'm experiencing nothing in regard to the app. I look forward to seeing how this app progresses.

Shit I did a hard reset...

Thanks Daniel. That bug was really bad!

Haven't seen resuming bug as of now. Using L920. Wallpaper selected is Bing images.

I'm not experiencing any lag, in the beginning it was present but not an issue anymore. Though the rotating clock is absent of any numbers. They're blank. But I do understand it's still a beta app. So I'm not complaining. I am curious as to why the preview app and the beta app were separate downloads. Normally, the single app would just rollover to the current update. Just curious.

So much for sandboxing...

I installed the app and is running smooth in my 521.

Mine works like a charm no problem with the app, just that it shows notification icons as stars, but it won't hurt If Rudy made it faster

Interesting. I uninstalled it almost immediately after installing it but never had the issue until I read this article.

Lumia 1520 users please stay away from this Lock Screen App. I reverted back from my Dev Preview to WP8 and then installed the official WP8.1 with Cyan update. The phone was very normal, but soon after installing the Lock Screen App, my touch screen became very erratic and registered touches that i did not make. It also disabled the capacitive buttons. The only way it would work again is by powering off/on. But the same behaviour returned again in some time. I did soft reset, un-installed the app, but nothing changed. I also enabled and disabled the kids corner as suggested in this article. Nothing worked. Currently i am doing a hard reset and will report if this issue got fixed or not.

I have no problems with the app on my 1520 its kinda slow and whatever but its beautifully designed and with further updates its just gonna get better.

Yeah no issues on my 1520 either

I tried it out, but there was too much lag. Yes, I know it's in beta. I just enabled the Photostream app that I was using before and it is back to normal.

This is not the Right time to download . Wait let it move from beta

The implementation is poor and really needs to be implemented directly into the is for it to work properly. Should never have been announced and rather been added as a built in feature of gdr1

I hope there will be a more useful version of this app soon.

Im trying to install and uninstaled once more, and it fixed that resuming thing..

My only wish is that I had the option of turning it off, but leaving it installed. Right now, the options are on or out. Is it laggy? A little bit. Is it worth the frustration? Meh. I'm seldom in a rush. The laggiest thing in my digital world is the WPC website, which as I write this, is sucking 250 mb of memory with no other pages open in IE 11. When ATT script-laden ads are present, that number can jump to 500+ mb. Meanwhile, a little lag on the lock screen? I'll deal with it for a week or two so that as updates are made, I don't have to reinstall to see if it's better. I'm not a dev, but I've built enough databases, templates, and macros to know that all automation processes have to be used to see where the problems are. I do wish they'd incorporated some sort of feedback mechanism, but then, I'd have immeasurable compassion for Rudy and the team because I know much of the feedback wouldn't be constructive...

That's technically what the store reviews are for too.. So leave feedback there

Works well on my Lumia 625 with 512MB don't see what the problem is

But the question remains... Why would you want to uninstall it?! Admittedly the lag is there, but I'm loving it nonetheless... If Apple had done something like this app for the iPhone, everyone would be going mad. Guess we'll have to wait and see when they release the iLock ;)

Thanks for the tip. Worked for me

i cant understand why it is just a simple lockscreen app would be "beta"..i think it must not be so complicated for microsoft but still beta..!!!

Please provide the bug recovery update as soon as possible...

I didn't uninstall it but just had the "resuming" bug when I unlocked my phone. It went to the standard lock screen. Locked it and unlocked it again and the Live Lock screen was back.

I got this bug. Restarted the phone didn't work. So, I changed the background screen to bing, and then I back again to the previous one and solved.

OMG! One of the most timely articles in a long time. I installed Live Lock Screen and then uninstalled after a couple of hours becuase it was horrible. Then I got the "resuming..." thing and was pulling my hair out (what's left that is). Thanks for the fix.

Good to know! I m facing this actually

Perfectly fixed it! Phewww

L928, has only one problem for me, unlock phone and start screen or whatever app I in dissapears and immediately returns, no resume screen, just a quick blink of the screen. Absolutely no lag in the app tho.

Great Tip! Did it and worked just fine! Thanks!

Nokia music was best at times but MS ruined it badly. So badly that they want to out of it. MS even spoiled the people hub And Calendar!!!! Now its Lock Screen turn :)

I ran into the same issue. The problem was the Bing wallpaper cycle, which I defined for Live Lock Screen and then kept it for the normal lock screen. A few reboots didn't make it, so I switched the lock screen to other sources (pictures, Weather etc.), and then back to Bing again. Problem solved.

925 8.1 dev pre - I know this is just a glitch, but it is causing a somewhat unexpected result. I have bing weather as my lock screen displaying the current weather. I installed lock screen app; as well as having it display a bing picture, and of course time. On to the effect... When I press the power button I see the lock screen app, and as I slide up to get to my start screen bing lock screen is there instead displaying in full screen, and no time clock just weather back ground. The display is up for maybe a count of 1 and a half lag time before my start screen is displayed. I think it is awesome. My wife says boring and don't show her again. What do you think?

I didn't know that Rudy was making that app. That's great he does good stuff!

Awww.
Everything went bad with the "no More System only apps" decision. Everything lags now. My start screen shows sometime blank tiles that get loaded after seconds. The music, video and hanged apps are constantly "updating" and lag all the time.
Now the start screen app lags too.
And please don't give me that childish "beta" line.

It drains the battery alot?
(it really should not)

A soft restart has seemed to have fixed mine with no other changes...

http://www.youtube.com/watch?v=_elqLDSt36k ...here we go again. WP 8.1 is coming.

I haven't seen any issues. No lag. No pauses. Nothing. I guess my oft maligned Lumia 810 is the bomb. :)

I'm not planning to uninstall so I don't have problem as of now.

Oh thank god. It was driving me nuts.

NICE.
I dropped my 920 just after I uninstalled and broke my screen, I also thought the lag was caused by me dropping it. I was worried (more so than just having a broken screen)
Thanks for the info :)

thank god for this. i thought my WP was doing something really weird..

Having this problem on my 635 now...

FYI App does not work with driving mode on...

I use Kid's Corner for my daughter to use my phone. It sucks that both can't be active. I tried the beta but until it can run along with Kid's Corner, I will have to turn it off.

Thanks to this. Also removes my phone being so hot even on stand-by. Live lock screen also eats much of my battery hope this will have a fix.

Wow that's gud. Tried all for this bug. Finally I'm happy

Its not even opening in my Lumia 520

Would love for it to support weather on the lockscreen, unless this app already does and I've missed an option somewhere?

After changing the pic in the setting to photo, the app is not working, every time I open the app asks for confirmation, but when I lock and again unlock the phone it is not showing the live screen, only the selected pic is there...

Had this exact problem. Thanks for the quick article, Daniel.

yeh, got the resuming lag. asked Cortana how to fix this god damn 930 and the bitch said "fuck do I know nigger!!!!" thank fuck there's dudes who know how :D

Thanks for the information.. Got the right solution to the bug..

After I did an uninstall I saw that lockmix was also acting up. And I had that same resume lag. Once I removed lockmix, the resume bug went away. All I used it for was the weather up top

Working great on L520. Just 1sec lag only after I came frm lock screen to home screen...

Why do they even make something like this as an app?

Thank you very much, worked perfectly.

Without the "resuming" bug, my phone lock screen "seems faster" :-))

Thanks to this post , i was going to hard reset my 720
(Y)

You guys know that you can also restart your phone and it's good to go afterwards

Got no lag and was working very well but has now stopped working completely????

This is awesome, problem solved! I was worried that my phone sucked or something

I never experienced the last, but installing the app broke Quiet Hours. Some functions are still silenced, but texts are sounding off. Anyone else getting this?

Awesome, thanks for the tip

Awesome. Just tried it and it worked :)

Thank you for this suggestion

Turn off automatic brightness. And it will not lag that much.

Had this problem with Lumia 928. Kids corner trick fixed it.

I have been going thru hell with that 'Resuming' on lock screen for two days finally Thank you !!!

Thank you, this fixed the issue on my L920

ohhh My God it worked i was having this problem for last 4 days and it just sucks. now i have done what u said and yes it worked :) thanks to u sir :)

Thank you! Everything works now :)

All i needed to do was to selecet the lock screen photo again and it went back to normal.

Thank you so so much...I was just about to throw my phone

I've been trying various cleaning apps to fix this issue. Didn't know it was this easy. Thank you very much!

Thanx a lot, Dude. You did a mighty great job by posting it. I got so scared that i had ruined my beautiful windows phone. You saved my phone from being factory reset. May god do you good!!!

Amazing tip. This is just what I needed, I had the 'Resuming...' Lockscreen bug after deciding the Live Lockscreen beta was just a bit too slow for my liking.

It is really works... thanks a lots for this information..

Hi this is suresh, i recently purchase lumia 730 and today(29 oct 2014) i installed app locker and did uninstalled it as i did'nt liked the app and form then onwards i was facing "resuming" message while unlocking the phone and was very worried as it was a brand new phone not even 10 days old and facing this problem. But after following the steps given my problem was solved, very thankful to you and youe suggestion.

My double tap to works aafter several atteampts, i caled nokia care they adviced to hard reset pushing my 730 volume dowm and power key together but no use its just the same again. Any suggestions what might be the peoblem.

Perfect. Had thisissue on my 822 after latest update for DP [update mid october 2014]. Had Tertra INatalled. Went to Kids Corner- when enabling it it asked to turn off Live Lock. Click OK. Now no more resuming. THANKS!

It's the same bug with Tetra Lockscreen.

Thanks for the fix. Uninstalled live tiles enabled kids corner and late disabled it. 'Resume' issue gone. Thanks

Most excellent find thankyou. Don't you just love search engines, I was about to reset my phone, so thankyou. :-)

OH MY GOD I LOVE YOU SO MUCH!!!!!!!!!!

Over a year later, I decided to try Live Lock BETA again, and this solved the issue after I unninstalled it. Thanks! So sad MS hasn't been doing much to that app, I'm guessing because of Win10 but oh well!