T-Mobile makes Lumia 925, Lumia 521 free with new contracts in summer deal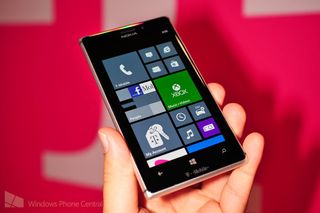 T-Mobile has today announced its "Unprecedented Deal - Zero Dollars Down for All Devices" offer, which includes the Nokia Lumia 925 and Lumia 521. The Windows Phones are both available with no upfront fees when taken out with a new plan. This deal is open to both new and existing consumers, as well as business customers. Fantastic news if you're already with the mobile operator or are new and looking at the Lumia 925 or Lumia 521 as your next smartphone.
Be sure to take a moment to absorb this news as the offer doesn't kick-off until tomorrow (July 27th) and you can also take full advantage of the company's new JUMP! program, which was announced earlier this month. If you're not familiar with JUMP!, the program essentially enables you to upgrade your phone when you want, up to twice a year and as soon as six months from when the contract was signed (24-month plans).
Here's what you'll be looking to pay for both Windows Phones each month:
Lumia 925 - $20/mo
Lumia 521 - $5/mo
Good deals for those looking at picking up some bargains this summer. Will you be picking one up?
Source: T-Mobile (opens in new tab); thanks, Justin, for the tip!
Windows Central Newsletter
Get the best of Windows Central in your inbox, every day!
Rich Edmonds was formerly a Senior Editor of PC hardware at Windows Central, covering everything related to PC components and NAS. He's been involved in technology for more than a decade and knows a thing or two about the magic inside a PC chassis. You can follow him on Twitter at @RichEdmonds.
That's awesome for t mobile first

32 and 64GB iPhone 5 are not so that should also help sell Windows Phone

Are you kidding me?? A week later??? God damn it!! Ahhhhh rageee mode!!! I'm never buying in the release date again. Happened with the 8X as well. I'm soo contacting the t-mo forum rep that always helps me out. I got 2 of these last week! Maybe I'm just raging but this should be a week one deal and then maybe a month or two later drop it again...

Yes I'm mad. I paid $200 for two of the 925s last week with taxes.

Dude they we 49.99 down 200?

The thing is that you're paying $49 each, but you also have to pay tax on the full price up front, so it adds .08 x $579 to the amount due, which is basically another $50.

Sometimes I enjoy having a 0% sales tax.

Good luck!!!

Dude I just got mine too not cool....

just call them and explain...or just rage on!

There's a minimum 14 day return/exchange policy depending in what sales channel you got it from. They'll probably return the difference.

It's 30 days in California but a $50 restocking fee, which would be pointless. Will definitely call and see what's up and get some credit.

There's no restock fee. Its a price correction. Just like if you bought something from bestbuy and it went on sale the next day. You'd take the receipt in, they'd return and then re-sell the item to you at new price on same receipt.

Holy shit a 50$ restocking fee you kno Texas is bigger and is open for people to move from other EXPENSIVE ASS STATES LOL

I called the TMobile store I purchased mine at don't worry about it as long as you have your receipt you've zero problems

I read that as reggae mode. I'm picturing an angry Rasta man. So much contrast.

The Lumia 925 is probably the only phone that removed downpayment and did not increase monthly plan. Awesome deal for those in market for this phone!

they changed the price today. made it 22/month from 20/month.

I got burned with the 810. And yet, I go back and buy the 925 at launch. One day I'll learn. On a happier note, I got my red Qi shell in the mail. Very happy with the whole package.

What's wrong with your 810? I know someone with it and she is really happy with it.

It's been EOL'd. We're not getting updates. Though, WP Central recently wrote one is in the works.
The "other storage" is a serious problem for many of us and SD cards make listening to music a frustrating experience.

Plus backpedaling on lte and teasing us with red and grey shells that never appeared in any reasonable quantity.

I got an 810 for my girlfriend and she is really happy with it too. That being said, she doesn't really keep up with updates and things like that.

God damn If i could've waited I totally would.... Oh well the 925 is a awesome phone no complaints.

Call them tomorrow and I am sure they will refund the $50.

When does this deal expire?

It doesn't say. It's not uncommon for T-mobile to omit that detail from sales. They did that with the iPhone introductory price; it just ended one day. Some folks were kinda pissed, unsurprisingly.

Perfect! Was planning to get My NL 925 tomorrow, and now with $0 down. ftw

I'm so happy i didnt buy on the release date. Learned from that after getting the Lumia 810. Finally something goes my way! Yes!!!!!

What do you guys think? I have a 920 cyan but I would like to get the 925 for the unlimited data and the $70. I plan to pay the phone full price. Should I leave ATT for T-mobile for these two reasons? I know what I really want to do but I would like to see what you guys think? Not sure if that should be in a forum thread though!!!

If T-Mobile has good service in your area, I don't see a reason why not ;)

Yeah I live in Los Angeles and it is not that bad. I guess I will try it for 14 days and see how things go. Thanks for your input.

Are you me? I want to do the same. I heard there are areas where tmobile supports ATT's frequencies so im gonna try to unlock my 920 and see if it works on tmobiles network with 3g/4g

I am actually want to get the 920 but I asked a T-mobile rep a while ago if I could use my 920 on the Tmobile network, they said I could only get 2G speed. I am not really interested in 2G speed after I have experienced 4G LTE. I saw and hold the 925 and I really like the feel of it. Lighter and the camere is as good as the L920, if not better. i am actually thinking on chaning phone as weel especiallly since the phone is zero-down, plus the jump program. It is really getting enticing. I am just worry about the speed.

You should try it and pass that 920 on to a family member to try out WP

FWIW: I was in LA last weekend with an unlocked AT&T Lumia 920 on T-Mobile. 90% of the time, throughout all of LA (from Venice Beach to downtown) I had strong LTE signal. Occassionally it would drop to 2G, but for the most part I was only seeing LTE.

Free with contract? Where?

Title is misleading unless I am reading wrong. The phone is not "free" since you still pay the $20/month, just $0 down. And yes, you have no contract....but you do have to pay phone off ;)

Still, a $50 savings. I'll be bringing my receipt in for some extra pocket change, and might accidentally pick up a 925 for my wife.

Lets see if T-Mobile gives back my $50 or credits my account because I'm still within my 14days of my L925 purchase

Yeah, I would just call tomorrow. I am going to do the same for the 2 that I bought on launch day.

Yea I called they told me no worries

Just for clarification, we don't do contracts anymore. This is just part of the No Contract EIP plans (I'm guessing) since you have details of the monthly installments. Also, taxes on the full cost of the phone are still collected on the down payment. I really wish they would let us (employees) know about these promotions, instead of having to hear about it from the internet.

I hope the T-Mobile way will change the phone industry for good all that dam monopoly greed thos others are tryn to do its bull shit all this expensive monthly bills just for call, data ,and text services

Will they knocking $50 off the full price phone too?

No. You still have to pay full price, just no initial fee. Called and spoke to a rep because I just picked it up Monday. He said they would validate it though but if the fee is going back to the bill in fine the way I purchased it.

http://forums.wpcentral.com/nokia-lumia-925/234922-%240-down-starting-to...

One of my clients was going to get the 925 but after playing with it she was afraid the camera hump would brake. So she got the iPhone :/

With new contracts??? I thought it was for anybody who has a T-Mobile plan. I'm interested in grabbing the 925. Almost got it on Wednesday for $50 down plus tax but stopped myself. Glad I did, but I want to know for sure I'd be able to grab it for $0 down. I've been a customer for 11 1/2 years and changed my grandfathered plan to a Value plan of $50 in April, switched to the $80 plan after adding my mom a month later.

I had a feeling the 925 would be on sale soon. The 810 and 8x were on sale quickly after launch, and many times after that. In fact I think those phones were on sale more often than not. I waited too long to get one of those phones and then t-mobile EOL'ed them both! Now I can finally upgrade my 710, I wont miss this deal :)

Bought a 925 today (an hour ago). Going to take it back tomorrow and buy it again.

Never buy on release unless off contract price with a free bundle. Ie 920 450 plus wireless charger

This is the reason why I am so hesitent on getting the 925. 920 came out 9 months ago @ $450 plus wireless charger. 9 months later, even with the sale, 925 will still cost $480 :/

Looks like NOW is a great time for me to JUMP! =D

Just traded in my 8x for one. Greatest day ever.

Man I really want to get a 925 but I'm on at&t.... I could switch but id lose my grandfathered in data plan...

This is only for some people that qualify, that's what I was told by a customer service rep. You have to have good credit.

Got 925 for $500 no tax @ Simplemobile with $40 everything unlimited plan, no contract, no taxes, no surcharges.
Love this phone!

IT'S NOT FREE. I hate the new Tmobile scam. Is a car free when you don't have to make a down payment? No. The phone is far from free. Plus at the end of the payments you get to keep your car, no so with the phone. Keep this for a year and it costed you $240. Keep it for two, and you paid $480.

Either their website is doing a poor job or they changed their minds. It is now listing 925 as $0 down, $22/month for 24 months, or walk out price of $528. Cool, $2 off from before...

yea I'm not sure what's total BS, tmobile advertising this as a "deal" when all they did was shuffle the cost into the monthly payments, or ALL the stupid tech sites who latched onto this obvious "rumor" and posted it as fact.
THERE ARE NO SAVINGS HERE. $22 * 24 ~= $50 + 24 * $20

like idelzork said, you are saving a grand total of TWO DOLLARS.

after looking at the official press release I apologize to the stupid tech sites, as it was clearly stated by tmobile as fact, so it's not their fault. I humbly admit to ironically jumping the gun on that one without checking my facts.
So instead I take all that blame and dump it on tmo for the bait and switch! strangely enough the site STILL says $20/mo for lumia, wonder if I print it out and take it to the store they'll honor it?

It seems like they aren't charging taxes for the device so you have ~$44 if you purchase it today.

Only for people with good credit otherwise you gotta pay a lot down. This promotion is a rip off. I was "well qualified yesterday (7/26) for the lumia 925 $50 bucks down. but the guy was like come in tomorrow it will be $0 down (7/27). I was like wow awesome news! I go in today and their "credit classes" are changed so I wasn't well qualified anymore and they wanted $120 down today. So apparently to Tmobile I had good credit yesterday and today I have bad credit. Makes no sense. absolute BS

Same story here. I kind of wish I didn't know about it at all. But the phone is great, so that remains the positive.

Same thing happened to me. It appears that T-mobile's policy of existing accounts receive the same pricing as new accounts is not entirely true. Apparently the $O Down is only for new accounts and not for their existing customers. I'll just keep my Lumia 810 and look for a new carrier at the end of my agreement. GSM technology is terrible compared to CDMA. At least on CDMA networks you can receive calls anywhere, even indoors. The cost savings with T-Mobile is not that significant when you realize that you cannot use the phone when you are at home or in an office. Say what you want about Verizon, at least you can receive and make calls everywhere. And, the phones are usually available for more than a couple of months plus you get support for much longer on a phone. So far, T-Mobile has miss led everyone who bought the 810. We'll see if they ever come through. If Not, Verizon here I come.

So glad they did this...went and upgraded yesterday and I'm LOVING THE LUMIA FAMILY i kinda feel bad leaving HTC but this phone worth the going to...i highly recommend if your with t-mobile.