Today is the 40th anniversary of the computer mouse, which one has been your favorite?
Mice have scurried around PCs for 40 years now, and we'd like to know which one has been your favorite.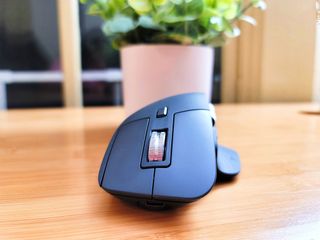 (Image credit: Dan Thorp-Lancaster / Windows Central)
What you need to know
Today is the 40th anniversary of the first computer mouse going on sale.
The first mouse shipped with the Xerox Star computer on April 27, 1981.
We'd like to know what your favorite mouse of all time is.
It's been 40 years since the first computer mouse became commercially available. Back on April 27, 1981, the Xerox Star computer shipped with a clunky brick of a mouse. While the exact form factor of the mouse has changed over the years, the general concept is the same. A draggable and clickable cursor allows you to navigate a computer easily with just your hand.
Over the years, the best mice have gotten lighter, more colorful, and more customizable. They've also become more specialized. For example, the best ergonomic mice don't look exactly like best PC gaming mice, though there is some overlap (shoutout to the Razer DeathAdder V2 Pro for being ergonomic and great for gaming).
We'd love to know which mouse has been your favorite over the years. It could be a mouse with a ball inside from the 90's. Perhaps you love a gaming mouse that lets you play your favorite PC game all day. If you're on the computer all day, you may lean towards a mouse that protects your wrist.
Being someone's favorite isn't the same as being the best, but we'll share a couple of our favorites. In his Razer Viper review, it "A PC gamer's new best friend." Our managing editor just shared his Logitech MX Master 3 review, in which he called it "Truly the master of mice."
What's been your favorite mouse? Let us know in the comments below.
(opens in new tab)
Go for gaming

This lightweight mouse stands out as the best for PC gaming. It's accurate, responsive, and ambidextrous.
Windows Central Newsletter
Get the best of Windows Central in in your inbox, every day!
News Writer and apps editor
Sean Endicott brings nearly a decade of experience covering Microsoft and Windows news to Windows Central. He joined our team in 2017 as an app reviewer and now heads up our day-to-day news coverage. If you have a news tip or an app to review, hit him up at sean.endicott@futurenet.com (opens in new tab).
My favorite will always be the Logitech G700.

Yeah, I did like my G700s quite a lot. It's hard to argue with the objectively better sensor/wireless tech in newer mice, but in terms of overall feel of the mouse itself, the G700s is probably tops for me. I've been happy with my G502 LS (which replaced the too-smooth scroll wheel of the original G502), but the G700s had a nice, grippy texture on the thumb rest. There might have been more buttons than I cared to have, but they didn't bother me by being there. Give that thing the sensor and wireless of the G502 LS, and it's probably the only way I'd replace the mouse I have. Plus, the G700s was quite a bit cheaper than the $150 MSRP of the G502 LS, which is pretty bonkers (I got it at $130, and still feel that's too high).

Logitech MX Revolution is the correct answer. For now, I get by with the MX Master 3, but had to solder in new switches to make it more snappy.

Not sure about what my favourite one is, I had one years ago a mouse with a rocker switch instead of the scroll wheel, that I liked, I am pretty sure it was a Genius, I think the one I have now is one of the better ones I have had, it was not expensive and is not really very good for games, but is great for my wrist as it is an Anker Vertical mouse, If I have to use a normal mouse it gets some getting used to now for normal use. Games I can still use a normal mouse ok for.

Easily the Microsoft Wireless Notebook Presenter Mouse 8000. No need for a separate device to change PowerPoint slides. Had one in college and it never failed to impress.

Happy Birthday Mouse!
Mine is the Microsoft/Surface Design Mouse the one with the touch Windows Button on the side, for casual use and productivity. I haven't found my favourite gaming mouse.

Mickey of course. Actually I'm partial to the Logitech MX series. For travel I really do like the Surface mouse. It isn't the most ergonomic, but it folds flat, which turns it off, and makes it super easy to slip into a bag.

Microsoft intellimouse pro. I bought it for nostalgic looks and it has become my everything mouse. This thing is more precise than most of my gaming mice. Only thing it's missing is an on the fly dpi selector.

Microsoft Serial Mouse:
My all-time favorite mouse, because it was the only mouse I have ever felt comfortable using, was the Microsoft Serial Mouse. It was two button, no scroll wheel, and wired. It was THE most comfortable mouse for me because the two buttons were up and level with the body of the mouse, and there was a rounded mound that fit perfectly in my palm. So my palm was level and parallel with the desk and my two fingers did not have far to travel to press the buttons. The buttons themselves barely had to be pressed, I hardly had to use any pressure, they hardly had any travel, and were extremely accurate when pressed. It was also light to pick up when moving around and you have to pick it up to re-center yourself on the screen. The new mice strain my hands and all of them feel extremely uncomfortable in just a short usage of time, just a few minutes. The new mice are made for your hands at rest, but then you have to go past your resting posture (or overextend your hands) to press the buttons; which are, usually too stiff and require too much pressure. So you are using a lot of pressure and over extending your fingers and hands at the same time, not comfortable at all.

Logitech Touch Mouse - Had a completely smooth surface with no obvious buttons. Somewhat like a TouchPad wrapped around a mouse.

Arc mouse for on the go and a new MS ergonomic BT mouse at home.

As someone who suffers carpal tunnel syndrome, I have long been a user of vertical mice. I have used the Evoluent mice for many years, but recently switched to the Logitech MX Vertical, which I believe is the best mouse ever made.

My HP Envy 27" 4k Computer came with a mouse that looks stylish but has never made my hand sore or cramp, it has been perfect. And I'm sad to give it up now that I'm just using my SL4. I've got a Surface Mouse to which is alright, but I had to replace one within the first year from the wheel stopping working.

Hard to pick all time favs. For work I love the MX Master series. For gaming, its the Logitech G604 for me.
Windows Central Newsletter
Thank you for signing up to Windows Central. You will receive a verification email shortly.
There was a problem. Please refresh the page and try again.