Today's Xbox One Preview build brings fixes to My Games and Apps with Gamertag changes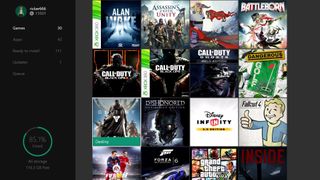 Continuing the Xbox team's ongoing streak, another Xbox One Preview build is rolling out to Xbox One consoles tonight. As with other recent updates, tonight's changelog consists of many bug fixes, which continue to refine the experience ahead of the public rollout next month.
Today's update is titled rs1_xbox_rel_1608.160722-1911 and will be available for Xbox One Preview Program members starting at 6 p.m. PDT/9PM EDT.
Here's the changelog for today's Preview build:
FIXES
Resolved an issue which could cause certain universal apps (Movies & TV) language selections not to function properly on the console.
Resolved and issue with Game DVR where game clips would fail to upload to Xbox Live.
Resolved an issue where pending UWA updates automatically started when launching the app.
Resolved and issue with MSN Weather App.
Resolved an issue where UWAs were taking 5+ seconds to show splash screen on first launch with no indication of activity.
Purchased gamertag changes
Resolved an issue where purchased gamertag changes were hanging in purchase flow.
CURRENT KNOWN ISSUES
You may be unable to answer calls through Skype notifications.
You may experience a "Do you own this game or app?" error when launching or using Netflix if it was installed by another user on the console. Workaround: While signed in as the primary user, uninstall Netflix, navigate to the Store, search for Netflix and select Free to download and install it.
Purchasing a Gamertag change on the console is not functioning in non-US locales at this time.
When selecting "Add new" to add a new profile, the add profile interface may take up to 30 seconds to appear.
When using a language Cortana does not support, you may still see references to Cortana in text.
If you have pins on your Home to movies, TV shows, or music, they will disappear from Home when that app takes its new app update. The pins for the apps will stay on your Home, easy to get to.
You may encounter an error when attempting to load Ready to Install with a large number of digital games and apps.
If a universal app version of an app is available, the version which is not currently installed may appear under Ready to Install (causing what appears to be the same app both installed and in Ready to Install).
Links to the Store in Community Calendar event details do not currently function.
As always, don't expect these frequent updates to stop anytime soon, with the public release of the Anniversary Update hitting Windows 10 devices from August 2. All Xbox One consoles are expected to receive the update early next month, following the update's rollout to PC and mobile.
Windows Central Newsletter
Get the best of Windows Central in your inbox, every day!
Matt Brown was formerly a Windows Central's Senior Editor, Xbox & PC, at Future. Following over seven years of professional consumer technology and gaming coverage, he's focused on the world of Microsoft's gaming efforts. You can follow him on Twitter @mattjbrown.
Why are you in the pre-view program..if all you do is complain?

Who are you talking to? Me? I hope not. If so, you are mistaken for I have never complained. Besides, someone as trashy as you, as worthless as you, as absolutely meaningless as you, really should focus on yourself. Don't you realize how everyone around you avoid you? The only "friend" you have are those who have nothing better to do at that moment - but as soon as someone, anyone, calls, they leave? Boy, I thank God I am not you. I suspect you ask God what did you do that was so wrong? The answer is: breathing.

Hahahaha...were did you copy that from...what a loser LOL

LOL, I made it up just now! I think its pretty good. You never did answer my question though - were you talking to me?

Nice good job..LOL...yes I was talking to you..you said "I can't keep up anymore".. sounds like a complain..

I see. I was poking fun because of all of the updates we have had for the Xbox lately - that's all. Not a complaint. I have downloaded everyone and posted the glitches as I see them.

Where is your avatar from?

It's the Jamaican flag...

OT: The new Pandora app showed up under ready to install, and says it has enabled background music. Posted via the Windows Central App for Android

Until we can use it, we're not giving it front page time now. We know apps are coming, this is going to keep happening.

Remember what happened when Pandora box was opened? Hell no am I gonna open Pandora app. My Xbox could catch a malware or some ransomware. Be safe kids!

Pandora intriguing found it

They look like the same fixes and issues for the last 5 builds. What gives?

Ask on the Xbox preview forms and ye shall receive info

Exactly my thoughts. Those things must have been really buggy to have to have thisany updates to fix them. Posted via the Windows Central App for Android

They haven't approved the uwa Pandora yet. Should able to use it in the next few days. Can't wait.

Pandora available in the UK.?

None of these updates seem to actually fix much but hey the final update might come soon

Anyone have an idea why all of my movies on an external hard drive no longer show up since the last update? Only movies up to those that begin with the letter C show up. Prior to this all showed up. Ex. I just watched Mad Max a couple of weeks ago and now it can't be found. It shows on all other computers. It is plugged directly into Xbox one.

Im now able to see and remotely turn on xbox on preview program trough Xbox applet on PC. Prior to this update only my other xbox not enrolled in the preview program could be seen on network while on standby.