Top 10 ways to make Windows 10 more like Windows 7
By Cale Hunt published
How do I make Windows 10 seem more like Windows 7?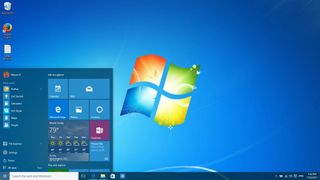 While Windows 10 is proving to be a great OS, many people pine for the days of Windows 7. It was simpler back then. If you tried holding onto the older OS but were upgraded automatically, or you had to get a new PC and there was no choice but Windows 10, there are a few things you can change to make it feel more like Windows 7.
Use a local account to sign in
Windows 10 really wants you to sign in using your Microsoft account — it lets you sync settings and give you easier access to some apps — but not every user agrees. Here's how to use a local account to sign in.
Click the Start button.
Click the Settings button. It looks like a gear.
Click Accounts.
Click Sign in with a local account instead.
Type your Microsoft account password.
Click Next.
Type a username. You can also create a password here, but it isn't necessary.
Click Next.
Click Sign out and finish.
Disarm Cortana
Cortana is Microsoft's version of a digital assistant, and she can be a big help while you navigate Windows 10. Before the Anniversary Update, you could disable Cortana completely with one switch, but that is no longer an option. You can, however, turn off a bunch of settings to make it seem like she's not around.
Right-click the Start button.
Click Search.
Click the Settings button. It looks like a gear.
Click the switch beneath Settings options so that it turns off. Settings include:

Hey Cortana — Cortana responds when you say "Hey Cortana."
Lock screen — Cortana works when your device is locked.
Taskbar titbits — Cortana interjects once in awhile in the search field.
Send notifications between devices — Cortana will give you updates about any connected Windows devices.
History view — Shows your history in Cortana's home screen.
My device history — Collects your history from all devices.
Get rid of the Cortana field in the taskbar
Having a search field in your taskbar is admittedly handy, but it doesn't exactly resemble Windows 7. Here's how to get rid of it.
Right-click a blank spot on your taskbar.
Click Cortana.
Click Hidden.
Get rid of the Task View button in the taskbar
The Task View button in your taskbar, when clicked, brings up a screen that shows all of your open windows. It's basically the same as the Alt + Tab keyboard shortcut, but designed with tablets in mind. If you don't want the button on your taskbar, you can remove it.
Right-click a blank spot on your taskbar.
Click Show Task View button so that the checkmark disappears.
Get rid of the Action Center button in the taskbar
The Action Center is Windows 10's notifications and quick-settings spot, and it has an icon in the taskbar. If you want the look of Windows 7, you probably want to remove the button. Here's how to do it.
Right-click a blank spot on the taskbar.
Click Settings.
Click Turn system icons on or off — you might have to scroll down a bit to find it.
Click the switch next to Action Center so that it turns Off.
Get back to the classic Start menu
The Start menu in Windows 10 is quite a bit different than in Windows 7, which probably really irks those of you who prefer the older OS. Here's how to change your Start menu back to the way it was using Classic Shell.
Launch your favorite web browser from your Start menu, taskbar, or desktop.
Navigate to www.classicshell.net.
Click Download Now.
Click Run when the file is finished downloading.
Click Next.
Click the checkbox next to I accept the terms…
Click Next.
Click Next.
Click Install.
Click Finish.
Click Start to bring up the settings menu.
Click Windows 7 style.
Click Select skin…
Click the dropdown arrow next to Skin.
Click a skin. Windows Aero is a good one for the classic Windows 7 look.
Click OK. Your Start menu will now resemble one from Windows 7.
Pin Internet Explorer to your Start menu or taskbar
Before there was Edge there was Internet Explorer. Windows 10 PCs come stock with the Edge browser, but that doesn't mean you can't keep using good ol' IE. Here's how to get it out of storage and display it prominently on your taskbar or Start menu.
Right-click the Start button.
Click Search.
Type Internet Explorer.
Right-click Internet Explorer.
Click Pin to Start or Pin to taskbar or both.
Unpin Microsoft Edge from the taskbar and Start menu
Hate seeing the Edge icon all the time? Here's how to remove it.
Right-click the Edge button in your taskbar.
Click Unpin from taskbar.
Click the Start button.
Right-click the Edge tile.
Click Unpin from Start.
Make Internet Explorer your default web browser
If you don't think there's anything wrong with Internet Explorer, you can set it as your default browser in Windows 10. Here's how to do it.
Click the Start button.
Click the Settings button. It looks like a gear.
Click System.
Click Default apps.
Click Microsoft Edge or whatever you have set as your default browser.
Click Internet Explorer.
Click Switch anyway.
Change the color of title bars
Remember how Windows 7 had blue title bars on open windows? Windows 10 has white as its default title-bar color, and that is frankly too boring. Here's how to change the color to anything you want.
Click the Start button.
Click the Settings button.
Click Personalisation.
Click Colors.
Click a color.
Click the switch beneath Show color on the title bar so that it turns On.
Have File Explorer open to This PC
When you open File Explorer in Windows 10, it automatically takes you to a Quick Access section that holds frequent folder and files. Here's how to get File Explorer to open to This PC instead.
Launch File Explorer from your Start menu, desktop, or taskbar.
Right-click Quick Access.
Click Options.
Click the dropdown arrow next to Open File Explorer to.
Click This PC.
Click Apply.
Click OK.
Do you prefer Windows 7?
Did you take the steps necessary to make Windows 10 more like Windows 7? Are you still using Windows 7? Let us know in the comments section!
Cale Hunt is a Senior Editor at Windows Central. He focuses mainly on laptop reviews, news, and accessory coverage. He's been reviewing laptops and accessories full time since 2016, with hundreds of reviews published for Windows Central. He is an avid PC gamer and multi-platform user, and spends most of his time either tinkering with or writing about tech.
After using Vista, 7 never amazed me. Vista seemed more than sufficient.
But after upgrading to Windows 8 and later to 10, they seem to be boring now.

WIndows 8 and 10 switched to a flat interface and look more uglier than Windows 7, especially the settings app

Flat is beautiful. Ugly is that olf-fashioned UI of the past.

My oh my is the settings app horrendous to stare at... Control panel was so much better... I wonder whatever made them use that settings crap... Control panel was better, faster and more powerful...

I hated control panel. The search bar in settings blows away control panel by itself. I like that I can find more settings features by searching even in the start menu/screen. I've found most people yern for the past OS because it's what they're used to. Tech evolves faster than ever, so we're going to have to do the same. Thankfully MS is accepting user feedback and acting on it. I don't know any other company that is doing that. Also, control panel still exists, for now, in Windows 10.

I hate the fact that there are now multiple settings applications, it's just plain messy and unintuitive.

Control panel was horrible to use. You could never find anything it and whenever you click on anything you would be bombarded by a hundred useless options and it was slow. Good thing a lot of settings were migrated to the settings app already. Well, I do understand. Why you would feel this way. CP was probably felt familiar to you. But familiarity is different from actually being usable.

I agree. The settings app is ugly. Needs a facelift.

W7 look ugly to me after using W10. I hate most is start menu.

I never even use the start menu, haven't since Windows 98. It's only there to allow me to shut down my computer.

It would be nice if it was consistant though.

Honestly I miss Windows 8.1.... The task switching was far superior than any version of windows and at least they tried to unify settings, search, sharing, etc. through the charms menu. Now I seriously don't know WTF to do from one app to the next on both mobile and desktop. It's a cluster@#$%.

The charms bar was a great way to incorporate common features between apps. I suspect that they changed this to provide developers with more flexibility. The charms bar also makes it more difficult to port apps and legacy Windows applications into the UWP. Unfortunately, user friendly doesn't always equate to what developers want. I think it was the right call to remove it from Windows 10.

Lets just say that Microsoft found out the hard way with Win8 that its userbase wasn't composed of people who liked using hidden "gestures" to get things done unlike the MacOS community.

Ridiculous idea, but heyho, can you make it look like Windows 3.11?

People have their own preferences

Doesn't mean we cant mock them for it

Isn't Windows 10 like Windows 3.X already?

>Ridiculous idea, but heyho, can you make it look like Windows 3.11? Easy, Install VMware player, or Hyper-V (depending on your version of Windows 10), install Dos 6.22 (easy to find on the web) and install WIndows 3.11 (Windows for Workgroups !).. When you run WIndows 3.11, just run full screen, now you get TRUE WIndows 3.11 and WIndows 10 on one machine.... Even thought Windows 3.11 or even Windows 95 would take no resources at all on a modern computer, it would be always fun to go back and play classic dos games that were the hit about 20 years ago...

Last one was really helpful

I added the This Computer icon to my desktop right away. I miss when it used to be one of the default desktop icons. One way to add it: Right click your desktop and click Personalize Click Themes in the left column Click Desktop ison settings Click the checkbox for Computer Click OK and now you have the icon on your desktop

Or "how to be a grumpy old man"

"Old man yells at cloud" LoL

Windows 7 had much more beautiful interface than Windows 10. If you like WIndows 7's AeroGlass, you can get it for WIndows 10. Downloadi it at http://www.glass8.eu.
Even thought the page says for Windows 8, go to downloads and there is a version for Windows 10.

That's definitely personal preference. I'd rather not have system resources taken up by rendering transparent windows. I always disabled that feature. If there is a theme on Microsoft's official theme download page, then I would consider trying it out to see how well it works with W10. I'd never download something like this from a third party site. In the past I've had theme that were faulty or malicious and had to reinstall the OS to remove it.

You can't even trust download.com these days. That place has turned into hostile territory. I stumbled into their site a couple weeks ago when I was looking for something. The whole site looks and feels like malware. Now, they also deep link to Android apps on the Play Store and third party sites for side loading. Amazon, of all places, will direct you to enable side loading on an Android device and then direct you to down the apk file. I was blown away. I'm sure that the app is signed and free of malicious content but you expose users to other malicious content by telling them to enable side loading from untrusted sources. Given the choice between the Microsoft Store and a third party site, I will take the Microsoft Store every single time. It blows me away that people will risk their security and privacy for the sake of adding an aero glass effect to the Windows Shell. When you start to modify the shell and hack up the registry, do not blame Microsoft when it runs like crap. Same goes for the classic start apps for Windows 10. Just don't do it. It isn't worth it.

It seems sad to me that people would not want to take advantage of any of the improvements in the Windows OS. I can wholly understand and agree that options should exist to pick and choose among those features that are not useful. I also understand that there are PC users that prefer MacOS and/or Linux, or who simply are against change in general. I am grateful for Windows 10 as a service, and am happy to participate in the Insider Previews. There are some nifty new features in build 15007.

This much years windows was trying to make windows 7.. Feel pity..

The more things change the more they stay the same.

It all just happens again, way down the line.

"How do I make Android Marshmallow look like Android Eclair?" - said no one ever

I was never so happy as when I left Windows 7 behind and jumped into Windows 8. And I was never so disappointed as when Windows 10 came out. I want to make Windows 10 behave exactly like Windows 8. Sadly, you cannot get there from here.

What is it in W8 that you'd like to have? I agree with enjoying the move from 7 to 8 (more so 8.1), but I like 10 much more than 8. I still use the start screen in 10, but I never use tablet mode. I don't see a need for it.

I would never go back to Windows 7 style. 10's UI is refreshing and modern. Full screen start menu is the way to go on 10, eliminating desktop icons. Anyone using the classic start menu is doing themselves a disservice.

Flat and tiles are ugly....great article.....ive already done some,will finish it out

You people that think "any" change is right.....if Microsoft changes back to 7 ui....will you be praising it as good then.......youll are like metro sexual Microsoft metro tile fan boys

Or you like to hold onto the past. Why not go back to Window 98? That was a revolutionary UI. You could also stick with 7 if it's that great. In 10 you're free to not use tiles at all and continue using the OS as if it were Windows 7. Have all the desktop icons you want instead of tiles, disable Cortana, and never use the action center. Seems silly to me, but to each their own.

This question begged to be asked, so let me ask it !!!! Why in hell or here on earth would anyone want Windows 10 to look and feel like Windows 7??? They should be more worried as to why Windows 10 is still using the NT Platform, you would think after all the failures of Windows using NT, they (Microsoft) would have come up with something better.

NT was Microsoft's bread & butter and wouldn't call 4.0, 2000, XP, 7 or 10 or any of the server flavors a failure.

Are you are referring to NTFS when you say NT Platform? Sharing a common file system does not mean that they are using the same platform. There were notable differences between NT, 2000/XP, Vista/7, 8, and 10. In fact, they spent several years refactoring Windows 10 into modular components. There are many commonalities in the form of API's and runtimes but that is for backwards compatibility. Nano Server is one example where they have broken away from legacy runtime support. It is small, fast and CLI only. That is great for targeted use cases but at the end of the day, backwards compatibility is king for all platforms. Being able to green field a platform that gains widespread developer support is relatively rare. I have been thinking about using Nano Server for a SDN/SAN appliance. Naturally, it would use NTFS. I guess that means that it would be running on the NT Platform.

No looking back for me with 10 but for those who resist change as many people have since DOS.. You can add desktop icons like Computer & Network by going to Control Panel\Appearance and Personalization\Personalization

WindowsCentral promoting to back peddle?! Out of mind.

They do this all the time, they post a lot of articles on how to disable new features in Windows 10 or how to make it look like an older version.

Or you could get used to it. Change is good for your brain, you know.

I can't believe people would do that. Isn't Windows 10 a lot better with all those features?

Or stay at W7 as I did. Call me whatever you will, but I enjoy it alot more.

+1 on the "This PC" tip! I found the swtich to Quick Access annoying.

Apply then Ok. Ok. One extra click for no reason. I hate it when guides include extra work. To answer the author's question, I use WIn10 at home and Win7 at work. Going home to my PC is a pleasure compared to what I have to deal with professionally.

Never ever will I go back to that bubbly interface if I don't have to. It's just time-consuming, resource-hogging, and plain, flat ugly. In with the new, out with the old!

"Internet Explorer" - enough said.

After reading how to use ie as default, i immediately thought that this article is about telling the public how windows 10 does more than previous os do. Seriously, who wants to use ie?? Me, i like win10 except that I'm already having problems with driver compatibility with my really old laptop.

WOW, what a lot of steps... My best way, is... 1. backup your files 2. Boot your computer with a Windows 7 disc.. 3. Format your hard drive and install Windows 7. 4. Wait the 12.5 hours to fully update Windows 7.... (WIndows Updates, or you can find a slipstreamed ISO to save this LONG step) 5. Enjoy Windows 7, getting Windows Media Center back, not dealing with all the "STORE apps" spying on you and better performance. ANd of course, not being a public beta tester (When WIndows 10 is as old as Windows 7, then it will be equal) Your welcome ! Of course if you MUST have Windows 10, then follow the directions above.... I prefer both, so I dual booth my primary desktop with Windows 7 and Windows 10, I get the best of both worlds...

Come on... Windows 7 may look nicer, bit it's an operating system design from 2005/2006 (evolution of vista) with all the security risks associated with a 10 year old design. Even if it's better than XP, from a security point of view it's long in the tooth and increasingly more vulnerable. Especially since EMET has an EoL date set.

You talk about security risks? I installed W10 (not insider, just normally) on a dual boot system on a SSD with 3 separate main partitions (not talking about the hidden ones made by W10) - OS, Programs; Data. Result: after hours of work for installing programs as I liked them, there comes an "update" with the shutdown (happened yesterday, 25th Jan 2017). Next start - "Programs" and "Data" partitions are gone. Just vanished. Deleted by the more "secure" OS! No partition recovery tool (tried 2 different ones) could find a trace of anything. Rolling back to pre-update situation: partitions still gone. How crazy can MS be rolling out an update that can delete partitions without any warning???? Never happened in W7, never will. I am (or better have not been) a hater of W10 (after all I bought it and installed it; and I have it running on my laptop), I like parts of the new UI, parts I hate (explorer), but this - an absolute no go. Googling the net I found out that some users had already faced this catastrophy with the anniversary update. I stay with W7 until the end of support and pray that MS will in 4 years finally have sorted out how to update an OS without destroying everything. PS: on my laptop the in place update from windows 7 destroyed my office 2010 installation. Had to get a new license for 2013. That was MS's own program!!! I am always nervous when an update is coming, but so far I have had no serious issues on the laptop since the beginning. But this - this ends my friendship with MS. This is not Windows as a Service, this is Windows as a Menace!!!!

I guess it all depends on what you need.... Windows 7 fits most people very well. Also I based my HTPC (Home theater PC) is only going to be on 7 because of Windows Media Center...

This is the beauty of Windows 10 OS, it can be customized as you like, I remember using WindowsBlinds in XP while back to make my PC look like Linux, but now Windows 10 with it's dark theme is something I'll use for a long time.

I always use a local account and sign in to each app individually. Also hide task view, Cortana, and use This PC. Yay options.

I stop my reading when I got to this point: "Make Internet Explorer your default web browser"

I make IE my default... Edge still has too many issues (sites not working right, things not being displayed right, plugins that are needed not working) for me. Personally Firefox is my choice... so I go between IE and Firefox... Edge maybe later when it gets older (stil on what ? version 1 or 2 ? IE is at 12, think about it...)
Windows Central Newsletter
Get the best of Windows Central in in your inbox, every day!
Thank you for signing up to Windows Central. You will receive a verification email shortly.
There was a problem. Please refresh the page and try again.