Top Children's Games in the Windows 10 Store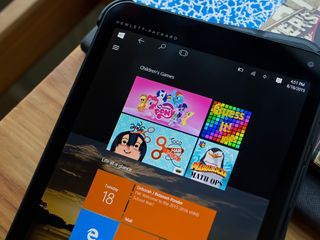 My generation grew up with crayons and coloring books to help us survive those long road trips or painful waits at the restaurant. Today, many children have the benefit of mobile electronic devices (either their own or snatching their parent's) such as Windows tablets and Windows Phones to keep them occupied. As a bonus, these devices likely save parents from a barrage of "Are we there yet?" type questions. The Windows 10 Store has a wide selection of games available that will not only help your children pass the time but may also help teach them a thing or two.
Some of these games are straightforward in their educational value, while others sneak the lesson beneath the guise of a colorful game. For this roundup will spotlight a small sampling of the top rated games in the Family and Kids category of the Windows 10 Store.
More than likely, we have overlooked someone's favorite children's game. No need to panic and ask "What about (insert your favorite game title)!" We cannot cover all the top rated children's games in the Store and here is where we count on you for help. If we have missed your favorite children's game, speak up in the comments below with your recommendation. We do take note of these recommendations and will keep them in mind for future roundups or possibly individual reviews.
My Little Pony – Friendship is Magic
My Little Pony is a popular children's animated series (or cartoon) and the My Little Pony – Friendship is Magic delivers all the enchantment of Ponyville to your Windows computer. In a technical sense, My Little Pony – Friendship is city builder but not as intense as you would find with Cloud Raiders or Age of Empires. We are talking My Little Pony here so you won't get to invade neighboring countries or defend your castle from zombie invaders.
Instead, the mission-based game calls upon you to build ice cream stands, balloon factories and other buildings to make Ponyville the most magical place around. There are plenty of mini-games such as Ball Bounce, Apple Picking and Magic Wings that offer a break from the construction jobs.
The back story for the game has the villain Nightmare Moon escaping the confines of a moon and spreading an endless night across Ponyville. The My Little Pony gang, Rainbow Dash, Fluttershy, Applejack and Twilight Sparkle, work to free Ponyville from the evil grasps of Nightmare Moon and bring light and friendship back to the land. In completing the game's missions, you will rebuild Ponyville back to all its glory.
The layout of the game is somewhat kid friendly with a helpful tutorial that will walk your child (or you) through the first few missions. Graphics are true to the My Little Pony television series and the voices are from the official TV show voice talents.
My Little Pony – Friendship is Magic does require an internet connection to play and while a free gaming title, it is full of in-app purchase opportunities. In just tinkering with the Windows game for a short time, I can see My Little Pony – Friendship is Magic having a particular appeal. It may sound corny, but the game does have a strong message of friendship and having a positive outlook on things.
My Little Pony – Friendship is also available for Windows Phones and by connecting with your Facebook account, gaming progress does transfer between devices.
Guess It! for Kids
Puzzle games can be a deceptive learning tool for children. They have fun solving the puzzles and along the way they can pick up on the basics. Guess It! for Kids is a puzzle game that can teach your child word association and spelling while solving two hundred picture puzzles.
The layout of the game is simple. You have a huge picture filling up the center of your Windows display that is concealed by colored tiles. An assortment of letters is located beneath the image that will be used to spell the word describing the image.
Tap or click on a square to reveal a portion of the picture and when enough of the picture is showing where you can identify what the picture is, you spell out the answer. The fewer squares removed to get the correct answer, the higher your score and the more gaming coins earned.
If you get stuck and need a little help, there is a hint button next to the letter field. Just use the hints wisely because they will cost you a few coins that are earned during game play.
Guess It! for Kids isn't an overly complicated children's game but has enough meat on the bone to challenge your kids and teach them a little on word association and spelling. It is also a great opportunity for a little parent/child interaction where you can not only help them work out the problems but chat it up about the pictures revealed.
Download Guess It! for Kids from the Windows 10 Store (Free)
Toca Hair Salon 2
The Toca Boca series of children's games is a fantastic collection of games that take an interactive approach to teaching your kids about life. You have apps to explore the kitchen, adventures on the road and even one to have some fun with spooky monsters. Toca Hair Salon 2 is one of our favorites and lets your child explore the world of hair styling and accessorizing.
The game has a host of characters to sit in the barber's chair, wash and style their hair and pick out a few accessories (glasses, hats, hair ribbons, etc.) to complete their look. Salon tools or stations are side scrollable and include (from the farthest left to right):
Two stations of accessories that include hats, glasses, earrings, ties and hair ribbons
Photo station where you can snap a polaroid of your new look and share it with friends
Hair clipping station with scissors, razors and comb. Fear not if you clip too much, there is a hair growing solution that will fix things
Curling Irons and straightening irons
Hair coloring station with ten hair colors
Wash and dry station
Toca Hair Salon has six characters to practice your salon skills on. You can shave them bald or give them gobs of curls. Dabble with coloring and accessories to create just the right look.
The characters have a variety of facial expressions that react to your actions and overall, Toca Hair Salon 2 is a fun, interactive game for kids (adults may find it fun too). Toca Hair Salon 2 is a free universal game, available for both Windows and Windows Phones.
Madagascar Math Ops
Madagascar Math Ops combines the challenge of mathematical problems with the challenges of video games. Featuring the penguins from DreamWorks animated motion picture Madagascar, the game offers a wide range of basic arithmetic puzzles (addition, subtraction, division, multiplication) and as you complete the math problems you get to tackle a few action oriented mini-games.
The premise behind the game has you creating soda pop fuel with each correct answer. The soda pop fuel is then used to power jetpacks in aerial assaults to free the penguins friends out of their cages.
The math problems are presented with a series of equations and it is your job to find the correct problem. When you find the mathematically correct equation, you create the soda pop fuel. When you generate enough fuel (2-3 correct answers) the game transitions to a physics-based mini-game where you hurl the penguins at one of their zoo friends who are trapped in a cage. The penguins will crash into the cage, or any obstacles surrounding it, to free their friends.
Again, the math puzzles include addition, subtraction, division and multiplication problems. Each category will be separated by school grades ranging from 1st Grade to 4th.
As you advance through the game, you will earn gaming cash to unlock additional levels and power-ups to help your penguins bust out their friends. There is a free trial version of Madagascar Math Ops available with the full version running $2.99. There are additional in-app purchases available beyond the $2.99, which generally includes buying gaming cash.
Get the Windows Central Newsletter
All the latest news, reviews, and guides for Windows and Xbox diehards.
George is the Reviews Editor at Windows Central, concentrating on Windows 10 PC and Mobile apps. He's been a supporter of the platform since the days of Windows CE and uses his current Windows 10 Mobile phone daily to keep up with life and enjoy a game during down time.