Top Rated Beer Apps for Windows Phone
Windows Phone Central App Roundup: Beer Apps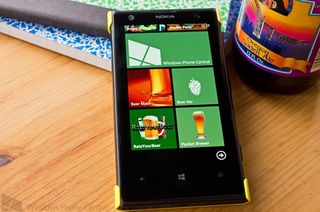 Beers and breweries have seen a rise in popularity over the past few years, to the point it can be a challenge to keep up with all the brands, styles and breweries that are now available. Luckily, we have a small collection of Windows Phone apps in the Store to help those who indulge in the sudsy beverages keep tabs on things.
This week's Windows Phone Central roundup focuses on a handful of these beer apps. We've picked four of the top rated beer oriented apps to shine the spotlight on. Three the help you search and find the various beer brands, styles and breweries and one to help those who dabble in home brewing.
As with all of our roundups, if we have over looked your favorite beer app sound off down below in the comments and share your recommendation.
Beer Mate (trial/$.99)
Beer Mate is a handy database app that delivers a vast assortment of beers from across the globe. The main pages include:
Explore Page: This page offers a handful of search options along with access to your favorite beers, a shopping list feature and SRM Guide.
Featured Beer Page: As you would guess, this page spotlights a beer from the Beer Mate's database.
Featured Brewery Page: You guessed it, this page highlights one of the many breweries within the app's database.
Up under the three-dot menu on the Featured Pages will pull up detailed information about the featured beer and brewery.
The Explore Page has two search options to find that one beer brand you yearn for. You can search by keyword for both beers and breweries or you can search by scrolling through the various beer styles (European-Germanic, Hybrid, Meads, etc.). In tapping a particular style of beer, pages with information on that style, a listing of specific beers and a list of related styles will be generated.
When you drill down to a specific beer, you will find pages that include:
General Information Page on the beer (alcohol by volume, SRM rating, availability, etc.)
A Personal Rating Page where you can rate the beer and add notes on your experience with the brew
Brewery Information Page which contains the particulars on the beers brewery
Along the bottom of the beer pages, you will find three control buttons. One to tag the beer as a favorite, one to add the beer to your shopping list, and one to share the beer information via email, SMS or add to your social media status.
Beer Mate comes across as a solid database of beers and breweries. I would like to see a home button added on the beer/brewery pages so you could jump back to the main pages easier. The shopping list feature will come in handy for not only when you need to re-stock the frig but shopping in general.
There is a free trial version available for Beer Mate that has ad-support. The full version, which removes the ads, is currently running $.99. Beer Mate is available for both Windows Phone 8 and 7.x devices. You can find Beer Mate here in the Windows Phone Store.
Beer Me (free)
Beer Me is a free database for Windows Phone 8 that lets you search for your favorite beer or research new brews you are thinking about trying.
The app is a little on the simplistic side with main pages that include:
Search Page
Recent Page that lists your most recent beers viewed
Favorites Page
Notes Page that lists any notes you create on a particular beer brand
More Page that allows you to set-up OneDrive backup for your notes, rate the app in the Windows Phone Store, and view the About Screen
Beer Me lacks any category or style searches and relies solely on keyword searches. Once you have discovered the beer you are hunting for, you can pull up detailed information on the brew.
These pages will cover the general information for the beer (ratings provided by ratebeer.com, alcohol by volume, brewery, description, etc.) and a notes page where you can jot down any thoughts on the beer and rate it. At the bottom of the general information page, you will find tiles to tag the beer as a favorite and recommend the beer.
Beer Me is not a bad Windows Phone app to consider, just a little on the plain side. It does have OneDrive support to back-up your ratings and notes so you can access the information from other phones. If you are looking for an app with a lot of bells and whistles, Beer Me might not be your cup of tea. If you are looking for an easy to use search engine for beer, Beer Me is a good option to consider.
Beer Me is a free app that is available for Windows Phone 8 devices. You can find your copy of Beer Me here in the Windows Phone Store.
Pocket Brewer (trial/$2.99)
Brew your own beer? Pocket Brewer is a set of common recipe building, unit, calculation and conversion tools for brewing beer.
The app supports BeerXML import and export from your OneDrive as well as the ability to export your recipes via email. Additionally you can find a collection of importable beer recipes from the Pocket Brewer website to help build up your recipe library or just to discover a new brew to try.
The app itself has main pages that cover:
Tools: Adjust Mash, Boil Off, Dilution Tool, Decoction Volume, Strike and Infusion, All Grain Water, Extract Water, Volume from Weight, Carbonation and more.
Recipes: This page lists all the recipes in your library.
Units: Pressure, Specific Gravity, Temperature, Volume and Weight.
Scratch: A notes page.
Pocket Brewer's settings cover your unit preferences (U.S. units, Imperial units or Metric) and can be accessed through the gear button on the Tools page.
The recipe builder has the ability to tap into a database of commonly used hops, yeasts and grains used in brewing.
Pocket Brewer comes across as a convenient way to build and store your brewing recipes. The app is simply laid out and full of brewing related features.
There is a free trial version available for Pocket Brewer that limits the number of recipes you can store. The full version is currently running $2.99 and is available for both Windows Phone 8 and 7.x devices.
You can find Pocket Brewer here in the Windows Phone Store.
RateYourBeer (free)
RateYourBeer is a beer rating site that was developed by students at the University of Surrey (that would be in England) as an easy way to discover and rate beers of the world. The website is a community driven project that includes information on a wide variety of beers along with user reviews.
The RateYourBeer Windows Phone app taps into this website and brings all the details and reviews to the small screen.
The main pages for RateYourBeer include:
Recent Page that lists all the recent beers you have viewed
Catalog Page that lists all the brews alphabetically
Search Page
Updates Page that provides the change log on the latest app update
Across the bottom of the main pages, you will find four control buttons that will let you contribute a beer to the database, view your favorite brews, log into your RateYourBeer account and refresh the screen.
If you choose not to create a RateYourBeer account (free), you can still view the beers in the database but will not be able to submit beers to the database or rate the brews.
Drilling down to a specific brew, you will find pages that offer details on the beer and a rating page where you can score the brew with one to five stars. Control buttons are at the bottom of the page to mark or remove the beer as one of your favorites.
RateYourBeer is a nicely laid out Windows Phone app that gives you access to a large selection of beers. It is community driven so the size of the app's catalog is dependent on audience participation. While this may limit the catalog size, it should eliminate unrated beers that larger catalogs will have that leave you unsure if trying them is worth the risk.
RateYourBeer is a free app that is available for both Windows Phone 8 and 7.x devices. You can find RateYourBeer here in the Windows Phone Store.
Any Stand Outs?
Beers have come a long way since the Colt 45 days. Breweries are producing a wider range of beers, Micro-breweries are popping up everywhere and home brews are gaining in popularity. These four Windows Phone apps help you keep pace with the beer industry and all four do a rather nice job of things.
Beer Me is the more basic app that approaches things in a minimalistic fashion. While it has a healthy database, the app comes across more as a pocket reference guide than beer tracker (which isn't a bad thing). Pocket Brewer has a ton of features and is a good means to create and manage your brewing recipes. It also has a narrower appeal factor.
We have always been partial to RateYourBeer for its ease of use and community driven format. It gives the app a more personal feel. Beer Mate likely has the strongest database of the group with information on not only the beers but also the breweries.
The nice thing about all four apps is that they are either free or have trial version, allowing you to give each of them a try without breaking the bank.
Again, if we have overlooked your favorite beer oriented app feel free to toss out your recommendation in the comments below.
Windows Central Newsletter
Get the best of Windows Central in in your inbox, every day!
George is the Reviews Editor at Windows Central, concentrating on Windows 10 PC and Mobile apps. He's been a supporter of the platform since the days of Windows CE and uses his current Windows 10 Mobile phone daily to keep up with life and enjoy a game during down time.
ÜberMonster is what I like. (Energy Drink, made like alcohol)

No beer for me tonight I have to work tomorrow!!

There's always room for one!

I had not found these apps yet, but I have been using "beer suggestion".

How could you leave out Untappd?! www.untappd.com Great service! But the WP app is pretty mediocre. Fatkoll is also good to have, but only for Sweden.

I agree. I expected untapped to be reviewed.

I agree that Untappd should be up there in the top 4. The WP app is not bad and the breweries do follow comments made on this app about their beers as I have received several toasts and comments directly from the breweries based on my comments.

Are we ignoring Untappd because of the issues with the Tapped app? I also use BJCP Styles (http://www.windowsphone.com/en-us/store/app/bjcp-style-guidelines/0d288a...)

Beerbasher is the best app by far in my opinion. Uses Ratebeer database and great design.

I miss Tapped, using official Untappd (ugh!) app instead.

Beer Suggestion and Untapped are my two faves. Who doesn't love getting badges for drinking?

Beer Me and Tapped were my favorites. I've always liked Beer Me because even though it's simple, I find it really easy to use and love the design. Definitely needs some updates, and has an issue where if you don't type in the name of a beer exactly it won't pull up the information, but my go to right now. We all know about Tapped. Just haven't been able to get into the Untapped app since it's tough to use.

Glad Beer Me is your go-to (I'm the guy who developed it). Unfortunately, the precision of the search is determined by RateBeer.com and they don't have an option to do fuzzy searches. I'm thinking of a few things to help with this (e.g. a barcode scanner), so definitely stay tuned, and don't be shy about providing more feedback! Cheers! -Ben

This is why I love this site, connecting us to developers! Honestly, the reason I like your app is because I don't need a social networking aspect like Untapped, I'm really just looking for information. Maybe if there was a way to display the ratebeer.com info in the app itself instead of going to the site, that might be nice. But thanks for the response, look forward to updates!

Never knew beer apps existed, until this thread

Untapped is great for me! No issues with the WP app.

Untappd is the daddy, surely?

I will suggest 2 betters apps who work with the biggest beer data base on the web ratebeer.com 1- Beerbasher, the official apps of ratebeer.com if you already have an account on ratebeer.com you can login and rate right on the apps 2- Beer Rater, who use the same data base and find place near you like pub brewie or store nearby give it a try you wont be disapointed ;)

I can "sort of" understand not reviewing Untappd if the author was trying to highlight alternatives, but not to even mention Untappd as a passing reference was clearly shortsighted.

Agree. I actually think the Untappd app performs very well even though it doesn't follow Metro/Modern style guidelines. I use it daily (probably too much).

Let's compare beers on untapped!

If your a member at the Flying Saucer, "Beer Knurd" is awesome!

Check out UNTAPPD . It is an instagram, Facebook type of social network for beer enthusiasts

No mention in the article that RateYourBeer was made by Jay? :-/

You forgot Untapped. I use it occasionally. The app needs some work, but great otherwise.

Every beer drinking WP user I know uses Untappd. The app dies need a serious update

No Untappd? You know, the most popular beer app and website on the internet. They even have an official Windows Phone app.

You forgot untappd... most important app on my Lumia :D

IPA,DOUBLE IPA
YES SIR.. IM HAVING BEER TONIGHT

Sweet. Now the app store nay Sayers can finally be put to rest! We have beer apps now! Maybe one day in the not so distant future we will have fart apps as well.

http://www.windowsphone.com/en-ca/store/search?q=fart

I would like the Old Chicago WBT app for WP. My wife has it on her iphone.

I've been using UNTAPPD for over a year. Used TAPPED on WP7 I believe, but I don't remember what was different about it. I have friends on UNTAPPD. Are these other ones better? Guess I'll need to check 'em out and write a Beer Review 2.0 ;)

Beer Tracker is always on the top of the app search list for beer.

"Oregon Breweries" is a great app if you ever visit the state with one of the highest number of Breweries and Brew Pubs per person in the U.S. Not only are there lots of breweries in Oregon but they are among the best in the world. In fact, Oregon's brewers won 12 medals at the 2012 World Beer Cup in San Diego which placed Oregon third amongst US brewers in the number of medals won. Not only that, but the 2012 winner in the World Beer Cup Champion Brewery and Brewmaster of a Large Brewpub category was the Pelican Pub & Brewery in Pacific City along the scenic Oregon coast.
Windows Central Newsletter
Thank you for signing up to Windows Central. You will receive a verification email shortly.
There was a problem. Please refresh the page and try again.