Top Rated Fishing Games for your Windows Phone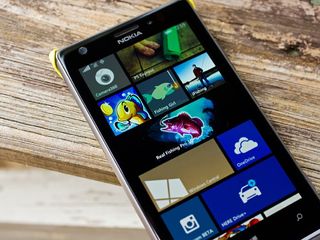 Fishing is a fantastic way to spend the day but with the Seasons changing and temperatures dropping, the opportunity to spend an afternoon on the lake may not still be available for many. For those who are itching to try their hand at hooking the catch of the day during the colder months (or at least pretending to), there is a small collection of Windows Phone games available in the Store.
We've pulled four of the top rated fishing games from the Windows Phone Store for this week's roundup and while some of the titles approach fishing from a non-traditional approach, all are decent games to pass the time with.
Just a quick note to say that all the titles in this week's roundup are available for low-memory Windows Phones.
Fishing Girl
Fishing Girl is one of the many Windows Phone gaming titles from Elbert Perez's development group Occasional Gamer. The Occasional Gamer collection is filled with simple, challenging and addictive Windows Phone titles. Fishing Girl is no exception.
As you would guess, you play the role of the fishing girl who spends her day fishing. You fish from sunrise until well past sunset to see how many points you can earn. Points are determined by the size of fish you land with additional points available for fishing garbage out of the pond.
Mechanics are simple in that you tap the screen to start your cast, tap a second time to launch your lure and then tap the screen again to start reeling in your lure. In general, the larger fish hang out in the deeper water while the smaller fish can be found more towards the surface of the pond. When you hook a fish, your Windows Phone will vibrate and you'll need to carefully reel in your catch. Just be carefully not to reel your fish in too quickly or the line will snap.
You can upgrade your fishing lures and line in the game's store with the money you earn catching fish. Fishing Girl is a fun Windows Phone game for all ages and the minimalistic graphics look good. The game gets a 4 Star rating in the Windows Phone Store, which is in the ballpark if not maybe half-a-star too low.
iFishing
iFishing takes on a more traditional approach to going fishing. The game lets you navigate an assortment of lakes and ponds in your fishing boat to find the perfect fishin' hole. Casting is done with your Windows Phone accelerometer and the phone's vibrator simulates a fish on the hook. You can even jig your fishing lure as you reel it in, hoping to better attract the fish.
iFishing has 15 unlockable lakes to fish, three difficulty levels and two gaming modes (Tournament and Practice). Add a tackle box of lures to unlock and a boatload of freshwater fish to catch and iFishing isn't too shabby of a Windows Phone fishing game.
Casting is a little tricky and requires a solid grip on your Windows Phone. You press/hold at the bottom of the screen, pull your Windows Phone back and then forward as your release your hold on the screen. The action is similar to what casting with a fishing pole would be like but, again, just be careful when you release your hold you don't release too much. There is a possibility you may see your Windows Phone sailing across the room if you are not careful.
Game play does follow the pace of your typical fishing outing. Some spots are covered up with fish, while others are rather barren. You may find yourself casting several times before your first strike or you may see the fish fighting to get on the hook. To help you out, the game does have a depth finder displayed when you are navigating the fishing boat across the water, which will help give you a feel for the fish population.
All totaled, iFishing isn't a bad option to consider if you need a game to fill your fishing needs. Graphics are good and the game is rather realistic with the fish smell possibly being the only thing missing. iFishing lands a 4 Star rating in the Windows Phone Store, which is a fair catch for the game.
Fishing Diary
Fishing Diary isn't your typical fishing game where you try your hand with a rod and reel. Instead, you are armed with an assortment of cannons that blast fishing nets at your underwater prey. The diary comes into play with the game keeping a daily breakdown of everything you catch.
In a nutshell, you are presented with an underwater landscape filled with an assortment of tropical fish, mermaids, sharks, stingrays, turtles and other underwater creatures. Your cannon sits at the bottom center and you tap the screen where you want your net to be launched. The goal is to catch as many fish as possible, which in turn keeps your coin count high.
The reason being is that each shot costs you a few coins. There are nine cannons available with different power and speed levels. The more powerful the cannon, the more coins it will cost to fire. You also have three power-ups available to help you snare your fish that include a mine that will blast the fishes out of the water, bait that will attract the fish to one spot and a lightning bolt that stuns the fish. The latter two are designed to make the fish easier to catch.
Game play is endless but there are game tasks you can try to accomplish. If you run out of coins to pay for a cannon shot, one free shot will generate every ten seconds. You can also boost your coin count through in-app purchases. Cannons can also be upgraded with the coins you earn and if you catch any clams, you can use those to buy power-ups.
Fishing Diary isn't a terrible game but here's the challenge that makes the game a little frustrating. While you can aim your net in a general direction, once the net hits a fish it will expand. Fish are constantly swimming close to your cannon and all too often the net hits one of these fish and expands as soon as it leaves the barrel.
Fishing Diary does grow on you the more you play the game. It's not an overly complicated game and while I'm not sure it could hold up to a marathon gaming session, it's not a bad game to pass short bits of time with.
After a couple of thousand reviews, Fishing Diary's Windows Phone Store rating is sitting at 4.5 Stars. The rating isn't too far from the mark and possibly half a star too high.
Real Fishing Pro 3D
Real Fishing Pro 3D is another Windows Phone fishing game that approaches things from a more traditional point of view. Real Fishing Pro 3D has six lakes to fish but instead of exploring the lakes from a boat, you fish from a fixed point. Casting is done by a press of a button, which is probably safer than swing your Windows Phone around, and an on-screen fishing reel will appear that is used to reel in your line.
Equipment and lures can be upgraded through the money you earn through game play and Real Fishing Pro 3D has a number of quests to give the game a little more challenge.
Fish are a little more aggressive with Real Fishing Pro 3D. You can cast your line into the water, let it drift for a few seconds and something will come along and take the bait. You do have to be a tad more careful as you reel in your catch to avoid breaking the line. Meters will appear across the top of the gaming screen to indicate the stress on your fishing line and the strength of the fish. You'll need to pace yourself to allow the fish to tire and the line to remain strong.
Once landed, you'll have the option to keep the fish for your collection or release them back into the water. Overall, Real Fishing Pro 3D has decent graphics, somewhat challenging game play and seems to approach things from a more casual approach. An approach much like spending a quiet summer afternoon on the dock with your rod and reel.
Real Fishing Pro 3D does have one annoyance though. Periodically a full-page advertisement will pop-up, often after you've landed a fish or transition between menu screens. The game already has an ad-banner that discretely sits at the top of the screen and while you can remove the ads through an in-app purchase of $1.29, the full-page ad is just overkill.
Full-page ad and all, Real Fishing Pro 3D brings home a 4 Star rating in the Windows Phone Store after over 600 reviews. While we would like to see the full page ads wiped out of existence, the rating is fairly spot on.
Best of the bunch?
Fishing Girl takes the prize for the most minimalistic design of the group, which isn't necessarily a bad thing. The game is a fun, casual game that has plenty of challenge to keep things interested. Fishing Diary may not be a conventional approach to fishing but it's still a fun game to pass short bits of time with.
The two games that are more of a simulator style, iFishing and Real Fishing Pro 3D are also appealing titles in their own right. I liked the full range that iFishing offers from piloting your boat to the right spot on the lake for fishing to simulating casting with your Windows Phone accelerometer. Real Fishing Pro 3D also has a certain amount of appeal but more from a casual approach to fishing. However, the game's appeal definitely takes a hit with the full-page ads that pop-up from time to time.
Overall, I cannot say there is any real duds in this week's roundup but some titles may not have that across the board appeal that sparks everyone's interests. If you give any of these games a try, let us know what you think in the comments below.
Also, if we've missed your favorite fishing styled Windows Phone game, feel free to share that as well.
Windows Central Newsletter
Get the best of Windows Central in your inbox, every day!
George is the Reviews Editor at Windows Central, concentrating on Windows 10 PC and Mobile apps. He's been a supporter of the platform since the days of Windows CE and uses his current Windows 10 Mobile phone daily to keep up with life and enjoy a game during down time.
Where's hungry shark evolution??
I know its nt actually a fishing game bt its d fish how does humaning( yeah u read dat right humaning) bt still its an interesting game. :-p

That's just JAWS in a nutshell, that's not fishing... But nice try

What about when you eat the fishermen?

If only Fishing superstars or ace fishing came to WP...sigh... Will try these out though, thanks!!!

Am a Vegetarian....... So no fishing please

Who gives a shit about you really?

In that case, -1 for you. Fishs are beautiful and inteligent animals and thei death should not be a matter of joke by others.

Waiting for Ridiculous Fishing to land on WP

My first reaction was surprise that fishing games are a category.

Ifishing is a fun game. My kids and I love playing it. There is also a saltwater version of the game. Well worth the money paid for both games.

PONDer is reviewing fishing games.
Nice one.

Fishing.......angling? now we talking. Bring it on.

I mis some good old pole fishing

If you're an actual fishermen, ifishing is the only way to go. For now, until someone better comes along.

That childhood classic "Go Fish" didn't make the list? :) http://www.windowsphone.com/en-us/store/app/go-fish/22302795-fd33-e011-854c-00237de2db9e

What a supid "sport", to kill an animal by asfixiation. Is that what Windows Central is promoting?

In the "sport" they toss the fish back in the water so that it will live. In regular fishing, you catch a fish and someone eats it. :)

Best mobile fishing game ever: http://www.youtube.com/watch?v=xlZzUgEusTE Now...if only we could get some ports of those fantastic games, especially One: Whos Next?.

Ace Fishing Wildfish is the best mobile fishing game..any chance it will be on WP?