Top Rated Windows 10 Puzzle Games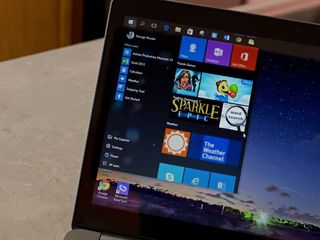 Puzzle games are a great way to pass the time from a Windows Phone and can be equally enjoyable from the larger screen of a Windows 10 computer. We have covered a wide variety of puzzle games for Windows Phones and now turn our sights towards a few of the top rated titles available for Windows 10. Keep in mind most of these games were originally developed for Windows 8 but carry over nicely to Windows 10.
These are puzzle games you can have fun playing for short bits of time, as well as being strong enough for longer gaming spurts. There is no rhyme or reason behind the four titles in this roundup other than being amongst the top rated games in this genre and available in the Windows Store. As is customary, if we have overlooked your favorite puzzle game for Windows 10 feel free to toss out your recommendation in the comments below.
Dodo Pop
Disney has built up a respectable presence in both the Windows and Windows Phone Store with a host of puzzle games. From the Where's My Water series to Frozen Free Fall to the Star Wars installments, it is hard to go wrong with Disney's offerings. This solid gaming line-up from Disney made it rather difficult to pick only one puzzle game from Disney to spotlight for this roundup.
We flipped a coin and went with a more recent release from Disney, Dodo Pop. The Windows game is a bubble-burst style puzzle game where you are tasked with eliminating clusters of colored balls and meet the gaming level goals within a set number of moves.
The storyline behind the Windows game is that you are helping Crash the Dodo Bird find his way home. Dodo birds cannot fly so Crash will rely on gumballs to help him safely sail home. Each level has a set goal (burst 24 green gumballs, burst all the starred gumballs, etc.) that has to be met in a set number of moves. When you meet these goals, it begins raining gumballs and Crash will blow a huge bubble to sail off to the next gaming level.
Bursting the gumballs falls in line with your traditional bubble burst games. Tap on clusters of adjacent gumballs of the same color to burst them and remove them from game play. Additional balls will drop from the top of the screen to keep the playing field full of gumballs. The game also includes a collection of power-ups or boost that become available during game play to help your chances of success.
Dodo Pop has over 125 levels of play that span five environments and is a free gaming title available for both Windows and Windows Phone. While the game is free, there are several in-app purchase opportunities.
Word Search Absolute
I can remember on long road trips a Word Search Puzzle Book always found its way to the back seat keep us occupied and out of my parent's hair. These days, the word puzzle games have gone electronic and Word Search Absolute is one of the top rated offerings in this genre.
The game offers simple gaming mechanics, over 100 categories of puzzles, 3 gaming modes and 4 difficulty levels. The gaming modes include:
Classic Mode: This is your straightforward find a word type puzzle. A list of hidden words are displayed at the left of the puzzle field for you to find. The game is timed with the goal being to solve the board as quickly as possible.
First Letter Only: Here the first letter of the word that you have to find is displayed. As with the Classic Mode, this mode is timed and you'll need to solve the board as quickly as possible.
Keep it Going: In this mode you begin with a fixed time limit to solve the board. Every time a word is discovered, you are awarded extra time. Once you solve the board and find all the hidden words, a new board is created and the amount of time you have to solve the board is decreased. The game ends when you run out of time.
The four difficulty levels include Easy, Medium, Hard and Expert. Your categories of puzzle boards range from Olympic words to Sound words to Star Wars words.
To identify a hidden word just tap and drag your finger across the letters that form the word. If you lack a touch screen, you can accomplish the same by dragging your mouse cursor along the letters.
As far as puzzle games go, Word Search Absolute is an appealing option to consider. It is a free gaming title available in the Windows Store
Download Word Search Absolute for Windows (Free) (opens in new tab)
Nightmares From the Deep: The Cursed Heart
Artifex Mundi offers a host of hidden picture style puzzle games that carry you through a variety of mystery stories. Nightmares from the Deep: The Cursed Heart is one installment that has you solving a pirate mystery.
You are a museum owner who is pursuing an undead pirate who has kidnapped your daughter. You have to search your museum and rundown pirate settings for clues that will lead you to your daughter and solve the mystery behind the undead pirate.
You'll hunt for clues in the form of hidden objects, which will lead you to key items needed for your quest or additional puzzles to solve. Should you get stuck and need a little help to point you in the right direction, there is a hint button available throughout the game.
Graphics are well drawn up, game play is challenging and Nightmares is also available for Windows Phone.
Nightmares From the Deep: The Cursed Heart follows suit with most of Artifex Mundi's games. You will have a free version that will get you started in the game and completing the game will require an in-app purchase or paying for the full version from the get go. Typically, the full version runs $6.99 in the Windows Store and $2.99 in the Windows Phone Store.
Sparkle Epic
10Tons is a fantastic Windows and Windows Phone developer with a wide range of offerings that can have a rather unique flair. The Sparkle gaming series is one of 10Tons more conservative titles but still and enjoyable puzzle game nonetheless. We tapped the latest in the Sparkle series, Sparkle Epic, for this roundup.
The Sparkle gaming series is a Zuma styled game where you have to shoot colored orbs into a line of orbs that are slowly working towards your position. Create a match of three or more of the same colored orbs and the balls are removed from the game. The goal with each gaming level is to eliminate all the orbs without them reaching your position and entering the abyss.
The storyline behind Sparkle Epic has you searching the realm for five mystical keys. You have to defeat the orbs and deny them access to the dark abyss as you travel the world in search of these keys.
The marble popper puzzle game includes over 300 levels to conquer unlock and plenty of boosters to give your orbs a little more punch. Each level has multiple waves of orbs to eliminate and the pace of the game picks up the longer you survive. As you complete levels of play, you will earn energy that will build up and eventually unlock new orb styles.
Sparkle Epic plays out nicely from a Windows touchscreen but seemed a little cumbersome when played with a mouse. Playing from a non-touchscreen is not terrible; it just may take a little time to get used to the difference in mechanics.
Sparkle Epic is a sound addition to the 10Tons gaming library and available for both Windows and Windows Phones.
Windows Central Newsletter
Get the best of Windows Central in in your inbox, every day!
George is the Reviews Editor at Windows Central, concentrating on Windows 10 PC and Mobile apps. He's been a supporter of the platform since the days of Windows CE and uses his current Windows 10 Mobile phone daily to keep up with life and enjoy a game during down time.
Thats good, but i need a quizup update, its crashing, freezing making the phone unresponsive nd lagging like hell!

For Windows Phone, I'd say:
Best Traditional Puzzle Game = Hexic Rush Best Action Puzzle Game = Zuma's Revenge Best Puzzle Platformer = Max & the Magic Marker Honorable Mention: Lines

Why still no mention of the pretty neat Microsoft games (Sollitaire, Mahong, Minesweeper, Jigsaw, etc)? Or even Bejeweled and alike.

I would also suggest Contre Jour and Bridge Constructor.

Blocked In! It's been around for forever and is available for both tablet and phone (state doesn't sync though unfortunately).

Logic Games - hours and hours and hours of gameplay and huge variety in the puzzles offered so even if there are ones you are not interested in there are plenty of other options. Utilitarian graphics but that is all you need. And it's free.
Windows Central Newsletter
Thank you for signing up to Windows Central. You will receive a verification email shortly.
There was a problem. Please refresh the page and try again.