Top Rated Windows Games for tablets (or anything else running Windows 8 for that matter)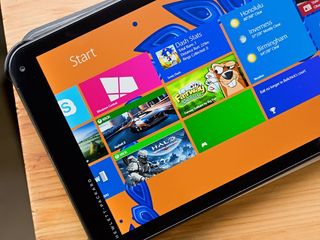 Windows Central Roundup: Top Windows 8 Games
We are taking a slight change of pace for this week's roundup. Instead of focusing on apps for Windows Phone, we are going to take a look at a few of the top rated Windows games.
An HP Stream 8 (opens in new tab) tablet was left under the tree with my name on it this past Christmas. While my Windows Phone is my primary device for gaming these days, I'm finding the 8" Windows tablet can hold its own rather well. I think in many respects a tablet is more amenable to gaming than a laptop or desktop, especially when touch screen controls are in play.
I've plucked four gaming titles from the Windows Store (plus a few honorable mentions) that I have found to be nice gaming options when you need the elbowroom a tablet offers. Many of these gaming options are available for your Windows Phone and I'll add the download links with those titles for the Windows Phone Store and make not if the version is available for low-memory Windows Phones.
Fairway Solitaire
While a game of solitaire may not be everyone's cup of tea, it can be an enjoyable way to pass the time. Fairway Solitaire takes the gaming concept of solitaire and adds a unique twist to game play. The result is a card game that should appeal to most (maybe even to those who hate card games).
At the core, Fairway Solitaire isn't very different from your traditional game of solitaire. You are presented with a collection playing cards that are either face up or face down. You have to remove the cards from the playing field in sequence (regardless of suit). You start the card in your draw deck at the bottom of the screen and pull from the other cards. So if you have an 8 showing in your draw deck, your next card will be a 7 or a 9. The goal is to hit long drives by playing as many cards in a row as you can and ultimately remove all the cards from the playing field.
Scores are based on the number of cards you leave in play once your draw deck is depleted with each hole or level of play having a set score that is considered par. You will want to score par or better.
The game has sand traps to overcome, water hazards to conquer and sometimes your cards are knee deep in the rough. To help you out, you will discover golf clubs during game play (or buy them as your earn golf bucks) that serve was wildcards. The seven iron would become a 7 card that might help keep your string of cards going or get your score under par.
Fairway Solitaire includes three courses of play that combine for 350 golfing holes (or levels of play). The game also includes 37 trophies to earn, four mini-games and a pesky gopher that is prone to steal your golf bag.
The free version of the game has enough game play to either get you hooked or have you run for the hills. The paid version is running $1.99 and gives you access to the full collection of courses. The same can be said of the Windows Phone versions of Fairway Solitaire but the game is not a universal app.
Sonic Dash
If you are looking for a fast paced, endless runner styled game you may want to give Sonic Dash a try. For those who may not know, Sonic is a world famous Hedgehog that dates back to the Sega Genesis gaming console days. Sonic has come a long way since those days and Sonic Dash is a popular, entertaining installment to the gaming series.
Controls are gesture based, as is the case with most endless runner games and there are plenty of power-ups to collect during game play or buy through the game's store.
As you make your way through the endless course, you have rings to collect, enemies to bash and bosses to battle. There are also red stars to collect and earn that will unlock additional characters to play such as Knuckles, Tails and Shadow.
Another nice feature of Sonic Dash is that your endless runner course is broken up into segments. This not only gives you a slight breather but also an opportunity to earn bonus points by mimicking screen gestures as Sonic jumps from one stage to the next.
All in all, Sonic Dash is a fun game to pass the time with whether you are playing from your Windows Phone or the larger screen of a Windows 8 device. Both versions are free but there is no means of synchronizing your gaming progress between the two.
Asphalt 8: Airborne
As far as personal choices are concerned, Asphalt 8: Airborne may be my favorite Windows 8 game to play from a tablet. The graphics are outstanding and when you steer with your device sensors, the gaming experience will have you leaning into every turn and raising up in your seat as you send your car airborne.
The racing game is constantly being updated to offer new cars and courses to master. To date, Asphalt 8 has 47 high performance cars to race, 9 different racing venues with 180 events in the Career Mode. You also have an Infected Mode and Drift Gate modes to keep the game interesting.
Asphalt 8 has quality sound effects, plenty of airborne stunts and did I mention outstanding graphics? Add ghost challenges and simultaneous multiplayer action for up to eight opponents and Asphalt 8: Airborne may be the only racing game you will ever need.
The Windows Phone version of Asphalt 8 is addictive but it takes a backseat to the Windows 8 version when played on a tablet (especially when you play with headphones on). Asphalt 8 is a universal app that has the option to save your gaming data to the cloud. This will allow you to bounce back and forth between your Windows Phone and Windows 8 device without missing a beat.
The game pulls down a 5 Star rating in both the Windows Phone Store and Windows Store with over 136,000 reviews. Asphalt 8: Airborne is an impressive game and we will gladly concur with the 5 Star ratings.
Halo: Spartan Assault
While most have enjoyed the Halo series of games over on Xbox, the Windows Phone platform has enjoyed its own installment of the Sci-Fi series with Halo: Spartan Assault. The game has since transitioned to a Windows 8 version and an Xbox version.
It is an entertaining, challenging game for your Windows Phone and, as we see with many of the universal games, the Windows 8 version offers you more elbow room to play and pulls out a little more detail in the graphics.
Game play departs slightly from the traditional Halo gaming titles in that instead of playing the game as a first person shooter, you play the game overlooking the action in arcade style. You still have to battle the Covenant forces, scavenge for weapons and ammo as you play the game and take control of the many Halo vehicles.
Virtual joysticks are positioned in the bottom corners of the screen to control your Spartan's movement and weapons fire. You also have grenade buttons conveniently placed next to the joysticks for easy deployment. On a tablet, the control spacing feels comfortable and everything is within thumbs reach to help with game play efficiency.
Halo: Spartan Assault includes 30 missions and your progress is carried over should you switch between your Windows Phone and Windows 8 devices. Experience points earned will unlock emblems to enhance your Spartan career in Halo 4.
Graphics are impressive, game play challenging, as well as addictive, and if you are a Halo fan or just like combat oriented games, Halo: Spartan Assault deserves a hard look. The full game lacks a trial version but there is a Lite version available in both Stores that is free and will give you a feel for game play.
Honorable Mentions
Call of Duty: Heroes
Call of Duty is successful first person shooter gaming series that throws you in the middle of a wide range of combat situations. While Call of Duty normally places you behind the sights of a weapon, Call of Duty: Heroes places you in command of an army of soldiers in a 3D combat strategy game.
You take command of a small base and build it up into a major military installation. At your disposal is a host of Call of Duty heroes along with over thirty defensive and offensive structures. The game isn't all about defending your base with plenty of missions where you launch attacks against enemy positions.
There isn't a Windows Phone version of Heroes so if you need to fill your Call of Duty itch while away from your Xbox, Call of Duty: Heroes may do the trick.
Dragon Mania Legends
I recently reviewed the Windows Phone version of this city builder game and found it to be an entertaining title. Playing Dragon Mania Legends on a tablet brings out the finer details of the graphics and with the ability to synchronize your gaming progress, you won't miss a step by switching between the two devices.
In a nutshell, Dragon Mania Legends is a time management, city builder where you breed dragons, build your kingdom and fight Vikings and their dragons. The game is a nice mix of time management tasks and battle sequences. Graphics are great and the game can be rather addictive. Connect with Facebook and your Windows Phone and Windows 8 game play can synchronize.
Hungry Shark Evolution
Hungry Shark is just a fun game to play. The Windows Phone version offers you mobility and the Windows 8 version pulls out the detail in all the fish, fishermen, swimmers and other objects your shark will consume.
The game is rather simple. You play the role of a shark and swim the ocean eating everything in sight. As you eat, your shark will grow but if you fail to satisfy its endless appetite, you will find the shark go belly-up and the game end.
While these titles are amongst the top rated Windows games, they aren't the only game in town. The Windows Store is packed full of quality, entertaining gaming titles.
If we have overlooked your favorite Windows game to play on a tablet (or any other Windows device for that matter) there is nothing sinister at work. Just add your recommendation below in the comments. Also, if you have tried any of these Windows titles or others, remember to rate the games in the Windows Store. It is the best way to offer feedback to the developer.
Windows Central Newsletter
Get the best of Windows Central in in your inbox, every day!
George is the Reviews Editor at Windows Central, concentrating on Windows 10 PC and Mobile apps. He's been a supporter of the platform since the days of Windows CE and uses his current Windows 10 Mobile phone daily to keep up with life and enjoy a game during down time.
Apparently there's a leak

when is the next Halo game coming for wp?

Halo: Spartan Strike: http://www.windowscentral.com/halo-spartan-strike-first-look

It should have been published on early December if I recall correctly...Microsoft style :)

I don't know how many hours I put into Puzzle Craft on my Lumia 2520 (without spending a single penny on it), but probably enough to study for and attain a Master's Degree. Easily one of the best match-3 gameplay games with RPG elements I've played yet.

I hope the Xbox one gets the universal app treatment soon to play these games on my couch with a controller.

Wtf ...Those Aero premium cars are $99.99.. O.O its ₹99(roughly $1.7) in India :D

I like Delivery Simulator, Doodle God: Planet, Perfect Shift, Pyramid Solitaire. :)

Even though the min specs for heathstone is 2gb ram, it runs fine on my hp stream 7 with 1gb. By far the best 'free' game you can get on windows 8

Windows 10 should be released for tablets with windows rt, because the architecture is the same as mobile phones with windows phone 8 (to be updated). Updating windows rt, so it would be a small adjustment of cellular version that would require much effort on the part of Microsoft and would increase the user base of the new system.

And not piss of everyone who brought Surface RT. I'll be frustrated if left with Surface RT running Windows RT.

I think what they will do is make it run windows 10 for phones to be honest. That is a perfect solution but I'm not sure how it's going to work for tablets with resolutions like 1366x768 or 1024 x 600 since they aren't supported. And how will the apps look on those displays too?

The interface would have to be adapted, but the universal apps would be Automatically adjusted, If he just ran universal applications would be great!!!

Thanks for this post but it highlights what i think is the windows store biggest problem which is is it's lack of games. Which is odd because of the xbox connection.

The Windows Store may suffer from a lack of games, but, at least, you can use third-party game engines (Steam, etc) to make up for it.

Very true. Of course I can look outside the store to find something I want but I shouldn't have to. It's just disappointing.

Unfortunately Windows OS slowly dying

How so? I'm eager to hear why you think Windows is dying.

In his realm it is dying.

Oh I imagine what kind of realm it is?

No Dream League Soccer?? :(

Do any tablets support DirectX 9, 10 or 11 right now ? I want a tablet that I can pop in a Xbox controller and play PC games like COD, gta etc.... Know what stinks, I was on a airplane the other day, pulled out my tablet, loaded up Halo and a few other "Xbox" games and I could not play them in airplane mode. It kept on trying to log into Xbox live and would not allow me to play any of them. I would expect them to work off line and sync achievements later but fail windows 8.1​ ​ ​ ​ ​ ​ ​ ​

That was my chief complaint with that game, as well. I bought it, the day before I was going on patrol, hoping to be able to play it whenever I had down time. But, it refused to load, without first syncing to my Xbox account. Great game, but that "feature" certainly crippled it for me.

I just trie Halo on a windows rt tablet, and yes it is possible to play without an internet connection, thought it won't take into account your new achievements.

Not exactly the best choices in fact pretty mediocre choices if you ask me. Posted via the Windows Central App for Android

Apart from call of duty heroes won't install on lynx 7

Halo:Spartan Assault is my favorite on my Surface Pro 2. But it gets even better if I hook up one of my Xbox One controllers. Just enables me to move and shoot with much more precision.

Yeah the game got a lot better when I hooked a controller up to my surface 2

We really need this feature on the wp version too!

Halo Spartan Assualt wasn't saving or syncing my progress so I uninstalled it.

Great info, as always. Thank you for your time and effort!

Can someone tell me the best rpg game on windows phone. ​ ​ ​

Fairway is one of my favs

Age of empires, family guy

I have had a lot of fun with reckless racing ultimate

Sonic Dash and Asphalt 8 I love. Asphalt 8 the computer in higher levels really competes with you, it can be extremely frustrating.

Sonic Dash and Asphalt are always awesome! But I like Microsoft Solitaire Collection the best when it comes to solitaire.

Also, Fragger is a very fun and challenging game involving hand-grenades and "blowin' stuff up". Many levels/worlds and plenty of challenge.

Fairway Solitaire is easily one of my favorite games ever. It is very fun and entertaining with plenty of challenge, awesome items to purchase (with points, NOT real extra cash), and really engaging contests and other golf-related greatness. Having the cheesy golf announcers with the bad jokes puts it over the top as one of the greatest games ever on Windows Phone, iPhone, Android, and of course Windows 8! Even those that I've referred this game to that don't even like golf or cards end up loving this game. It's wicked addictive as well! Be warned.

Doom and Destiny is awesome universal game

Pac-Man CE DX+ is the best Windows RT game. Skulls of the Shogun is the runner up. (Rocket Riot 3D used to be the best, but it got delisted because Microsoft is dumb).

I most likely don't have free disk space to install any of these changes. Thanks MS and their OEMs for the infinitesimal storage space and time inability to install to sd card!

Star Wars Commander is really good on a tablet. Ironically, the graphics are even better on my Icon because of the higher resolution. I wish the gameplay was transferable from device to device. Unfortunately, each device has its own game progress. ​
Windows Central Newsletter
Thank you for signing up to Windows Central. You will receive a verification email shortly.
There was a problem. Please refresh the page and try again.