Top Rated Windows Phone Action/Adventure Games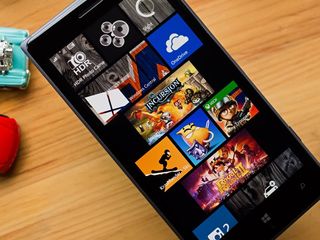 Windows Central Roundup: Top Rated Windows Phone Action/Adventure Games
Casual gaming on your Windows Phones has its merit. Word and puzzle games can have a laid back feel that can help you pass the time and exercise your brain. While there is a certain appeal to the slower paced games, we all need a little fast-paced action from time to time. Enter the Action/Adventure aisle of the Windows Phone Store.
For this week's roundup, we combed through the Action/Adventure section of the Windows Phone Store and pulled out five of the higher rated games from the Store's shelves. Some are more action packed than others but all should appeal to our need for strategy and action gaming. For added measure, I'll add a few personal favorites that you may want to try as well.
Just a quick footnote to avoid too much repetition, all the titles in this week's roundup are available for low-memory Windows Phones.
Tiny Troopers
Tiny Troopers is one of the newer titles in the Action/Adventure genre of Windows Phone games and proves that size doesn't always matter. The game has you taking control of a platoon of miniature soldiers who are deployed to various war zones to battle their way through an epic campaign.
Game controls are done through a series of touches and swipes, making game play fairly easy to navigate through. There are thirty missions with Tiny Troopers that are spread across three chapters of play. As you complete missions, you earn points that can be used to pick up better weapons for combat and your soldiers will be eligible for promotion. Promotions that will boost the soldier's strength and skills, improving the odds of survival.
Graphics are well done (all be it on a tiny scale), game play full of action and challenges and there's even a Zombie survival game that pits your soldier against endless waves of Zombies.
Add the Xbox gaming achievements and Tiny Troopers comes in as a strong option to consider for your Windows Phone gaming library.
Incursion
Incursion is a Windows Phone tower defense game where you are defending an invading darkness that is trying to overtake your lands. At your disposal are 27 unique styles of warriors that range from swordsman to archers to wizards.
Towers are already in place along the path the enemy will take and it is your job to strategically place your warriors along the path to stop the 28 different types of enemies from crossing the screen. As you slay enemy warriors, you'll earn credits that in turn can be used to purchase and put into play more of your warriors.
Game play is spread out across several levels with a variety of terrains to defend. Incursion also includes three difficulty levels (easy, normal and hard) to help give the game a little variety.
Warriors can be upgraded during game play to bolster your defenses and there are sixteen gaming awards to work towards. The only aspect of Incursion that some may find unappealing is that the some of the game's detail is lost with its tiny graphics.
At last check, Incursion nails a 5 Star rating with almost 400 reviews. While we might dial back the rating slightly, Incursion still comes across as a nice addition to the Windows Phone game collection.
Krashlander – Ski, Jump, Crash!
Krashlander – Ski, Jump, Crash! is the sequel to the original Krashlander game and share the same goal, ski downhill and wipe out the evil robots.
Known for its ragdoll physics and minimalistic graphics, Krashlander is simply a fun game to play. The game is spread out across multiple levels where you have to guide Krashlander down the slopes, navigating around various obstacles and ultimately taking out a band of evil robots who are intent on destroying the world.
You control Krashlander through a series of screen gestures or you can use the touch control wheel that is prominently displayed on the gaming screen. Movement controls include crouching down to pick up downhill speed, leaning back to avoid low-lying tree branches, leaning forward to improve jumping distances and more.
Krashlander – Ski, Jump, Crash! will test your skills at timing and creativity to generate the most spectacular wipeouts to eliminate those pesky robots. It can be a rather addictive process to see how dramatic of a crash you can create while smashing these robots.
The game brings home a 4.5 Star rating in the Windows Phone Store, which probably should be a 5 Star rating since game play ads have been removed while you are skiing. Krashlander – Ski, Jump, Crash! is a free gaming title with ad support. You can get rid of the ads through an in-app purchase of $1.99.
Royal Revolt 2
To be brief, Royal Revolt 2 is a wonderfully drawn up Windows Phone game where you build up a Medieval Kingdom, conquer neighboring Royals and their lands and eventually lay claim to the throne. It is a Windows Phone game with plenty of action and can be rather difficult to put down.
The game is the sequel to the original Royal Revolt and in many respects is two games in one. First, you have to build your castle and defenses to protect your home turf from attack. Second, you have to manage your armies as you invade and attack neighboring lands controlled by online players.
As Paul mentioned in his hands-on preview of Royal Revolt 2, the game is a multi-player oriented raiding game much like Cloud Raiders but with a lot more action.
No argument here, if you are looking for an action packed game for your Windows Phone or Windows 8 device that has quality graphics and challenging game play, Royal Revolt 2 should be on your short list.
With over 11,000 reviews Royal Revolt 2 comes in with a solid 4.5 Star rating in the Windows Phone Store (could easily be a 5 Star).
Epic Heroes
While in the Action/Adventure aisle of the Windows Phone Store, Epic Heroes plays out a lot like a card battle game. Your heroes are represented by playing cards but travel dungeons and other creepy locations to battle the enemy forces.
Heroes can be upgraded as you progress through game play and powers of fallen enemies can be combined with your hero to improve their attack or defensive skills.
Along with exploring the various dungeon levels, Epic Heroes also has an Arena that becomes available once you reach an experience level of 35. Here you can battle opponents in a playoff style.
While Epic Heroes first impression may leave you thinking there is not much to the game, between the card upgrades, spell summons and gaming strategy it's not a bad action game to pass the time with. The game has a pretty strong following with over 2,300 reviews and a Windows Phone Store rating of a perfect 5.
Personal Favorites
Along with the five Windows Phone games above, here are a few of my personal favorites from the Action/Adventure aisle of the Windows Phone Store.
Dark Lands: If you think endless runner games lack adventure, take a look at Dark Lands. It is a Windows Phone game that combines the endless runner gaming style with an RPG combat flair. Graphics sets a dark mood for battling Minotaur, goblins, skeletons and other ghoulish creatures.
Spider-Man Unlimited: Spider-Man Unlimited is quickly becoming my favorite time waster of a game. Gameloft has done an admirable job of delivering an endless runner game with enough action involved to keep things from growing stale too quickly. Plus you have all the variations of Spiderman to unlock.
The game started off slow with tons of glitches and bugs, but now that most have been ironed out Spider-Man Unlimited is a fun action/adventure game to have in your Windows Phone library.
Hungry Shark Evolution: If you are looking for a Windows Phone game with fantastic graphics, fun game play and where you can devour everything in sight take a look at Hungry Shark Evolution. You play the role of the shark and your job is simple – eat everything you can and avoid any dangers that lurk the seas.
As you eat more fish, swimmers, birds, and other creatures visiting the sea your shark will grow and you'll earn points that can be used to upgrade your species of sharks. The ultimate goal is to take control of the prehistoric shark the Megalodon.
Oh… Hungry Shark Evolution is also available for Windows 8 devices to let you enjoy the carnage from a larger screen.
There are countless more quality, entertaining, fun Action/Adventure games in the Windows Phone Store. I am bound to have overlooked several of your favorites. Just remember there is nothing sinister at hand. To cover all the quality games in this genre could fill up an entire website, let alone a weekly article.
If I've overlooked your favorite Action/Adventure Windows Phone game, feel free to toss out your recommendations below in the comments.
George is the Reviews Editor at Windows Central, concentrating on Windows 10 PC and Mobile apps. He's been a supporter of the platform since the days of Windows CE and uses his current Windows 10 Mobile phone daily to keep up with life and enjoy a game during down time.
Help me guys!
My Nokia 520 touch freezes and restart frequently after the replaced of broken screen touch.
What should I do guys?

Go back to the place where u repaired it. Ask them.

It happens when the digitizer used to replace is not genuine. Go to Nokia/ Windows care. My 520 screen cracked twice because of sheer negligence, but they fix it in no time and I didn't have any issues, just make sure they put in genuine digitizer. I think you're new here, try forums you will get better solution.

Current playing Tiny Troopers. It is super fun!

Same here, began playing from yesterday and already loving the game! (except a few cases where the control sucks). It may sound silly, but it reminds me of playing Halo:SA :)

Yes, that is the only issue, and no settings, if they add joy pad controller or whatever they call it it will great.

The fact that its free is the cherry on top. Seriously, this game is worth buying. (Yes I do know there are IAPs)

Tiny troopers is definitely the best for me, really nice round up thought (y) Didn't know about 'Incursion' though, will try it out, thanks! :)

Thnx for da lst, but app is crashing while hiting download

Wait a minute... Umm George, I think you may wanna make a correction regarding royal revolt 2.
I use Lumia 720, and have been playing royal revolt and royal revolt 2 since almost an year.
I am pretty sure my phone's RAM is 512mb and its included in low memory devices. The game is still there. ROYAL REVOLT 2 HAS ALWAYS BEEN AVAILABLE FOR LOW MEMORY DEVICES. :)

Yes, it is, but the graphics suck, not even comparable to the original game. It is kinda blurry and seems to be of low quality.

What? No way... Which phone do you use??
I have played the same game on my friend's 1520 and my Lumia 720... I couldn't find any difference...
Trust me, when I play this game on my phone, people around me exclaim about how amazing the graphics are. And they are actually too good.
Who knows, it depends on the phone.(?)

Maybe, I use 520. But the bottom line, it is available for low memory devices.

Yes, but in my 620 it closes itself all the time. That's the main reason I stopped playing it.

I miss Gamevil's Games such as Zenonia saga and others. I don't understand why gamevil don't lauch their games

Royal Revolt 2 isn't available on the app store for my Surface 2 since last night. The update yesterday morning prevented the game from connecting to their servers, so I deleted it thinking it was a bad download. Imagine my surprise when it wasn't in the app store. Does anyone have more info on this like when it might be back or why it was removed?

Sweet, all the games in the article are pretty nice timewasters for the commute :).

Royal Revolt 2 is available for 512MB RAM. currently playing with my L630 (and my gf playing with her L720).

It supports 512 mb ram since it had released...

Shadow fight 2 is available for download

I don't think so. If it is, it would be great if you share the link.

http://www.windowsphone.com/en-us/store/app/shadow-fight-2-by-nekki/faf5...

I tipped windows central but they didn't post it here

I know , it'll be soon available ;)

Thanks for the news yahia. :)

I dont like epic heros...

Snapchat for Windows Phone says my account is locked coz of using third party app. Same with others?

Yah, same... Stop using it or your account will be locked permanently...

Sadness bro :'(
I thought I messed up my account. Thanks :)

I have not experienced this...

Aoe still the best but tiny troopers not bad

i think you forgot to add shadow fight 2 by nekki

tiny troopers doesnt fit on my l620 screen.

Enjoying tiny troopers atm too. Cool that it's a free Xbox game. I'd add tentacles enter the mind to that list, not sure why its left out. Puzzle puppets also, but only if you want an actual challenge. No shock to me that some of the real gems are marginalised/ignored.
Windows Central Newsletter
Get the best of Windows Central in in your inbox, every day!
Thank you for signing up to Windows Central. You will receive a verification email shortly.
There was a problem. Please refresh the page and try again.