Torrent like a boss on Windows Phone 8.1 with Torrex Pro, free for a limited time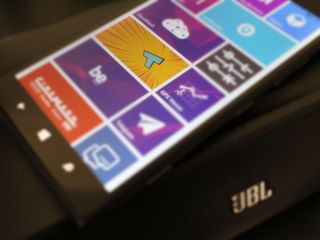 Looking for a killer BitTorrent app on Windows Phone 8.1? Then you're going to want to check out Torrex Pro. It's a new app that came out recently that puts a modern BitTorrent client in your pocket. The app allows you download any torrents and magnets links like a boss. Details after the break.
Torrex Pro is a Windows 8.1 app that has been made a Universal Windows app and now available for those on Windows Phone 8.1. With Torrex Pro you get the following:
Background downloading
Download any torrent files
Download magnet links
We've been playing around with it for a few days and like it a lot. It works well on both Windows 8.1 and Windows Phone 8.1. It's really cool to download (legal) torrent files on our Lumia 1520. The UI is fairly spartan and plain, but it gets the job done. It's just incredible to download torrent files like this on our smartphones. We're really liking Torrex Pro on Windows Phone. Though we'll probably avoid using it on our cellular connection, no need for going over our data plans.
Torrex Pro normally will cost you, but both the Windows Phone 8.1 and Windows 8.1 versions have been made free temporarily. These price drop to nothing will last about a week. So get them while the getting is good.
Sound off in the comments with your impressions of Torrex Pro! Have any other favorite apps like these on Windows Phone or Windows? Let us know.
What legal things to torrent are there??

Linux distros, opensource software, various game companies use Bit Torrent also. But in reality, I'm pretty sure Sam has just been downloading copious amounts of porn.

You're not denying it ;) In all seriousness, got this app and it's pretty good. Can change to theme style and has transparent tiles too.

I know... Sam is a good boy!!

Downloads to phone memory or to sd card?
M aware it might b a stupid question

You can select your destination folder by using the file picker. Pretty neat.

Hey Sam, why isn't it available for my phone ? Lumia 520. In India, but region set to usa. It gives the "not available for your phone" error.

None of which makes any sense on a phone.

Trying to legitimize torrents is pointless. You know, I know, everyone knows that people only really use it for copyright infringement. Its ok to admit that. Downloading now :)

Tons. How you use BitTorrent is up to you and I'm not judging, but you can check out Librivox for free, public domain audiobooks. https://librivox.org/

Ya ....audio books. Dirty audio books.

I think you forgot letter in judging.

Did you eit that? I swear the it only had the D but no G.

You're missing a leter yourself.

You and the 5 other people that use torrents for audio books must be so happy :) heh.

MS Office 2013 wait...oh dear...

Sooo I may be a noob at this....but what do you torrent? Like ... What content is there?

Possibly every thing that can be in digital form.

Anything you can't buy but want to get it, like movies, songs, videos, games, software, etc...

Will I get sued for downloading?

No you won't be "sued" because piracy is a criminal matter (depending on your jurisdiction) and not a civil one. So you might be imprisoned but not sued.

;P that was.... Hilarious

Actually, if found guilty, the software / music / movie company can then claim damages. Something like $30,000 a song.

Dat color scheme though
PS: You should review their other app, 8 Zip

Color scheme can be changed :D

8 zip is the best I truly don't need a tablet or PC thanks to that app

Agree, 8 Zip works like charm. No hiccups, no lags in operations.

i rather like using my synology and it's torrent app. i can control it from my lumia and have it use my home's bandwidth! granted, this could be usefull in a pinch

Does this also download in the background on the phone as well?

Not really. I tried downloading it under lock screen but it was paused then i switched my display time out to 5 minutes and had to tap the screen once in every 5 minutes to make it work :/
Other than that, great app.

I have Battery Saver off currently and it certainly worked for me.

theres a setting there, turn on prevent sleep when downloading

That setting didn't work. I kept the app running in the multi tasking window before I locked the phone. After a few minutes, the app had closed itself and the downloading had stopped. I had to reopen the app and start downloading again. Also, the app is very buggy in terms of information it delivers and also the downloading of data. I downloaded a 100MB file and it actually downloaded 180MB. Looks like the app loses/wastes a lot of downloaded data. It also shows incorrect progress bar.

Doesn't work under lockscreen yet. wpTorrent app does though.

Wptorrent doesn't download in the background if u leave the app tho does it? I have the pro version and it always stops when i leave the app

nope, only when it's running in foreground and screen can be turned off

Yes! FREE! That was my main gripe with WPtorrent :D

They removed pretty much all limitations of the free version of wptorrent. So I don't really see the issue. Also technically this is only a sale, normally it would cost money.

WPtorrent doesn't save to SD card and doesn't work in background.

How does this app stack up to WPTorrent app?

Why not try them both? wptorrent has more features and easier to use for me. Custom search engine is really great in wptorrent. wpTorrent allows to run under lockscreen. This app does not.

Long live the torrent, the savior of the poor!!

Most people I know who pirate are pretty well off. They just like stealing. Would probably do it IRL if they could get away with it.

I use torrent to get content that is not available in my country even if I want to buy it, since I like anime and japanese music, that's verry important. I buy manga that are published here and have a paid subscription to crunchyroll, but that's usualy not enough.

but..but..you wouldn't steal a car

I would if I could download it.

You just won the internet.

Does it support downloading under lockscreen??

It says background downloading so I would assume so.

It does but only for a few minutes.

Hmm, looks like it is universal. Has anyone tried it on a Surface RT?

Yes. I have it paired with the Movie Mansion app on my Surface 2 and they both work great. My question is how do I convert the trial version to the paid version being offered free? Can't find anything in the app, do I need to uninstall then purchase?

It is the only version, it is just free for now. In a week or so it will cost money for those who haven't downloaded it before.

Wptorrent is also a great app.

This always been free I had it before. And it didn't do any background downloading u had to be in the app in order for the downloads to progress

There's two versions, free and pro

There is only one version in the windows phone for I just did a search and only pro shows up http://i.imgur.com/4SuOolv.jpg

How do I add torrent files... I get junk characters in IE when I click on the download link... Tried downloading on surfy... It downloaded but torrex gave error when adding a torrent

Click on magnet instead of "download torrent"

Works with both magnet links and .torrent files for me.

Can u link to the free one? It's only showing the pro version in the store and I already downloaded that version for free a while ago and it does NOT download in the background even the reviews for the app says it. I downloaded the pro version for free at least 2 weeks ago

There's only one version of the app and it's always been free I downloaded it 2 weeks ago http://i.imgur.com/4SuOolv.jpg

I don't torrent on my phone, but since universal app, now I own this for my Surface RT! :D

You can't lock your phone to download torrents. Doesn't support background download.

Are you able to download a single track from a album and edit the info if needed?

Would be great... if I could use WP app as a remote access to Win 8 app. Get a torrent on my phone which would automatically start download on my PC.

There are a ton of these in the store, just search torrent

I know, but uTorrent Remote for example wasn't updated in ages. And with other apps - I avoid installing low quality stuff, which I assume many of them is.

You can actually do that with bittorrent remote app

Damnit! Just paid for the wptorrent pro app this morning to get rid of the 300kb cap, wish I knew about this app first!

I read a few days ago, the 300kb cap was removed. anyway i didn't even install it, i'm using Torrex pro since 2 weeks it was free all the time...

Total newb to this so could somebody walk me through how to torrent something with this app? Tried to find a FAQ but maybe I'm the only loser who doesn't know how this works...

Go to pirate bay. Search for what you want, tap on Get This Torrent. App opens, hit download.

What do you do after the download? It doesn't transfer to my phone. Just says complete with the thing that says where it's going.

It's already in your phone. It's wherever you set the download location to be. If I remember correctly it puts everything in the "Downloads" folder by default.

Thank you. I didn't know of any good torrent client for Windows Phone. This one seems to have nailed it.

No wonder people are talking about poor battery life!

Can this app save torrents to SD Card?

emailed the wptorret guys, theyre adding sd card support in the next update

What are you talking about? The app opens the file picker so that you can choose where to save the downloads; be it phone or SD card.

Deal breaker.... No background download

Tap on the file you are downloading, information and files tab open. Lock your phone there and it works in backround!!!!

Can someone please explain how it works, when I copy paste a URL I only see some weird things on the internet page .......

got it and started downloading already, clocks very well (430Kb/s) and more...

if it doesnt support backgroundn downloads, what is the matter ?

Exactly. Cannot keep the phone on all the time especially when downloading huge files.


It does work with pirate bay but not with kickass torrent thanks for explanation :)

It does work with anything, in fact I just tried it with Kickass. Click on the magnet thingy, and it opened WPTorrent and TorrexPro to choose which one to open the magnet with. Proper app I must say. Puts WPT to shame.

Thanks for the heads up Sam, you delivered that article LIKE A BOSS!!!

There is also wptorrent, a very good torrent client, actually it was the first and now torrex is the second, at least on wp :D

SERIOUS ISSUE WITH THIS APP!!!
although I'm using wifi it eats your provider data..
I was downloading something via wifi to suddenly get a textmessage from my provider that my datalimit was reached.. So I went to data usage and indeed, it was eating my data and for whatever reason not wifi! I mean... WTF!!! Thanks for nothing!!!!!!!!

So, no background downloads, I assume... (can't check myself now). So, can stay with WPtorrent.
BTW, is it even possible now that we have WP 8.1 to download in the background (API)?

I think it is possible both wptorrent and torrex need to simply add background downloading in a update

If we already had the free edition how do we upgrade to pro? Is it automatically done?

Download the pro version.

There's only one version and it doesn't have background downloading http://i.imgur.com/4SuOolv.jpg

Pffffft, torrents... usenet is so much better! Although I can't use that on my phone, I'll give you that.

Is this an ad? It's be good to have an ad symbol or something just so we know what's an ad and what isn't.

Why would they make this free for a week when WP8.1 hasnt even been released to the masses yet! That sucks

Thanks I can't figure out how to use wptorrent

There's nothing to it find the torrent you want and click the magnet link choose where the file goes and that's it. when you click the magnet link it takes you to the wptorrent app or torrex whichever one you have installed

I like you guys make posts about limited time free apps. Thanks WPC!

how to torrent like a boss,exactly?

Awesome app, works with my favorites tpb, extra, but seems not workin with asiatorrent

How so I transfer the file o to my phone after downloading it?

If you're using Torrex Pro (and not WPTorrent or whatever) then it is already on your phone wherever you decided to download it. I think the default destination is the "Downloads" folder. If you want to move it somewhere else just use any File Explorer. And if you don't have one installed then why do you even try downloading torrents? Need to learn to walk before you can run.

I was cranking 6mb/s download on my 1520. Best my computer gets is about 2mb/s, I have seen it as high as 4mb/s. I think it is the 1520's channel bonding. Major difference providing the rest of your system (isp, router, modem) can offer channel bonding. Noticed I get 80mb/s download on phone with Wi-Fi when I use a speed checker appbut computer gets the 40mb/s I pay for. Interesting stuff. Since you can chuck movies to SD card, and with this app download right to video file on SD, makes waiting rooms and other places nicer, especially if you don't have cellular data, as I don't.

Like a Boss? Wait... Can't download if not an active app, cant download on the lock scree, Tht ain't no boss like powers last time I checkd

Less features than WPtorrent.
The ability of WPtorrent to decide Not to download if on data plan is really important for me :P WPTorrent all the waaaay :3 (BTW: TPB is down :( )

Now with torrent downloading I see another reason to dump desktop PC.

You can't play Battlefield 4 or Wolfenstein New Order or Watchdogs on a tablet or phone.

But you can play all of them on an xbox one

It should have a "Download on Wi-Fi only" option. Very important if you don't want to end up losing money.

These price drop to nothing will last about a week. So get them while the getting is good.

Sam, I take it proof-reading is not your forte? Also, no word can the app download to SD-card (quite important point, don't you think?)

Well well well VPN and torrents on Windows Phone 8.1 haha the perfect combo to downloading free stuff.

I have downloaded torrents on a Nokia E51 6 years ago. While surfing the web and being connected to an ssh server all at the same time. On a 7 years old device. Think about that. P.S.: Oh yes. I could play simple DOS games on it as well. Not that I complain but it seems to me the OSes are getting dumber and dumber.

Is it just me or is the app pointless if I cant paste the URL to a torrent in? I say thus because with IE on WP, clicking a torrent doesn't download it. It opens it as mangled data in the web browser so all I can do is copy the URL

Will the real Torrent Boss please stand up, please stand up...

Torrent Boss would be a good name for a torrent app.....I publicly claim royalties.

I can't get my download speed above 2 kbps.i don't know what to do.i am using my Wifi connection to download.i usually get 90 kbps and above download speed.i live in India. If there are some settings I need tweak please someone tell me. Please help!!!!!!

Does anyone know a open source torrent app for wp? I really wanna study it's code! Thanks.

I don't know if it is only me but my torex is not able to save files to disk after 72 MB limit has reached
Windows Central Newsletter
Thank you for signing up to Windows Central. You will receive a verification email shortly.
There was a problem. Please refresh the page and try again.