Toshiba to launch a Windows 10 2-in-1 with over 14 hours of battery life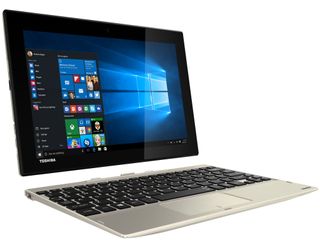 Toshiba will be busy launching new Windows 10 notebooks and 2-in-1 devices this fall. In addition to the previously-announced 12.5-inch Satellite Radius convertible, the company also announced both a 14-inch version of the Satellite Radius and the Satellite Click 10, a Windows 10 2-in-1 with a tablet that comes with a detachable keyboard.
The biggest feature of the Satellite Click 10 is its long battery life. Toshiba says users can expect to get over 14 hours of power from the 2-in-1. Toshiba said the tablet half will always charge first and will discharge after the keyboard portion when undocked:
The Satellite Radius 14 convertible will pack some powerful hardware inside, while also including a display that rotates 360 degress to turn it from a notebook to a tablet and back again:
Both the Toshiba Satellite Click 10 and the Satellite Radius 14 are scheduled to be released in Europe sometime in the fourth quarter of 2015. Pricing for both products has yet to be revealed, and there's also no word on when they will be launched in other parts of the world.
Source: Microsoft
The Satellite Click 10 looks very interesting. May well be the first 2in1 to tempt me away from my Asus T100 (which now has a broken micro HDMI jack).
I tried out the Surface 3 - but it just doesn't work that well as a laptop.

only 64GB eMMC? No thank you. Thats not enough in 2015. They should put a decent 128GB SSD drive in it

According to my report <tic> from a 2000+ seat company (when looking at the SP3) Pulling data from the companies audit tool, 90%+ of users could have easily survived on a 32Gb machine, let alone a 64Gb. For many gamers, it won't work, or say people editing large amounts of video. But for many many people, 64Gb will be more than sufficient particularly in an office setting.

Bumping it up to 128GB would easily put another $100+ to the price tag. Why not just add an extra 64GB via MicroSD for around $20?

You forgot to add "and bump up the price another $100 - $200". That extra storage doesn't come free, ya know.

I'm in the market for a windows 10 laptop/2-in-1 right now, but 16:9 is a deal breaker. From what I can tell, the surface may be my only option (not a bad thing). Any other options people can recommend?

Perhaps wait for the Surface Pro 4 (I'm happy with my Surface Pro 2 and don't plan to upgrade for a while).

Nobody else will order a specific screen with an aspect ratio different than 16:9 due to cheaper costs and mainstream availability, so Surface devices are your only option.

14 hours just about covers my work and pleasure usage for 2 full days.

7 hr days minus whatever you consider pleasure usage... Yea, I'd be called into the Boss's office if I was trying to only work 5-6 hrs a day, haha.

If the assurances of other manufacturers like Dell, HP and Apple about their own laptops are anything to go by, then we should expect 8-9 hours of real battery life (assuming you only do some light browsing and use Microsoft Office).

That click 10 looks like the 2-1 I've been looking for

Is there any info on USB-C ports and charging, on these and others of all these new devices? Anyone, This should be a great move forward.

Needs a kickstand. After using my Lenovo Yoga 2, a tablet without a kickstand seems archaic!
Windows Central Newsletter
Thank you for signing up to Windows Central. You will receive a verification email shortly.
There was a problem. Please refresh the page and try again.