Toshiba's latest 12.5-inch Satellite Radius convertible offers a 4K display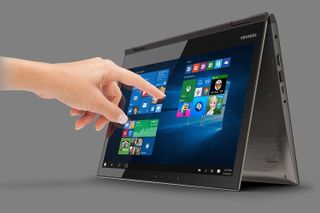 Toshiba unveiled the latest in the Satellite Radius line, with the 12.5-inch model now featuring a 4K display in a sleek chassis that has a thickness of just 0.6 inches and a weight of 2.9 pounds. The Radius is similar in functionality to Lenovo's Yoga series of notebooks, but this time around, Toshiba has much more exciting configuration options available.
The Satellite Radius 12 will be available with either a 4K or a more standard full-HD display reinforced with Gorilla Glass NBT, along with Intel's Skylake processors up to a Core i7, up to 8GB of RAM and an infrared camera that is compatible with Windows Hello facial recognition technology.
Toshiba is expected to make more details available in the fourth quarter, which is when the notebook will be available. What do you guys think of a 4K display on a 12.5-inch convertible?
Depends on the price of i7

Windows hello is making a hit

is it really i7 or m7? some sites are confused about his

What abt battery life? 3 hour

Looks really good, 4k, touchscreen and Windows Hello, sounds like a great device. I'd love to see what exact Hello compatible camera it's using, I guess it's just the Intel RealSense hardware.

"What do you guys think of a 4K display on a 12.5" convertible?" I don't think the software is ready for 4K. I have a Yoga Pro 2, which had 4K two years ago. I changed the display settings to 1080p, because things don't scale. This is even with Windows 10. I am 53, so eyesight not what it once was, and that is certainly part of it. But when I upgraded to Windows 10, I decided to try going back to 4K and cranking up the DPI to 200%. Not sure what benefit I'm getting from 4K if I have to scale the display to 200%; maybe videos would still look good? But then when I remote desktop into work, everything is teeny tiny. So I'm back to 1080p.

4k seems like overkill on a 12.5 but I'll happily take that full hd

Looks like the new satelite fusion. I have that one and it's a great machine.
Windows Central Newsletter
Thank you for signing up to Windows Central. You will receive a verification email shortly.
There was a problem. Please refresh the page and try again.