Toshiba not exiting the PC market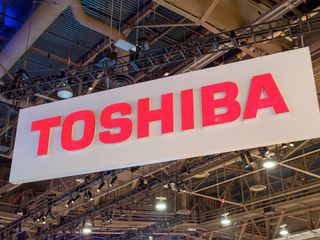 Following a bleak 2015, there were suggestions that Toshiba would exit the PC market as it restructures its business units. The Japanese conglomerate has now announced that it will continue to make PCs.
Japanese publication Sankei said that Toshiba, Fujitsu and VAIO were in talks to merge their PC businesses, with the latter two vendors handling production of Toshiba's Dynabook line as it focuses on design and development. However, it looks like Toshiba will continue to manufacture its own hardware, as it announced that it will not sell its production facility in Hangzhou, China. That doesn't mean that the vendor is not open to a joint venture with Fujitsu and VAIO, as Toshiba stated that it would consider alliances with third-party companies.
Toshiba's latest offering is the dynaPad, a $569 12-inch Windows 10 tablet with an Intel Atom x5 Z8300, 4GB of RAM, and 64GB storage. The vendor also makes several notebooks in the Satellite series.
Source: Reuters
Large screen and an included keyboard. It's at least a contender if you're looking for something in the surface 3 weight class.

I have a an 8 inch W8 tablet from them and it is really nice. Glad they're still plugging away.

Good news.. Wish they'd make phones running Windows :)

They did, once.
http://m.pocketnow.com/windows-phone/toshiba-tg01-spotted-running-window...

A number of companies can say they made one. Once.

EVERYONE! At least include the entirety of the statement from Professor Farnsworth Posted via the Windows Central Beta App for my Lumia 950 XL

What about their TVs running Windows 10?

That would be interesting considering uwp.

Good. I absolutely love my Toshiba Satellite Pro L750 from 2011. It's still fast and runs perfectly with Windows 10. When it eventually dies I definitely want to get another Toshiba.

They need to fix the 4 year long problem of the broken sleep function on the satellite range before considering longevity in any marketplace

Toshiba Satellite Click Mini or Click 10 are good releases tho.

I've got the click mini Toshiba need to stop lying about battery life Posted via the Windows Central App for Android

I'm glad, Toshiba is my favorite. I have a Toshiba Satellite laptop, all of my laptops have been their Satellite line. And my 40 inch 1080p LED T.V. is Toshiba. Man, I even have an old Toshiba HD DVD player aha xD. Toshiba has always been my top company. If they make a W10M phone, I'd absolutely go get one.

I have a Toshiba Satellite from 2012 that cost me under $300. It's a solid budget laptop. I've never been impressed with Toshiba's high end but their budget devices are good value and solid.

So should I trade in my 925 for a s7, s7edge + or iPhone 6s/+ I've been loyal but I give up enough is enough

You clicked on the wrong article, this is a news story about Toshiba.

S7 seems like a sure bet. After a year+ on the market, I hear the edges aren't very practical yet

If they have to publicly announce that they're still in the PC business.......look for them to exit the business inside of two years, maybe less.

Glad to see they are continuing. I purchased a Satelite laptop for dad for father's day last year and it has been great. Better overall quality than the competition at similar peice points.

This is Great. They make the best laptops.

great, i have a Toshiba laptop and it's great for my college stuff

Well theres there problem 2 lines that are low end whereas they haven't pushed out a qosimo in years but be nice to see that running a mxm based gpu
Windows Central Newsletter
Thank you for signing up to Windows Central. You will receive a verification email shortly.
There was a problem. Please refresh the page and try again.