Play Total Conquest, Gameloft's newest strategy game for Windows Phone and Windows 8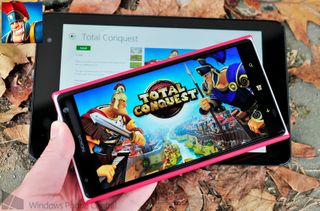 Gameloft is one of the biggest and oldest video game developer and publisher that focuses primarily on mobile platforms. So when they launch a game for both Windows Phone and Windows 8 we take notice. New to both the Windows Phone Store and Windows Store is Total Conquest. Let's check out the latest game from Gameloft.
You're probably wondering what kind of game Total Conquest is. Well, it's a strategy game that first launched on Android and iOS a few months back. Now we've got it on both your PC and phone.
BUILD A MIGHTY ROMAN PROVINCE
Build and manage your own unique city-state
Defend your city with Towers, Traps, Walls, Gates and garrisoned units
FIGHT EPIC BATTLES
Hire, train and upgrade 10 different unit types, each with a specific role
Take on a challenging solo campaign to master the art of war games
Battle players from around the world and lead your army to victory
FORGE AN UNSTOPPABLE LEGION
Create or join a Legion of powerful players and get reinforcements from the other members
Coordinate with your allies to win Legion Wars
Fight to increase your Legion ranking and earn great rewards
We just downloaded the game on our Surface Pro, Lumia 1520 and Lumia 925. It runs great on all devices so far and looks like a fun game. We've played the first few rounds and really dig the feel and flow of the game. It reminds us a bit of Age of Empires and other strategy games. You'll be deploying various units and building buildings in the game. It's fun so far and we'll have a review up in a few days. In the meantime check it out yourself, it's a free game.
Grab Total Conquest in the Windows Phone Store (QR code below) for free. Download size clocks in at 158MB for phone and works on 512MB devices. The Windows 8 version comes in at 186.6MB. You can get it for Windows 8 in the Windows Store (opens in new tab), also for free.
Thanks for the tip Guilherme!
Windows Central Newsletter
Get the best of Windows Central in in your inbox, every day!
Santa i just want GTA for Christmas!

I have weird feeling it will land today, just before xmas

Pleaseeee Santa! And I heard it will drop tomorrow forsure but who knows

Alright, ill say it. Sorry Gameloft not for me. It needs Xbox Live! Looks like a good game too :).

Probably still full of bugs and glitches..... Pass!

Indeed, such a shame: the 4th consecutive Gameloft game in a row that I won't get because they continue eschewing Xbox Live support. Don't forget to take to Twitter and tell @gameloft why you won't be downloading this non-Xbox game.

If no XBL means we actually stay on par with updates and that they actually fix bugs, then ill pass on XBL any day!

Xbl is the only thing that WP has that other platforms do not. Without it why keep a WP which has less features?

XBL had zero impact on me buying a Windows Phone. The UI, the optimized OS or Office has always been the big factors for everyone I've met with a Windows Phone (anecdotal evidence, I know). It's a nice feature on paper (horrible in practice due to the abominable certification process), but no one is pushing it as a selling point. Not Microsoft nor Nokia, or any other OEM's for that matter. It would be a damn pity to see Microsoft abandon something with potential, especially considering the continued unification of W8, WP8 and Xbox One, but I really don't think it would be a deal breaker to most people eyeing a WP device at the moment.

Truth bombs. Didn't get and stick with WP for achievements. It was a nice to have not a deal breaker. Then again l play games on a PC and Xbox and have never considered a phone a replacement for those even when l owned an iPhone.

Xbox certification is a distinguishing feature for Windows Phone from iOS and Android. It's good for the growth of the platform. Microsoft certainly needs to streamline the certification process (this is one of the goals of the #SaveXboxWP movement), but the reality is that updates are up to the developers and Gameloft is lazy. EA has released about 6 updates for Xbox-enabled Tetris Blitz since it launched roughly 3 months ago. Still, help us tell @gameloft to support Xbox on WP, and help us tell @microsoft to make it easier for them to do so.

We don't see updates because of the crappy certification process for XBL titles. Several developers have publicly come out backing that up

I just said in the post you replied to that one purpose of the #SaveXboxWP movement is to convince Microsoft to make the Xbox certificaiton process easier, such as by bringing the ID@Xbox program to Windows Phone. I also just gave you an example where an Xbox game on WP has seen a ton of updates in just a few months, meaning that it's not all on Microsoft: some developers are just lazier than others and like to give out excuses.

I don't have WiFi yet so it's unable to install, but it is showing up under the Xbox section. Thoughts?

Yeah mine showed up under xbox while it was installing

What's the update on this?

It only shows under xbox while installing and then goes to the other section

But in requirements xbox is given so perhaps in future it will be under xbox live title...... I don't know anything about certification but i think they are giving this game out free and later under xbox live title some price will be added......

Good catch. It does indeed list Xbox under the requirements section, a requirement not listed in their other recent non-Xbox releases (Asphalt 8, Dungeon Hunter 4, Minion Rush).

Reminds me of AoEO that MS is porting to android and iOS later is that a ninja Xbox branded game?

I don't really get people who say that.. If we just had xbox titles on the store and no other games, we would have a pretty crap selection. I get the appeal of xbox achievements, but it still looks like a good game. You say no thanks most likely before you've even played it

We say that because the developer didn't take the time to build them in, so we won't support the developer. Period.

You cant just blame the developer, Microsoft is just as much at fault, if not more

Not time - but a lot of cash and aggrevation! It costs a lot of money ($30,000+), and they had to pay AGAIN for each patch they brought out. That combined with the arduous XBL certification process, it's really not worth the hassle unless you're a big AAA developer. Apparently they've now stopped charging for patches, but it's still a PITA.

This thread explains why Xbox branding is important to many people and also to Windows Phone's growth: http://forums.wpcentral.com/gamers-lounge/249754-asphalt-8-not-xbox-title-lets-mobilize-reverse-trend-savexboxwp.html

In the same thread explained why even more people just dont give a shit about XBL. We play the game, not the XBL.

Does this thing sync game progress across windows 8/wp8? I hate spending time with these strategy games that doesn't sync!

It does require a permanent internet connection

Yeah I just noticed this when I tried to play on the train to the city. Pity.

It does, I'm switching back and forth between my Surface RT and Lumia 920. You just need to get far enough to log in with Facebook (about 15 minutes).

Free game ? I'm all in. Seriously not downloading because of no xbl is like a man in a desert drinking only bottled mountain water. Just my view.

Downloading non-Xbox games that are essentially sloppy seconds from iOS and Android is better? No gracias. I don't feel like licking the sweat off their feet. I only play games that are better on Windows Phone than they are on those platforms. Xbox integration does that. No Xbox, No Download. I don't reward developers for lazy ports that lack features I'm interested in. That's fine if you don't care about it, but I'll stick to Gameloft's backlog of Xbox games on WP; I'll never download one of their non-Xbox games. #SaveXboxWP

Thank you for pointing out that this website is not Twitter. That was very astute. ngilbert89's parsimonious post was a mobilization strategy, calling on others who care about Windows Phone's growth to go to Twitter and call out @gameloft and @microsoft for not supporting Xbox on WP. ngilbert89 is an awesome dude.

Not really questioning anyone's "awesomeness" - just pointing out that hashtags really have no relevance here, and people use them all the time. Going by what you said, the forum is a much better place for that. If you are going to post a hashtag, maybe include a link to a forum post that actually explains what your trying to do..

My pleasure. Hope you'll join us after reading. Here you go: http://forums.wpcentral.com/gamers-lounge/249754-asphalt-8-not-xbox-title-lets-mobilize-reverse-trend-savexboxwp.html

I do agree Microsoft had an awesome selling point with XBL and achievement points, and its a missed opportunity for them. On the other hand, I'm happy getting bigger titles coming to the platform with or without XBL integration. Ill read that thread later, thanks. Merry Christmas.

So the glimmer of Xbox gaming we got is firmly extinguished. Personally not interested in playing ios or android games, prefer WP games with WP features like Xbox live.

Gameloft has stepped away from Xbox Live. No future titles will have it besides Kingdoms & Lords for Windows 8, so don't be disappointed when their next game doesn't support live either.

Speaking of Age of Empires, an RT/Metro/Modern UI version would be amazing.

Didn't an AoE for iOS get announced earlier this year?

Yep, and Android; no WP or W8, though. http://www.gamespot.com/articles/age-of-empires-coming-to-android-and-io...

that's stupid If MS not gone Build their Own games for their OS how come they expect others it seems they aren't Serious about WP

Be sure to take to Twitter to tell Microsoft that this is not acceptable. I recommend nagging these accounts:
@XboxP3 (Phil Spencer, Microsoft Studios VP)
@MrPhilHarrison (Phil Harrison, Corporate vice president of Microsoft)
@majornelson (Larry Hryb, Director of Programming for Xbox LIVE)
@joebelfiore (Joe Belfiore, Corporate vice president and manager for Windows Phone Management)
@toddbrix (Todd Brix, General Manager of Windows Apps and Store Team)
#SaveXboxWP

Update: In a statement to Polygon, a Microsoft spokesperson says the company is licensing its Age of Empires IP for a mobile game bound for iOS, Android and Windows Phone. Microsoft's full statement follows. "Today, KLab Inc. announced a licensing agreement with Microsoft Corp. to develop a mobile version of Microsoft Studio's Age of Empires franchise, which will be initially developed in English for iOS and Android and launched globally, with plans to release the game in other languages and on Windows Phone in the future. Some reports included incorrect information about additional Xbox Live-based games on iOS and Android but there are no further announcements beyond Age of Empires at this time." http://www.polygon.com/2013/6/24/4461272/microsoft-xbox-pc-games-to-ios-...

Funny. Because Shogun is FREE on iOS right now as we talk.

This game positioned itself in the xbox live list when it was installing but is now part of the general games list now it's installed. Quite interesting but probably doesn't mean anything.
Anyway, as a freebie from Gameloft I'll give it a whirl and couldn't care any less if it's xbox live enabled or not.

Most likely to be affordable for dev to update as Xbox live game updates cost tens of thousands each time updates are submitted. At least this was the case a year or so ago so I may be wrong.

Guys, using hash tags here in comments won't make MS take notices of their live on WP abandon... Actually, I pretty sure they already know that, but they have much more things more critical to fix before that. My guess is after WP8.1 things will be much better... Thanks Gameloft: you promised these games for this year and you kept the promise. Can't wait for the games that still to come next year! Merry Christmas to all!!!

No one here is expecting that Microsoft is reading these comments here. When they post the #SaveXboxWP hashtag here what they're doing is encouraging others to go to Twitter to tell Microsoft directly. It's a mobilization attempt, an important strategy to social movement success. This is a good place to recruit others since many people here 1. care about Windows Phone, 2. care about gaming, 3. like Xbox.

I'll download once they include xbl #savexboxwp

Clash of Clans clone. Clash of Clans is awesome. Download.

Same tought already when I saw the UI. I will try anyway

Xbl requests for every single new game, stupid hashtags.. Kids, kids everywhere..

Don't be condescending. People have various interests and passions in life. You calling someone else's interests childish is arrogant. Also, viva la #SaveXboxWP movement.

Let's be realistic though - achievements are like gold stars, and the only people that care about them are generally around 12-25. I use achievements as an incentive or challenge to explore more of the game, but I'm fine with in-game / non-XBL "achievements" that do the same thing. Achievements don't matter, and you're hardly going to go to your grave boasting about your gamerscore.

very nice But I wish IT WAS CLASH OF CLANS INSTEAD

Agreed but it doesn't make much sense for them to invest on a platform with a small userbase. I'm happy I can play it on my iPad.

i agree WP userbase is too small for them to invest but this circle is really annoying no apps no sell WP no sell WP no apps damn this is a pain in @#$ if u really think about it and to be honest the trying to be the 3rd horse won't get you anywher you will always stuck at your place

No Xbox no buy for me. Thanks gameloft let me save some money (thought it is probably freemium trash anyway!!)

Ditto, mi amigo. Ditto. No Xbox, No Download. #SaveXboxWP!

Does this game have cross platform multiplayer, since it isn't a xbox game? :)

I've been having some crashes on Surface 2. Anyone else ?

Yet another comments section plagued by these babies throwing strops if they cant get achievements.

Please show some respect here, it is Christmas man, all the best!

Looks like Age of Empires/Rise of Nations/Age of Mythology etc type of game. Me likey. Love these battle-strategy games. But... Anyone played it? Is it good? P.S. I've downloaded tons of games on my Lumia 925. Funny thing is, I only play 2-3 of them. Sims Freeplay, Temple Run (Now Temple Run 2) and Minion Rush. Bleh..Add one more to my list of unplayed games today :P


Tried it on Win 8; the gameplay seems solid enough, but very much p2w.

Crashes constantly and there is no way to win without paying a ton of extra money.

Hmm..still no subway surfer and tr2 for 512 mbss...

We wont get them before January end

Ok. The next game with payment adds like others. What to I got in my hand? Probably Microsoft phone yeah... Then where is more Xbox games? Forza mobile for example you lazy bastards. For that's way I go out for PS4 many free games without any paying for shitty membership.

People, its not an Xbox live game... And its fluid and so much fun to play especially when you get more friends to play with you on the same clan.
I'm enjoying it, hope the rest of you will .

I like Troll Wars better. http://www.windowsphone.com/s?appid=e98b5489-b4b9-4e91-bfce-7cfc01b867b4

Anyone having a hard time getting store to download it? Seems to be only this app

I can't find an option to reset game..any help..?
also tried reinstalling but still it started from where i left..

This sort of games can't be restarted, as your progress is stored online. Nothing is irreversible though, you can put yourself back on the right track.

Downloads to SD cards for videos, photos, music and apps ( like Android. )

a Social Game?!?!?! So I can't play it offline... pass!!

Another crappy freemium game. This kind of pricing is literally destroying the quality of games. I won't be shelling out money for this BS any time soon

Is this an online game? Can I play this game without internet? And is this also a freemium game that you need to pay hundred of dollars to win?

Played the game for a couple of days now, and have a mixed feeling about it. Some real bug-fixing needs to be done! It's very simular to Clash of Clans, but that is an iOS only game. This cross-platform game intriged me. Played the game on WP8, RT8.1 and Win8.1; using facebook as central progress storage location. WP8 when I'm away; and playing on a bigger screen at home.Unfortunately FB is not used by iOS - so this game cannot continued on an another device. Differences with this game on iOS is markable: On WP8/RT8/Win8 it can take ages (=more than a minute) to find an opponent; while on iPad you're in a battle in just a few seconds (and even won the battle, while your WP8 is still looking for an apponent... very frustrating!) On iOS you get bonuses when you play it on a daily bases; nothing seen like that on Win8 Faulty progress timers: a 4h upgrade started at night, still will take 3h25min at the morning (and yes, I did have some sleep :-) ) Faulty progress timers: overnight, I was able to get 5 apples each per farm, and 5 coins per farm... a whole night... iOS version: 1.3.0. / Win version 1.0.0 To have me play further, this have to be fixed!

Crashes constantly and repeatedly says I have no internet connection when I have full WiFi as well as 4G at the time. It happens so often that the game is basically unplayable.
Windows Central Newsletter
Thank you for signing up to Windows Central. You will receive a verification email shortly.
There was a problem. Please refresh the page and try again.