Play Total Conquest, Gameloft's newest strategy game for Windows Phone and Windows 8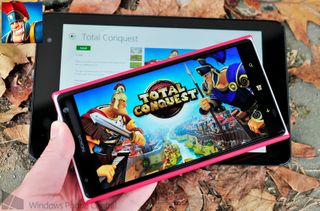 Gameloft is one of the biggest and oldest video game developer and publisher that focuses primarily on mobile platforms. So when they launch a game for both Windows Phone and Windows 8 we take notice. New to both the Windows Phone Store and Windows Store is Total Conquest. Let's check out the latest game from Gameloft.
You're probably wondering what kind of game Total Conquest is. Well, it's a strategy game that first launched on Android and iOS a few months back. Now we've got it on both your PC and phone.
BUILD A MIGHTY ROMAN PROVINCE
Build and manage your own unique city-state
Defend your city with Towers, Traps, Walls, Gates and garrisoned units
FIGHT EPIC BATTLES
Hire, train and upgrade 10 different unit types, each with a specific role
Take on a challenging solo campaign to master the art of war games
Battle players from around the world and lead your army to victory
FORGE AN UNSTOPPABLE LEGION
Create or join a Legion of powerful players and get reinforcements from the other members
Coordinate with your allies to win Legion Wars
Fight to increase your Legion ranking and earn great rewards
We just downloaded the game on our Surface Pro, Lumia 1520 and Lumia 925. It runs great on all devices so far and looks like a fun game. We've played the first few rounds and really dig the feel and flow of the game. It reminds us a bit of Age of Empires and other strategy games. You'll be deploying various units and building buildings in the game. It's fun so far and we'll have a review up in a few days. In the meantime check it out yourself, it's a free game.
Grab Total Conquest in the Windows Phone Store (QR code below) for free. Download size clocks in at 158MB for phone and works on 512MB devices. The Windows 8 version comes in at 186.6MB. You can get it for Windows 8 in the Windows Store, also for free.
Thanks for the tip Guilherme!
Get the Windows Central Newsletter
All the latest news, reviews, and guides for Windows and Xbox diehards.