Here is the touch-optimized Microsoft Office demoed on a Surface Pro 3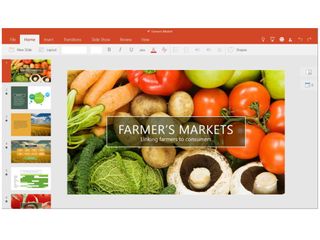 As part of their many Office announcements today, Microsoft has released a video b-roll showing touch-optimized Office apps, including Word and PowerPoint, running on a Surface Pro 3 tablet with Windows 10.
This video is the first time we have seen these apps actually running, as opposed to just a screenshot. The PowerPoint app is demoed with some touch-friendly user interfaces to support specific menu choices. Likewise, the Word app has the same UI, plus a way to select text via touch and to bring up photos.
Microsoft announced today these apps will be released alongside the Windows 10 launch in 2015. Aside from that, and the footage from the video, the company isn't offering any more information on these touch-themed Office apps at the moment.
Would you use touch-optimized versions of Office apps for Windows more than the current desktop apps and is mid-2015 too far off to matter? Let us know.
This feature should be implemented in WP as an OS feature

In landscape mode with resized keyboard? That'll be awesome!!! *_*

No. Then updates would be at the behest of carriers once again. Make it an app in the store and they can push improvements and updates whenever they please

And then it'd have the same performance issues like Xbox Music.

The Xbox Music issues are not inherent to third party apps.

There is no more Windows Phone. It's just Windows 10 now. Remember. ;)

Me and a lot of people will always call it WP, so yeah...

Will I have a Windows 10 device that makes calls or a Windows 10 phone. I'm wondering what the popular nomenclature for not using the word phone would be when talking about phones running windows 10

Just a heads up, but that image you have for the next touch optimized PowerPoint is actually the current PowerPoint. The ms office blog updated the image to the real one about 15 min ago, which looks a lot more intriguing.

This video is boring. A little elevator music, narration or someone being pushed against the wall with telekinetic powers would've helped. (Carrie)

First update the WP office.. You MSFT.. WP office sucks. Look at Google Android office app. More features and functions. MSFT you get beaten at your own game.

this calls for my repost of today's summary judgement from MS http://i.imgur.com/4m6S3ns.png

Hopefully the touch optimized version of Office is a universal app that will extend to Windows Phone.


Windows 10 will run on phones and since this is a WinRT application it will therefore run on all Windows 10 devices including phone sized hardware.

They actually said that once. I don't remember which event it was but they said the office for touch apps are universal. So with win 10 the phone part should receive a huge update as well.

Office for WP isn't an APP, can't be updated like that. Probably it will be updated with Windows 10.

It's part of the system itself. That makes WP is the only OS that understand office format by default

I bet the win 10 for phone update provides office integration via an app similar to what was done with facebook and music and video in the last major update

Enough of this demo, release it already...

Did they accidentally reveal any build numbers?

So this is what is going to come out in 2015, for is, and asap for everyone else? Yay?

We already have the full version of Office 2013/365 which has touch/pen features. It's not like we are missing out on something great. The touch version of Office on the Windows platform is more of a convenience for very casual use.

What I don't understand is why Android and iOS receive a free, almost fully featured office version, while Microsoft own OSes don't. Sometimes I'm a bit puzzled about MS actions, as if they think they don't need to bother much about us, MS loyalists. We're already hooked...

They don't. You need a 365 subscription for both

Not true at all: ". So, starting today, people can create and edit Office content on iPhones, iPads, and soon, Android tablets using Office apps without an Office 365 subscription." http://blogs.microsoft.com/blog/2014/11/06/office-everywhere/

Geez would people stop with this why does iOS and Android get this boo hoo crap. The iOS and Android versions are no where as powerful as the W8 versions. At best they are stand alone ports of Office Online. RT, which would be the best comparison to iOS or Android already comes with an almost full Office install. The Office 365 suite is way more than the programs.

Bored. (Please convey this to MS if they care.)

Lame demo. Just flicking through. How does it prove it's OPTIMISED?

Really... so much time spent on nothing happening. Closeup on her face, the side of the Surface... bizarre.

errr.. it says in the first line of the article it is footage taken from the B-roll camera, its not the main content, its essentially out-takes.

Errr... everyone is supposed to know what "b roll video" is? Why on Earth would we expect this to be outtakes? Why aren't we looking at whatever the "a roll video" is?

how do you know it is an app running? it may just be a bunch of CG crap put together because they honestly don't care enough to ship it.

Give me Windows 10 for ARM on my Lumia 2520 and I'll be in hog heaven.

I wonder how hog heaven differs from people heaven. Are you allowed to go hog wild? Is God refered to as Boss Hog there?

LOL you win the internet with that one.

Eww. I mean, yeah, but look what he won.
I'd try to return it for cash. Better deal.

Wow, it looks really good. I can't wait to see what they are going to do with the Windows Phone version

That is the Windows Phone version. Windows Phone is dying and being replaced by Windows 10. Everything will be Windows 10.

I know this is what we're getting on our phones. But our phones have a small screen compared to a PC or a tablet, I can't imagine what are they going to do regarding the design of the application

Nice :) Can't wait for Windows 10.

Hope they release a preview when Win10 consumer preview is available, it would be nice to test this and use it. but who knows! Microsoft said the mobile version would be free, so I guess this also could be free for win10 users. just like webapps, not full featured but still good enough. But it looks nice, it sucks 2015 and Windows 10 is still way to far from being released. if only Microsoft would have been a little faster to release and merge phone and desktop and tablet. the Microsoft ecosystem would be so much better. I like what I have today, but I want one app for all my devices so no more apps released for win8.1 and other for WP 8.1 and not all for both platforms, like stupid kik, or whatsapp, or rudy apps, many games and etc etc.

It looks as if the model was forced. :)

What is up with that extra long finger??? What is she using, the professor's "fingerlonger"?

So, since they are making Office free for mobile (phones and tables) for iOS and Android does that mean it will be free for Surface Pro? Or is that another way in which tablets with a competing OS get better treatment from Microsoft?

Just pin Office online or Excel online to your start screen - Thats what I do for the time being. It works pretty well for me.

I see what you are saying nasellok but it's nowhere near close to being the same.

Office is only free for iOS and Android if you don't edit. Editing a document requires an Office 365 subscription.

The full version is not free. Starts at £79 in the UK. https://www.windowscentral.com/e?link=https%3A%2F%2Fclick.linksynergy.co...

Good lord, even MS isn't comparing the SP3 to an iPad, but rather a Macbook Air. So compare apples to Apples, so to say.

Huh? What does that to do with them giving Office for free for iOS and Android? A tablet is a tablet is a tablet.

I think both of you (im.thatoneguy and 2tomtom) missed the memo. Full Office is now free for Andorid and iOS (no need for suscription): http://blogs.microsoft.com/blog/2014/11/06/office-everywhere/

So glad they showed the back of an SP3, wouldnt have known what it looked like otherwise.... /s

In most cases, absolutely. I hate using the desktop now that Windows 8 has opened up Metro apps. The more things I can move OFF of the stupid desktop, the better. The only concern I have about a Metro version of Office is the ability to have multiple "panes". I use my Surface Pro 3 to display my sheet music for gigs, and I open all the charts full screen. As we go to each song I simply close that window to reveal the next chart behind it. I hope that for the Metro version we can have multiple panes or instances that I can simply "flip" through.

If I'm not near my main PC of course I would rather use this and not someone's else pc or a tiny useless keyboard cover on my tablet

I really hope they give us Surfce RT and 2 owners a free or discounted update to windows 10 and the touch office. Looks great though and I really like the tech microsoft are coming out with Windows, xbox, Band and more is all looking to be great products by microsoft.

We will most definitely get Windows 10 free. If they are removing the desktop, then they will probably give Modern Office to those devices for free aswell.

Most definitely? I'm pretty sure this hasn't in any way been confirmed yet.

Why is there no sound with this video?

it is raw footage from the b-roll camera

Too late!!! I'm really disappointed. With Microsoft other OS are always far ahead than its own OS. Office for WP has never seen an update since the beginning. And we are waiting a touch version of Office since the release of Windows 8. And iOS first and Android now have their free and touch version! Windows 8.1 still hasn't. It's a shame and it's really stupid.

Umm office is fine on win 8. I prefer using excel in my tablet. I only go to the desktop PC if I need to do some scripting. I've been getting the hang of typing on it too. But touch enhanced excel is gonna be killer. My daughter uses office on her 520 for homework. I use the heck out of it to, love having excel at Costco. I even did a 50 slide PowerPoint on my 8" that I used on site to train machine operators on new processes. They loved not having to go in the conference room.

FTLOG pls fix OneNote too. Its unusable as metro

Unusable in what way? I use OneNote every day on my Surface as touch only mainly. No issues at all.

They just launched office for iPhone for free without the 365 subscription. It looks just like the IPad version.

Not free... https://www.windowscentral.com/e?link=https%3A%2F%2Fclick.linksynergy.co...

lmao the software looks awesome and i wants!!!! but she just looks like she's in pain or something XD so weird hahaha

She looks kinda cute... Lol❗❗

This was demonstrated at build and is nothing new. Where the fuck is the real deal? like, Show us Word, Excel and Office Apps for Windows Phone. Also if Word is a Preview (as the tile suggests) why not release it to testers already for gods sake.

What brought me to the Windows (Phone) side was the modern interface Microsoft created. And after each new release of every single new software, app and operating system, Microsoft seem to be going farther away from that same modern interface they created.

Hmmm....how does that demo look different than the current modern interface? Doesn't look like they are going away from it to me.

Touch optimized is nice and all, but if I'm using something with a touch screen, I prefer the Modern apps. I want an Outlook live tile like the current Mail one, and the ability to make sub tiles for search folders or secondary calendars. Use the Word/Excel/Powerpoint live tiles to tell me when a document is available for use, or if a shared document requires my review. Give me a TFS/Visual Studio live tile that gives me task notifications, I know that isn't office, but damn it I'm on a roll! A true modern Powerpoint would have a slick presenter view with touch input (not that you couldn't have that in a desktop version that is touch optimized). Visio would be awesome if it were touch optimized for zooming, shape selection and resizing. Beyond selection and some possible gesture support, I don't see a lot of utility in making Excel or Word touch optimized, as they are generally keyboard intensive, and if I'm using a keyboard, touch doesn't help me much. Access could allow controls to make touch optimized versions of forms, but again, most tasks are keyboard/mouse heavy. Publisher is in the same camp as word if you ask me. A touch optimized desktop office would be palatable if it played nice with the ModernUI Live Tile concept.

I hadn't even thought of some of the uses you described...I hope you added those to Microsoft's suggestion website.

How does MS get money?? If they give everything for free

I'm saying this caz.. Every office product on Apple store is free free free free

Thought it was "free" for basic functions only. If you need the full version then payment is required.

No, you need an Office 365 subscription.

Starts at £79 in the UK. https://www.windowscentral.com/e?link=https%3A%2F%2Fclick.linksynergy.co...

IWorks is free only because you paid a premium for the hardware. When iWork, iLife or OSX is free for nonapple hardware (legally), we can talk about free.

Yass! Here for this. Won't have to open desktop at all :D

Good addition to the Office portfolio, considering the many touch screen devices around. More importantly, though, they should implement ALL features in the mobile versions, which right now are basically useless since standard document features don't show up.

Touch all the way for me. I use Word, OneNote and Excel lots, mostly touch only, so the more optimised and functional for touch the better.

That was totally unincredible!

Yeah definitely....but only if its launched for WP as I use my phone's office more than I use it on my laptop....

Alright! Now bring it to Windows phone please! Thank you

What a stupid way to showcase touch in Office with the keyboard and pen attached to the SP3 !!!!

That doesn't look like Windows 10.

Why am I seeing the Microsoft Band unboxing video?

Off topic. Just read on a Dutch website that microsoft is going to make free office available on ios and android. I understand the logic behind it for ms as a service company. For ms as a hw supplier I don't get it at all. They are slowly eliminating all usp's of windows telephones. Give ms another 2 months and there will be no reason left to use windows phone, you can get all that and more on ios and android as well. And you get it better and faster. I fear for our WP future.

The basic version is free. To get the full version you need a subscription. https://www.windowscentral.com/e?link=https%3A%2F%2Fclick.linksynergy.co...

So you need with a SP3......

So far, these looks amazingly better. I think I'd prefer these over standard desktop ones. I'm curious how these will pair with desktop versions?

Does this mean a Surface Mini in 2015 as well. My wife is waiting for one of these!

I can't see how this adds any better functionality than using a bluetooth mouse, unless maybe you're working on a plain or train. Thats about it.

I use Word, Excel and OneNote a lot, mostly via touch. Sometimes the keyboard when typing lots. So guess for some of us at least a more optimised Office with touch will be beneficial.

Looks like a late night infomercial...

It's good to know it's coming with win 10 ...although it's quite late it's still good to have that official promise ;)

I am still waiting to see a clip demoing Outlook Touch.....

Where's Office 2014 for the Mac and one drive for business on the Mac? This is killing us as its driving people to google. We have 6000 devices and half are apple, so if we have to choose a single document platform and it doesn't work on half the machines guess where we have to go?

Only reason I even still go to the desktop is because of Office, otherwise I would be rid of the desktop.

For sure I will use touch friendly office on my windows 10

I've been crying out for this! I have a surface RT and have had to buy a Bluetooth mouse and keyboard because I can't use touch screen. Of I could use my hands to control it all properly,I would convince iPad owners it's better. Currently it's not. Feel free to contact me.

I'll make a prediction, W10 comes out with free upgrade and the Modern Office will be a free part of it. Office365 will be the corporate and upgraded version for people who want it... Or the unlimited OneDrive.

You know, what pisses me off about this is that I purposely went to the Microsoft Ecosystem because of Office: Windows Phone, Surface, Win 8, the whole 9 years. What is upsetting is that it is MS own eco system that office lags behind the others. WTF? If I had an iPad and iPhone I could be enjoying a better office experience than I can on my Surface and 1520. Just shows you, support MS and you are going to get screwed one way or another.

That's bullshit. Office on desktop is still far superior on a Surface, overall. Yes, there are plenty of good reasons to have touch-friendly, but to flat out claim that somehow a limited functionality iPad touch version is superior to your full-function desktop version is ludicrous.

The new touch friendly office seems perfect. The woman demoing however seemed very awkward in front of that camera... Looking forward to seeing more from it!

With touch os Windows 8 out for 2 years now, I would have expected a proper Office for touch as well as other standard apps more than a year ago. Depending on usability efficiency, I will definitely use the touch apps over the traditional desktop ones. I feel business software providers should redesign their software for touch, as it will likely bring improved productivity and less health issues like rsi. But, we have to be willing to explore and learn on new touch ergonomics.
Windows Central Newsletter
Get the best of Windows Central in in your inbox, every day!
Thank you for signing up to Windows Central. You will receive a verification email shortly.
There was a problem. Please refresh the page and try again.