Touch Pro Finally Lands at Verizon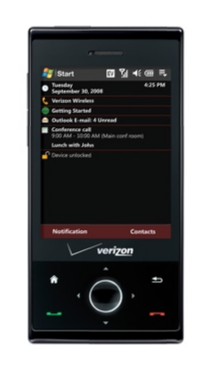 Steven emailed us this morning:
Indeed it is, sir, the Verizon Touch Pro (opens in new tab) is live at Verizon's site for $420 with a 2 year contract and a $70 mail-in rebate, bringing the final price down to $350. We're still baffled (and we mean baffled) as to why it's different from the Sprint, Alltel, Bell, and Telus version of the Touch Pro, but who are we to argue against any device that offers:
EVDO Rev A
640x480 Touchscreen
1340mAh battery
TouchFlo 3D
WiFi, Bluetooth, GPS
3.2 mp Camera
512mb / 128 RAM
...Ok, we're going to hedge on that last bit, doesn't seem like quite enough for a TouchFlo 3D device. Then again, maybe that's why Verizon doesn't show it in their marketing image, above, eh?
Windows Central Newsletter
Get the best of Windows Central in your inbox, every day!
- 512mb / 128 RAM
...Ok, we're going to hedge on that last bit, doesn't seem like quite enough for a TouchFlo 3D device. Then again, maybe that's why Verizon doesn't show it in their marketing image, above, eh?
I agree - no way that's enough memory, and advertising it showing TF3D could fall under the guise as false advertising. The TP looks kinda strange w/out it. You didn't see Sprint or AT&T market it w/ the standard WM today screen. Cause you know this way when TF3D totally tanks VZW can disregard it as an issue - they'll simply state disable it - as it came on the device as disabled.

Only 128MB of RAM? I was under the impression that it was going to have 188... could this be a typo on the Verizon product page?

I ordered mine this morning and it should be here by tomorrow evening. I will take a look a the specs when I receive mine and see if it truly is a typo. I am really hoping it is!

I ordered mine this morning and it should be here by tomorrow evening. I will take a look a the specs when I receive mine and see if it truly is a typo. I am really hoping it is!
Yeah, it's gotta be...

I just don't understand Verizon. Why must they constantly downgrade the phones!

I know! I am also worried because in the pics they show it with the WinMo 6.1 UI and not the Touch Flo UI! Can the Touch Flo 3D UI even run with only 128MB RAM? I SHAKE MY FIST AT YOU BIG RED!

On an interesting note, if you look at the page for the phone is shows 128 RAM, however if you compare the phone (I was comparing it to the 6800 and the blackberry bold) it shows 192 RAM. Maybe there is hope yet!

128 RAM is incorrect.
The VZW Touch Pro comes with 192 MB of RAM.
The reason for the lower RAM is due to the processor VZW decided on, which they felt was faster than the Sprint/Alltel version. The device is targeted at enterprise/business customers (YouTube app removed)

I DON'T CARE, I DON'T CARE, I DON'T CARE!!!
Where the hell is a new Treo (800w or Pro) on Verizon?!?!?!?!?
Just getting pissed!
Oh, for giggles I got the Saga, thinking it *might* do - now I know why people think WM6 sucks on non-treo phones - it's going back. Treo's implementation of WM is FAAAARRR SUPERIOR to other manufacturers implementation of it.

If you look at the specs, it does say 128MB. But if you do a comparison it will show "512MB Flash/192MB". I am going to scratch it up as being a typo and side with 192MB.
The big sticking point to me is whether the GPS is locked down. A nice feature, but it won't stop me if it doesn't have it, is the accelerometer which noone has mentioned.
My guess is that they left the TF3D off of the promo picture so that the users would be comfortable that it is WM and not yet another OS.
Just my 2 cents.

I ordered mine this morning and it should be here by tomorrow evening. I will take a look a the specs when I receive mine and see if it truly is a typo. I am really hoping it is!
Have you received yours yet. I ordered mine yesterday morning. I thought it was suppose to have 256mb of ram. 128 is nothing. I have that on my Touch Pro.
Verizon Touch Pro XV6850 (HTC Raphael)
Release Date: November, 2008
OS: Microsoft Windows Mobile 6.1 Professional
CPU: 32bit Qualcomm MSM7501A, 528MHz
Memory: 256MiB RAM, 512MiB ROM
Display: 2.8" 480x640 pixel color transflective TFT
Cellular Phone: CDMA800, CDMA1900

"Have you received yours yet. I ordered mine yesterday morning. I thought it was suppose to have 256mb of ram. 128 is nothing. I have that on my Touch Pro."
No I have not received mine yet. I should get it around 4pm this afternoon. That is when I get off of work. I will play with it tonight and get a good feel for it and then Explain what I think tomorrow morning. i have my fingers crossed!

"Have you received yours yet. I ordered mine yesterday morning. I thought it was suppose to have 256mb of ram. 128 is nothing. I have that on my Touch Pro."
No I have not received mine yet. I should get it around 4pm this afternoon. That is when I get off of work. I will play with it tonight and get a good feel for it and then Explain what I think tomorrow morning. i have my fingers crossed!
I cant wait till you get yours. Want to know how it is. I hope we can remove some of that crappy VZ software that have on it.

I have talked to a VZW customer service rep and I found out that it is indeed an error on the website about the specs. They confirmed that it DOES have 192MB RAM. I also received confirmation that the Touch Pro DOES have the Touch Flo 3D UI Homepage even though the picture does not display that. I also asked why their website did not reflect the slide out QWERTY keyboard and they didnt know why. It seems like a 3 year old took a picture of a website and then tried to blow it up bigger and the quality is shot and the facts are wrong. COME ON BIG RED get your act together! I cant wait to get home this evening, pop open a beer and unbox this beast!

So i was looking for the cheapest 16GB MicroSD card i could find for my Touch Pro. I came across a site that HAS to be a glitch or something. I bought a 16GB MicroSD card for $12.30!!!!
http://www.avdistributing.com/Sandisk-Secure-Digital-Micro-Cards-1GB-16G...
It says starting at 12.30 and when you pick the size you want the price doesnt change!!! Can someone verify this or am I just dreaming? I have already ordered it, worst case scenario I am out 12 bucks haha.

Well Gentlemen here is my review of the few hours I have spent with my Verizon HTC Touch Pro.
The device comes in a surprisingly small box. The back wasnt too hard to take off to place in my battery and MicroSD card. I like that you have to place the card in the back (I know some may disagree) but on my Voyager the plastic cover was always coming loose and getting in my way.
As soon as you turn the unit on the VGA display is extremely crisp and is a beautiful display. It automatically starts with the WinMo home page. It took me a little bit to find out how to put the Touch Flo 3D user interface on instead. I would REALLY like to find a way to get rid of the terrible colors VZW went with and customize it.
The Touch Flo 3D UI is GREAT! I really find it easy to navigate and switch between menus. One thing that bugged me is in the Weather tab they only have settings for the LARGE cities so the closest one to me was 1.5 hours away.
The options available on this phone is simply amazing!! I LOVE the Opera web browser. It is really easy to use and is faster than I expected.
The VZApp store took a while to set up. I browsed through everything you can download and the programs are RIDICULOUSLY priced. The all in one messenger was 39.95!!! Everything in there was expensive. Most apps were between 20 and 30 dollars.
The keyboard is one of my favorite parts of this phone. I really dont see how the accelerometer could be any faster. There is absolutely NO lag on my phone. Very impressive. There is also a Tiny light that comes on when you have the caps on or hit the function key like a keyboard.
One thing that I dont like is when the screen goes off after it times out you have to hit the power key on the top of the phone to turn it back on. I am sure this can be changed somewhere in the settings.
The camera is really good. The "Flash" is a BRIGHT LED that stays on while you take the picture instead of flashing. You could really mess with some drunk people at the bar with this LED! They meant business with that little guy.
I have not put any apps on it yet. I am wanting to look into some apps and try customizing it more.
Overall, I am EXTREMELY pleased with this phone!!! I had the 800w with Sprint for 3 days just to try it and I would MUCH rather have this phone than the 800w. The 800w had a terrible display and the buttons were way too close together for me. I also checked to verify and the phone DOES indeed have 192MB RAM. I would HIGHLY recommend this phone with confidence! I know my review is all over the place and really has no structure, but I hope it helped someone. If you have any questions you want answered or for me to be more descriptive in some areas just let me know and I will respond as soon as I can.

The best iPad Video Converter software can convert to iPad format from AVI, WMV, MPEG, DivX, XviD, VOB, 3GP, FLV, SWF, etc. to iPad MPEG-4, H.264 MPEG-4, MP3, AAC, AIFF and WAV. Meanwhile, it can be so easily realized to split file into clips, alter video dimension, brighten video and strengthen contrast. Users could customize individualized videos with your text logo or image. Free download the iPad Video Converter and enjoy unprecedentedly pleasant enjoyment.
iPad to Mac Transfer
iPad to Computer Transfer
DVD to iPad Converter
iPad Manager
iPad Transfer
iPad Converter for Mac