Tower in the Sky for Windows PC and Phones, battle evil and save the Kingdom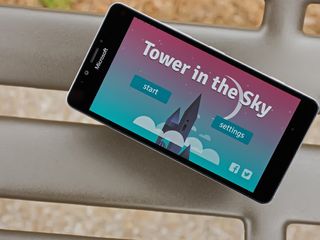 Tower in the Sky is a role-playing adventure game that sends you to the magical Kingdom of Tyrune where a mysterious tower has appeared in the sky.
Available for both Windows PC and Phones, the game sends you on an adventure across the lands to battle a host of evil characters, recruit heroes to join your party, collect loot, save the Kingdom and earn designer t-shirts for your crew along the way.
Graphics have a slight South Park feel and gameplay difficulty can be adjusted to your liking. All in all, Tower in the Sky is an entertaining gaming title to have in your Windows library.
Tower in the Sky opens with a rather lengthy series of storyboards that highlight the backstory of the game. An old sage witnesses a meteor shower and the appearance of a mysterious tower that is hovering in the sky. An ancient prophecy foretold the tower's appearance and that the Kingdom would be in danger from the tower's monsters.
Your quest is to explore the Kingdom to find a way to defeat the tower and its monsters. You travel throughout the Kingdom, visiting seven regions that hold 91 levels of play. Your party begins with a swordsman and archer, with new members added as you complete gaming levels. There are twelve heroes to unlock and you can have up to four active at one time.
As your heroes survive a battle, they will earn experience and as they do, they will see their abilities increase (strength, health, etc.). You will also discover loot as your travel across the Kingdom that includes stronger weapons, power-up items and new designer t-shirts for your heroes to wear.
Gameplay has your heroes battling the tower monsters. They will invade the gaming screen from the right and advance on your heroes who are positioned along the left side of the screen. You can move your heroes up or down the screen to fire upon the advancing monsters. There are two attacks available for your hero. The crossed swords button will launch their primary attack (shoot arrows, throw spears, launch a sword attack, etc.). You also have a star button that will launch a special attack that will vary from hero to hero (bombs, poison gas, freeze potions, etc.).
Attacks do have a time delay between shots so you will need to time your attacks carefully. You can also rotate heroes in and out of a lane to increase your rate of fire slightly or pit the best hero against the monsters. For example, one hero is equipped with a spear that will strike monsters at a distance. As monster move closer to this hero, you may want to shift a swordsman into that position who can strike closer enemies. You will also run across boss monsters that can be rather stubborn about getting defeated.
The party as a whole has special powers to help turn the tide of the battle. Icons will appear at the top of the screen to highlight the powers that are available such as a fire attack, an ice storm or a healing wave.
Monsters will fight back by throwing bombs at your heroes and if they get close enough, they will swipe at them. Potions will appear during a battle that can be collected to heal any wounded heroes, plus you have the healing special ability that will affect your entire party. As you complete each level, along with the possibility of earning new loot, you may discover key items that will help you defeat the tower and save the Kingdom.
Not your typical Role-Playing Game
Tower in the Sky isn't your typical Role-Playing Game. The graphics are cartoonish and have a children's book or maybe even a South Park appearance. Gameplay is challenging and if the game becomes too easy, you can always dial up the difficulty. The Easy setting can be challenging on its own and the Extreme setting is just downright nasty.
Gameplay isn't very difficult, just remember to tap on the hero you want to move, not the attack buttons. As the battle becomes more intense, it is easy to accidentally launch an attack when you want to move the hero.
Overall, Tower in the Sky is a fun game to spend a little time with. It is available for both Windows PC and Phones and is currently running $1.99. There is a trial version available to let you try things out before buying.
Download Tower in the Sky for Windows PC and Phone (opens in new tab)
George is the Reviews Editor at Windows Central, concentrating on Windows 10 PC and Mobile apps. He's been a supporter of the platform since the days of Windows CE and uses his current Windows 10 Mobile phone daily to keep up with life and enjoy a game during down time.
Tower in the Sky is App of The Day on myAppFree

Not available in brazilian region. Damn

Only thing missing is that green Xbox Flag on top of it, but I'll try it this time. Looks attractive. Posted via the Windows Central App for Android since my L930 is on its QI Station and my Surface got broke.

Anyone know where is our SUBWAY surfers..???

Why most of the games that come to windows phones have cartoon graphics. Just saying! Lol but like really though!

Test trên Lumia 640 thì thấy đồ họa rất đẹp . Hình ảnh trông sắc nét . Nhưng chơi thì không hay cho lắm
Windows Central Newsletter
Get the best of Windows Central in in your inbox, every day!
Thank you for signing up to Windows Central. You will receive a verification email shortly.
There was a problem. Please refresh the page and try again.