Track Runner gains SensorCore and heart rate monitor support in latest update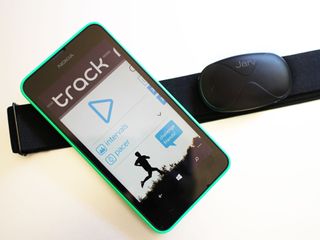 Track Runner is one of the best running apps for Windows Phone, and it keeps getting better. The app picked up a huge version 3.0 update in early June that added adaptive interval training, a pacer, an improved user interface and support for Windows Phone 8.1. Fast forward to today and we're now looking at version 4.0 in the Windows Phone Store. Let's check it out this killer update that adds Bluetooth 4.0 heart rate monitor support and more.
Navigate yourself to the Windows Phone Store, and you'll find yourself looking at version 4.0.1.2 of Track Runner. Here's what we get today:
Bluetooth 4.0 heart rate monitor support (requires Windows Phone 8.1 and Lumia Cyan)
Cadence analysis to compute stride rate (requires SensorCore-capable device)
Auto-pause/Auto-resume feature (requires SensorCore-capable device)
Cardio Map: Share a map of your run with heart rate zones
Total climb during run
Bug fixes and performance improvements
Today's killer update makes Track Runner even better. A handful of you already have Lumia Cyan, but the majority are still waiting for Cyan. Add Track Runner as a reason to want the update sooner rather than later.
Track Runner version 4 will be very welcomed by those with a Bluetooth 4.0 heart rate monitor, Windows Phone 8.1 and Lumia Cyan. You'll need Lumia Cyan and Windows Phone 8.1 to get the heart rate monitor talking to the app. But if you fall into this category you get to track your heart rate when you're out for a run. Handy for training and general activity tracking.
SensorCore folk are going to like the cadence analysis and auto-pause/auto-resume features.
Runners can mimize risk by adopting a higher stride rate (steps taken per minute). You'll get less stress on your knees and ankle joints by having a higher stride rate. Track Runner uses the SensorCore API to analyze your cadence and make sure you're hitting the stride rate you want.
Come to a busy intersection while running? The SensorCore technology in devices like the Lumia 635 will automatically pause and resume your tracking within Track Runner. Really cool use of the tech and we're glad to see developers taking advantage of it.
We'll have more with Track Runner v4 in the near future, but for now take it for a run and let us know what you think! Have a Lumia 635? Then you're going to enjoy the new features.
Windows Central Newsletter
Get the best of Windows Central in in your inbox, every day!
In before the "1st" crew...

Isn't that just another way of saying you're first? Lol

Congrats for being first. Now u don't have any chance to win sp3

Hallelujah, now I can finally use my Polar H7!!

Track Runner is one of the best and getting better each update. Still I tend to prefer Runtastic. I'm thinking about purchasing the Polar H7. Do you know if it works with most apps on the WP ecosystem? I'm interested in Runtastic, miCoach, Endomondo and Track Runner.

We have a list of tested heart rate monitors here: http://trackrunner.uservoice.com/knowledgebase/articles/395443-verified-... , the H7 being one of them. Without endorsing any product, in practice you may be more concerned with the strap - is it comfortable, easy to wash and durable? - than the monitor or the brand itself. Let me say that as someone who has been testing a large number of these devices over the last months. Best, Sarah (developer)

Very true, Sarah. I can say without a doubt that the h7 is by far the most comfortable for me. The only thing I dislike about the h7 strap is the method used sure it around yourself, but apart from that I think it is the most comfortable.

Many thanks for your reply Sarah. It's really great to see the app updating nicely and support on article comments section. btw. Any features such as Runkeeper integration, Route planning, Music Player in the works?

Thanks for your questions! Connecting to RunKeeper via GPX export works well for many of our users. We do offer a large number of paid Runkeeper features for free, which is obviously great for runners but is not exactly popular with RunKeeper. We've just started a new user voice site at http://trackrunner.uservoice.com, to hear about feature requests and to understand which features to prioritize. That would be the best place to discuss Music Player and Route planning.

Anyone can correct me if I am wrong, but right now I think most apps do not support btle on Windows phone because the ability to use low power devices has only just been implemented into WP 8.1. I'm sure once 8.1 really rolls out, more apps will be updated.

Thanks, I knew that. I'm guessing (hoping) 8.1 won't take very long to reach my Lumia 1020. By then I will maybe have the new HRM.

Great! Now where is the Ride with GPS app?

Why must it be loaded from phone? Very happy with it so far!

You'll Lumia? (second para after the pics).

Using this on my 630, seamless and accurate. Although if your prone to being a hypochondriac you may not want to monitor your heart rate....

Incredible apps such as this one make it hard to jump ship despite the uncertainty surrounding the Windows Phone platform at the moment. Big name apps, for me, are less relevant when we have dedicated independent developers doing great works! Thank you again for the average pace voice notification :D !

This is great, but until more companies develop cases designed for running, these apps are going to be hard to gain traction (pun intended). Example, I have the L928 and the selection of quality cases is pathetic. There are no cases designed for running.

Its a shame to use all the good features I need a new phone, I have a 920 now and love it, but it doesnt support sensorcore. Id like to upgrade but the 1520 is too big and the 930 does not support AT&T :-(
Windows Central Newsletter
Thank you for signing up to Windows Central. You will receive a verification email shortly.
There was a problem. Please refresh the page and try again.