Tracking your Microsoft Surface RT Tablet shipment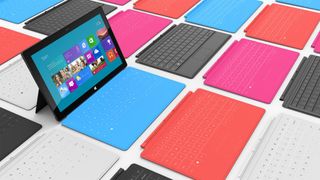 If you pre-ordered a Microsoft Surface RT and have yet to receive shipping confirmation, you may still be able to track your Surface shipment. Even without a tracking number.
Here's how to go about doing it.
Just go to the FedEx

(opens in new tab)

or UPS

(opens in new tab)

websites and choose track package by reference.
Enter your Microsoft Order number and delete the "MS" prefix.
Leave the shipping date as the 24th and enter your destination Country and postal code.
If your Surface order has left the factory, your tracking information should pop up. To be honest, I was getting a little worried that my order status was still listed as "processing" with a delivery date listed as October 26th. In tracking my order by reference, I was relieved to see that my Surface RT is still slated for Friday delivery.
Chime in down below in the comments if you've found your shipping information and head on over to this WPCentral Forums discussion (opens in new tab) on the Surface shipments.
Thanks, Mr. Brown and abond32, for the tip!
George is the Reviews Editor at Windows Central, concentrating on Windows 10 PC and Mobile apps. He's been a supporter of the platform since the days of Windows CE and uses his current Windows 10 Mobile phone daily to keep up with life and enjoy a game during down time.
Excellent find Mr. Brown and abond32
My doesn't show, but I'm holding faith that they will still arrive friday. Perhaps mine will say "Hello from Seattle" as opposed to "Made in China"....
we'll see

Don't get your hopes high, mine is coming directly from China.

I'm hoping the build quality is up to par and they are not rushing the production....

Can anyone confirm the Shipment Weight for their package on UPS? I'm worried they only shipped the Touch Cover to me as that's the only confirmation email I've received for shipment. I ordered the 32GB Surface w/o touch cover and bought the white touch cover as an add-on on pre-order day.
UPS is showing my shipping weight at 2.20lbs. Anyone else? Thanks!

Mine is 6.6lbs. Surface and keyboard

How come mine is 3.90 lbs...Surface plus Touch Keyboard showing as one package. Initial scan in Harrisburg, PA.

Also...it shows 26th for delivery. Yeyyy!

They charged my card, then reversed it....my package has already reached my state. Strange.

Well, that's BS. FedEx returns a "Not Found" for me - so assuming that it did not get shipped out from China. WTF am I going to do with just the touch cover?

LOL, you are too funny. :-)

Mine is also 3.0 kg/6.6 lbs

You sure it wasn't a drunk purchase of only touch cover? ;)

I ordered the same and I have the same issue.. :/

Mine says (via FedEx):
10/25/2015 - International shipment release - Import - SHANGHAI CN
3.0 kg/6.6 lbs (I ordered the 32GB with touch cover)

I don't think I've ever been so excited for a tech product to come.

Yep, I've got the same thing with mine: Oct 25, 2012 2:22 AM International shipment release - Import SHANGHAI CN
3.0 kg/6.6 lbs I, too, ordered the 32GB with Touch Cover.

Wow you have a long wait for yours or you are getting a model from the future maybe with Windows 9 or 10 :)

Timezone difference. Its already the 25th there. :-)

I was refering to the year that he listed 10/25/2015 By omagic82 on Wed, 24 Oct 2012 5:06 pm EDT Mine says (via FedEx):
10/25/2015 - International shipment release - Import - SHANGHAI CN
3.0 kg/6.6 lbs (I ordered the 32GB with touch cover)


Mine is going through FedEx and says it will arrive Friday at 10:30 am, I'm in Missouri.
Many thanks for this find! I was getting worried that it wouldn't show up.

I ordered my 32GB surface w/ blach touch cover on the 18th (two days after pre-order release), did anyone order around the same time that has a shipping confirmation yet? For the record, I did order mine when it was still set to be delivered on the 26th.

I ordered the same one on the same day, and mine says that no shipping info is available. :(

Actually, I just took someone's advice and tried changing the ship date to the 23rd and it came up. It says delivery date is the 29th though! My receipt says delivery by 10/26! :(

I tried it too, and to my dismay, it also tells me the 29th :-(

Mine says the exact same thing. ARRRG

Same with mine but knowing FedEx that is just what they say to give them some lean time.

Mine was ordered on the same date (10/18) however, I was told it would be shipped overnight. Hoping to see the confirmation tomorrow.

I called Microsoft and they told me if my receipt claims the 26th, then I should receive it on that date, but noting that there is always a possibility that there could be a delay. Patience is most definitely NOT one of my virtues, lol.

Hmm.. So how about this one. I ordered two of them (I'm actually giving one away as a prize in a hackathon). On the store website, it says one of them has shipped (the 32 gb w/o touch cover) and it's added red touch cover. I also ordered a 64 gb with black touch cover but that still shows as In Process. It seems really strange that since they're both going to the same place they wouldn't ship them at the same time. ----- Woah wait, nevermind. This is interesting. The track link on the website sends me to UPS and is listed to be only the 32 gig with my red touchcover, however using the method described in this post, I was able to track another shipment coming via FedEx on the same day. That second shipment must be my 64 gig one. Cool. I wonder why they didn't update the site, but that makes me happy nonetheless.

Looks like mine is coming direct from China as well, via Fedex, and estimated to arrive before 10:30am Friday morning.

It doesn't work for me the money is still in my account and the guy over the phone today told me i would get it on friday :( now im really nervous.

The money is still in my account too, but on the 16th when I pre-ordered they took out the $600 from my account. The next day though, they put it back into my account. So, I wouldn't worry too much.

Same here...money sitll in my account, touch still hasn't shown as being shipped by either FedEx or UPS. I called MS Store earlier today (AM Eastern Time) and they still say it will arrive Friday. I just called again and STILL they are saying Friday delivery. If I don' t have a tracking number by tomorrow PM (maybe mine is already in the US and thus can be shipped on Thursday?) I will not be a happy person.

Hmmmm... Mine says Estimated Delivery Oct 25 by 6:30pm

Your lucky! I wish mine was coming in Thursday so I could have a full day on Friday to play with it.

I'll believe when it gets here....

Does tracking show it out for delivery yet?

Mine is scheduled for thursday for NYC but I 'm actually in Abu Dhabi for work. So its flying over me now to NYC from china then flying back to the UAE on aramex so if get it on tuesday ill be excited.

Awesome find. Btw, I called customer service to cancel the order so I could try to get the free 1yr Xbox music subscription by being one of the first 100 in line at a Microsoft store, and the lady said no need, since I did a pre-order, I was going to get an separate email with the offer. I hope that's true for all us early adopters! If I don't get it, I have my call ticket # and email ready to go if I don't get it.

Whoa....
Email me that bro lol. Maybe I can use it as leverage. J.farrar@live.com

The # I was referring to was the call ticket/reference # that was created when I spoke to customer service. I asked several times, and even asked for a confirmation email attesting to the 1yr offer, but she said that an automated email message is created from another dept (Xbox division maybe)? In any case, I'll have my complaint email on stand by just in case I don't see it.

OMG!!! I hope this is true!!!!!!!!!! Otherwise I told Microsoft Store since I already pre-ordered mine online, I would stand in line and buy another one just to get the free 1yr music and then return the surface back at the store so that I wouldn't end up with 2 tablets.....

Isn't every Windows 8 user getting free Xbox music with ads?

Not exactly. The fine print on the Xbox music service website states: https://www.windowscentral.com/e?link=https2F%2Fclick.linksynergy.co... *Free streaming limited to 10 hours/month after 6 months; unlimited with paid Xbox Music Pass subscription.

Thanks for the clarification. I'll take the 10 hours/month for 6 months.

Thanks for that info. I was going to a music pass that same day for the year but now ill wait for that promo

What is the "MS prefix"? Does this only work for US-orders?

If your Microsoft Store order number starts with MS and a bunch of numers such as MS123456789 then remove the "MS" and only enter the numbers.

Looks like order numbers in the UK don't start with MS, been trying my order number at both fedex and UPS, niether are working. Ordered 64GB on the 16th.


same in Canada, No MS in front of the order number and nothing on FedEx or ups, I hope to receive mine by UPS, FedEx is a very bad delivery service in Canada, you have to be home Monday true Friday from 8 to 17h witch are the normal working hours to receive your package or you have to pick it at Fedex but they have the same open hour... if they send mine by FedEx, I have to wait a long time to get it...

That's funny; I've had the exact opposite experiences. I usually have to go to UPS's depot a week or more after my first delivery attempt due to their bad service, while FedEx has always been top-notch.
If it's any consolation (for you), I'm in Ontario and my order history on the Microsoft Store's site says "Shipping Method: UPS - Ground."

i am also in canada, my also says UPS ground, i cannot track and MS store still says in process...did you get a email notification saying it was shipped? I am not sure what the benifit of pre ordering it was if it isnt going to be here.. other then the fact there is no MS store here where I live.,

Unfortunately there is no such number in the German Microsoft Store. Only a buying number but without any MS prefix and this number doesn't work, at least for me.

Did you try different ship dates?

Yes I did. This is what I get all the time: "UPS could not locate the shipment details for your request. Verify your information and try again." Seems to me my number (or the german order numbers in general) doesn't work.

I am getting the same thing. But when i call Microsoft, they tell me it will be delivered on 26th. They can not provide me any tracking though.

Is that for MS Store Germany? Ordered mine from there to be delivered to Finland. Haven't received anything and order status hasn't changed.

No...USA.
I finally have an email with UPS tracking number(s).

If UPS is correct, I'm going to get my Surface RT tomorrow, but my White Touch Cover on Friday. How cruel... (though if it were reversed, it would be worse).

They're shipping this stuff direct from China? Why is that? I kinda thought only small-time players did that. Isn't it more efficient and reliable to have one big shipment to the US and then use that to fulfill orders?

They are combinded in a few big shipments to the US then distributed all over the country. That each one of them has a unique tracking number doesn't mean they are actually scanned and loaded into the freight airplanes one by one.
UPS and FedEx indeed have an efficient way to deal with intercontinental batch shipments. At this stage, I think they only track containers rather than individual boxes inside. They just update the tracking information of all the boxes inside when they scan a container.

Did they already ship Windows 8 as well?

FYI if you cant get it to work try changing the ship date to the from 10/24 to 10/23, for some reason mine says delivery for the 29th, which is complete BS because i ordered first day and it said it would be delivered on 26th, and i saw no option for overnight? Why would i get mine 29th?

That worked for me as well. Mine is also the 29th. What a bummer. Oh well!!

Wow, great and thanks! I was worried, but now I know it is coming. I ordered within minutes of the preorder being live, but I haven't received any notifications since.

I see mine coming from China too. Shiped the 24th in china(which would be 23rd in the states) coming to PA.

Funny... Mine says shipping from PA to SFO... Lol!

Thanks Mr. Brown and abond32:

My 64GB Surface RT is on Schedule with a status of International Shipment Release in Shanghai China as is the case with many other commentors above.
This has taken the guess work out of the game.

No problem but I have to give all credit to JEFF that I formed me of this method on twitter after he saw my frustration. Didn't want to give his twitter name so THANKS JEFF H.

No worries abond32. Thanks for the shoutout - and thanks for getting the word out

I can't take any credit either. abond32 posted the instructions I just thought to post it as a Tip so everyone would know about it. :)

Perfect worked for me same place though
International shipment release - Import
SHANGHAI CN
3.0 kg/6.6 lbs

Lol, chill guys. Be patient. Yall will get your Surface sooner or later.

Cool. It's on the way vis FedEx from China by 10:30 am

I understand it's on its way but without a shipping email or this "hack" providing any info, I find it hard to be calm.

Awesome tip! Thanks for the tip! Now I know it shipped yesterday and should be in my hands before noon :)

I have nothing. I'll be at the store on Friday and returning this one. Nothing will stop me from having this on Friday.

I'm in the Seattle area and I have not been able to find any shipping info. my extra touch cover has been shipped on the 23rd from Pensylvania at 1.20 lbs. I'm assuming this means the have a pile on the westcoast somewhere waiting to ship.

I talked to a lady on chat at the store site today. She said they're doing direct ship from the factory and that mine was shipping FedEx - and to expect an email 'later today.' no mail yet, but this method worked. Fri by 1030a!

I ordered the 64gb bundle and then an extra cyan touch cover. I found that my extra touch cover is being shipped by UPS (via my notification email) and then my Surface being shipped via FedEx.
Thanks for this tip!

You Rock! Mine showed on it's way from China while the Microsoft Store site still shows IN PROCESS! :)

I wish Microsoft gave us shipping options when we ordered. It shows that mine will be delivered UPS by the end of the day. That tells me that it was shipped via ground service. UPS ground in my area totally sucks! I work from home and NEVER get a package before 5PM. End of the day is literal. I get things after 7PM on a regular basis, and if it's a Friday, I usually don't get it at all. If I would known this was the shipping method, I would have went to the Microsoft store. Especially since they are giving out $100 point cards to the first 100 customers!

Do you leave the account number blank?

Ok I tried the hack of changing the date to the 23 and found that mine too is scheduled for the 29 and said it missed the fedex cutoff. I hope that there system is just messed up and that it will be here the 26 as if not that will suck as I have been guaranteed twice so far that it will be here on Friday. We will just have to wait and see.

Yup, this is exactly what happened. I called up FedEx and they ensured that it would be delivered 29th, not earlier, not later. AARG

It's like Christmas in October....

It has looked like that in my local Wal-Marts since the start of October. :)

Wow, you guys a REALLY excited about this thing. I don't get the whole tablet craze. How many ways does a person need to check email, watch movies, and play thumb games?

Because we are and we have the choice to do what we want and be concerned about what we paid for. I can wipe my ass with my surface if I choose too. Why are you on here anyway. You must like iSHIT

I won't deny you wiping your ass with your new gadget. I just don't get the appeal. I'm on here because it's WP central. If it was Tablet central I most definitely would not be on here, and no I don't own any Apple stuff. You are SO PISSED that your stupid little toy might be a day late. You need to get a freaking life bro.

I dont get the whole you being on this forum thing...your comment is horrible. We are talking about ordering online, being promised a specific ship date and that not being honored.

Agree my order says deliver on 26th. I have a right to worry about a nearly $700 purchase.

Okay, so the Chat Techs at MS don't have a clue about what is going on. Three different people, three different answers. I still find it hard to believe they would ship without billing my CC. Seems like bad business practice to me. It would be nice if they could keep us informed. Then I wouldn't have to bad mouth them all over the place. Thanks for the work around.

Just tracked mine and it also says a delivery date of the 29th. I'm on hold with MS this is unacceptable. Their number I 1-877-696-7786 Maybe if enough of us complain we can get something for our troubles.

Let me know what happens I am going to let my phone charge for a little bit and then call and complian. Because someone I assured me it already shipped they just didn't update there website but that is a lie. It never shipped

one more thing, i ordered a 32 gb on the 16th, I then called in and cancelled it on the 18th and ordered a 64gb because i wanted more memory. I called twice to make sure that they cancelled the 32 gb they said yes. I just tracked the 32 gb and they sent it to me!! WTF is going on? So now I have a 32gb coming on friday(that I cancelled) and a 64gb on the 29th!!! Fucking clusterfuck. Still on hold...this 19 year old kid on the phone is gonna be awhile...

What makes you think they will charge your card for the one you cancelled? Maybe you will end up with a buy one get one free situation! LOL


Very interesting...
Estimated delivery Oct 26, 2012 by 10:30 AM Oct 25, 2012 2:22 AM International shipment release - SHANGHAI CN Hopefully it is here by 10:30 AM :)


So I ordered mine on the 18th when the Deliver By date was still 26th. On my receipt it says the 26th and I've only called MSFT about 8 times with wierd foreign chicks telling me "uaaaa ahhh ummmm sir ummmm it should be aaaaa there on the ummmm 26th yahhhhh." I don't think they have a clue as to wtf is going on.
I just tracked mine and its with FedEx with the same BS as someone else here: Shipment Exception - Package Received After FedEx cutoff. It is set to be delivered on the 29th. It was picked up on the 24th at 9:32pm.

Same here but now I'm speaking to a white kid I believe...this is complete bs if we dont get them on the 26th and MS needs to pay. I know when im late with my xbox bill i never hear the end of it.

I just finished talking to someone with the live chat on https://www.windowscentral.com/e?link=https2F%2Fclick.linksynergy.co... and they seemed insistent that I would receive my order on the date given (26th). Im in the same boat that says mine wont be here until the 29th but i played dumb and just asked why it hadnt shipped yet.
They did, though, take all my information and my order number (i assume to check the order on their systems) and still said with certainty that i would have my surface friday. When i asked how they could guarantee that when they had no role in the shipping, they simply said that it will be shipped tomorrow and will arrive on time... part of me is reassured by this, it sounds like they have preferred shipping or something with fedex... but most of me has no hope for a friday delivery and that these people are just trained to say 26th to keep customers happy. I assume once i complain on monday they will explain it was FedEx's fault not theirs

Yah they fed me the same BS that they told you. It's so much crap!! I don't even feel like calling MSFT anymore because those foreign chicks waste so much time saying so much non-sense.
I've always pre-ordered stuff from Apple like iPad 3 and iPhone 5 but never had any issues like this...always got the d**n thing on time.

Microsoft Stores only use UPS to ship in the US. I think the numbers/dates/zip codes are pulling up FedEx shipping info for unrelated orders.

My windows 8 pro disc shipped, just not my Surface :(

OK for those of you in the UK goto ups site and ad click tracking
then click tracking by refrence
then rather than package or frieght click Mail Innovations
then fill the rest in.
although it will find it it might not show a delivery date as mine does not :D but at least i know its on its way


Good shout amigo ;-) Anyone from the UK give this a try! Found a package with no delivery date. Hopefully its on its way. I dont understand how Microsoft can run a store and offer a stealth like secretive order process. It shouldn't be hard work like this.

Thanks for the suggestion. It didn't work for me. I get the message "UPS could not locate the shipment details for your request. Verify your information and try again."
I noticed that after I choose mail innovations, the country is set to United States and I can't change it. I entered the order number into the Shipment Reference box.
Did I do anything wrong, or does this mean my order has not shipped?

Make sure you are on the british UPS site from the beginning. It worked for me, it found it but no tracking info. Not sure what that means but makes me feel happier that I'll get it soon. Microsoft being so stealthy!

This one?
http://www.ups.com/europe/gb/engindex.html?flash=false

You genius! Thanks for posting this. There's no package for me yet but since the shipping range is up to the 25th I'm guessing it's going out today.

Incorrect information, I believe. I was a bit suspicious so I tried typing in 123 as my reference number and a non-existent postcode and it still told me it had found one package but had no tracking information.

I see nothing. Absolutely nothing. I called the MS Store customer service and the lady says I should receive it by this Friday, and my CC would be charge when I receive it. A little weird, but what can I do now... I will wait patiently until Friday...

well if they are not charging you untill you recieve it tell them you did not recieve it when you get it lol


Ordered on the 18th, due on the 29th, bummer, just left CN today

I ordered on the 17th and still my order says "Order Submitted." Have not even hit the processing stage... and there's no record at FedEx or UPS.... /sad_face
I think I will just hit up a store on Friday (they are selling these at the "Pop-Up stores" too, right? The traffic going to West LA will be terrible.

Mine has been saying in process for a while now. :(

Update: I finally got an email (10/25) that both items have shipped under one tracking number. I guess my 32 GB and Red TC are coming together...UPS ground though :(
The provided tracking number in my email errors out on UPS.com. I don't know if it is not in their system yet or what. Aren't these numbers generated by the tracking system? Weird.
Also, my CC has not been charged yet, even though the email says, your card has now been charged.

I now have tracking number from UPS. Package is 3.90 lbs (RT+TC). Card still not charged.

Well, they sent me to tier 3 and Im waiting for a callback within 24hours. This blows, ordering from the MS is worse than Amazon. Now, In wont get my surface until monday and my card will be charged for the 32gb(that I cancelled) and Ill get that friday....so fucking lame.

Mine says missed FedEx cutoff - estimated delivery Oct 29th. I'm leaving on five days of vacation beginiing Sunday October 28th. I'll be pissed if the 29th is accurate.

I ordered the 32gb without a touch cover and got the blue touch cover separate, after there was a 3wk wait (on day 1). I did this tracking reference and my package only weighs 1.20lbs. It seems it is only the touch cover. (which i already knew was coming in on friday.) And here i thought Microsoft was going to surprise me with an awesome tablet on Friday.

They should do Saturday delivery if it got there after FedEx cut off. That's not our freaking fault that they picked it up late. They messed it up so they should deliver it on Saturday instead of waiting until Monday.

No workie for me, but I did call Microsoft yesterday and they assured me that I would have my Surface on Friday. It is probably sitting at a UPS depot in my town, they said.

When did you order yours? What version? and did it say 3 week wait?

Microsoft Stores always ship by UPS in the US so I don't think the FedEx site is giving us the real Surface orders. The numbers are probably pulling up unrelated orders.

That can't be true because we all are seeing shipments originating from China. If what you said were true we'd all have random originations for our packages.

I'm with @karmamule, I live in a pretty small town the tracking along with order info all match up to my town for the 26th. I have no doubt it's correct.

Ordered mine on the 17th and found my order on FedEX. Says estimated delivery Oct 26.

okay nowwww....I'm finding something on UPS also. It says one package found with your reference number but it gives no detail...it says in big red letters: Not Available.
I found this under Mail Innovations.

Bogus result I fear. You can type in any details you like under Mail Innovations and it will say it has found a package but has no details.

Complete silliness. I ordered 2 Surface tablets within 2-4 hours of them going on sale on 10/16. Both were 64GB, but one included the Surfacetype Cover and an HD video cable. Nothing had sold out at this point. I had to order them separately on different computers because they had a "limit of one per customer" when I ordered.
The first email confimation I got was for the Surfacetype Cover on 10/23 shipped UPS from Harrisburg, PA. The next email confirmation was for the HD Cable today, 10/24, shipped UPS 2nd dy air from Ontario, CA. Both of these have a delivery date of 10/26. There was nothing about the 2 Surface tables.
So when I started searching based on this post, I find that one of the Surfaces was shipped on 10/23 with an arrival in TX on 10/26. The other one has a ship date of 10/24 with an arrival in TX on 10/29, both from China, both FedEx

First, I ordered a surface around the 18th with a promised delivery of the 26th. Still no information and says in process. I live in the midwest and ordered the 64gb. I have talked to the MS reps numerous times with assurances that I'll receive it by the 26th, but like many have said, it appears they have zero clue as to what's going on.
How are you guys getting the reference number to work at UPS? It just says the character set entered is not supported when I put in my order number and delete the MS prefix. Any help would be great. Also when I do it at fedex it works but can't find the package.
Hope to know more soon.

Did you try changing the date to the 23rd instead of the 24th? That worked for me. Mine was on FedEx

yeah, thanks though. Fedex turned up nothing either way, was hoping to try UPS but it doesn't seem to allow me. Not really sure what's going on.

Your order number is not a tracking number, you need to put it in the refrence number spot.

use the track by reference, drop the ms, then change ship date to 10/23.

yeah that's exactly what I tried but it said it's not supported. This is UPS as well. Works for fedex but doesn't find anything. Track by reference on UPS says the characters are unsupported.

Same for me. In Chicago and ordered 32g + cyan touch the morning it went live. I received 1 email, confirming the order. That's it. None of the suggestions here worked for me :(

i just contacted MS and they said that the 32gb tablet will be arriving through Fedex. They dont have a tracking number for me, though. I do have a tracking for my touch cover through UPS. I hope the MS rep was right.

I am waiting on a call from tier 3 support, remembering AOL tech support days. Anyway, I'm pissed. Why the EFF did the state it would be delivered by the 26th if they couldnt do that? And why cant they do a cancellation of an order? Stoopid.

What did that white kid tell you? Anything useful whatsoever??
This is totally pathetic....there is absolutely no change on MSFT order status site since the day I ordered it: In Process Just freaking retarded!

I told him they fucked this order up he asked me not to swear and I said ok, you guys EFFED this order up. I am waiting on a call from level 3 tech support. Im not sure MS was/is prepared for this type of demand.

Heads up. If you see 1.2lbs on UPS then go to FedEx and check there. It seems accessories are ups and systems FedEx

6.6 pounds of surface goodness heading my way courtesy of FedEx. cleared international shipment release with delivery by 1030 am Friday.

No luck here with either UPS of FedEx. I pre ordered on 10/16 my receipt says it will be delivered on 10/26. Initially they charged my card and then took the charge off. I have spoken to several Microsoft store reps and they each give me a different story. Yesterday I was told that my credit card was going to be charged on 10/24 and that i would get a shipping confirmation after. I havent received anything the online store still says in process. Today the rep told me that due to the large number of orders my surface would ship overnight and be delivered on 10/26. I just hope it gets here by Friday getting tired of hearing so many stories. I ordered a 32 gig with Cyan touch cover and i am in Florida. If anyone else has any news please share.

My story is exactly like yours...not a word different, except that I am in CT.

Man...my 32GB, no-cover, is not showing up anywhere. Still "In Process" and cc not charged. Nothing on FedEx or UPS, even with yesterday's date. Lame.
I used the online chat and was told that I would get an email with FedEx info today or tomorrow. The rep also told me initially that delivery was slated for 10/26-10/30, to which I replied that my invoice and email stated "delivery by 10/26" and that I was wondering why things were pushed out past 10/26. After a pause, she wrote back that "she just checked" and it is slated to arrive on 10/26. I'm going to be grumpy if this doesn't arrive on Friday.

I should add that I preordered on the 16th, within the first hour that the Surface was posted.

I swear this sh*t is really pissing me off!! They need to get this right....the first time Microsoft is doing this and they f'it up. I ordered the 32GB with Black Touch cover (combo).
I just called fedex with the tracking number and they're rude as ever..."Sir it will not be delivered by the 26th. The delivery will be at earliest 29th."

part of me is pissed the other part is happy. Obviously the tablet is doing well because the ordering of is taking down a mega billion dollar company!

This worked for me. Thank you! - I now know my Surface is making its way through China... but is scheduled to be delivered before 10:30am on Friday. Awesome! - Although I'm a tad perplexed why I have not yet recieved a shipping notice from MSFT Store.

All of our (yes, me included) frenzied over-reactions to the *estimated* 29th delivery date is probably part of the reason why our orders are still "in process" and we weren't given our tracking numbers yet. We all need to calm down and take a deep breath. When the bulk shipment of tablets reaches American shores tonight, someone in a warehouse will charge our cards, assign tracking numbers, and mark the package with the appropriate shipping method to make sure that each of our shiny pre-ordered toys will make it to us by the 26th. Or so I hope, or else I'm going to be one sad Surface-less panda this weekend. :)

Thats all fine and good but MS set the delivery date not us and they need to honor that or dont tell us delivery on the 26th garbage because most of us would have just picked up in store.Im thinking 2000 ms points are in order. We need to stand together on this one.

Did you get a tracking number and delivery date yet? Mine is still on a pallet on a plane somewhere over the Pacific Ocean, so I haven't gotten my tracking number or delivery date yet. I will give Microsoft the benefit of the doubt that it will be shipped at no extra cost to me via Next Day Air once FedEx receives the package here in the US so I can get it on Friday. If that doesn't happen, I would be glad to stand with you.

Mine arrived on the 26th, just as promised!

spoke with the support lady and she told me between the 26-30 lol :( big sad face

I changed the date to 10/23 at Fedex and finally saw it. But the delivery is 10/29. If I don't get it 10/26 I'll be a very very angry person. :D

Thanks for the tip! I was getting way too impatient for seeing a "shipped" notice on the MS order history page, but I found the order being shipped by FedEx (even though everything else is coming in separate packages via UPS).
Microsoft, in their defense, did say that it could take 24 hours for their own website to reflect updates. I remember reading that somewhere.

So a mixed (good and bad) news. I just spoke to another customer service (chat this time) and for anyone who preordered Surface RT, they will receive the item by this Friday. For those who have not received the shipment confirmation yet will receive an email on Friday. It's odd that the email will be sent out on the day of release, but what can I say...
Here is the bad part. If we don't receive Surface RT by Friday, then it may take up to 5 to 7 days, thus guarantee no longer being guaranteed. What does this mean? It's not guaranteed that we'll receive Surface RT on Friday, even if our receipt/order says "by Friday 26 Oct".
Lastly, here is a caveat. If you live nearby MS store, your Surface may arrive @ the MS store, which then will be delivered to your door.
So the conclusion?
1 - If you preordered before 19 Oct, then you are likely to receive your items by Friday. It's not guaranteed, but only "likely". However you will receive an email on Friday.
2 - If you don't receive it by Friday, wait 5 to 7 days.
3 - Your item may first arrive to your nearby MS store, which then be shipped to your door from the store.
I know it's a little disappointing, but only time will tell... Hopefully MS learns from this...

What a mess I hope they get it together

Yah this is crap cause I would have just gone to my MSFT store here and picked it up on Friday. Now if I do that, I'll be out almost $1200 and then have to go through the hassle of returning one. So much nonsense.
What time are they suppose to start selling the Surface at the MSFT stores...does anyone know? I wonder if there's gonna' be a line like there is for iPads.

Supposedly as soon as the store opens, there is a Surface RT event. Not sure about the line.

FYI, I ordered mine 1149am, Eastern Time. The preorder was opened @ 1145am, not noon.

I did the shipping date of the 23rd and got in transit with a "shipping exception" notice at the top and a delivery date of the 29th. When I ordered it was shown a delivery of the 26th. I hope I still recieve it on the 26th but I am not holding my breath.

Jessica: and this is for Surface 32 GB without Black Touch Cover and Surface Touch Cover (Red), correct?
You: yes
Jessica: The expected delivery date of the Surface the you purchase is on the 26th of October 2012.
You: is there a tracking number?
Jessica: You will be receiving an email with the tracking number from Fedex and for the accessories you will receive an email with tracking number from UPS.
You: i heard that they will be shipping them overnight. Is this true?
Jessica: Since you purchase this on October 16, 2012 you will received the package on October 26, 2012.
You: how come my status still says in process on my order info
Jessica: Since the package is not yet delivered that's the reason why the status of te order is In Process.
You: will it change when it is shipped?
Jessica: Yes it will change once the product is shipped.
You: I live by a microsoft store. will the package go to the store first or straight to my house?
Jessica: It will be delivered straight to your house
You: ok thanks
You: that is all
Jessica: You're Welcome

does anyone know what time the microsoft stores are opening up?

I was told 8AM when i went. Lines are supposed to open at 7AM.

My 64GB with black Touch Cover shipped FedEx with an expected delivery by 10:30AM on the 26th. There is only one problem...I cancelled my order on the 22nd.

ridiculous i order first couple hours no cancellations yet people who are cancelling are expected to receive it friday but i'm set for monday.

Mine just arrived 20 mile away. Normally when it gets to the norcal shipping center, it arrives the next day. Curious if I get mine Thursday or if they will hold it until Friday.
Crossing my fingers!

curious when did you preorder what model? and did you enter the 23rd as ship date or 24th? Or did they send you email, It seems as if people that entered 24th as ship date seems to be getting theirs friday but everybody that entered 23rd for fedex is showing 29th, which seems exactly backwards or unless UPS is just using USA time as ship day and fedex is using china time zone? Whole thing is sickening been waiting on 26th preorder within an hour of being able to preorder and gotta wait all weekend.

I ordered a 32 gb without a cover about 10 minutes after it went online. My Cyan touch cover is being sent seperate and is a day behind. both state they will arrive by end of day the 26th, but the tablet arrived 20 minutes away this afternoon. They they are either delivering it a day early or holding it a day to send out Friday. We will see!

Mine's on Fedex in Narita, too...no status in the store though and money only blocked but not booked on the CC yet...
Lol, so bizarre...I am in Singapore and ordered in the US cos they don't sell it here...now it comes from China, which is about 6 hours plane from me...goes to the US (Portland, OR) and gets shipped back to Singapore from there...crazy world... :-)
Delivery estimate 26th, 10:30, 64GB Surface, 3.3kg / 6.6lbs

Awesome!!! My order still says in process and I didn't receive a shippiung notice. BUT I found my surface! It's in Narita Japan with expected delivery of the 26th of coure!

Mine shows delivery by 10:30 AM Friday. My wife's shows the 29th. They we ordered 3 minutes apart from each other.

Seems there will be a Fedex charter full of Surfaces lifting off from Narita this morning ;-)
WPCentral to pilot: Don't screw it up!!!

mine shows shuznou something china why so many different cities shipping from? makes absolutely no sense what is going on with all these different starting points and times.

Here are the details: Date/Time Activity Location 10/23/12 10:23 PM Picked up SUZHOU CN 10/24/12 7:43 AM Left FedEx origin facility SUZHOU CN 10/24/12 8:58 AM Shipment information sent to FedEx SUZHOU CN 10/24/12 10:00 PM At local FedEx facility SHANGHAI CN 10/25/12 2:22 AM In transit SHANGHAI CN 10/25/12 2:22 AM International shipment release - Import SHANGHAI CN 10/25/12 10:18 AM In transit NARITA-SHI JP 10/26/12 10:30 AM Estimated Delivery RALEIGH NC Shipment Facts Service type IP Direct Distribution - Indirect Signature Required Weight 3.0 kg/6.6 lbs I just registered to be notified via email for any and all updates on this. It really is Christmas in Halloween!!



Shouzou is where the factory is...then it comes via Shanghai and Narita to the US...
Oct 25, 2012 10:18In transitNARITA-SHI JP
Oct 25, 2012 02:22International shipment release - ImportSHANGHAI CN
Oct 25, 2012 02:22In transitSHANGHAI CN
Oct 24, 2012 22:00At local FedEx facilitySHANGHAI CN
Oct 24, 2012 07:44Left FedEx origin facilitySUZHOU CN
Oct 23, 2012 15:25Shipment information sent to FedEx
Oct 24, 2012 04:05Picked upSUZHOU CN

so i'm basically screwed i'm 2 steps behind which means monday delivery WTH so BS i ordered REALLY early never changed my order and i order one with a cover which shouldve been less demand for those.

Maybe they're trying to sort out this mess which is why none of us have actually received the tracking number yet. Likely the ones that show the 29th will be upgraded to overnight and all will be right in the world.

this is unlikely, how can you upgrade to overnight if it has already been put on a fedex truck, guys getting it friday their shipment left a day or 2 ago mine just shipped last night so no way it can get here by friday takes at least 3 days i would tihnk to get from china to united states maybe 4.

My shipment is on schedule left Japan around 8 conin to Louisiana but my charges are gone from my card

My 32gb/black cover is also at Narita and due 10/26 by 10:30am. The best part is I'm at a conference this week that started Sunday, am getting home Thursday night., and because I worked Sunday I have Friday off!!!!
Oh, and for those tracking, I ordered seconds after they became available....

:-D

Ok, finally got my shipping notification a few minutes after posting above - go figure. Unlike most everyone else here, mine is shipping via UPS, not FedEx. I have the tracking number, but it hasn't popped up in the UPS tracking system yet. No idea what the actual expected delivery date is... I'm in the Northeast US, FWIW. (Maine, actually).

So apparently my Cyan Touch Cover is chilling in Pennsylvania right now (it even moved between two facilities there) and is scheduled to arrive Friday 26 Oct. However my 32gb Surface isn't showing up when I check either UPS or FedEx (doesn't say anything on the MS site either). It's gonna drive me crazy if my Touch Cover gets here before the Surface!

I'm kind of annoyed at this situation. I ordered minutes after they opened up pre-orders and Fedex is indicating I won't get my order until the 29th.

I think 'scumdogmillionaire' is right. Because of all this nonsense clusterf**k, MSFT hasn't given most of us any kind of tracking info. I think that we will get our Surface as promised but not necessarily the one that's attached to our order number. We would obvoiusly still get the one we ordered (spec wise), but we would just get a random one which may or maynot be attached to our order number.
I dunno if that makes sense and I dunno if that's even true...but I'm hoping it is.

Just be happy its all better than the phones. i ordered one right away on Best Buy as well. They charged me right away and have it sitting on back order. Its all odd.
Gotta love it all though. I know its fustrating, but only because we love MS products!

Thanks for the tip! Mine showed up on Fedex with estimated delivery on Friday by 10:30AM. My MS order status still shows processing however, but who cares as long as I get it Friday. 64GB w/Black Touch cover shipping from China. FYI - Signature required delivery, but Fedex allowed me to redirect my shipment to a local Fedex shipping center for pickup later.
*Update* Now Departed Anchorage, AK, still no charge on my credit card, and still no update to my order status (still says "Order in Process".)

Strange how it's more exciting to get the surface tablet than a iPad mini lol...

Apple is in dire need of an IOS overhaul. They are becoming the Blackberry of a few years ago.

I received an email a little while ago with a UPS tracking#. I can't pull up anything with that number at the moment. I guess they filled up all of the FEDEX planes. LOL.

how'd u ordered wit a Singapore CC? or did a family member did it for u here in the U.S?

UK!!
I can track them. Message me. Will do a guide later.

Gutted. Ordered mine on 16th. Order status had been showing pre-order for 26th. Overnight that has changed to 2nd November. Really, really miffed now :(

You all may be in for an update. Check out what happen to my touch cover. The Surface is already 20 miles away but until this past hour I had no shipping information for my cover. Then this update occurred. Its in the same state and has been fast tracked from the 29th to the 26th.
Excellent!
Scheduled For Early Delivery On: Friday, 10/26/2012, By End of Day Originally Scheduled For Delivery On: Monday, 10/29/2012, By End of Day Last Location: Ontario, CA, United States, Wednesday, 10/24/2012

I ordered 2 on the 16th. tracking for one is the 29th the other hasn't shipped... very disappointed

UPS shows mine is scanned arrival in Oakland, CA. I'm only 25 miles from there. I wanted to go there and pick it up... I'll walk on those automated belts if I have to!!! :-P

Mine too. Just a few miles away but it looks like they are holding everything until Friday.

THANK YOU GOD, WPCENTRAL!!!!! I now know that my surface is on route from Narita airport to hawaii! thank thank thank youuuuu! This trick was genius, and that middleman company which was used for ordering and shipping updates is terribad , damn seriously, my page still says shipping. I'll probably get the thing before it updates to shipped.

lol its in anchorage now.

I placed my order on 16th and the Microsoft Store still has my order as "In Process", however using tarcking on the UPS website I entered my order number and post code using Mail Innovations and it finds my shipment, although there is no information available as yet. Has anyone else from the UK tried this?


Try putting random numbers for your tracking number, you get the same results. Also request status update, nothing happens. I'm afraid it doesn't work.

Ok so does that mean no one in the UK has received any sort of shipping confirmation?

I haven't heard anyone that has on twitter. But @surface says we should have it by the date stated in the original email. There's still hope for us yet!

It seems to be looking less hopeful as the charge on my CC disappeared yesterday

Yeah same :( For the love of b33r! @surface take my moneyz!

Just spoke to Microsoft support and they tell me they will be shipped between 26th-30th not delivered by 26th. She didnt seem to know much about anything. Very disspaointed.

I ordered 64GB on the 16th and still have no confirmation email. The MSFT store shows delivery for 02/11/2012. Credit card charge went out then got returned with no references recorded on my statement. If that's accurate then that will be very disappointing considering the promise of delivery on the 26th. Does anyone in the UK have anything different to report?

Just spoke with them, basically they didn't have a clue. did the said it could be with me on the 26th or up to the 30th!! This is in the UK by the way.

For those of us in UK and Canada who were told we get our surface by 26th, then the 2nd Nov then told this was a mistake and we would get it by 26th and then we don't - and indeed for everyone who preordered and was told 26th delivery and does not get it it - how about a free xmusic pass as compensation - after all we were all in 'the queue' before those first 100 in the stores and have been left disappointed on the 26th.


I think they may be doing that for everyone who pre-ordered anyway. I'm in Canada - I received the shipping notification for the Touch Cover this morning (still no details in the UPS tracker), but the tablet is still pending despite being on the same order. I spoke with an agent online yesterday who said that if it says I'll receive by the 26th, then I will, and that their system is backed up because of all the orders and logistics. I'm hoping this is the case. My credit card has been charged for the Touch Cover only, and the accessories that I placed on a sperate order, but not the Surface itself.
If everything else arrives before the Surface, I'll be really upset. But I'm still holding out hope that the rep isn't just trying to pull wool over my eyes, and truly knows it will be here tomorrow. If not, they'd better own up.

i think it's a little unfair to talk about compensation when the date hasn't even passed yet.

Whoo hooo, just left alaska wonder where it will go next>???

This is like watching the NORAD Santa Claus tracker. Mine arrived at FedEx in Anchorage, Alaska at 11:43pm and then departed soon after at 12:56am. Yes I wonder where it goes next as well? My doorstep today maybe? :)

I go the same thing. It left Alaska at 12:56 a.m. on the 25th. I live in Long Beach, CA, so not too much longer! It says estimated devliery as Oct 26th, by 10:30 a.m. Woo!

Weird mine too. But I live in boston MA.

By the way, does anyone else find this a little unhealthy? I constantly go between my phone, computer, and soon to be obsolete iPad trying to track this thing. If only I could sleep for 48 hours and wake up to find my new Surface waiting on me instead of me waiting on it!

Yes it is. But isnt it also strange that we are doing this for a Microsoft product. I can't remember the last last time a Microsoft product created this amount of buzz.

I tend to buy every new device that comes out, but I am taking this to new heights as well. Hopefully this just means that we will keep these for a while!

Well as an update, just for anyone else in the same boat, mine has shipped via UPS. Got the email last night, it finally popped up in UPS' system this morning, but it just says that the label was printed and it's not actually been recieved yet. However, it does show as shipping via UPS Next Day Air, so that should mean that I get it tomorrow. So, I would say to not panic (yet).

Funny, I live in Alaska. Must of flow over in my sleep.

My first email states: Pre-order release date: Pre-order now for delivery by 26/10
Still havent had a dispatch email so i'm guessing i won't be getting it tomorrow. As the guy on the phone said it will liekly be 26th - 30th.
Does anyone know if they use Fedex or UPS in the UK, or is it someone else?

Says FedEx on the uk support page

I believe they use FedEx in the uk. I have the same email and have not received a dispatch email yet either. They have not taken the money from my card either what is a very worrying.

Useless support lady told me UPS.

Used your method and mine has just left Anchorage heading for NYC to arrive by 10:30AM.
Never heard of this method but it works and uses the correct order number in the information too.
Thanks, I was getting worried.

I had not received any shipping email even though I ordered the minute it was available, but this morning I received an email with UPS Overnight tracking number. Seems MS already had stockpiles in USA waiting to be shipped overnight 10/25 for delivery on 10/26 :-D

Called windows store and was told it would ship tomorrow. Apparently that can mean me receiving it anytime between tomorrow and Monday. My MS account is showing my tablet to be delivered on 2nd Nov (although I received the apologetic email about this not happening) and my cover on 26th Oct. I ordered with hours of pre-order opening on 16th! This sucks for UK customers!


Same here. oh well must be patient

Still no shipping email but the charge for my youch cover has now gone back onto my CC.

Same. Ah well, Just going to expect a complete package by next Friday to avoid any more of this impatience. Watched the launch last night and I'm very impressed!

It appears after talking to Microsoft on the orders that missed the cut off, we will be getting them by ups instead of fedex as it appears they are recovering from the missed the cut off error. I hope he was telling me the truth.

Don't know how this can be. My wife's shows as moving as in transit now. So it's on the way for the 29th... unless they are intercepting these and shipping new ones UPS... I don't see it happening. Mine is arriving tomorrow... hers on Monday. I think I'm going to attempt to cancel that order and just go pick one up at the MS Store tomorrow and get the Music Pass deal. What a pain in the ass... the whole point of doing the pre-order was to not have to go to the store and have it "guarunteed" by Friday. What a cluster. Without this post I would still assume neither one of them had shipped.

Mine says it is still in china and set for delivery on the 29th. MS Store still says in process and schedule for delivery on the 26th. Did live chat with MS and rep says as far as they know it will be delivered by 26th.
When I pressed him on the difference between MS Store and FEDEX he had no answer. He had to ask ME for the tracking number. He then says to go with Fedex info and that I now know when I will get it.
Then when I was typing to suggest he elevate the issue to the PR folks so they could at least get out ahead of it on release day he cut off the chat before I finished typing.

Mine says "Label created on 10/25/2012" and is shipping by UPS Next Day Air®
I'm hoping that's a good sign for a Friday delivery, because I'm too old to want time to pass as quickly as I otherwise would.


Just tracked mine. Shipped from China and last shipment was from Anchorage, AK at 12:56am this morning and headed to me in Brooklyn, NY supposedly by tomorrow. Glad to know it's on its way but if they don't charge my card, I'll be buying mine at the Times Square store at midnight tonight in NYC. Then I'll cancel my order.

Let´s everybody complain about that at twitter @surface and @microsoftstore


complain about what exactly? the 26th isnt even here yet!!! i know everyone is excited but please be a bit more patient!

Look what UK Microsoft are saying on their twitter:

Shipment notifications are sent when the goods are 'in transit' – we schedule the shipments to meet the date that was promised for UK customers at time of order which was 10/26 – 10/30

Anyone else remember anything about up to the 30th? Smells like excuses to me.

Disappointingly I do vaguely remember something about the 30th. I ordered mine within 10 minutes of pre-orders opening, and do vaguely remember that on the very first page (before clicking the buy now button) there was mention of 30th. Then once into the order process the message seemed to change to "pre-order now to receive on 26th" and even something which said "your order may be shipped early to meet the release day", so I cast the 30th date from my mind.

I'm in the UK too, no sign of any dispatch confirmation. When I ordered, my confirmation email said delivery was due October 26th. I then got an email saying it'd been changed to November 2nd. Then I got another saying that last email was wrong, and it would indeed be October 26th. However, the website still says November 2nd when I check. So I called MS to ask, and was advised that, sure enough, my product would be delivered on the "original" delivery date, which was, I quote: "October 26th to October 30th". You're right, this wasn't mentioned anywhere when I pre-ordered, but they seem to have slipped it in subsequently.

it certainly was, it was mentioned on the main order page. (in the UK anyway)

Fair enough, I must have missed that in my excitement!

Yep, when I ordered it said 26th - 30th on the website even though email said differently.

The shipment is at Memphis now. Christmas is tomorrow!

Mine is in Memphis now too. Come Santa!!


We are now down to less than 24 hours!!

same here Memphis, tomorrow can not come any sooner

Update on shipping: I talked to tier 3 support about my issue regarding a cancelled 32 gb that they still shipped to me. Regarding shipping and receiving your surface and accessories on the 26th if you pre-ordered in time, the rep told me disregard shipping dates as MS has been in contact with UPS and Fedex and have been assured that if you were promised a delivery date of the 26th it will be honored. Now they have sent my particular case to someone ablove tier 3 support as I cancelled a 32gb Surface on the 18th and ordered a 64gb on that same day. I called back 2 days later to confirm cancellation and was assured it was cancelled. Well, they didnt cancel it and I tracked it by using the order number as a reference number on fedex and it too will be here tomorrow and so far, there is no way to stop them from eventually charging my card!! So, if anyone else has cancelled an order you might want to check it using the guide in this thread because you may have one on the way even though you cancelled it.

It would be nice to hear that they're claiming to honor the delivery date, but Fed Ex is claiming my Surface has been in Shanghai since Oct. 25, 7:58pm their time, which i believe is 12 hours ahead of our time...so nothing has changed for the last 6 hours. I'm starting to believe that i won't see my Surface until Monday :-/

I spoke to a fedex rep and she stated that the package are in customes waiting to be cleared. as soon as they clear customes they will be delivered next day... hopefully they clear customes sooner than later.

That doesn't make me feel better. I work shipping/receiving, and our company frequently deals with customs shipments...unless they had a call in advance or an RSLT number, it can take up to 12 hours to clear customs.

that's great news! I hope it's accurate. thanks for sharing!


Wow.. this is cool. I've checked the FedEx website and entered the details as described.
Wow.. this is cool. I've checked the FedEx website and entered the details as described.The status shows that it is in transit and is being shipped from SUZHOU, China and in transit out of SHANGHAI, China on October 25, 7:58 PM :)
Wow.. this is cool. I've checked the FedEx website and entered the details as described.The status shows that it is in transit and is being shipped from SUZHOU, China and in transit out of SHANGHAI, China on October 25, 7:58 PM :)The Ship Date was the 24th and the Estimated Delivery Date is the 29th. But I am sure that gets adjusted once it's scanned in the JFK or EWR airports. I live in central NJ.

Even though they promised i would get mine on the 26th fedex shows im getting it monday DAM!

Its interesting that a whole lot of these were scanned at the exact same moment. The must have just said 1 truckload was scanned and assigned that time to how ever many were in the truck

yes they did, i spoke to a fedex rep and thats exactly what she told me "One Big Shippment". according to fedex thats what "IP Direct Distribution - Indirect" means.

My order on Microsoft says processing and says that it will be shipped by UPS. I was getting worked when I tried the trick above and said there was no information, so I tried it on FedEx site figuring what the heck. Boom! Tracking number and my surface is in Mephis on it's way to NJ as we speak. 6.6 lbs (Surface + Keyboard). Can't wait. Good luck to everyone on their surface.

mine is arriving today. should come in any minute :)

Wow, so Microsoft advertises that you will get a Surface if you pre-order on the 26th. I ordered mine on the pre-release and am happy to report I will only be getting my cover! Great job microsoft. I then called support for an explanation only to be told that the "You will receive this item within three weeks" was placed on my status in the event I did not get mine when they said I would. WTF!
I hope I am not regretting going the ipad route. I would think Microsoft would be able to display on your order status "Your item will ship on X". Nope, just says you will get it sometime. Brutal

Well, I am now stunned. I just received an email to say that my 64GB Surface and VGA adaptor order has been cancelled. No reason given except, "Other". Too late to call the MS Store as the phone line is now shut. Going onto the online store confirms that the order has indeed been cancelled.
This is after I called this morning and spoke to a lady who was not much help about the change of date from 26/10 to 02/11 - she said to ignore the dates given on the site.
I don't know what to do. Anyone else having this problem? I'm wondering if this is a hint to me to wait for a Surface Pro or get something else. Rather disappointed.

Ok guys.. this SUX.

I called the FedEx with the tracking number I got through the mentioned process to check with them if I can get my package delivered tomorrow even though, the online tracking was showing the 29th, Monday.

The FexEx rep said, NO. It is scheduled to be delivered ono the 29th before 10:30 AM. She said, the package left Chaina today in a 'bulk shippment'. Even though, the flight might land today, they leave it a day in the US Customs and there is no weekend delivery.. So I will only get it on Monday.

This is a HUGE fuc%ing disappointment for me as I was planning to play with my Surface over the weekend.

For people in the UK. I can confirm they have removed the money from my card sometime between 5-9 today so I expect they are shipping it tomorrow. Probably receive it on Monday but im hoping saturday (even though their support page says the courier does not deliver on weekends).

hmm they havnt taken my money yet =/, when did you pre-order yours?

ordered mine on the first day (16?)

MIne just left Memphis TN at 4pm. Come on home to Raleigh, North Carolina baby! Come on home!!!
I can't wait to make my first posting on this site with my new Surface!! :)

I'm in GA USA. UPS is updated and says it's in Harrisburg, PA, scheduled to arrive tomorrow before 10:30 AM :)

I'm tempted to go to work late so I can take it with me...

My Surface has lost some weight durning its transit. When it left China it was listed as 6.6 lbs and now it is currently in Memphis, TN and it now weighs 4.0 lbs.

My wife's which was still in China scheduled for the 29th has just arrived in AK. There is still hope!

I finally worked up the courage to check my status. I was afraid I'd get mad or be disappointed, but the suspense finally got to me. When I first checked this morning, my Surface (and a lot of others it appears) was in Memphis.
My Surface should certainly make it to my door as promised because it is reported to have left Memphis at noon here just down the road from Microsoft. That usually means it arrives at the local Fed Ex facilitiy by 8pm local time tonight.
My account at the Microsoft Store still says In Progress, so I am really grateful for the tip of how to check on the status.

How are you guys getting the reference number to work with UPS? I don't understand how I could mess this up. I put in my MS order number. Remove the MS prefix. I'm doing track by reference. Put location in. Then when I try and search it says character set not supported. Any suggestions?

Figured out my own problem. Copying and pasting doesn't work. But I found it! But... fedex says it arrived at Alaska at 1pm today. And estimated delivery of monday. This is not cool with me when promised a launch day delivery. Is MS doing something about this? Will they overnight it from Alaska?

Same anchorage issue...called FedEx, won't clear customs till tomorrow, them delivered Monday. Ms was no help. This blows.

called MS and they guaranteed tomorrow I will get it. Starting to think that was a blatant lie.

edit: it just left Alaska at 2:54 pm.... interesting

Yep, my wife's just left AK too. Still showing the 29th as the delivery date... thinking it might flip. I'm starting to get some confidence that this could actually happen! This is pretty agonizing. Mine is in Denver and will be here tomorrow. Her's is still in question (even though they were ordered 3 minutes apart from each other) -- I won't be able to enjoy mine nearly as much if her's doesn't arrive too.

Mine too, I called MS and they assured me they were in contact with Fedex and ups and that our orders will be there tomorrow. I hope she is right otherwise it will be monday. First world problems.lol

Mine just departed Memphis, TN but the interesting part is that the package now weighs in at 4.1 lbs. I think it used to say 6.6 lbs. I guess I'm good as long as it doesn't go below 1.5 lbs!

Looks like mine will be on time. Noticed it shows at FedEx that it was released from International shipment hold this morning and in transit at 4pm. Initially it showed as everyone else stated, it was 6.6 lbs, now it shows 4.1 lbs. I purchased the 32GB with black cover. Interesting that it lost 2.5 lbs during transit. It also shows that Signature Required. I will be at work at 10:30 delivery, I hope FedEx isn't too strict on the signature policy.

I have printed out the FedEx tracking information and signed it with a request to leave the package. Tape it to front door

Here is what I would suggest, which I would always do.

Look for a FedEx Kinkos location near your place and have FedEx deliver the package there. They are usually open till 11:30 in the night. So you can pick it up at your convenience. I always do that since I don't want my stuff left outside the door.

Mine just landed in Raleigh at 6:33pm. It's 10 miles from my house given I know where the Fedex sorting facility is. T-Minus 16 hours until box in hand. :)

My Surface is now only 70 miles away. I wish I could drive over and get it. Still no email from MS about official shipping. Lol

Yea is in Shreveport being sorted out but that was at 450 it still has to come to marksville 2hrs away I guess that's why it won't come till 430

Yea eff Microsoft site still says in process at least I can track now via email or online

Yea mine lost weight as well was 6.6 now 4.1 wtf

So, the Surface I cancelled but they still sent to me just arrived at the Sacramento sorting facility. It was in Tennessee at 3:26 pm and got to Sacramento,ca. at 5:26 pm. Thats pretty fast. Unfortunately no new info on the 64 gb i ordered after i cancelled the 32gb. It still says alaska. So, the Surface i cancelled and they sent anyway made it from the Factory to Sacramento,Ca. in 2 days!!

WOOHOO, Microsoft took my money out of my account and the package is in the USA at least. I don't think I will get it on the 26th though as a signature is still needed from what I gather on the FedEx site. Oh well, I'm not happy that I havent received a email confirmation but sometimes things don't go as planned. It's not the end of the world for me but I really hope to have my Surface for the weekend.

Awesome, looks like my Surface is on schedule for tomorrow, it's already in California, so I'm stoked!
One little thing though, I noticed that when it was in China and Japan, the weight was 6.6 lbs/3.0 kg, but ever since it went to Memphis, Tennessee, the weight has dropped to 4.1 lbs/1.9 kg. Just wondering if this happened to anyone else, though I'm sure it's normal.
I hope they are able to get it here by 10:30 am tomorrow like it says!

That last batch looks to still be on the plane from Anchorage to Memphis. Calculating time from my Surface (which has arrived in Denver) from my wifes (still on the plane) it won't arrive in Memphis for about 2 more hours. Do they work through the night and get these bad boys on another plane to get to the trucks for early morning? We'll see!

They better be working all night at Microsoft's expense! Are you sure they all go to Memphis from Alaska? I'm in MN so that would seem strange. Huge fedex hub here too.

yep. her's ended up in memphis just like mine. it took mine a while to leave memphis for denver (where i'm at) but once it did it arrived quickly... starting to have doubts if this will happen but remain optimistic!

Mine just arrived in Memphis 10 minutes ago... microsoft is adamant about these october 26th deliveries, anyone think there's a chance mine will hop on a flight tonight and be delivered by 1-2pm? (in in Pennsylvania right outside Philly)

Same position you are in. Let me know if yours changes.

Mine arrived at Memphis as well at 11:38 PM. I hoping they would put it on a flight to EWR so that it arrives at my door step tomorrow. I am in Central NJ BTW.

so mine updated to international shipment release - import... not sure if that means it was "released" for delivery or if it just means it was checked in and is still waiting to get shipped from tennessee

Same. Thought they'd do whatever that is once it hit the US, which would be Alaska. Starting to doubt I'll be seeing it tomorrow in which case I expect compensation. Not because it really caused me a ton of trouble, but more of the principle of it all. It sounds whiny and entitled but I preordered this with a launch day guarantee, put all my support behind this and Microsoft, and then it gets messed up. Guess well see though.

Mine just got to Memphis. Still nothing on Apple's site and FedEx still says 29th. I don't freaking get this. My stats are:
Order date: 18th
Type: 32GB with Black touch cover
Promise Date: 26th
CC Charge: Not yet I'm in Indianapolis which is the national hub of FedEx so I would imagine they would get it here tonight and have it out for delivery tomorrow morning. :-/

Haha...thanks for that. I'm so use to doing this for Apple products....and I'm typing this from my iPad.

You all think you got it bad? I live in Hawaii. My shipment went Alaska to Tenn! Missed a turn Fed Ex! No chance on tomorrow. Just to irk you some more I got an email today saying the first 100 customers in each MS store gets 1 yr free xbox music pass. Reall?

Dude... I hear ya, but then again.. all it take for you is to get up early and go be there to be within in the 100 people. That way, you get the music pass and the device on the lauch day.

You can alwasy reject the shippment when it arrives or even btter, call FedEx as soon as you get one in the store and tell them you are rejecting the shipment.


No ms stores in hawaii :( but we got beaches and bikinis so theres that ha

Memphis is this main hub and sorting facility for the US and also where the Corporate office is located.

mine just arrived in tennesee, and was released. I have timed this shipment against another shipment Im getting on accident that I cancelled. i will be curious to see if it gets to Sacramento in 2 hours like it did with the other one.

Just finally got shipment information and order complete status. Its the same tracking number used in reference method. CC has been charged departed Memphis at 3:45pm 10/25. Fingers crossed

Oct 26, 2012 12:27 AMInternational shipment release - ImportMEMPHIS, TN That's the latest Info for my 64gb. I live in Sacramento,ca. anyone else have Thiers in Tennessee at that time expecting a 26th delivery date?

Yep. And its got to make it to hawaii. Doubtful even with time change

Finally got my official shipping notice that it will arrive on the 26th. Thanks to the tipsters for easing my worries over the past few days.

You welcome and I hope you get it today. Mine was in Memphis and it shows at my local sorting facility. Happy surfacing!!

Mine left PA for GA just over an hour ago. I hope they put it on the fastest donkey they have. I'm going to wait till it arrives before going to work.

My cc still hasn't been charged and no confirmation email either.
it left Memphis at 3:45am so I'm not sure what exactly is going on.

Everyone relax. Its called logistics. Microsoft farmed out this whole process to UPS and FedEx. All of those Surfaces probably started out in a UPS/FedEx warehouse in China along side iPads,HP, Dell, and Lenovo computers. They were already there before the 16th. Microsoft's system is tied to their system. UPS/FedEx employees pick the orders when they come in. When you have a bulk internationalshipment like this the tracking information will be all over the place until it get close to you. I've tracked several gadgets over the years that wasnt updated until it was actually delivered. Once this thing becomes main stream, they will start stocking them in the FedEx(Memphis)/UPS(dont know where) logistics warehouses in the US. Microsoft has contracted with them to get you your order by the 26th and you will get it by then if that was the promised date even if FedEx/UPS has to put it on Delta airlines or another carrier. They do that often on overnight shipments when it makes sense. All shipping companies do that including the Postal Service.

Well it looks like my wife's officially haulted in Memphis last night. Delivery date never flipped like I was expecting. Debating going to the store to pick hers up. What a pain in the ass. I pre-ordered to get it on Friday without having to drive 60 miles round trip. comparing to mine (that has made it to denver) it should hop on a flight about 4 hours after "international shipment release" -- which is about 15 minutes from now. If they really move, it could be on a flight out and delivered by end of day. Mine is coming by 10:30a.

UK customers, just spoke to Microsoft Support. Orders are being shipped with UPS today and if the order was placed on 16th you should have it today. He did say that you will probably receive your order before your tracking number.

This may not be 100% but it is certainly the most positive bit of hope I have for receiving Surface today. I hope this guy on the phone was right!

He is the only person I have spoken to who seems to make any sense, he also said its likely that if you have ordered more than one item they will most likely come seperately.

Would be pissed if only the touch cover arrived... suppose i could pretend like a crazy person that it is attached to a surface - whilst sitting in a corner rocking back and forth singing a self make song about my love my only my precious :P

Thanks. Good to hear. Can't verify as UPS need tracking number to see if it is on it's way. Haven't had that from MS yet! Anyone actually got theirs yet?

ohhh did you get that error email saying youll now get it on the '2nd Nov'? I preordered early but got those emails, but i just checked that my money is now on hold what about you have you been fully charged? or is your money just on hold for now?... >_< confused to what is happening with my order everyone is getting different response from customer support

Yeah i got the email - i ordered on the 16th. My money is currently being held - plus today they decided to hold another £99.99 for no reason. The only thing i can think of is i have been charged twice for my touch cover. So yeah money on hold, no shipping email, customer services say that but pre-ordering on the 26th i have a higher probability that i will receive it today - but nothing is 100%. This is poor effort so far!

I ordered the surface and cyan cover on 16th, I then got the email saying it would not be released until 02/11/2012, then another email saying the email was an error and the original delivery date still stands. There was a pending charge for the full amount on my CC but that disappeared a couple of days ago, there is now a pending charge for just the cover. I am also pretty confused. I dont hold much hope for a delivery today. Gutted

this sucks got the same emails but i feel like ive been given false hope for a 26/10 delivery >_< owh well nevermind, i do know that sometimes tracking number isn't given to you untill you've already received the package but ive only experienced this once *shrugs*

Okay, so far so good....I'm in Indianapolis and so is my order. It made it here about half hour ago.
Now if they can just put that bad boy on the delivery truck, I'm all good!! It's gonna' be heartbreaking if its in my city and yet I still don't get it.
This is the first time I want some company to charge my credit card and take my money this bad!! hahah

yours was in Memphis at 11:38p like the rest of us and it left?

Its Christmas boys and girls. Waiting on Santa (FedEx and UPS)

I am in Massachusetts. Fedex tracking says Estimated delivery Oct 29, 2012 by 10:30 AM Oct 26, 2012 4:30 AM In transit MEMPHIS, TN Oct 26, 2012 1:27 AM International shipment release - Import MEMPHIS, TN Oct 26, 2012 12:38 AM Arrived at FedEx location MEMPHIS, TN
I got an Email from MS last night that says UPS is shipping it
There was an issue with UPS updating there system with tracking information. You should get the product on the 26th as your confirmation email says. If you do not then let me know but the information that I have is that they are due to arrive today and being delivered tomorrow.

So last night MS says it is being shiped by UPS. I just got the email from MS
Thank you for ordering from Microsoft on 10/19/2012. The following product(s) have shipped. If you paid by credit card, your credit card has now been charged. We sent this order to you via Microsoft's Preferred Carrier using the tracking number(s) below. You may also check the status of your order by going to the account page but you should know that it may take as long as 24 hours for your tracking and shipping information to appear on our site. So if you don't see it right away, don't worry - just check back in a little while. Remember, these are the shipping times you can expect, based on the method you chose.
The letter says it is being shipped by FEDEX with a tracking number that says it will be delivered Monday, because it is still in TN
Talk about confusion

Is anyone else climbing the walls due to lack of information!! #whereismysurface

I want. I want. I want it now!!!!
Haven't been as excited over a bit of hardware since my first pentium PC in '92

In UK, ordered on 16th, have not recieved UPS tracking info or dispatch email.
On the order confirmation page it says go to www.findmyorder.com (Digital River) to track the order but this site doesn't recognise the order number from Microsoft.
Has anyone had any sucess using this site?

What password did you use?

I tried various passwords (my live ID password, the order no) but nothing works, always says it doesn't recognise my order number. Order number is a string of 11 numbers.
However, if I select forgot my password it asks me for my order number, accepts it there and a second later i recieve an email with the following,
Thank you for contacting us on msuk.
The password you requested is: <PASSWORD_BASED_ON_ORDER>
So that proves that www.findmyorder.com knows who I am and recognises my order ref at least.

Same outcome for me. Nearly 2pm though so I'm not holding out much hope for today. Working tomorrow so probably won't get my hands on it until Monday. Grr!

Think you are right, without having recieved a shipping email, expecting it today was a stretch. But I still had hoped.
My order confirmation says delivery for 26th and any communication from MS seemed to insist original delivery dates is still accurate.
Delivery on a weekend is unlikely so looks like Monday is best I can hope for now.
Think i will scream if it doesn't arrive til 2nd Nov.

On the order page it mentioned a delivery date of 26th - 30th, but as you say, the dates everywhere else have said something else.

Also has your card been charged? Mine hasn't yet i ordered it on the 16th.

My card has had the funds 'secured' (thats prob not correct term) but not withdrawn yet.
The available balance on the card is down by the correct amount, but the purchase has not appeared in the new transactions yet.
I also called MS service centre and the girl said if I haven't recieved the dispatch email, then product hasn't been dispatched yet. ;(
Oh well. Looks like it'll be a long and tabletless weekend. Don't think I've ever said on a Friday that I cannot wait for Monday to come around.
I understood geographiocal location wouldn't have a bearing on delivery date as MS would dispatch pre-orders to arrive on 26th.
MS need to learn about not over promising. Its not unreasonable to expect me to wait a few days after product launch, but it is unreasonable to offer it and not deliver it.
Under promise and over deliver is key to happy customers.

Just spoken to microsoft support again, this time got through to a pretty helpful bloke. He for us in the UK it will be UPS that's delivering it and that there is an issue with tracking information. He said all have been dispatched, some will be arriving today, some on Monday. I'm just about to give UPS a ring.

Gave UPS a ring, the Order number is not a valid tracking number and they can't check by your post code. So it looks like we can't find out, i'm just going to say it will arrive on Monday so i don't get my hopes up for today.

Awesome news thanks man :) hopefully the latest is Monday. And hopefully for those of us who preordered on the 16th.. today :)

Who has seen the South Park Ep Insecurity? I think im going to put my Bane mask on when the UPS man comes to the door - "Why hello there Mr UPS man - you should have provided us with more shipping information" ;)

Just got my email that order is shipped and my card has been charged

I finally got the e-mail message from Microsoft very early this morning that my device has shipped. No kidding. It is just down the road at the local FedEX office, after the same journey so many of you have also reported....China, Japan, Alaska and Tennessee before returning here to be delivered just down the road from where it was conceived in the first place!
I hope you all get your Surfaces today. And thanks again for the tip of how to track the shipment without a tracking number!

Mine is at local FedEx facility, scheduled to be delivered today by Noon. :) FedEx usually arrives by 10:30, so hopefully I'll see it a bit sooner.

JUST got my confirmation email from MSFT with tracking info and credit card charge.
Now lets see what FedEx decides to do...it still says delivery by 29th. MSFT says 26th....the wait continues........

my wife's is still sitting at "International shipment release - Import" in Memphis... she did finally get the confirmation email this morning, too. rvashi, you said yours showed up at your local facility, did you see a "departed fedex location" after memphis, or did it just magically end up in your town?

JUST GOT MINE JUST GOT MINE JUST GOT MINE!!!! ITS IN MY HANDS!!!!!!!!!
YAYYYYYY!!! I guess MSFT stuck to the promise!! :)

wow, where are you based?

I'm in Indianapolis. It's the national hub for FedEx so maybe that's why they were able to get it out to me quicker.


Soooo. jealous.
Enjoy it and let us know how you get on.

Thanks! It seems that mine didn't lose any weight during its travel to here....It's still 6 pounds.
FedEx had still said 29th when it was being delivered to me....so guys, no worries....99.9%, you should have your Surface today.

Wow...they did it. My Surface was in the shipment that left Anchorage on 10/25 at 2:54 Alaska time and had a delivery date of 10/29 and guess what showed up this morning at my doorstep. That's right, a nice box with my Surface! Good thing I was home to sign for it as I thought for sure it wouldn't get here until Monday. So that means there is hope for others whose Surface was in the same shipment and who have a delivery date of 10/29.

That's where one of ours was -- but it's still sitting in customs in Memphis!!! :( But I have hope that both will arrive today after you guys now. Just not sure why it hasn't moved in 8 hours.

Mine is on the delivery truck headed for town. Should have it within a few hours. Joy

Mine is on the FedEx vehicle.

WAIT! That's the doorbell. He's here. Santa is here!!!

UPS says: Austin, TX, United States 10/26/2012 4:10 A.M. Out For Delivery Argh - come on brown truck!
No charge to my credit card yet, though ...
TTFN
Toni

Finally made it to the local facility directly from customs (never showed it having left Memphis) Looks like we're all going to be good to go!

Yea mine is it local facility should be here soon yay Christmas in October sadly I work till 6 today pockets hurt after that purchase

Ok, Mine's here ready to go on the truck this morning :-) Oct 25, 2012 9:29 PM At local FedEx facility PORTLAND, OR


anyone from canada/UPS get it yet?!?

Nothing here yet - in New Brunswick. I'm still hopeful ...

Surface In Hand!!!!! Yaaaaaaaaaaaa!!!!

Bloody @##*&@
just kidding ;-) enjoy

Just to add what other people have already noted...my Surface just arrived, even though the FedEx website still showed an expected delivery date of the 29th up until the moment it arrived. Looks like a lot of worry for nothing.

While waiting for delivery and scouring the web for any indication that I could hope to receive my pre-ordered device today, it occured to me,
Where is Steve Balmer, Steven Sinofsky and the rest of the MS team today?
I know their teams have probably been working flat out over the last few weeks to get this off the ground, but on the launch day I expected to see them all over the MS site, blogs, twitter etc spearheading and encouraging love for their new creation. Don;t get me wrong, I'm not complaining about the product and can even accept a day or two wait to get them all shipped around the world, but is this not a big opportunity to pump up hype.

Has anybody in the UK got theirs? I've pretty much given up hope. :(
Also, has anyone in the UK been able to even track their package on FedEx or UPS? My order reference isn't recognised on either, don't know if they're using a different courier here.

No sign of mine :( and no way to track it. Apparently it is UPS in the UK but that doesn't help us to find out where the *&%$ they are!

No havent received it yet. Can only see that UPS has it by putting my order number into the tracking reference section under Mail Innovation. Hopefully Monday will be the day.

I'm in London and havent received mine :( I spoke to MSFT customer support this morning and they were very vague about it saying that the 26th is the day that they dispatched from their UK warehouse not a guaranteed date of delivery. I have however spent the whole day in waiting but am now resigned to receiving it next week.

It was mentioned on the original order page that delivery would be between 26th and the 30th for the UK.I've just had an email from the Microsoft Store thats below, i'm pretty happy that there doing this. I'm still getting it in within the dates i expected. Dear Customer, Thanks again for pre-ordering your Surface online! As stated at the time of order, we expect customers in the U.K. to receive their Surface devices between Oct. 26 and Oct. 30. We apologize for any confusion caused by subsequent emails stating an earlier or later arrival date. To make up for any inconvenience, we would like to offer you a single use coupon for up to £50 off your next purchase from Microsoft online store*. To use your coupon, please visit www.microsoftstore.com/uk, shop for the items you want, and, at check out, type the code meh in the Promo Code box. The value of your coupon will be applied at checkout, before you complete your purchase. If you have any questions regarding your order, please visit us online at www.microsoftstore.com/uk or give us a call at 0800 026 0329. Thank you,
Microsoft online store

Mine is on the truck hopefully someone's home to sign ima pissed if I gotta wait till Monday to pick it up

Just got an email from Microsoft saying that they still expect UK customers to get their Surface, as originally advised, between October 26th and October 30th. However, to make up for the confusion over that 'delivery date changed' email that went out, they're giving customers a £50 coupon to use in the Microsoft Store! I'm pretty impressed, and that's a free copy of Windows 8 for my desktop too now!

well that makes me feel better do you know how im to claim the £50 coupon or am i just meant to wait for an email? im still waiting for a dispatched email ¬_¬ lol

You'll need to wait for the email - it's got a unique code in it that you enter at checkout.

Got the same email. Nice gesture! Would have preferred my Surface today though :p

oh opps just got the email too =D

same in canada! wooo lolol

£50 is a nice gesture but unfortunately small print says you can't use code for Win 8 software download.
Maybe ok for boxed product.

Just got mine too, still havent heard of anyone receiving there's in the UK

its almost 5pm! do you know what time ups stops delivering?

Just got this from the Microsoft Store; Dear Customer, Thanks again for pre-ordering your Surface online! As stated at the time of order, we expect customers in the U.K. to receive their Surface devices between Oct. 26 and Oct. 30. We apologize for any confusion caused by subsequent emails stating an earlier or later arrival date. To make up for any inconvenience, we would like to offer you a single use coupon for up to £50 off your next purchase from Microsoft online store*. To use your coupon, please visit www.microsoftstore.com/uk, shop for the items you want, and, at check out, type the code meh in the Promo Code box. The value of your coupon will be applied at checkout, before you complete your purchase. If you have any questions regarding your order, please visit us online at www.microsoftstore.com/uk or give us a call at 0800 026 0329. Thank you,
Microsoft online store

And it just arrived! At 9:50AM PDT As I was signing for it, the driver asked: "what are these things? I'm delivering quite a few in this area." Good news.

OK... Am I the only one that sees the scam Microsoft is playing here.... Hello People?
I'm in Canada. No word has ever been sent to me regarding the shipment of my order. Many calls to Microsoft result in speaking to someone who barely speaks English but yet continues to tell me my order will arrive on the 26th!
Microsoft sends out an email to all U.K. and Canada customers saying that their order will not ship until November 2nd. And then when the media catches wind of this, Microsoft then says it was an error and everyone in the U.K. and Canada will receive their order on the 26th.
Then on the 26th, all of us in the U.K. and Canada get an email saying that just in case you don't get it on the 26th, here is $50.
People... Microsoft knew all along that we would not get our orders on the 26th. For all of you thinking you will receive it on the 30th, welcome to fantasy land. Many of you will not receive it until November 2nd.
I hate when Microsoft plays these games.

quick, grab a tin foil hat!I have never known people to be so impatient!!

I thought I was screwed but it looks like there is hope. After globe trotting for a couple days it is pretty close. Mine went from China to Alaska to Tennesee, and finally made it to Honolulu this morning. Still has a 10/29 est delivery date but it seems MS is paying off Fed Ex to get them on the trucks. Hopeful!

MS promised this morning that it would be delivered today. That did not happen. Chatted with support again tonight

Jerome: Thank you for chatting with Microsoft Store, my name is Jerome how may I help you?
You: I would like to know where my order is
Jerome: I will be happy to help you locate the order , may I have the order confirmation number and the first and last name on the order?
You: name
You: order #
Jerome: Just for verification and security reasons, may I have the email address and the last 4 numbers of the credit card used on the order?
You: email
You: xxxx
Jerome: Let me check
You: when I ordered it, it said Surface 32 GB with Black Touch Cover Delivery Option: Ship it Quantity: 1 Product release date: your order will be delivered by 10/26
Jerome: Let me check
Jerome: I tracked it via FEDEX, Tracking no.: 544527898850 - On Schedule :Oct 26, 2012 3:30 AM: In transit : MEMPHIS, TN. Estimated delivery Oct 29, 2012 by 10:30 AM
You: what happened to "your order will be delivered by 10/26 "
You: and the fedex status has not changed since 4:30 AM
Jerome: We apologize for the inconvenience, due to unforeseen events, the delivery was delayed.
Jerome: They will update it as soon as they can
You: I was told by another rep this morning that I would recieve it TODAY
Jerome: Sorry to hear that, I understand you were expecting what was informed of you, the item is in route an will soon be delivered to your place
You: at least 3 days late
Jerome: We are trying to do our best with Fedex to expedite these deliveries.
You: what does that mean?
Jerome: We will try to deliver the items earlier than the 29th, we are still in the process of improving the delivery dates.
You: MS is not doing a very good job with the launch. If you are trying to get these out in the world, its is not a great idea to dissapoint the early adopters that would be out telling others to get one. There a many others with the same problem
You: It is my understanding that FEDEX does not deliver on weekends, how are you going to improve on delivery if they don't?
Jerome: Sorry to hear that, I am sorry personally you were one of those where did not get the product on the promised date. we are escalating these cases and trying to improve the delivery date.
You: So I guess I'm just out of luck and have to wait till monday
Jerome: We are still trying to resolve that and trying to come up with alternate solutions
Jerome: As of now, we have not yet still gotten any directives as for cases such as this, we will email you as soon as we get more information as to what we will do about this.
Jerome: We have not heard from you for some time. Do you wish to continue to chat?
You: I guess not.
Jerome: I am really sorry, I will escalate this right away and advocate what you have to go through and the failed expectations
You: Thanks
Jerome: Do you use this for entertainment or business? have you seen surface's other accessories? please check them out from this site; for orders beyond the launching date, the shipment expectations has improved.:
Jerome: Thank you for chatting with Microsoft Store, have a great day! Goodbye.
It would have been a better day if it had been delivered today

honestly, you come off sounding like a complete dick in that chat session....

I hope people are enjoying the surface. if not hope you get yours soon.

Odd - I ordered mine ( the 32GB version) on the 26th... the day of the release. I got an email saying expect it in 1 to 2 weeks.
... And just got it! And bonus... MSFT hasn't charged me yet. Even more odd.
No confirmation of shipping email. No email heads up. Just a surface that showed up.

Works great BTW. Woo hoo... iPad people in office were actually jealous because everyone else was all Ooooohs and Aaaaahs.



Hi All,, I can see that there are comments from all who preorderd the Surface.. Well i ordered mine just yesterday 1st November to UK Berkshire and received a confirmation on the order.. However,,,, so far there has been no email on the shipment yet.. I called up Microsoft and was informed that it would reach me ... in 4 to 6 weeks... Commmon.. ......

Anyone knows where we can escalate the shipment to expedite ... ????

Appreciate the help and thanks in advance...

I ordered mine today, and was hoping to find forums or comments on people that have ordered them since launch, and how long it would take to ship. I'll try to remember to come back here once I get mine. I went with free shipping...
Windows Central Newsletter
Get the best of Windows Central in in your inbox, every day!
Thank you for signing up to Windows Central. You will receive a verification email shortly.
There was a problem. Please refresh the page and try again.