Grab your helmet as Trial Xtreme 3 launches on Windows Phone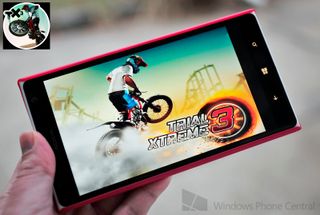 Are you a fan of trial games? Rushing through levels, pulling off insane stunts, watching the environment alter and/or be destroyed around you, while attempting to speed to the end banner in the quickest time possible can be quite the experience. Trial Xtreme 3, published by DeeMedya, has raced on to the Windows Phone Store with enough fuel available for hours of bike riding.
Reportedly accumulating over 50 million downloads cross-platform, it's positive to see the game come to Microsoft's mobile platform. If you're already a fan of the Trial Xtreme series of games, you'll definitely want to check out this instalment, sporting new innovations and other features. Did we mention that there are 112 courses on offer to run through?
As lightly touched on above, players are able to battle with friends' times and scores for the race title, while carefully controlling the bike to ensure their rider doesn't fall off when performing stunts mid-air. There are hundreds of mines, water pipes and even wrecked cars to navigate past.
​
Here are same features highlighted on the Windows Phone store listing:
New, advanced physics engine which revolutionizes gameplay
32 free levels out of a total of 112 levels across 6 worlds and hundreds of new obstacles
Play alone or head to head
Different high score table for every level
Customize your bike and rider
Play with phone's accelerometer or buttons
High resolution graphics for both phones and tablets
The graphics and visual effects are stunning, which shouldn't be surprising considering the fact we've begun to see some real good-looking titles hit the Windows Phone Store (Asphalt 8 and Temple Run 2 to name but a few).
If you're one to customise your characters when playing through such games, you'll be pleased to learn that there are numerous options available in-game to personalise your bike and rider, should you have the dosh to do so.
Since this is a free title there are some in-app purchases available to bump up your cash flow. You can purchase packs of coins starting from 20,000 ($0.99) to the massive vault of 1,500,000 ($49.99). Also, if you'd like to check out the Xtreme level pack, you'll need to drop a further $1.99 into the pot. Not a deal breaker since the game is essentially free and you've got a bunch of levels already and cash can be earned through play.
You can download Extreme Trials 3 from the Windows Phone Store for free. Thanks, guyjkh, for the tip!
Get the Windows Central Newsletter
All the latest news, reviews, and guides for Windows and Xbox diehards.
Rich Edmonds was formerly a Senior Editor of PC hardware at Windows Central, covering everything related to PC components and NAS. He's been involved in technology for more than a decade and knows a thing or two about the magic inside a PC chassis. You can follow him on Twitter at @RichEdmonds.
More and more apps on Windows please more more and more!

They're doing a good job, and it's only going to escalate as the year goes on..

Trial games... Never heard of it, but glad to see it on WP..

If you have an Xbox or ps4 I strongly suggest you keep your eyes out for Trials Fusion (at least I think that is the name).

If you have a x360 or PS3, also at least a decent PC, play Trials Evolution.

Trials Evolution is only on 360 and PC, no PS3. The only game similar to Trials Evolution on the ps3 is Urban Trials Freestyle.

This looks like a lot of fun!

Just got Trials Evolution recently...Too bad there's no Xbox Cheevos :-(

Evolution is great. Multiplayer needs a tweak though. The local player should always be at the front if their screen. And right on cue, yes I too would like achievements.

Cue the Xbox Live cry babies.

* WTF? Where the hell is Xbox Live?

"Freemium" and no Xbox ? No, thanks.

Closest ill get to Trials HD on XBL. Very good.

You mean closest to Trials Evolution :P

its got grt graphics uncharacteristic of a small size game!!

No Xbox
No 512MB
No 7.8 ....no buy /s

wait dude..i guess it is available for 512 mb phones

My issue is that its another free to play game that extorts in-game cash from you to enjoy the game. I would rather pay up front for a full game that be screwed over for a lot more $$$ through in-app purchases.

Then how come i download it from the windows store and i'm playing it in my lumia 520?

Are deadz and not for the newest games and apps for obvious reasons.

The first game was awesome. Simple, fun..just like Hill Climb Racing. The two after that was just boring and took a simple fun game and made it messy and "to much". To bad they never kept the spirits from the first one.

Could someone explain me all this "save xbox wp" that i've been reading here?

Many of us want achievements in more games and many of us only chose a WP over Android because of achievements (myself included) unfortunately the amount of Xbox enabled games released these days is very small. Myself personally, I have no problem with a free game without achievements though. I would never even contemplate buying a game unless it has achievements though.

I have to echo every bit of that.

Man i'm sorry to say this but "I would never even contemplate buying a game unless it has achievements though." that is, well for me, bullshit, i buy my games to have fun, and if all this "save xbox wp" thing is because of that, then screw it, games were made to have fun, not to show other people that you're better than them, all games todays have score, for me that's enough.

I totally agree with you.

People whine about xbox live. Some would rather not get any games at all than skip on xbox live. Go figure.

Agh stop crying xbox this xbox that, all you guys can do is cry! For christ sakes br happy more apps are coming for wp8

I am happy for more apps. The majority do not appeal to me, but it helps the ecosystem (should improve the ratings). Four Square, Facebook, Instagram, Twitter, the latest endless runner etc are apps I don't need, but others do. For me, the only games I play are the ones with achievements. They are one of the reasons I am here. They are also a feature that goes to the heart of the Xbox branding. It is the most underutilised USP on the gaming side.

Please tell me honestly, what do you do with your xbox achievments?

They are an excellent way of comparing my progress with that of my friends. They can reward me for elements of a game that I may not touch. Microsoft also offers rewards and discounts based on the number of achievements that you have. The achievements on Trials Evolution have been good as they have incentivised me to try different styles of riding. Aside from the discounts they are little trophies that show progress at a given task. In the same way that I got a medal for a recent mud run that I did. The medal is useless, as all medals are, but it shows I did it (and the medal I got was a real heavyweight one). Provides an excellent talking point if anyone sees it. The coloured things on a military uniform, aside from the rank bits, serve no military function. They just say "I was there" or "I did this", they don't save lives or win wars. So although achievements won't cure cancer or enable world peace, I like them. It is nice to have something shiny following a particularly tricky situation. People on here will always bemoan their exclusion from Windows Phone and Xbox 360 indie games, and rightly so.

I cannot believe you are comparing video game achievements with military awards and medals. You sound like a fool.

Read it again. I make the point that they don't win wars, save soldiers. Or do they? Nope. They provide no combat benefit. How does that make me a fool? It is an example, not an exact match, compare and contrast. Do you seriously think that completing the first mission on COD is akin to the risks taken in actual combat? Nope. Be real, I obviously did not say that xbox achievements were equal to war medals in terms of parity of effort. But on that note, what use are medals and emblems? I would expect that the answer is similar to mine for achievements.... They provide an "I did this" emblem, albeit usually for something more important than playing a game. Be real fella, and get a grip.

Call of Duty is a video game, it has nothing to do with being in the military. Just like achievements in video games have nothing to do with actual military achievements. It doesn't get any more real than getting an achievement in real life whether you are on the front line or in an office making decisions. Video game achievements mean absolutely nothing.

I think I have covered off the bit about them being very different. The differences are self evident. Now, please explain the USE of them.

Be real? You gotta be kidding me..

I hope you mean his argument? You surely cannot be in agreement? I have to be honest, it left me aghast. The two things were not compared as equally noble acts, they self evidently are not. For the removal of doubt, game medals/achievements do not = a real world combat medal. But people, please read my words before you go off on a frolic of your own. And then please explain the use, not validity or effort, of medals gained in military service. They are achievements, albeit real world achievements. I value them, I also value gaming achievements. Neither type will make me tea or boil an egg, but they both have relative value.

Just to answer your question Peachy, a military medal definitely has its uses. And they are HUGE. For example, the government will potentially support you financially for the rest of your life if you serve in the military (depending on what happens to you). You can flash that "I did it" medal at the hospital or at any store that offers benefits for veterans, and you'll have discounts coming out of your ears. You can get free medication, healthcare, etc. Just because you "did it." While an Xbox achievement is an "I did it" medal, and while it may once in a blue moon get you a present from Microsoft once in a blue moon (they passed out Xbox ones to certain players, but their selection wasn't determined by achievement points), it isn't even in the same vein as a purple heart. Comparing it to a high school baseball trophy would've been a better comparison. It also isn't worth passing up on good games and essentially running devs away from wp as a whole. There are WAAAAAAAY more benefits to windows phone than Xbox achievements, but that's a different discussion. Hope this answers your question.

Thanks for coming back to me. I just wrote a decent reply, but caught a button, so this reply will be a little shorter. Do your veterans not get healthcare for free? The actual point I was trying to make was regarding the little coloured rectangles. Over here, you get help without having to flash emblems, we don't need to use them as currency. I'm sorry for anyone that lays their life on the line for nothing. Do they not get help for just serving? Anyway, my point still remains, when used as currency, they still say "I was there", "I achieved something" for that they can be rewarded. The rewards are relative based on the importance of the achievement. For gamer ones, you get a sparse offering from MS which might equate to 5% off a £9.99 game. For the veterans, they get life changing rewards.

Discounts? Health care? Veterans should receive free health care everywhere. Video game achievements bring satisfaction to one's ego. I wasn't aware they bring discounts too. I've never owned an Xbox. I guess 5% off a video game is equivalent or better than saving lives. /s

Glad we agree. Everyone should get free healthcare, I couldn't agree more. In terms of the comparison to saving lives, I think I covered that off when I said the rewards are relative. Piddley little rewards on Xbox, much more substantive ones for serving, as you would hope. In conclusion, while achievements serve minimal purpose on Xbox, I like the feature and it enriches my experience.

Played for 2 minutes. I'd rather have the extra 202Mb thanks.

I downloaded it..its 585mb i also uninstalled it

I cant play this at all on my 620, frame rate is terrible

Yes, Apps, Apps, and more Apps. This should be the focus for 2014.

Where is tr2,subway surfer,angry birds go for 512 MB???

Not sure about all of them,but it seems February will see the release of atleast one of them for us.

Subway surfers will come next month in Feb anytime as told by kiloo. Tr2s any next update will be available for 512 MB ram devices but when no clue,still they havent updated tr1. And angry birds go is a flop game. We need games like:
respawnables,
injustice:gods amongst us
san andreas-coming soon
assasins creed pirates

Next month is too faaarrrrrr..:(

Subway surfer not coming for 512mb devices

Wp can not do this 60-70% users...

It will be coming. I am using official beta app for bug testing from Kiloo on my Lumia620. Its closed beta.

Just updated my 620 to GDR 3 with develop preview

When is danger dash coming????

It almost same as minion rush asking plants vs zombies 2 or candy crush saga (frozen free fall alternative) would be better ;)

Works well... Great graphics too... :)

Is this a port? What is the size? Oh well, my phone only has enough space for 1 game, better unistall subway surfers lol. Welcome to WP, the one game at a time club. rant over.

The size says 300M+ but my phone has 1.2G and in the end it says not enough space to install so I have to cancel.The cancellation froze my phone and I reboot manually, which causes my free space to become 600MB less. I can not release the space taken by installation anywhere in setting. The space is gone !!! Anyone know how to resolve this without resetting the phone?

Asphalt 8 received update

there should be no whining about xbl or achievements. we need every quality game that devs will make. Ive had a xbox for a long time and achievements are useless.

Trial xtreme 3 is nice game and I like it.trial xtreme 3 windows phone review http://toocly.com/trial-xtreme-3-for-windows-phone/