Trial Xtreme 4 – catching air and a little asphalt with this Windows Phone racing game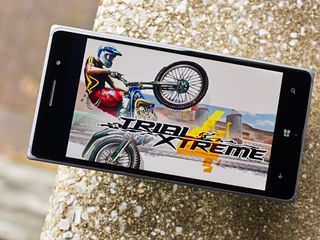 Trial Xtreme 4 is a relatively new Windows Phone game that puts you behind the handle bars of a motorcycle where you race opponents across some rather inventive courses. Courses that are filled with crazy obstacles to jump over, ride through and all too often find yourself eating the pavements as you wipe out.
Available for low-memory Windows Phones, we received a few tips to review Trial Xtreme (thanks everyone) and took the game out for a spin. It is not too shabby of a Windows Phone game to pass the time with but can be a little frustrating at times due to course difficulty.
Main menu options for Trial Xtreme 4 are fairly straightforward with options to choose your bike, customize your racer's appearance and launch one of the three gaming modes. You will also find links to your gaming achievements (non-Xbox), settings and to log into the game with your Facebook account.
Bike choices include four choices of motocross styled bikes, each with the capability to upgrade the engine, wheels, front or rear forks and body. Customizations options for the racer include helmets, shirts, pants, boots and prestige, which appears to be face styles. As you would guess, upgrades to the bikes and customizations to the rider will cost you gaming coins, which are earned during races or picked up through in-app purchases. In-app purchase opportunities range from 35,000 coins for $4.99 to 1,000,000 coins for $109.99.
The three gaming modes include:
Duel : The Duel Mode pits you against another Trial Xtreme 4 player for fun or bets up to 250,000 coins.
Tournament : Here you will enter the Tournament Arena to race in nine different competitions that will vary in prizes and availability (time duration). Some tournaments require entry fees (using your gaming coins) while some are free. While you do race against another player, you time to finish sets your ranking. The higher the ranking, the larger your prize at the end of the tournament duration.
One-on-One Race : This is the core gaming mode with Trial Xtreme 4 that is simply listed at "Play" on the main menu. Here you race against other players for coins, challenge a Facebook friend or just race for the fun of it. This gaming mode includes 63 racing levels that are progressively unlocked or you can unlock them early through in-app purchase.
Trial Xtreme 4 starts you off with the one-on-one races and once you finish the first three levels, the Duel and Tournament modes become available.
Racing controls are universal throughout the game with on-screen controls for acceleration, braking and bounce standard. You can choose between tilt controls or on-screen buttons to control your rider's balance (leaning to the front or back of the bike).
The race courses cover a wide range of environments that include construction zones, canyons and harbor docks. You will face an assortment of jumps, ramps, tunnels and other obstacles as you race to the finish line. The courses can be rather formidable and for the most part, gaming controls work nicely but there are times that your bike's handling can be a little frustrating.
For example, you bike will bounce up when you land from a jump (as you would expect) but there will be times that this landing coincides with a portion of the course that has a low ceiling. The end result often finds your rider smashing into the ceiling. I did find that leaning forwards helps minimize the bounce but a "duck" button would do the trick too. Then you have times where you have to flip or roll backwards to get your bike in the right position to continue down the race course. Some of these stunts seem to defy physics but then again, it is a video game and physics doesn't always apply. In these situations, it may take you a few attempts to get things just right so you can continue the race.
Should you crash and burn (and you will) Trial Xtreme 4 will toss out a few options for you to consider. You can continue on with the race, restart the race, view more games from the developer or exit the race. You are limited in the number of restarts available.
Overall Impression
While I liked Trial Xtreme 4, it comes across as a Windows Phone game best suited for shorter gaming sessions than a title you would want to invest a marathon gaming session with. Game play is challenging and the graphics/animations aren't terrible.
I wouldn't mind seeing the game start you out with little more benign courses to get you used to the gaming controls. I'm sure these race courses are a cake walk to some gamers but I can see them being frustrating enough to turn away others. It just felt as if after the first race, you are thrown to the lions.
All in all, I can see Trial Xtreme 4 being a popular title with the racing game crowd and strong enough to pique the interest of everyone else. The game is still relatively new in the Windows Phone Store and after five reviews, Trial Xtreme 4 is pulling down a 5 star rating. I can see things eventually settling down around the 4 star range for this Windows Phone gaming title.
If you take Trial Xtreme 4 out for a spin, let us know what you think of the game in the comments below.
Download Trial Xtreme 4 for Windows Phone (Free)
Get the Windows Central Newsletter
All the latest news, reviews, and guides for Windows and Xbox diehards.
George is the Reviews Editor at Windows Central, concentrating on Windows 10 PC and Mobile apps. He's been a supporter of the platform since the days of Windows CE and uses his current Windows 10 Mobile phone daily to keep up with life and enjoy a game during down time.