Trivial Pursuit & Friends coming to Windows Phone on Oct. 22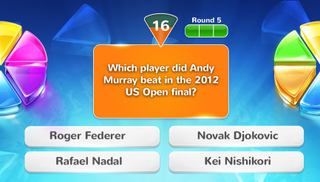 If you happen to have fond memories of playing Trivial Pursuit with your family in days gone by, that same experience will soon be available with some added twists on Windows Phone. Game loft has announced that Trivial Pursuit & Friends will be launching on the platform on October 22. The game looks to offer the familiar Trivial Pursuit experience, along with some added twists. Here's the breakdown:
More Ways to Play
Duel: A lightning-fast mental showdown
Blitz: A frantic trivia party with 4 players competing simultaneously
Events: Take on a brand-new, specially themed quiz every week like Zombie Apocalypse, Fashionista, Sports Champs, and Do You Like Chili Peppers?
The Ultimate Answer for Fun
Take the world-famous quiz game with you and enjoy it anytime, anywhere
Discover modern and social gameplay that lets you go head-to-head against friends… or make new ones
All the quality, content and challenge you'd expect from the Trivial Pursuit name
Thousands of questions available
6 categories to master, including photo questions
Join the Quiz Community
Create a custom avatar and show off your unlocked titles, badges and decorations
Chat with your friends and opponents in the game
Create and share your own stumpers for the world to guess
Gain experience and progress through the game to earn amazing in-game prizes!
Are you excited to check out Trivial Pursuit & Friends when it arrives on October 22? Let us know in the comments below.
Windows Central Newsletter
Get the best of Windows Central in your inbox, every day!
Dan Thorp-Lancaster is the former Editor-in-Chief of Windows Central. He began working with Windows Central, Android Central, and iMore as a news writer in 2014 and is obsessed with tech of all sorts. You can follow Dan on Twitter @DthorpL and Instagram @heyitsdtl.
Remember when it was on wp7

GameLoft is apparently only able to release old board games and mobile rip-offs of other franchises...

At least they are doing something.

Be happy and buy their games. At least they are releasing them...

Why would I be happy to play games that don't interest me? I played the one that interested me at the time (Asphalt 7), but I don't want to play Uno, nor do I want to try some wonky FPS on a phone with tilt controls.

Most trivia games are rip-offs of Trivial Pursuit, which existed before most video games except Pong.

What does that have to do with GameLoft's ripping off of CoD, Halo, NFS/Burnout, Angry Birds, and whatever else their "original" franchises clearly stole ideas from?

I am sure you have developed more games than them then? your games are 100% original and new?
or are you another complainer who doesn't have idea about game development... anyway, if you don't like it? don't buy it or play it if free. it's not like they have a gun on your head and tell you to do it. It's funny because all these games you call "rip-offs of other franchises" were available on PC many years ago. making them rip-off too... but I don't expect you to think with logic, you just want to complain about Gameloft... who at least are trying to give users more games instead of being like those developers of mediocre apps saying "ok we will not support WP, not enough users"

You are the absolute worst this community has to offer. What, I'm not a professoinal game developer, so I can't have an opinion on the work of game developers? Following that logic, since you've never made a reasonable argument or had a rational discussion on this site, you can't attempt to assess the quality of my comments.

It's there along with millionaire...

I would love it if I could challenge and play against friends on iOS and Android.

This so should be universal. Xbox one too.
...I want a steam stream app on Xbox one. I'd pay lots for that, board games are ok too I guess.

The Wireless Display app works great here.

If this is cross platform then excellent. If not then big bummer.

I hope this game has Indonesian language feature.

At least gameloft and disney keeps releasing new games for Windows Phone. Thanks guys!

Some people are from different world's totally. When a game is released, they complain it's a rip off and when the same game is removed from the store, they complain developer's are jerk. God help such people.

Keith for everyone sake, including your own, calm down and ditch the aggression and negativity chap, we respect your right to an opinion but what most of us really want to read is something constructive. Personally I decide if I like a game/app or not on it's own merits. If I don't, I may try to think how I would like it to work and make suggestions or I just move on to something else...my lifes a happy place ;)

Gameloft gets licensed to do games such as minion rush or others. They develop games on behalf of other companies too.

I'm hoping that the questions are regionally based. As a Brit I don't want questions based on American topics that I wouldn't be able to answer.

I have the current version of TP on the phone, hoping this one's universal.