Trucking 3D! Construction Delivery, a convoy of one for Windows 10 and Windows Phone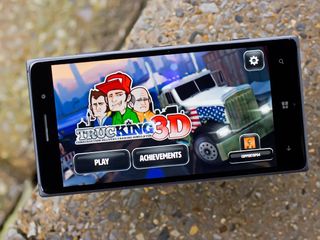 Game Troopers is quickly establishing themselves as one of the leading developers for the Windows Phone and Windows 10 platforms. Trucking 3D! Construction Delivery Parking Simulator hit the store shelves a few weeks ago and simply adds another quality title to Game Trooper's portfolio.
The Xbox gaming title places you behind the wheel of four different types of delivery trucks and challenges you across forty-two levels of play to make timely deliveries. Consider it a convoy of one that will not only test your driving abilities, but also your skills at parking. The game is available for low-memory Windows Phones and after playing the Windows Phone version of Trucking 3D! Construction Delivery Parking Simulator for a short time, it comes across as a fun game to pass the time with.
Trucking 3D! Construction Delivery Parking Simulator is the game's full title, but for this review we are going to scale things back and refer to the Xbox game as Trucking 3D.
Key features of Trucking 3D includes:
Forty-two levels of play, along with six special missions
Four different delivery trucks and four special vehicles
Four types of game play
Plenty of rewards and achievements to earn
The general premise of Trucking 3D is to safely and quickly maneuver your truck to a designated location to pick up an assortment of construction materials and deliver them as quick as possible to the job site. The parking challenge comes into play in that you will have to maneuver and park your truck on the center of a white parking pad before the materials can be loaded. You will need to center your parking in the manner when you off-load the delivery as well.
Trucking 3D has three gaming characters to choose from and the forty-two delivery routes are located in Alaska and Chicago. Additional levels for New York City are in the works. I cannot see any distinction between the three drivers (Green Jack, Joe Blue and John Ross), but it does afford you a chance to play the gaming levels multiple times.
Game play is designed nicely with your choice of steering controls that include directional arrows or a virtual steering wheel. You can set the steering controls through the game's settings that are accessible from the main menu. I found it to be a coin toss as to which is the best control option and it likely boils down to personal preference.
The gaming screen will have your stats running across the top of the screen with a few control options resting in the upper right corner of the screen. You have a control button to set your point of view, a button to shift your angle of view from high to low and a hamburger menu that pauses the game (with options to resume play, restart play or exit to the main menu).
You begin play driving a pick-up truck and will eventually graduate to larger delivery vehicles. Again, steering is done by either directional buttons or a steering wheel while your acceleration is dependent on your steering choice. The arrow steering controls will be paired with forward and reverse arrows that control your acceleration. The steering wheel control is paired with a sliding accelerator pedal that you slide up or down to control your speed/direction.
Each gaming level is a mission within itself and details of each mission is outlined on Trucking 3D's map screen. You have to pick up and deliver the materials as quickly as possible or before the game timer expires. Obviously the quicker the delivery, the better your score and game cash rewards. The gaming levels not only include the challenge of navigating the streets of your venue, but also dealing with traffic and weather conditions.
There are six side-missions where you will have the opportunity to earn a little extra cash by completing secondary deliveries.
It will cost you one unit of fuel to play a gaming level and if you successfully complete a level, that unit of fuel is restored. Should you run out of fuel, you will need to wait for the units to replenish over time or you can re-fuel through an in-app purchase.
For the most part, Trucking 3D was a fun time waster of a game. Graphics are well drawn up and the routes you have to maneuver through can be challenging. I did find it a little difficult steering the vehicles. You have to find the right balance of acceleration and steering. Too much of one or both and you slam into a house, not enough of either and the game develops a Driving Miss Daisy feel (your truck moves at a snail's pace). This balance is present in most driving games, but it just felt more difficult with Trucking 3D.
Overall Impression
In playing Trucking 3D! Construction Delivery Parking Simulator over the past few days, I found it to be a fun game to pass the time with. The controls can take a while to get used to though. The delivery missions are challenging and graphics are nicely drawn-up.
While I liked the game, Trucking 3D could use a little more pep. For starters, a sensitivity setting to help you get a better handle on controlling your truck. I also wouldn't mind seeing a garage added to customize or upgrade your truck. Granted you will get to use additional vehicles as you progress through the game, but being able to use your gaming cash to pimp out your current ride would be a nice touch.
Nonetheless, if you like driving mission games, Trucking 3D! Construction Delivery Parking Simulator is worth trying. It is available from both the Windows Phone and Windows 10 Stores with support for low-memory phones. It is a free Xbox gaming title with in-app purchase opportunities.
At last check, Trucking 3D is pulling down a 4 Star rating in the Stores, which is about right. If you've given Trucking 3D a try, let us know what you think of things in the comments below.
Windows Central Newsletter
Get the best of Windows Central in in your inbox, every day!
George is the Reviews Editor at Windows Central, concentrating on Windows 10 PC and Mobile apps. He's been a supporter of the platform since the days of Windows CE and uses his current Windows 10 Mobile phone daily to keep up with life and enjoy a game during down time.
Its a good game ang great graphics but its too difficult. I cant pass the first level

It seems like toy game.... Doesn't give any premium feel for driving.. I always prefer driving wheel to control but it is too hard to handle.. After fully rotating driving wheels vehicle wheels doesn't turn in full manner.. Always feels like half baked driving with very hard gameplay...
BTW graphics is good

I three starred both platforms and the game is not that difficult. Make sure you updated to the latest version. Use the arrow controls and when you get to the larger vehicles you can change the camera perspective to help you back into the parking space easier.

Completed last week waiting for New York add on.

I use buttons never can deal with tilt or steering wheel controls.

Highly sensitive steering

Way harder than real driving for sure. Uninstalled after a couple levels, will try it again. Better to be a challenge than too easy, but will try the other steering method instead of finger rotation. Suicide knob it is not.

Awesome game, had good fun with this.
Controls (steering wheel) are fine for me, not difficult at all when you get a feeling for it.
Thanks for the review George!

I wish Microsoft would add an icon in the Store to let you know if a game can be played with a controller like on the Steam Store.
Windows Central Newsletter
Thank you for signing up to Windows Central. You will receive a verification email shortly.
There was a problem. Please refresh the page and try again.