Tubecast brings 480p with 60FPS, HD Audio, and faster app launching with the latest update!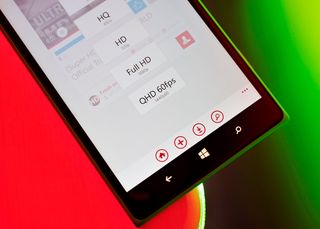 Third party YouTube client Tubecast has taken the Windows Phone platform by storm recently with numerous high-level updates. Today, version 2.9.8.3 has gone live and with it, numerous new features driven by user requests (aren't those always the best?).
Besides being able to flawless stream YouTube through DLNA, Xbox One, Airplay and more, Tubecast has pushed the boundaries with 2K video support and many other YouTube management features. The latest update adds another resolution and yes, it does feel faster.
Tubecast 2.9.8.3
New video quality: 480p SD (Standard Definition)
New audio download quality: HD
Faster start-up
Downloaded files disappearing -> bug fix
New DLNA smart TV support: Sony Bravia
Optimization of network data consumption.
PIP follows the side menu on opening
Bug fixes
The developer, Stephane, informs us that today's update improves the speed significantly in the app when launching. Previously on a Lumia 620 it used to take 4.5 seconds to start, now it's 2 seconds, The reduced network consumption is also a nice bonus for those on limited plans.
The update is now live, so grab it now! [Note: this update is very new, so if you do not see it yet, give it some time!]
Make sure to check out our tutorial and demo of how 'casting works on Tubecast!
Windows Central Newsletter
Get the best of Windows Central in in your inbox, every day!
Daniel Rubino is the Editor-in-chief of Windows Central, head reviewer, podcast co-host, and analyst. He has been covering Microsoft since 2007 when this site was called WMExperts (and later Windows Phone Central). His interests include Windows, laptops, next-gen computing, and for some reason, watches. Before all this tech stuff, he worked on a Ph.D. in linguistics, watched people sleep (for medical purposes!), and ran the projectors at movie theaters because it was fun.
Ok. This will be my third youtube apps after metrotube & mytube

Those are the only 3 there are..!! Rest are nothing..!!

All of them are worth a try. How dare you disrespecting those hard working Windows phone developers. Steve Ballmer would be disappointed in you, son. --mytube is my favorite though--

I use 4 mytube, metro tube, tubecast and tube pro... Interface wise metro tube is best but lately I've been encountering a lot of bugs...and tube cast is transforming into a beaut as I use it more and more Tube cast is surely winning this battle :D google can keep there aap away!

Mytube will be updated soon with new interface according to dev.

.maybe you haven't seen the new mytube..the beta kicks some seriousness to the competition..

Yup. I haven't seen it yet since beta registration already full.

But the public version has not received the beta's features for months!

Sadly it would not be appearing now due to app name problem in Windows store. developer has to change name of mytube or else figure something out.

...as well as the Windows 8.1 version on the way, which I personally cannot wait for. The YouTube offerings on Windows are weak. I'm going to ry this as well though.

Yeah, I found everytime there is a backend change MetroTube breaks down whereas oddly Mytube works flawlessly. Not sure on Tubecast however as haven't had the app long enough.

Just wait for MyTube the new UI and features will get the app to the top again just give the developer some time so no one have any bugs or so
The latest update got the app buttery smooth u can expect a release in 2 weeks maybe

It's not about the bugs. MyTube should've been released 2 weeks ago , but Chris says it's being delayed due to the name issue.

I think MyTube has the best UI. But tubecast is nice too and has a lot of features.

I haven't really used Tubecast. I'm defintiely intereseted though. Does it stay synced to your xbox once you pair it? I don't want to have to keep pairing it over and over again.

There is no pairing with Tubecast ;) enjoy !

Some very nice UI elements. I like the icons along the right side that slide slightly to the left to show the words. (They could eliminate the hamburger munu that shows up sometimes!) Microsoft could learn from them.

Totally agree. This app is well done!

Absolutely brilliant app. With all the tech and programming they done so far, they could turn this into a full blown DLNA app to replace Lumia Play To with some new features. Stuff like streaming your own videos and the likes.

And here I am still waiting for the myTube update :/

You are not alone. Really thought it would be here by no :-/

It'll come soon enough! And as the dev says in every message.. Cheers!

Well, he said by the end of 2014. It's the second week of January and the same message is there... No news since then :/

I participate in MyTube beta. There is also a 480p/1080p/60fps video support. MyTube is almost ready, but beta participants opted for additional period of beta testing to eliminate bugs, provide complete translations and introduce some minor UI changes before final release... Developer is working really hard, I assure you.
PS. New design is stunning, you'll love it!

Really? A message popped up on mytube earlier about it for me.

Well, I got no new messages, even if I go to "about + extras", I get the same message from late December.
And I know I sound impatient, but I'm just disappointed because TubeCast didn't exist by the time I bought myTube, and TubeCast is taking over by its rich features and the fact that it's free.
I could switch between apps, but I like to have one app for each thing, and I don't wanna stop using myTube because it's paid.

This is so true.. I bought that app to and the dudes been saying coming soon for over a year. I moved on to TubeCast.

.you should see the mytube beta.. You will be impressed..

The beta is full, I've been trying to apply for it for months

I love the apps which are made to Windowsphone which connects other devices to sync or cast . But what I need is music integration to car music system just like iPod integration to Mercedes Benz. And also Wi-Fi file transfer and remote access to DSLRs and Semi SLRs . That's really need feature .....

Tubecast has one of the best UI design, and I love this app.


How does this app compare to metrotube? Haven't tried it yet and wanted to know if there is any difference.

It's better than MyTube to me. It's the best YouTube app I think.. Amazing app!

Coming from a Metrotube user I would say tubecast is better. I get a lot of video error from metro tube and thank god tubecast is available. Not a fan of mytube's UI though.

Better design. More resolution options. Has 1080p and 2K, also 60fps 720p-2K rezs.

This is 2nd for me after myTube..!!

Have that too..But don't use em

Wher is myTube update guys?

In Antarctica..Takes time coming from there..

Hey Abishek, I'm currently unable to use the name "myTube" on the Store, that's the biggest reason the app is delayed. I was planning to rename the app on New Year's Day as I thought the situation was hopeless, but I got some good news about the name issue, so I've decided to wait until the I can use the name rather than renaming it. Essentially another developer has the name reserved on the Store, and I'm waiting for them to hand the name over to me. I won't go into too much detail, but Microsoft support is kind of slowing it down. The other reason is that I posted an in-app poll a week ago asking the current beta testers if they think the app is ready, and they mostly voted no. So I've been doing a handful of final improvements since then. Hope this clears things up a bit :)

Thanks for letting us know Chris. I'm dying to get the update from you already.
P.S. It's @Bioboyii :P

Ah yeah, nice seeing you here :)

I hope Ryken, it'll worth the wait. Al d best!

I like your app too..!! Best UI you have in there..!!

Thanks man! Great to hear from you, and all the best for myTube!

Me to, It replaced metrotube on My phone

I kinda switched to TubeCast, although I enjoyed testing for you guys and nice talking with the developers as well. Thanks Blake.

The word you ment to write was flawlessly not flawless. I would not describe the streaming as flawless it often glitches as in your previous article about this app. That being said I do like the app, have purchased it and regularly use it.

This app is nothing short of phenomenal. I've never seen an app do youtube like this one does. Fantastic work..

Great app, however have two requests and wondered if anyone having same difficulty or not: 1. Cannot see the Liked videos from any other devices however other YouTube apps show them fine
2. Cannot remove or organise the playlists including watch list

moreover, cannot play a playlist ...

I'd love them to support Roku streaming

It's dumb that it supports Apple and Chromecast only, sure people buy those but why not Roku too? They have a larger market share than apple and chromecast combined. I got the whole house here outfited with Roku devices.

The Mate Tube HD downloader app is a very good YouTube download app as it supports SD card support.
A must have feature in this otherwise beautiful app.

Awesome YT app, the casting to a DLNA device is flawless for me and I use it all the time. Instant buy as of the last version a couple weeks ago.

using both tubecast and mytube both of them are great apps for youtube on a second note vlc got updated too

http://www.windowsphone.com/s?appid=dd4847fa-df5e-4582-a6b2-cf7df9f7841c Link for Mate tube

Better than the YouTube app on my Android tablet, sick of watching a damn commercial for everything I click on!

Great app, but why aren't there more apps that can cast to chromecast?

Awesome but when will these popping sounds disappear from all these apps when sliding through the video and the audio has to resume? Must be shitty API's from Microsoft!

Yes this is an API bug from Microsoft, and they didn't plan to fix it...

And its fucking annoying omg!

This app is slowly becoming my go to app for youtube and this update has just made it even better.

Mytube is still the best, works perfect and fast.

I completely agree with you.

Funny, I've bought the PRO version and there is no update available. Are there any differences between PRO and non-PRO versions?

was just thinking the same thing. No update for the pro version?

Go to your app download history and click on the last tubecast pro update. That will bring you to the new pro update.

Tubecast is my main and only YouTube client on my daily driver Lumia 1320. On my side phone Samsung ATIV I use Toib.

Hey Stefan, have you manage to update your ATIV S to WP8.1.1? Is it ATIV S i8750 or T899M variant?

Hey.. Yeah I'm running official WP8.1.1. I have the i8750 variant

It's the official, not through PfD, right? How do you like it so far? I got mine on official WP8.1.1 around 2 months ago with NEE and it's like a new phone now. It was working great on WP8 GDR3, but now with WP8.1.1 it's even better, it is faster, battery life is awesome, etc. :)

Yeah.. I'm rocking the same csc NEE. Battery life is improved. Also it seems some screen optimizations are included..the screen pops a little more..lol.

That's true bro :) Guess Samsung did a great job of adjusting their latest FW for WP8.1. You know what's funny here? Remember how everyone was bitching about Samsung won't deliver FW for WP8.1 and how ATIV S won't get WP8.1 while other Nokias start to get WP8.1 and then Samsung without any announcement did All-In-One move and push ATIV S with the latest WP8.1 along with their firmware and overrun Nokia/MS in updates. Tech world can sometimes be very funny place :) LoL

Love this app, wish it was a universal app so I could use it on my SP2!

When save to videos folder????? That's a must

I use Tube HD for some months now and recent updates made it very fluid and stable and I absolutelly adore it, never crashed so far. I have tried MetroTube, myTube, etc, all of them awesome awsome youtube apps, but I kinda find myself continue using Tube HD (Previously known as YouTube HD by Idea Creator Corp). Whatever developer is, since it develops for WP it has my FULL RESPECT and SUPPORT. Anyway I have never tried Tubecast, so i am just wondering, does Tubecast has full black theme like myTube, Metrotube and Tube HD have or it is just white theme?

Yes, Tubecast has a full black theme. And it looks frackin awesome.. Lol

Thanks, installing ATM :)

My favorite had been Mytube but since I got this, I'm starting to love it more and more.

Pandora also got a update!!

I'm curious: Is there any app that is able to play all videos from playlists one by one, as it is possible from website?
If you know one, please help :)

myTube https://www.windowsphone.com/en-us/store/app/mytube/d994dce8-38f9-4ed3-a...

Does this app have full Chromecast support? I mean without any missing features? Posted via the Windows Central App for Android

It supports play, pause, rewind, forward (with preview thumbnails), volumne up and down, closed-caption, etc.

Sorry Daniel but 480pis already available..! From previous update..?

This is my only Youtube app.

TubeCast is truly one of the best (if not the best) mobile youtube app. The other day I had a request for the app, so I contact the developers and their response was immediate, they told me that they were unable to create my thought only due to the removal of ''background audio agent'' API on the latest Silverlight 8.1 . So once again, blame Microsoft! Webrox is on fire!!

What was your request if you don't mind me asking? Was it to be able to stream audio only, for DLNA speakers and such?

Nope :P I asked them if it was possible for the Lumia 630 to playback full screen video (hideable nav bar).. But hideable nav bar for 864x480 screens, is only available in silverlight 8.1 which lacks the essential background audio agent API, so they are using silverlight 8.. I don't use the cast option so make sure If you have any specific request, feel free to contact the developers (they can give you a clear answer/ work around your request)

What's the difference between Free and Pro. Need to know before I download.

It's explained in the article's last paragraph...

The pro version hasn't received the latest upgrade. Well, mine hasn't.

That's nce. But I have issues with even playing 720-1080 p videos on my lumia 1520 at home on wifi. Usually the wifi connection is far better at home than outside the house in the Netherlands and Europe. So I'm worried what impact this would have of being able to enjoy these audio and video improvements at all. I think the time has come to ask internet providers upgrade their wifi gear and terms of service for improved wifi band usage outside the home. Time to break open my savings account.

Just off topic. How does this actually work?

Does it download videos to SD card?

A beautiful example of how a little developer is better than a global corporation like Google.

myTube promised and Tubecast kept the promise.

Best YouTube application after Metrotube because both can download videos that are larger than 20 MB over the cellular data:(

This has replaced toib for me.
Windows Central Newsletter
Thank you for signing up to Windows Central. You will receive a verification email shortly.
There was a problem. Please refresh the page and try again.