Tubecast, a nifty Windows Phone YouTube app for casting to your Xbox One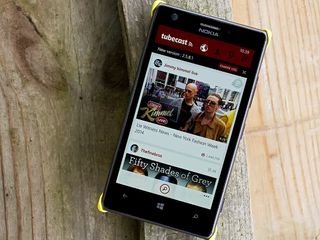 Looking for a decent YouTube Windows Phone client? It's not impossible task with quality choices such as Metrotube and myTube available. Tubecast is another Windows Phone option that gets strong ratings in the Windows Phone Store and hopes to garner some attention as well.
Tubecast will not only let you watch YouTube videos, tap into your account, pin videos to your Start Screen and comment/rate videos but it will also let you cast your videos to you Smart TV, Chromecast or UPNP/DLNA device. In exploring Tubecast over the past few days, while there were some glitches experienced, overall it came across as an appealing app worth trying.
The layout is fairly simple with Tubecast. You have two main pages that highlights videos based on your profile and global recommendations, a page listing various YouTube video categories (Best of, Music, Comedy, Gaming, etc.) and a page listing any preloading videos.
Settings, FAQ, links to rate the app, command to pin the app and a link to report problems can all be found under the three-dot menu on the main pages. Key settings for Tubecast covers:
Theme colors
Language choices
Turning on/off Live Tile transparency
Regional choices for videos
Synchronization with Music and Videos Hub
Auto play on/off
Ability to show memory usage.
Your profile page will give you access to your news feeds, subscriptions, your videos, watch lists, viewing history, favorites, liked videos, playlists, and subscribers.
Video Playback
Video channels will list the most recently added videos along with control buttons that give you the option to return to the home pages, unsubscribe, pin the channel to your Start Screen and search the channel for a video.
Individual video listings will offer you the option to return to the home page, add the video to your playlists, pre-load the video and search for another title. You also have a handful of options under the three-dot menu that include copying the video URL to your Windows Phone clipboard, share the video, pin the video to your Start Screen, view a tutorial on casting the video, report a problem and access the app's settings.
Playback controls are overlayed on the video playback to control quality of playback, language choice, cast options and expand playback to full screen.
Performance
Video playback was spot on but it did seem to take a little longer for videos to load than normal. There was also a minor quirk with the playback menus not loading at times. I would tap on the quality icon and the screen would fade but the menu would not pop-up.
There are a lot of factors that come into play with playback speeds and to help things out a little, Tubecast does have a pre-load option. This can allow you to take care of other things instead of watching the spinning wheel as the video loads in the player.
As far as casting is concerned, the process was simple. Just have both your Chromecast, Airplay or DLNA device (e.g. Xbox One) and Windows Phone on the same Wi-Fi network. Click the cast button on the video overlay to watch the video on the remote device.
Now here's the catch on casting. The trial/free version will allow you to cast 20 video. To unlock the app and have unlimited castings, you'll need to pick up the PRO version ($1.99 through in-app purchase or Store purchase).
Overall Impression
I have to confess I'm not a YouTube junkie. I do visit YouTube often from my laptop to catch up on CinemaSins but rarely YouTube on the go.
Having said that, I found Tubecast to be a very user friendly YouTube client app. I like the full access the app offers for your YouTube account and the ability to pre-load your videos.
There is another feature that really stands out in my opinion that more developers should incorporate into their apps. It's a small feature but the home control button is found throughout Tubecast to send you back to the app's main pages. Too many apps lack this feature, which requires users to hit the Windows Phone Back Button multiple times.
There were a few performance issues, mainly the ghost menus, but nothing too detrimental. I do like the flexibility of using the free version if you don't need to cast videos and $1.99 isn't a bad price for the PRO version if you do have the need to cast videos.
While it's debatable which Windows Phone YouTube client is the best, I think Tubecast earns its way into the discussion. The app garners a 4.5 Star rating in the Windows Phone Store, which isn't far from the mark.
Tubecast - Windows Phone 8.x and 7.x devices - 4MB - Free - Store Link
Tubecast PRO - Windows Phone 8.x and 7.x devices - 4MB - Trial / $1.99 - Store Link
Windows Central Newsletter
Get the best of Windows Central in in your inbox, every day!
George is the Reviews Editor at Windows Central, concentrating on Windows 10 PC and Mobile apps. He's been a supporter of the platform since the days of Windows CE and uses his current Windows 10 Mobile phone daily to keep up with life and enjoy a game during down time.
Did a Slovak translation for this app :)

Congrats, every bit of contribution from WP Community would make WP with better Apps and grow....

Thank you. Totally agree on that :)

Better than Xbox one YouTube app. And it faster. It skips Google underperformance for Microsoft products.

Is it better than Metrotube?

Yes. Metrotube lacks of dnla which is the main idea of this app.

But can u jsut play the sound without the video as u can on metrotube?

I'll stay with myTube beta wich is awesome. Y'all see soon.

Its alot better than everything I have ever tried before

When is the update coming for my tube?

I really don't know. All I can say is that this is a universal app and that the beta works flawlessly.

@rykenapps said it might take one more month to incorperate all the current myTube features to the new myTube (WinRT). The current beta is quite capable, but has only about 70% of the myTube features. So, it might get released by mid of october.


Does it support playto/dlna to a device? Is playto supported on wp?

Well, unless it can cast to my Chromecast and DLNA tv, I'll stick with TubeCast. It appears to be the closest thing we have to a full featured YouTube app on WP.

Does anyone know if there's a YouTube app which gives you notifications when a new video is uploaded by channels you've subscribed to?

You should just be getting emails for that.

Just keep checking your subscriptions on the normal browser

That's what people say about android before trying WP
Tried it first ?

Great app. I've purcheased at first look.

It's definitely a great and very useful app, I wish it has a 4k video output so that I can stream some 4k YouTube videos on my Sony 4k TV

I've been using this app since a couple of days and I think (imo) it's the best YouTube app right now.

Tubecast is an amazing app, I've been using it exclusively for a while now.

Perfect app for DLNA and AirPlay. Developer is very friendly. I am using this application fir morethan a month. I wish there was a similar app for Windows Store as well.

He to connect dlna our windows phone to dlna tv

And casting? Well now. Lets check this out shall we?

Personally assisted the developer in testing the DLNA. Works perfectly. Tested home with an LG TV, Xbox 360 and Xbox One.

He continues to have some challenges with the LG Smart TVs, but he's working hard at it and updating the app frequently. I've been using the app for well over a month now and been very impressed with the pace of development.

Between this and MyTube, my favourite youtube apps. When I'm at home n I want to watch youtube on my TV this app is perfect!!

Best ones I've seen:
One Tube
Metrotube
myTube
Tube cast
Or just use a C Browser 3.6 or 4.0

Best app for YouTube DLNA broadcasting. Once a lot of the bugs were cleared up, it was well worth the 1.99$ purchase.
There is still one major issue though; when you send a video to your TV via DLNA, you can't use other apps or the video on your TV stops.
You can only leave the app open, running in the background alone, or with the lock screen on.

In fact, it's by design for windows phone system. Windows phone pause the app when you switch to other app, so the HTTP connections are also paused... and we can't make it better because it's like the system works and MS doesn't allow that. I'm sure you will understand :)

This is perfect, i've tried them all, but this one is perfect. I Watch youtube videos on my lcd conected to my laptop hdmi out. I use xbmc as a dlna player on the second screen(the conected lcd) and i send the youtube videos stream from this wonderfull app. They should add the ability to stream phone library too(like Nokia play to) for streaming the photos, videos and music from our phones.

Before I tried it I was kinda "nah, I really like myTube, why change it?". But damn! This app is great! Really great! One thing is for sure, we have plenty of amazing YouTube clients and weather apps..

Who needs google's support!

What's the fuss about DLNA playback. Any ordinary youtube app or even the internet explorer browser support youtube playback once you pair your smart device with youtube. http://m.youtube.com/remote_pairing
You can do this with loads of youtube web wrappers. And once you pair, you don't have to do it twice. Been doing this for more than 2 years.

Is there app youtube app with subtitles availability?

The one....in the article...

Great App clean and fast. Love that Videos play while selecting a new one. I guess I stay with it. Thanks for the tip

Yes. Support was added a couple of versions ago.

So WPCentral guys are CinemaSins fans. I Love you guys more each day

Have been using this for some months as it seems to be the only app that supports Chromecast. Top notch. Only bug bear is the constant review nagging!

Maybe fill in the review?

You'd think that'd do it wouldn't you? But no, it still keeps prompting after that.

If Tubecast had a preload option like in MetroTube... I would switch

It has a preload option, actually.

It's fast, fluid and looks good. I'll use this as my primary one now. The playback doesn't always start, but a press on the "pause" button in the middle of the screen and "play" again makes it run smooth. That's something that should be fixed...other than that, it's great!

It's fixed in the last version 2.6 :)

Been using the free version for months. I only use it often since I don't access YouTube too much but haven't found any issues. It's better than the old myTube (didn't try the beta).

If they can chromecast, why can't Netflix get that done for their app

Tried it... Good but I still prefer MyTube over any other app. It's the very best to me

great app using it since its launch

Got it weeks ago. Paid it because it's really awesome, well made and in my language (Italian). enjoying it every day with my Xbox one, better and faster than the official YouTube on ios. My friend wants this app on his iPhone lol

Great app! This is very special and more functionality

Yesterday I was thinking why WPCentral was not recommending this app already. Good to see it happening.

Hi, Thank everyone for the nice comments, your support and of course George for the cool review. We are actually testing a new exclusive feature available in few hours : the annotations ! Then we will finish the playlists feature. Several little bugs are fixed so don't forget to update in few days :). All the best Stephane Graziano : twitter.com/@poppyto

had it from a long time, great app for youtube

Can I turn off the live tile sync? I just want the logo as tile.

For sure, just delete the live tile, go to the app list, hold tubecast icon and "pin to start" :)

Yes, just delete the live tile, then hold the app icon in the WP Home List and Pin to start :).

Rudy should make a youtube and google + app and call it 6tube and 6+

In my opinion , mytube is the n best app in marketplace

mYtube is best app(Imo) it has each and every feature I need. If they just add support for cropping screen and download video to sd card that would be it. Complete.

You can download videos with this app.

Stunning app but it couldn't play under background???

No app can cast under background, it's because windows phone cut the current connections when you switch apps. As you imagine, it's a system limitation, we can't make him better. If it was about just playing the video on the phone, you can activate the option in the settings which transfer video to background audio while switching apps :)

Hi Poppyto, thanks for the tip, it worked well :) I've used Mytube and It's quite difficult to compare the two apps. However, I suggest the developer should fix the following issues to perfect his app (honestly speaking, the UI is very appealing and to me this is an incomparable advantage)
1. It sometimes took a long time to activate background sound (longer than My tube); as I often playing music in the background this criterion is vital to me
2. Playback problem. When switching between different videos, it still played the old one instead of the new one I chooses
3. Stability
Btw, this app impressed me much. I will support the paid version. Keep it up. Cheers

No problem, can you report it to the support through the contact button in the app ? (I can't handle it now as we receive a lot of email everyday).

I tried the app and for me it makes my phone run hotter when doing on screen playback. Anyone having this issue?

Looks pretty amazing!! Works perfectly.

I'll stay with myTube. BTW, myTube does have the option to show the home button in any screen that you are on, it's in settings ;)
Windows Central Newsletter
Thank you for signing up to Windows Central. You will receive a verification email shortly.
There was a problem. Please refresh the page and try again.