TuneIn Radio Beta app listing for Windows 10 appears, but you can't get it yet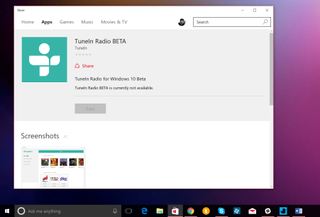 The popular TuneIn Radio streaming service had already confirmed that a Windows 10 app was in the works. Now a listing for the beta version of that app has appeared in the Windows Store. Don't get too excited though, as the app itself is not yet available for download.
This shows that TuneIn Radio, which offers users access to over 100,000 streaming radio stations, is serious about supporting Microsoft's new operating system. It released a Windows Phone version some time ago, but has not been on top of updates for it. More recently, TuneIn Radio launched an app for Microsoft's Xbox One console. There's no word yet on when the Windows 10 beta app will go live.
Source: Windows Store (opens in new tab); Via: WinBeta
Windows Central Newsletter
Get the best of Windows Central in your inbox, every day!
Why the f*ck all apps are always beta in the Windows Ecosystem??? Never heard of a beta app on iOS or Android!

Because you are not using that ecosystem. Its a part of development u need to understand.

Um, iOS and the new OS X both have/had beta versions of the entire OS. Difference here is Windows 10 is only like 1/3 done. We still need Mobile and Xbox. Toss in the Bridge projects and HoloLens and this ecosystem is still in the works.

Even more odd is the fact that developers want to have people BETA test their apps before it goes live and for that it needs to go into the store for download. Then websites like Windows Central notices that and posts an artical article letting people know the TuneIn is testing out a new app.

Never used Android, then. Beta apps are frequently available.

Hope it is better than 8/8.1 on phone and PC. Both have become very frustrating to use. Love the service though.

Yep. Service is great, but the Windows 8 app sucks.

New day, new major app showing up as an universal windows app... Seems like something is happening!!! :D

Well, you'd wish it was happening sooner.

That screenshot looks promising!

looks like the android app in that particular screenshot.

Maybe it is. Using project Astoria. Isn't that pretty much the point?

I wonder how Radio on Groove stacks up to TuneIn............
I really think Groove can be a "one stop shop" service for W10... With Windows market share Groove should eventually be the most popular music service... But, MS doesn't know how to Rock it....
........
For example, Groove doesn't yet have any social features... You can't share what you're listening to on FB???? Really? Some of these features just have to be added if MS wants to compete with these other services... SMDH.

You're comparing apples and oranges. The only thing those two have in common is that they're both called radio. Radio on Groove is like Pandora and allows you to find similar music to an artist that you like, TuneIn literally takes stations (like the ones you listen to on the radio) and streams them to your phone.

Actually, I'm comparing Apple's to Orange's, pairs, peaches, cherries, mangos, tomatoes, and tomatoes.......
.....
Do you catch my drift?

Jas00555 you shouldn't have replied to him...

Well, he is stating the obvious, but if he wants to chat then that's his prerogative... Doesn't make any difference to me.

I hope so. I use the desktop to listen to my morning talk shows and the app often looses sync. This is partly because the wifi signal gets lost in some parts of my house. But not always. I do not think my good internet connection is the primary problem.

Just fix the current version before you worry about the next generation. Tune in on ios is solid and stable, but the 8.1 app is so flaky, buffering all the time....

The mobile version works fine the latset preview build 10536.