Turn your images into comic strips with the Windows Phone photo editor PhotoMic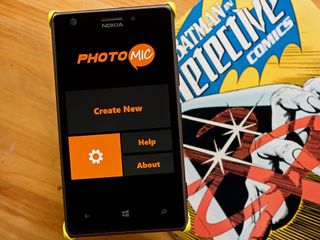 PhotoMic is a Windows Phone photo editor that gives you the ability to add text bubbles to your photos, creating a short story with your images. The app also has the option to create a collage from your photos that allows your images to take on a comic strip appearance.
PhotoMic has a wide range of templates, fonts and bubble callouts to help you customize your Windows Phone pics. You also have the ability to add an HDR or sketch effect filter to your final product before saving.
In using PhotoMic over the past couple of days, we found it to be a neat Windows Phone photography app for creating unique, fun photos.
Simple layout, friendly interface
PhotoMic greets you with an uncomplicated menu that has options to access the app's settings, view the help screens, view the About screen and begin the creative process. The only setting present is turning on/off the transparent Live Tile.
The help screens do a nice job of walking you through the creative process but the user interface is fairly straightforward and most can sort it out by jumping straight into things. Still, it is nice to have a help section available if the need arises.
Your first task in building a PhotoMic image is to select a template to use with your photo(s). The app has twenty templates to choose from that range from a one photo template to a five image collage. Just be aware that the free version has six templates available. If you rate the app in the Windows Phone Store you will get access to ten additional templates (marked Extra) and if you upgrade to the Pro Version ($.99) you will have access to the remaining four templates.
The Pro version also opens up more bubble callouts, fonts and the ability to tag images as favorites. But fear not, the free version includes everyone's favorite font - Comic Sans.
Once you have chosen a template you will have the option to choose between a full-screen and a square (Instagram ready) sizes. When the blank template fills the screen, just tap on an empty frame to choose what image you would like to use from your Pictures Hub. Images can be flipped or rotated as well was zoomed in/out by touch.
Editing tools
Once you've populated the template with images, your next step is to add your bubble callouts and text. Up under the three-dot menu you will find four control buttons and the ability to save the image as a draft. The control buttons will let you edit the template frame, pull up the image editing tools, add a bubble callout and save the image. These control buttons will also help you toggle between elements once you have everything in place and need to fine-tune things.
You can edit the Frame by changing the border margin, border thickness, border color, grid color and background color.
The free version of PhotoMic has eight bubble callouts to choose from that can be flipped and rotated as well as enlarged, shrunk or repositioned by touch. Text options cover font and size as well as positioning through arrow controls.
Once you have everything set just right, you can save the image as a draft or as a final product. When saving the image as a final product, PhotoMic will give you the option to save the image as is, with an HDR filter applied or with a Sketch filter applied. Square images are saved at a resolution of 480 x 480 pixels at 72 dpi and full screen images are saved at a resolution of 480 x 800 pixels at 96 dpi. Not exactly ideal for printing but just right for sharing (email, SMS, Instagram, Twitter, etc.)
Overall Impressions
They say a picture is worth a thousand words and PhotoMic is a fun way to put a few of those words on to your photo. The single image frame is great for one line captions while the multi-framed templates will give your images a comic book style.
The interface is user-friendly but may take you a while to get used to. You will be inclined to use the Back Button but just remember to access the control buttons beneath the three-dot menu to switch between editing the bubble, image or frame. I wouldn't mind having the option to keep these buttons viewable in PhotoMic's settings as a navigational reminder.
As far as the filters are concerned, the Sketch filter does a nice job of things but the HDR filter comes across over-saturated and probably needs a little fine tuning. To continue with the suggestion box for PhotoMic, I would like to see a Sepia or Black&White filter added to the mix as well.
Overall, while you can find room for improvement, PhotoMic is a fun photo editor for your Windows Phone. It may not be for everyone but if you're looking for a way to add dialog to your images, PhotoMic is worth trying. The app nails down a rating of 4.5 Stars in the Windows Phone Store, which we see as spot on for PhotoMic.
PhotoMic – Windows Phone 8.x – 3MB – Free – Store Link
Windows Central Newsletter
Get the best of Windows Central in in your inbox, every day!
George is the Reviews Editor at Windows Central, concentrating on Windows 10 PC and Mobile apps. He's been a supporter of the platform since the days of Windows CE and uses his current Windows 10 Mobile phone daily to keep up with life and enjoy a game during down time.
Nice app, but hate still have premium designs and I thought it can add some animations and something but its just normal app

Yah I can see what you're saying, but Daniel is just helping another app get a spotlight on them. I'll try it out for sure see how well it is. And if its like the other picture apps I have it's one less thing I don't need, but if it brings better features then I may keep it and get rid of a different one I have that's not on par with its features

This app is nothing but a collage with text bubbles. This all can be done with other apps.

So? It's a well done app that many people do not know about. Please be more courteous. We do not just write articles for you, abond32, but for many others as well.

Naw not well said and try saying it yourself and you'll get the same response I'm going to give Daniel.

There was nothing not courteous its my opinion just like most of your articles are yours. "So" is correct and I don't think you write any articles for me so you be more courteous with your responses Daniel.

Here you go! Great app! Installed it a few days ago and my collages didn't look like comic strips. They look like collages with filters and text bubbles. I think ill stick with phototastic pro. Both apps are great. Thanks developer.

I dunno, I thought it is rather well done for such an app. Edit: Also, looking at your posting history, your comments are nothing special at all. 99% is just negative "I hate this" "This is boring" "This is ugly". Get a new record, because your tune is old.

Thanks for keeping them honest. George spent enough time writing this up, he deserves more than "Not special at all"

They're such ungratefully people who don't appreciate the value of your work. Nobody will like every article, but when people complaint about everything there's a problem that needs to be addressed.

Haven't seen anything like this earlier in the store..Perfect for Instagram and Facebook Trolls!!

Me too :cheers: Waiting for download to complete..

Nothing is there in dis app

I was just searching for an app like this. Thanks guys!

This is nice. We need this on WP

I'm looking for app that is more like photo caption but with more customizable text bubble. Photo caption seems never been updated since its release

Not yet downloaded but from the screen shots it's looking interesting.. the people who think this a bad app nothing new pls point out the other app that can do the job..

I have a photo cartoon ap, a collage ap, and a text bubble ap. Nice to have all 3 functions in one place.

I liked MangaCamera to bad its an Samsung exclusive on windows phone

Was hoping for something more like Bit Strips

Yea need a Bit Strips App!!

Daniel could you write an article about collage makers? I want to make a collage of my favorite album covers into a start screen :D

Use Photostatic or try seaarchin for more in the store..

Do any of you know a great meme comics maker? I Want to stitch my picture and a meme picture on top of it

You can't resize bubbles. Bah...

Yes you can. Two-finger pinch to zoom.

i hope they can also be rotated =)

Nah, I don't like it, it seems pointless to me, maybe for someone else

This will be a lot of fun for people like me who have pets and are always creating imagined conversations

It is a nice fun app. I'm already having a good time with it.
Thanks!

I have already 15 photo editor apps with different filters ..but i m gonna download this too. Tx George ponder

OMG, thanks George and Daniel for the article! Any feature suggestion is always welcomed.

yay! thanks for sharing! this app is perfect for parents who wants to caption their kids' photos! would have been also cool if the frame grids are also adjustable like fotor, but heck, im not meticulous, so i dont care much of the premium features this app is a perfect fit for me! thanks again!
Windows Central Newsletter
Thank you for signing up to Windows Central. You will receive a verification email shortly.
There was a problem. Please refresh the page and try again.