Turn your Windows Phone into a credit card reader with Innerfence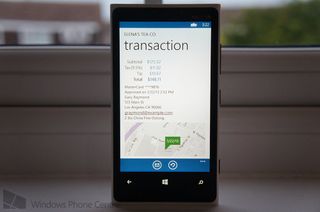 If you're after a credit card reader for Windows Phone, you'll already be aware that Square currently does not support the platform. There are no plans for the company to begin to do so in the near future either. But fear not as Innerface has come to the rescue. The Innerfence Credit Card Reader works exactly as expected. Simply plug it into the headphone jack and get swiping.
What's the fee for using the service? For the full card processing system, you'll be looking at a monthly charge of $25 combined with $0.24 + 1.74% to 3.79$ per transaction. The beauty of Innerfence's solution is that it's cross-platform and the company supports Android, iOS, Windows 8 and Mac. Note that the service only recommends the following smartphones (be sure to double check before ordering):
AT&T

HTC 8X
Nokia Lumia 820
Nokia Lumia 920

T-Mobile
Verizon

Nokia Lumia 822
Samsung ATIV Odyssey
You can find out more about Innerfence over on the official website (www.innerfence.com). The official Windows Phone app can be downloaded from the Windows Phone Store. The companion app is listed for Windows Phone 8 only. A Windows 8 (opens in new tab) version is also available. via: WMPU
Get the Windows Central Newsletter
All the latest news, reviews, and guides for Windows and Xbox diehards.
Rich Edmonds was formerly a Senior Editor of PC hardware at Windows Central, covering everything related to PC components and NAS. He's been involved in technology for more than a decade and knows a thing or two about the magic inside a PC chassis. You can follow him on Twitter at @RichEdmonds.
Not available in India .. Hmmm

This is exactly what the platform needed. Time to get Surface Pro!

I agree! We need a robust platform.

Lmao. No. They want to charge a monthly fee, plus a transaction fee, plus a percentage? Lol. I'll stick to Square on my One X.

Right it'd be cheaper to buy a used iPhone or Android phone and process payments using Square.

Unfortunately, Square is not the norm as it pertains to credit card payments... This is more in line with the industry...

As a small business f* the industry. *rebel tone*

InnerFENCE? LOL!
In English, the word FENCE describes a person who buys stolen goods from theives. The app name wouldn't inspire confidence in the UK, but I guess this is US only anyway.

So the 25.00 a month fee plus 24cent transaction fee and a percentage is how much more than square if you dont mind my asking. Just curious because I have been wanting a WP8 option for my 920 and also thinking about switching to an iPhone 5.

Square sucks if they can't even develop app for windows phone. Not worth getting it.

This is too expensive compared to Square's rates for my business. But I'm glad to see someone finally make one, I've been waiting along time , what's a little longer for a service without monthly fees or per transaction fees. Hopefully this has a ripple effect for other merchants services like pay anywhere or PayPal

There already is a PayPal app.

Not for payment processing on WP.

What WP needs is intuit GoPayment support. Square sucks and the $25 a month makes this app not worth it.

At least with Square there's a fixed rate or a monthly rate 0% per swipe. That adjustable rate plus .24 is ridiculous.

Square is a joke and crooks. They still haven't paid me $3k from 8 months ago having to get a lawyer. Wish I would have read up on them before risking that kind of money.

Sorry you're having issue. Its been smooth and easy for me. No issues. I've heard people gripe about Intuit also. Even PayPal. There's always issues for some individual. Guess I'm lucky. Point though is anything us better than this.

There used to be a GoPaymnt app, but Intuit pulled it. The app being pulled wasn't really such a huge loss since it didn't work with the swiper so the credit card had to be keyed in, anyway. I just use the gopayment.intuit.com mobile site in IE on my phone and it works fine.

For something as sensitive as credit card processing, the 4 reviews for this app aren't exactly confidence-inspiring.

Did you expect a brand new app to be published with hundreds or thousands of reviews? Methinks your expectations are a little too high.


The app is more than a year old.

IDK what Square or anyone else charges for service, but Innerfence's rates look close to what we paid Intuit for card processing 6-8 years ago. Any rate you pay is largely driven by what the big credit card companies will grant to your merchant services provider. And the service agreement rules the companies impose just let play the game are just short of anticompetive--why you no longer see pay cash and pay less signs at gas stations.

Yeah but even you have the monthly option with Intuit its half that and fixed rates. Square now has $275/month 0% rate plan if transaction are more than $275 you can't beat that.

Its a shame intuit exited and PayPal isn't letting us swipe yet. I bet we see one if the three in the next few months (no insider knowledge, just optimism for the platform).

You can still use Intuit GoPayment since it allows processing through a website and not just an app (unlike Square). I use gopayment.intuit.com in IE to process cards from my Windows Phone. It does the keyed in rate rather than the swipe rate, but so did the actual old GoPayment app that was pulled since it never worked with their swiper, anyway.

Maybe not ideal, but at least there's an option for the mobile card reader now on Windows Phone.

What would be more idea is MS utilizing their own wallet and expanding to this type of function instead of having to wait for these other companies to implement.

THIS!!!! Especially with PayWave and other NFC cards out there, why couldn't they just build it in with the existing hardware?

Yes at least we have an optionnow hopefully now that we have one others may step in like paypal

I need a payment solution, but for $25 a month? No.
I'll continue lugging around this POS iPod Touch and use Square.
Effing Square and PayPal - how hard is it to just make it happen on WP!?

i use intuit gopayment on my 920. just save webpage as favorite on phone, the page you use to run transaction and pin to start screen. you have to manually punch in numbers but it works fine, no minimum and per transaction rate. just wish the had a swiper that works with wp8. This one is not worth it.

Yep, same here. Like I mentioned to someone else above, it does charge you the keyed in rate rather than the swipe rate, but so did the old GoPayment app that was pulled from the store since it didn't support the swiper, either. Their are several advantages to GoPayment rather than Square; some of which are web based card processing options, full phone support, QuickBooks integration, and they don't hold large deposits nearly as long.

I'm surprised that square would have no plans to develop for windows, seems like a great start and there are plenty of merchants that would use square hooked up to a win PC as well I'm sure.

Square would have been the ultimate solution for a on-the-go W8 tablet merchant. Imagine having your customers able to sign directly on the tablet, and you process payment... then minutes later, you can run your own analytics solution (mine of course, would be built on SQL Server) and create reporting on the fly because you have Excel right there.... I agree, the $25 fee of this app on top of the other fees is a bit much, but like someone else said eariler, is more in line with what classic merchant account billing services have offered. I still have a strong want to build something around this, but nonetheless, more apps and more hardware for the MS ecosystem is still a win.

Man im just waiting for PayPal to enable this on WP. I have the reader but refuse to use it on my girls iPad.

This is not a 'cheap' service, but it is a 'real' CC service. There are other non-WP solutions out there, but they are not 'technically' merchant account (CC processing) based companies, and do not have the full support or protections that a traditional business merchant account receives.

So before considering this service to be too expensive, you need to consider the ramificaitons of using a non-merchant account CC processing provider like Square or even Paypal. You are not getting the protections with the other services from Visa/MC that are provided through 'TRUE' banking and merchant account payment processing services.

The CC companies have a lot of requirements that include protections for both you and your customers in place, and using 3rd party payment systems is a gamble.

Additionally, if you already have a merchant account, as MOST small business users SHOULD, you get a significant discount, check the pricing differences:
$9 month - 1% (Which is a better deal than most banks will give for their terminal/software.)

I know the world is trying to move to a Paypal model, but in doing so people are screwing themselves because they are losing the protections fo the CC companies and banks when you have a REAL merchant account!



Makes sense. Wait.. You dont work for innerfence do you??