Tweet It! for Windows returns as new Universal app for Windows 10 and Mobile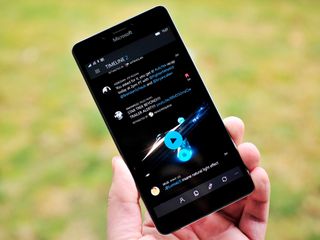 There has always been a solid selection of Twitter apps for Windows Phone, but with Windows 10 Mobile things have only recently begun to pick up. One of my favorite proper Windows Phone apps was just re-released a new universal (UWP) one for Windows 10 and Windows Mobile – Tweet It! from My Amazing Big Fork out of Russia and Ukraine.
The Tweet It! for Windows app is completely re-written for Windows 10, and it is a solid offering. The app now works on PC, tablets, and phone including Continuum support. The app is both clean and minimal with light and dark themes, but also supports some advanced features like streaming, multiple accounts, drafts, and more.
On the phone, the UI takes a different route with a hamburger style button to access your mention, messages, trending and more. Although these navigations styles can be slower compared to pivots, the good news is that the developer, Timur K, has implemented the swipe from the left action to access this area quickly with one hand.
Concerning gestures, you can swipe on a tweet to reply or press-n-hold to bring up the traditional Twitter actions including like, tweet, and more. The app is also suited for mouse and keyboard use for those on PC or using Continuum with right-click support.
Another neat addition is the streaming option. When enabled, the refresh button constantly spins to give a visual indicator that tweet streaming is enabled, which is good for those who are mobile.
The app also supports real-time push notifications for mentions, quotes, message, like, retweets and new follows all of which can be toggled on or off individually. Having said that, for now, it looks like granularity is not working as I see notifications for all categories.
I have to admit especially on PC the new Tweet It! looks exceptional and reminds me a lot of the now-defunct MetroTwit app. Timur seems to have nailed scaling, which is always the tricky part with designing UWP apps.
Why no update to the old app?
Unfortunately, the old app is not being updated to this new universal one for a few reasons. Timur explains it on his blog, but it comes down to these points:
Twitter token limit was running low, meaning Tweet It! could not be sold and would have to be re-listed anyway
Those who are still using the Windows Phone 8.1 version may not want to update to the new UWP design
As a result, Tweet It! is now being relisted for $5.99. However, in the next day or so (as soon as the Store updates) it is going to be reduced temporarily by 50% until the end of the week. At $3 this app is a bargain for those who want a solid Twitter client.
Twitter apps can't really have a trial because doing so occupies a limited developer token for the app. Since developers are allotted only a certain amount from Twitter, they tend to reserve them for paying customers. It's a shoddy system, but one that falls on Twitter's lap and not app developers.
Download Tweet It! for Windows 10 and Mobile (opens in new tab)
Thanks, @WMaddict, for the tip!
Daniel Rubino is the Editor-in-chief of Windows Central, head reviewer, podcast co-host, and analyst. He has been here covering Microsoft since 2007 when this site was called WMExperts (and later Windows Phone Central). His interests include Windows, Microsoft Surface, laptops, next-gen computing, and for some reason, watches. Before all this tech stuff, he worked on a Ph.D. in linguistics and ran the projectors at movie theaters, which has done absolutely nothing for his career.
It is a great app...
Counting tweet's, great design..no glitch..
Worth buying

I have lost hope in the Official twitter app for Windows 10 mobile.

This is true universal. Phone and PC. I don't understand the point of calling an app "universal" that is only available on one platform.

Does it have Tweet Marker support? Willing to ditch Tweetium if it does.

It syncs between devices, but not Tweet Marker, sorry.

Ah, then that's a dealbreaker.

No live tile is a deal breaker too... except that I had to buy it to find that out.

More Twitter apps and yet we still don't have one decent facebook app!

Facebook said that they are working on their Instagram and Facebook apps, so blame them.

I've been waiting for FB messenger voice call for years...

I had this app on WP8.1, does this mean I'll have to purchase the new version again?! It is not showing in my store yet so that's why I can't check

I really like Tweet it : UWP ( Windows 10 : Lumia + pc ) - cool, and manage multiple a/c, choose dark & light, and good thing you can see list, trending It's a solid app

Subway surfers removed from the store

If u r talking abt W10 M
Then Subway surfers has been removed before 3-4 builds ..

It's always like this, every new app takes another one out. We'll miss you, subway surfers!

Subway surfers was removed from the Windows 10 Store very long ago. I don't if its there for Windows Phone 8.1

Does this integrate into the people hub? That's the only reason I keep the native twitter app

Honestly, why are so many of this apps paid? I can't afford any right about now..

because developers also need money to earn for living, but when they get enough money - they offer you apps for free to own for a limited time

They are paid because they are not official apps. Developers need to eat too... This is the only way they can do it.

You can afford a phone, but not some few Apps? Common, don't tell me that, and I thought you got some deal with uncle Bill.

It's because of Twitter's token limit.

talking about timur, he spend months to write tweet it again as uwp application. he spend time and also rents a server for push notifications, which, i believe is also not free. so here we are with the price ;/

Do you go to work every day for free?

You can perform other actions by swiping a tweet, not just replying. Try swiping further, there's a fancy animation.

Far too expensive.. For an app. Any app!!

Never move to the iPhone then. There are $10 Twitter apps and they are NOT universal.

Remember, it's on sale real soon for just $3, so get it then. cc DR

You know, develepors need money too.

$5.99 for a mobile app? No thanks! $1.99 is the most I will pay for an app.

Read the above comment of Daniel Rubino.

Most people who buy the app is not getting it because they can use it in Windows 10 desktop.

Seriously? How many of those twitter apps are there? Tweetium? Tweet it! And the one you mentioned last week cant remember the name.

Are you complaining because there's too much?

Not really but its kinda odd that there are so many 3rd apps for one app when official one is so bad. Kinda wish there would be more apps coming for other projects instead of 3 or 4 for one. If you know what I mean

That why there's so many third party apps - because the official one is so bad. :P But yeah, too bad Facebook or WhatsApp don't have API available for third party developers. That would be awesome (especially WA)

Choice is great! They all can provide different things.

I got the free codes but it still lists me 4.99$ ...

you redeem it? If yes, then refresh - means search again in store and it will shows you owned

I redeemed... For sure.... Its showing me in my Microsoft account......

then refresh - means search again in store and it will shows you owned and you can press install

Nope.... Not working for me.... Even tried buying(in hope that it would say"you already own this".) ... Do I need to be in win 10 mobile?

You need to be on W10 or W10M -_-

Oh! Looks like have to wait until official rollout.

Daniel, Thanks for the heads up for another Continuum compatible app - will definitely look at this as a native twitter app alternative. How does streaming work now and how will it affect battery life? (tbh i havnt used streaming since my HP touchpad!) Also - as a consideration / useful idea: Might it be worthwhile starting to incorporate a "Works with Continuum" icon or something like it? Something visual like this is something i know people like me would be scanning for when reading articles, but as you know you can miss something in the body of text sometimes, but a large icon would be great! keep up the great work - looking forward to finally using a WindowsCentral app on windows 10 mobile, now that i have my 950XL.. so waiting for that to be released - beta or not!

Will consider the Continuum badge idea. I assume streaming on phone without wifi would be pretty taxing, but have not had it long enough. And thanks, hopefully our app is coming real soon. In final stages for public beta.

Even the Windows Store should have that 'Works with Continuum' badge. Someone please suggest it via Feedback.

thanks for taking the time to reply and give an update on the app I think i may give microsoft feedback on the badge idea (even though i didnt know it was called a badge!)

Wow, feels like we have a lot of choices! This is great!

So when can we expect a uwp Windows Central app Daniel

In less than a month... ;D He answered this question on the latest Ask Dan video.

looking good i have a weak spot in my heart for windows twitter clients i'll try it out :)

Same here. That and keyboard apps on Android.

What a great experience...really enjoying. Twitter on win10 now.
No integration with people hub

Not a twitter user but may buy this to support the developer

Don't do this. I had bought their previous app and absolutely no support was given in the last 18 months or so. Now they release a new app and expect users to support them? I'm not putting my money there another time to be abandoned again

Can't wait to try this out. I always thought the first version was the best looking and one of the smoothest twitter app available for WP7/8. Lack of Tweet Marker support will always keep me from using it full time however. Tweet It! and Mehdoh were always my favorites...

It's so ridiculous that no support will be given for people who had previously bought the app ... They even pulled the old version from the store. That's what you get when you resort to this kind of developers. Sad, just sad.

No it isn't "sad" it's being intelligent, they were running out of Twitter tokens on the old app meaning they would have to re-list the app with a new api key to reset the token limit. Theoretically this is actually against the Twitter Terms of Service, but since the app is completely re-written and under a new listing they can avoid all that trouble with the TOS, And honestly the app costs as much as sub at subway, it isn't much of a loss to support the devs, I had the app from WP7-8.1 never had a issue. Excited to see what the new version offers for W10 Posted via the Windows Central App on the OnePlus X

This app is REALLY slick and looks super nice, not to mention behaves beautifully... but gosh, its so hard to switch to these apps from the desktop client of MetroTweet I've been holding on to dearly. For whatever reason, none of these new twitter apps are coming out with the ability to do real time desktop bubble notifications of tweets coming from my timeline. I know I probably seem like a crazy person with a information addiction for actually enjoying that, but its how I'm able to keep in touch with friends, colleagues, fans, and people I'm generally enthused about what they're doing throughout their day. Especially because it means I don't have to be staring at my twitter timeline. I'm not the sort of person who likes crawling through his timeline archive from the day, I like twitter when I'm kinda living in the moment with it. Unless of course this IS a feature in this app, in which case, please, someone point me to it.

Hope it becomes free at some point.

It's not even letting me get any further than logging in. Just hangs afterwards.

Just purchased it yesterday and liking it so far on both the PC and the phone. Find it slow on the win10 phone especially after relaunch of the open app. Also no extra columns appear on the phone. any idea about that?
Windows Central Newsletter
Thank you for signing up to Windows Central. You will receive a verification email shortly.
There was a problem. Please refresh the page and try again.