Tweetium update for Windows Phone and Windows 8.1 has many improvements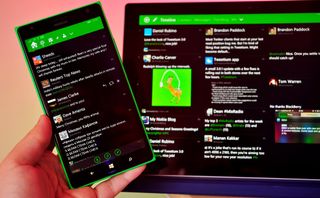 Tweetium, the popular third-party Twitter app for Windows Phone and Windows 8.1, has a new 3.5 version rolling out that has a number of improvements and bug fixes.
Here's what covered in the change log:
Quoted/Embedded tweets are now shown in the main view
Quote Tweet button now does a "new style" quote (embedded link) by default
"Classic" quote tweet functionality can be enabled in Settings/Advanced
Added support for saving tweet drafts and frequently used text snippets.
Tweet drafts are removed when you load them from the menu, but can be re-saved to keep them longer.
Snippets are saved until removed (via Settings/Advanced).
Drafts and snippets are per-account, and roam to other devices.
Note: Media attachments are not currently saved with drafts.
New "Insert new line" option in the tweet composer (most helpful for phone/tablet with default Enter behavior)
Added support for receiving >140 char direct messages (when enabled by Twitter next month)
Sending them will enabled in a future update after Twitter turns this on.
Fixes for timing issues where progressive loading on scroll could interfere with composing new tweets
Fixes for bugs which could occur when cancelling a tweet/thread expansion.
Phone: Fixes for issues when hitting the back button at certain times while a thread is expanding
Phone: More than 2 suggestions can now be used in each compose/reply box.
This is thanks to a new and improved work-around for a WP 8.1 text box crashing bug
Keep in mind that buying the Tweetium app for Windows Phone allows for access to the Windows 8.1 app and vise-versa.
Download Tweetium for Windows Phone 8.1 ($2.99, buy once, buy everywhere)
Download Tweetium for Windows 8.1 (opens in new tab) ($2.99, buy once, buy everywhere)
Windows Central Newsletter
Get the best of Windows Central in in your inbox, every day!
i have both tweetium and aeries installed. i find aeries more user friendly :)

Am jealous of you dude.... That 100$ made you app rich guy........

lol...45$ left now. Also I don't know what the problem. I can't buy any apps using VISA card. So need to save these $$$ :P

Tweetium are much more smoother and offer better notification when u use pro.. I've use all twitter client , their push notification doesn't work properly(all time)..

They need to work on the drunken birdie logo.

I want tweetium ppl hub integration so that I can delete the official garbage twitter app.

Unfortunately, Windows Phone 8.1 doesn't provide a way for new apps to do that (only legacy Silverlight apps can). Not sure what will happen with that in Win10.

The best part of windows phone was integration with people hub, me tile. If microsoft allows few imp third party developers to integrate apps like 6 tag or else tweetium and even msn news to people hub then it would be amazing. I love people hub feature but microsoft and even companies like fb inc have removed people hub integration.

So Telegram is legacy Silverlight app?

I don't know what that is, but sounds like it must be.

The official app is much better than being garbage. Just not great, though.

Think I'll try it again for a bit. Been using Aeries of late.

Been using Aeries as my main twitter client on my phone lately (Tweetium on my SP3), may have to give Tweetium a shot on the phone again.

No idea why they don't have a trial. I know it's only a couple of quid, but I'm not going to buy it unless I can have a play with it to see if I like it.

There is a trial on PC/tablet. Unfortunately there are some issues with univeral apps offering a trial on both sides in 8.1. When Win10 arrives, the trial will be available everywhere, at least until its token limit is hit.

How much user limit or data reaches the token limit?

I've wondered about this token limit thing. Can't you have a pool of tokens on your server somewhere, and whenever someone installs the app, they get assigned the current token to use for life. Then, when that token is used up, anyone who installs the app from then on gets assigned the next token on the list, and so on. I dunno how the tokens work, though, so this could just be gibberish nonsense.

I think it would be against Twitter Terms of Service.

Doesn't work that way. Every time a new user account logs into the app, Twitter issues then a login token. It's theirs forever and the app can't revoke it. Only the user can, in theory, by going to the Apps page of Twitter and revoking the app's access from there (though I'm not sure it's confirmed that this actually subtracts from the app's count toward the limit). ​When the limit is hit, Twitter turns off the app. In theory they should only stop new users from logging in but I've also heard different things from other devs who have hit it (that it killed their app entirely), so I have to be careful and ensure the all never actually reaches it. Who knows though, with a new CEO at Twitter, maybe things will change.

Sweet. Draft and this quoted tweet features.

Love Tweetium on the 830 and Surface 2. Always perfect synchronization between the two, and in the S2 when you hit a link in a tweet Tweetium shrinks down to a narrow column on the left and and IE gets most of the screen. Nice way to read stuff. (Can't do that on an ipad!)

Wow. This app is absolutely amazing! So smooth and efficient on my 1520. Loving the swipe gestures. This is leaps and bounds better than the OG app

I would definitely buy this if the Store would accept my credit card number. >:\

This is app is great but I am a UX addicted and Aeries does a great job regarding this. :)

​I'm curious what you're referring to there. What about the other app's UX do you find addictive?

Hey Brandon.
For example, I think is better to have pivot-icons that occupies all the screen width, and no just right aligned. I love modern UI since Zune first gen. The UI is always the first thing I see when I discover a new app. :)

Hey there. The nav bar icons take up the full width on the screen on smaller devices, and on larger devices they're left-aligned to give you room to pin your favorite lists/searches/users/etc. For example, on my 1520: http://tweetiumapp.com/Images/QuotedTweet1520.jpg

Oh, did not know this! But, I dont know if is a good ideia to use text in a so small way, together with icons. :S Sorry to be so attached to details. Ah, I follow you on Twitter for a long time now. (@guilhermemanso). :)

The text under the list and search icons is just to help disambiguate them. It's the smallest size of the standard Metro type ramp, and obviously not meant for reading text, but is very helpful and effective for identifying tabs.

I run Tweetium on both desktop, and my mobile phone. I find it stretches images when you click to focus on them and their are small images, this reduces the quality. It's pretty slow to load images, or even just the details of any tweet. Also when adding someone to a list. It's not clear if it was successful or not. Clicking "Add to list" under someones profile should really show a tick by the lists they are already a member of! It appears impossible to simply get a link to the tweet. I am stuck in metro mode on my desktop and want to simply share a link, copy and paste it... but no. not happening

Hi there. Tweetium doesn't stretch images in the timeline or expanded/thread view, and when you click or tap on an image in expanded view, it loads the highest quality one available (though it shows a stretched version of the medium size one until the full size loads). The actual resolution available depends on the source of the image, though. ​I think there's an error message if adding to a list fails for any reason, but I'll double-check that. Twitter's API for lists is kind of annoying and inefficient, which I why I put off my complete list management. Turns out removing people from lists is pretty rare. That is on my todo list though, and should let me show indicator for which lists the user is a member of. There are multiple ways to get the permalink to a tweet to share it. In your case, right-clicking (or long-pressing) on the tweet's time stamp link (in any expanded view) and selecting Copy Link will do it, just like on Twitter.com.

How do you view all of the posted pictures in a profile?

MeTweets comes in my favour.

What happened to the email client MAESTRO which WPCentral guys advertised... It hasn't been updated for a while... Did the Dev drop the project?.... Sorry off topic.

I've been using Tweetium since beta version. I feel that it's not the most feature rich (sorry Brandon) but it's the most polished. Very smooth animations, really good Pro features and a LOT stable. I think it has more than a year and still receive new features frequently. Pro version will make it continue to be supported even after the token limit be reached so I'm confident I can trust this app. A lot of old Twitter clients are gone because their token limit reached and they couldn't figure out how to keep improving after they filled with their last user. Tweetium does not fall in the same problem and I'm proud to be a Pro user backing this kind of developer.

Hmm, comment system lost the context for my reply. Will try again.

Its a cool app, have had it and pro since August last year. I still like Aeries UX better and the way it handles stuff like pictures and videos. On the other hand Tweetium has more features and supports stuff a lot faster. It also supports twitter video.
Windows Central Newsletter
Thank you for signing up to Windows Central. You will receive a verification email shortly.
There was a problem. Please refresh the page and try again.