Tweetium update for Windows Phone and Windows 8.1 has many improvements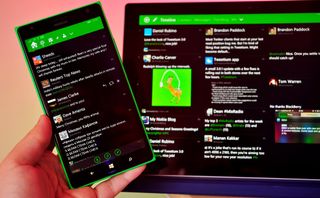 Tweetium, the popular third-party Twitter app for Windows Phone and Windows 8.1, has a new 3.5 version rolling out that has a number of improvements and bug fixes.
Here's what covered in the change log:
Quoted/Embedded tweets are now shown in the main view
Quote Tweet button now does a "new style" quote (embedded link) by default
"Classic" quote tweet functionality can be enabled in Settings/Advanced
Added support for saving tweet drafts and frequently used text snippets.
Tweet drafts are removed when you load them from the menu, but can be re-saved to keep them longer.
Snippets are saved until removed (via Settings/Advanced).
Drafts and snippets are per-account, and roam to other devices.
Note: Media attachments are not currently saved with drafts.
New "Insert new line" option in the tweet composer (most helpful for phone/tablet with default Enter behavior)
Added support for receiving >140 char direct messages (when enabled by Twitter next month)
Sending them will enabled in a future update after Twitter turns this on.
Fixes for timing issues where progressive loading on scroll could interfere with composing new tweets
Fixes for bugs which could occur when cancelling a tweet/thread expansion.
Phone: Fixes for issues when hitting the back button at certain times while a thread is expanding
Phone: More than 2 suggestions can now be used in each compose/reply box.
This is thanks to a new and improved work-around for a WP 8.1 text box crashing bug
Keep in mind that buying the Tweetium app for Windows Phone allows for access to the Windows 8.1 app and vise-versa.
Download Tweetium for Windows Phone 8.1 ($2.99, buy once, buy everywhere)
Download Tweetium for Windows 8.1 ($2.99, buy once, buy everywhere)
Get the Windows Central Newsletter
All the latest news, reviews, and guides for Windows and Xbox diehards.