TYLT introduces two new wireless chargers for your car and your desk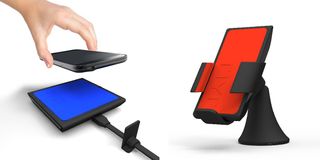 TYLT is one of my favorite accessories brand, and we've reviewed some of their products like wireless chargers and portable speakers on Windows Central in the past that not just work with your Windows Phone devices, but several other smartphones as well.
The Southern California brand has just announced two new wireless chargers in their popular VÜ range that will be available for sale by the end of the year.
TYLT VÜ Wireless Charging Car Mount
The VÜ Wireless Charging Car Mount is both a hands-free car mount and a wireless charger. Simply drop your Qi-enabled smartphone in and squeeze the holding spring arms and it will start charging your phone.
The car mount employs a three coil arrangement system that allows for easy placement of the phone and ensures it will work with phones of different form factors in either orientation. The adjustable foot base on the mount allows for you to move your phones coil position down for larger phones. You'd need to mount the device to your dashboard or windshield with the suction cup, and position your phone in horizontal or landscape view with the 180-degree rotating mount.
The product listing on TYLT website mentions that the arms securely grip phones with up to 5.7-inch displays, so I'm not sure it is compatible with Lumia 1520, the 6-inch Windows Phone. I'll share more on this once I have the product for review.
The VÜ Wireless Charging Car Mount will be available for $79.99 in four colors. Check out the product listing here (opens in new tab).
TYLT VÜ Solo
The TYLT VÜ SOLO is a small and portable wireless charger powered by a micro-USB input so it can share the same charger as any micro USB charging cable or even your car charging cable.
The charger includes a patent-pending phone alignment tool, ALIN. Simply position the ALIN one time to suit your device so that the coils in your phone line-up with the single coil in the SOLO to allows the charging to begin. After the first-use alignment, the physical marker shows you exactly where to place your device in order to align it with the coil to initiate charging.
The SOLO features an anti-slip silicone surface, includes a 5-foot charging cable, built-in ventilation, and a micro-gel suction base.
The VÜ Solo wireless charging pad will be available for $39.99 in four colors. Check out the product listing here (opens in new tab).
I have quite a few wireless chargers at home, but I'm looking forward to picking up the wireless charging car mount. Do you like these two new chargers from TYLT, or do you have similar products from other brands? Tell us in the comments!
Windows Central Newsletter
Get the best of Windows Central in in your inbox, every day!
Needs vent mount adapter. Then I'll get one.

Yeh looks like a terrible windshield mount... Too short

I bought two Tylt chargers during their startup phase and was woefully disappointed. The chargers looked great but had a bug that cycled the charging on and off every 3 seconds or so after the phone was fully charged (in other words, the threshold for when the charger would start charging a phone again was set too high, unlike Nokia chargers that seem to leave it for a bit after a phone is fully charged before "topping it up" again). Drove me bananas in the middle of the night when the phone kept buzzing every five seconds. They're both sitting in a cupboard gathering dust :-( Weren't cheap either at 99 bucks each from Amazon.

They fixed that issue. You should have contracted them. I was part of the Kickstarter for the original Vu and I love mine. It was also only an issue with certain phones because my HTC 8x and my Icon never had problems.

"drove me bananas"
Its been too long since I've heard this. Thank you.

Not sure? It says 5.7, it means 5.7

The actual width could be larger due to the bezel, so it might support it

The car charger definitely looks like the arms will interfere with the buttons on Lumia phones. Guess they were designed with iphones in mind, as are all things nowadays....

Does the iPhone have wireless charging? They do look to be in the way though. The Solo looks interesting.

I am also looking for wireless car charger and phone holder for my 1520 so iam waiting ur review to see if it work or not for 6 inches phone

For wireless car charger, just pick one up at eBay, triple coil around $40, work perfectly. Come with vent mount, suction cup, cable and adaptor.

I'm surprised there is no Kickstarter. Their last two new items went through Kickstarters and I joined in on both.

@badboody I went down the wireless charging route with the Nokia originals. They are just meant for rugged, every day use. I ended up purchasing a Brodit Clip and Passive Charger. Rock solid charging and wired directly to Cars psu or there's a cig lighter version.

I have a CHOETECH car charger I got from Amazon. Works perfectly with my 1520, also came with mutiple mounts, including a vent mount.

I'll just stick to my Nokia chargers. I have one at and at home. I love it when a droid or iphone user ask to borrow my charger.
"Sorry i only have a wireless charger, does your phone do that?"
Only found one droid user that has a phone that supports Qi.

Sorry, $79.99 is too pricey

Questionable price and quality from my experience. I use a Choetech wireless car charger that is 30USD cheaper. Comes with vent holder I use with my 1520.3. Stable when on normal roads and non-maniac driving. Company very responsive. My recommendation. http://www.amazon.com/gp/aw/d/B00F5XPCSC/ref=mp_s_a_1_1?qid=1414540666&s...

Looks really nice. Had the Nokia wireless car charger. It was very low quality. Broke in just two weeks.

No Qualcomm 2.0 fast charging means it's just another charger like the new Nokia ones coming out.
I'll wait thanks, I've got enough 1.0 chargers.

Would totally get this for my desk in the office if I had one. A desk, I mean. Smart working sucks.

I dear WPCentral could you review this cat charger. You did the Nokia one already. In the review it was stated t that the Nokia car charger would house the Lumia 1520. I bought one, and found out it doesn't. I'm looking for a wireless charging car charger for my Lumia 1520. Hopefully the TYLT VÜ will. Thanks.
Windows Central Newsletter
Thank you for signing up to Windows Central. You will receive a verification email shortly.
There was a problem. Please refresh the page and try again.