Uber launches its universal Windows 10 app with Cortana support and more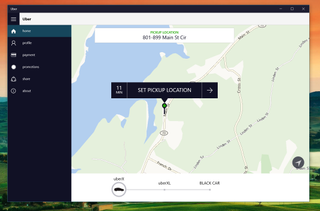 Yesterday, Uber relaunched its app for Windows 10 Mobile, and now the car service has also released its Windows 10 PC version as well. This makes Uber the latest universal Windows 10 app,
The app allows desktop users to request a car on their Windows 10 PC for the first time, although the final process must still be completed on a smartphone. In addition, the app adds Live Tile update so users can see the estimated time for when their Uber driver will pick them up without having to open the app. Finally, the app adds Cortana support so users can simply request a Uber car with their voice.
Microsoft adds that U.S. users will be able to get a free Uber ride with the launch of the Windows 10 app:
We should note that at the time of this announcement the PC version of the Uber app is not yet available. Keep checking back later today.
As of 7pm ET we can confirm that the PC version is now available to download.
Download Uber for Windows 10 in the Windows Store (opens in new tab)
Source: Microsoft
Interesting, app errors put when I try to register

I get an error requesting, had to use my iPhone this morning :-/

It's working now. App is awesome across devices and even has a pretty cool live tile.

Will it with in continuum?

Yes, that was featured in the article yesterday about the mobile app.

Only problem I see is the fact that they are illegal in some countries.

Meh, I have taxi driver friend and he sees it as the end of his career but the technology is out there and the customer wants it. Just because the old guards doesn't like it first mean they get to keep their monopoly. In most countries, the consumer wins.

He could work for Uber...

It's not about the technology. They're not competing on the same terms, e.g. Uber drivers don't have the same insurance.

It won't even let to register....says that I already used allowed registrations on all my devices. WTF? Never used them before.
And won't let to rate the app.

Same problem here, uninstalled.

It's not necessarily a huge deal. I mean, few people would probably use Uber on a PC, rather than on a phone. But, it does show that Universal Apps are starting to hit the platform.

That's the beauty of universal. If you are writing a mobile app for w10, then a PC version is trivial to also release. So they question isnt why, its more like, why wouldn't you?

Are you sure about that? If you're getting ready to leave and you're at a PC, why pick up your phone if you can just launch the app? Makes perfect sense to have it universal.

Also apps are better for the computer illiterate. Less pop ups, no risks of tool bars, lower phishing risks and the overall UX is much cleaner.

No update here yet on the East coast.

Maybe I'm confused on the issues but why is there a windows 10 app and a windows mobile 10 app with each being released on different days but claim to universal. I thought having just one app that ran on everything was the whole point?

I assume it's the same app, but that they now added the support for devices other than just mobile. Previously it was not universal, but with this update it will be.

I think even though its a UWP app, still are separate apps.

Devs code once, but the output is two different files for the Store.

I think they have a single output file. At least for me it was a single file. I just published a beta UWP app yesterday. The universal apps for Windows 8.1 had separate output files.

Yes Absolutely! single code base and singe compiled package for store... thats the point of UWP (Windows 10 Apps). ​Windows 8.1 Universal apps used to have two different files for Phone and PC, but not anymore with UWP.

I wonder if they pulled the desktop part of the app? Can't download it on my surface yet on the east coast.

I don't see it in my app store either.

Oh yeah
Now Facebook universal App plz

It seems the idea of universal app is working. A little hope for windows phone fans. Certainly the official release of windows 10 mobile for existing Lumias will attract more developers. What you all think?

Great to see, but not sure about the value of Uber on desktop to some degree. I think Microsoft may have thought that LTE in laptops and tablets would be a little more pervasive by now, but WiFi is still the main connectivity type nowadays...

There is a use for it, it's easier for people to use the app then the web browser. You don't stumble across 404 errors and what not lol.
It's true, most elderly people are pretty jumpy when it comes to error messages (there are people who haven't used a computer). Plus apps are cleaner, less pop ups and the risks of phishing is also reduced.

Why don't you guys include the Download App link in the mobile app anymore?

Is there a way to see your download history in the w10m store? Haven't found it..

Another universal app with continuum support. Brilliant!

These are the universal apps we need ;)

When I finish the sign up and hit next... It says "this device has reached it's sign up limit" ???
I've never signed up before

Did that for me on mobile. Worked for me to register on desktop then sign in on mobile.

This app proves that the universal app theory works beautifully in practice. I order an Uber on my PC and can track it on my phone. Brilliant innovation and so simple and easy to use.

I am not a fan of UBER, but them being such a large company, I hope it can light a fire under some other compainies to launch universal apps. I firmly believe than once it gets going alot of people will really start taking a serious look at Win 10 Mobile devices since it's on PC and everything is there on mobile.

Though i have an android app. I will use UBER desktop app to request cab. This may increase the support for windows

When WC gonna update there app with W10?

don't know the exact date, but Daniel said soon. I believe its currently in private beta testing phase.

Not able to download, it says update to latest version of windows(for pc) though i have the latest version

"although the final process must still be completed on a smartphone." So why not just reach in my pocket to use my phone in the first place. lol

Now if they would just bring the Partner App to windows i would be thrilled. Currently if you want to drive for uber you have to have iOS/Android or rent a phone from them

For uber windows phone app...
1. location search is not working properly.
2. Please add options to add credit or debit card, Airtel money etc.
3. Cash is not an urgent need. But needed.
4. In android free rides are visible on payment page, which is blank in our app.
5. We cant give the destination in the app.
6. We cant add our home and work location....
7. We cant add our business profile.
8. We cant see trips history also. I'm regular on Uber.. I'm facing a lot more difficulty using my cards. After every ride the app is saying that it can't process my trip cost from my card. For your information I'd like to say that i had to add this card via another android mobile. And if I use any credit card on Android mobile then there is no issue of payment after my trip. Actually I mailed uber support but they just said to reinstall uber app. I posted to facebook page but no reply till now. Any hope whether this will be solved in near future or not !!
Windows Central Newsletter
Thank you for signing up to Windows Central. You will receive a verification email shortly.
There was a problem. Please refresh the page and try again.