UK watchdog group Which? claims Microsoft should offer better Windows 10 upgrade support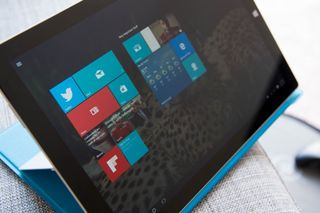 The leading UK consumer watchdog group Which? claims Microsoft should offer better support for people who upgrade their older PCs to Windows 10. The group claims that 12% of the people they surveyed who updated to Windows 10 have since rolled back to an earlier version of the OS.
Microsoft offered everyone who had a Windows 7 or 8.1 PC a way to upgrade their OS to Windows 10 for free from July 29, 2015 to the same day in 2016 (although there's evidence the company has unofficially kept that offer going). However, according to the BBC (via Neowin), the survey conducted by Which? showed that some people didn't care for Windows 10 after that update:
Much has been said in the past about Microsoft's efforts to "nag" Windows 7 and 8.1 owners to upgrade to Windows 10 with notifications from the now removed "Get Windows 10" app. Which? says it goes beyond that, with many people complaining about problems with their PCs after they installed the free upgrade:
The watchdog group believes Microsoft should offer better customer service for people who have experienced problems with the Windows 10 upgrade, including "paying compensation where it's due under the Consumer Rights Act 2015." In a statement, a Microsoft spokesperson defended its efforts to help customers with the update:
Get the Windows Central Newsletter
All the latest news, reviews, and guides for Windows and Xbox diehards.
Witch? is it Halloween already?

Title says which? And article says witch?
Which is witch or witch is which??

Yep, I'm still working to solve the Bitlocker mess the AU has left behind with hardware encrypted drives (Crucial ones, at least) which are currently falling over and so need to be run unencrypted. I'm certainly wondering how MS can have the face to shout about supposed AU security improvements when the opposite is clearly true. The AU is demonstrably a huge security risk and when MS have been asked about it their support staff they claim are so useful fail to come up with any ideas at all every time. Still waiting MS. Still waiting.

Clearly your example invalidates all touted improvements. Clearly.

Yep. Keeping everything in clear text undermines security dramatically. Oh, and to the hackers that downvoted me, it's not big and, in this case, it's not even clever either.

Well, when it first came out. It was bug for pc etc

I listened to those nagging on 5live (UK radio station) about it. A fair few were moaning about not getting it on their Win 7 machines, and it was MS fault. Im certain the Get Windows app checks system compatability. There were a couple moaning about why it had to change, when 7 or 8.1 was OK for them. A tech guy explained that the whole OS had been overhauled to cover integration. He also told them they could roll back, which was fine, until a caller said they needed space and deleted it!!!! There were some with 'genuine' issues, but for the most part it was a lack of understanding, and that is, in some part, down to MS. Many were reluctant to allow MS to control their PC and set it up due to the now infamous phone scams.

Now they want an extension? Have them pay for it. Personally I help a few friends upgrade from 7 to 10 but the machines that were upgrade to Windows 7 gave me a hell of a time. I had to reinstall Windows 7 on them and leave it as it is.

They should never have tried to force windows 10 on anyone. I like windows 10 but to be honest it does not do anything better than windows 7 on PC. However I much prefer Windows 8.1 on my surface pro3.

Not true. The OneDrive integration is better, the pen integration is miles better, the ability to use it with a touch screen is far better as well, sharing between programs is better to, and there are a list of other things too. Not to mention that buying an app/program and using it across multiple devices with syncing built in and not having to decouple it to use it elsewhere (10 device limit notwithstanding) is wonderful. Not to mention the security that comes with UWP by being able to install a program from a trusted source and not having to uncheck a pile of boxes during installation to avoid installing potentially harmful and invasive software. I loved Win 7 but it's completely false to day that 10 doesn't do anything better.

Like I say I love windows 10 for Pc ( above 15 inches ) Personally been on fast ring on Pc and Phone for quite some time now. But in the real world if I had to go back to win 7 there is nothing I personally could not do that I do on win 10. Windows 8.1 is much better on tablet end of in my opinion.

This should have more upvotes (Not that you should ever take any notice of the votes on Windows Central)

I have had people with tablets complain that Windows 10 is still not as good as Windows 8.1 in terms of touch-friendliness, even in Tablet mode. Quite honestly I have never used a touch-screen device with Windows 8.1, but I have a hard time using the Windows 10 on my tablet in Tablet Mode. I think maybe I'm not used to the interface in tablet mode, but somethings are very darn hard to do, such as trying to hit those small buttons. These people have actually expressed interest in rolling back to Windows 8.1 just so they could use their tablets touchscreen as they did before, but since it has been a while and an anniversary update later I have to wipe their device and install Windows 8.1 from scratch (which is too much headache for me and for them). I'm not surprised at all that some end users are not interested in all the Windows 10 "improvements" and would want an older OS, even when there are no technical issues.

Yep. Windows 10 was a big step back from 8.1 for tablet users. It'll get there in the end...and some of the apps in the store are worth the price of entry. But as with Windows Phone 8.1, there was a fluidity in Windows 8.1 that has been lost in 10. It's just a lot more glitchy. I think it's perhaps trying to do too much. Windows 10 is also rubbish in standby. My Surface 3 becomes a paperweight if I ever leave it in standby mode.

I hated 8.1. On desktops and on tablets. Two seperate OSes awkwardly glued together, fit for neither desktops nor tablets, filled with hidden-for-no-reason UI elements. ​10 is significantly better, as both store apps and Win32 programs adapt based on input and interact together instead of being awkwardly seperated.

I'll help out the odd person, but why should I do 100% free tech support for people....You should tell them to go pay for support if they need it to roll back. You wouldn't ask a builder to take down your wall for free.... Fair enough if it's your parents or something, I mean most people owe their parents for both brining them into the world and helping them get to where they are today, so of course if my Mum has an IT issue I'll sort that for her, but random people at work or people who are just "acquaintances" can't honestly expect hours of IT consultancy/support for nowt. People TEND to expect it for nothing because that's just the way of the world right now - if an app isn't free for example a lot of people will moan about it - Somebody was complaining and shocked then Enpass isn't free - It's a fantastic app and worth every penny

I agree... Since when did tech support for a free program become the companies' responsibility?
I can understand if you are paying 80+ dollars for it, but this wasn't the case.
I guess I have a different point of view because I try my best to NEVER contact support, mainly because I don't want to be treated like a dumbass by the first level tech I get and I don't like bothering people. Most support that you are going to get anyway you can find on your own with a little EFFORT on your part. Dr. Google knows a lot of things if you ask him nicely!

"Free customer support " I've tried a few times to use that , they are not helpful at all when it comes to anything other than say... how do I enable this theme. How do I change a background. Ask them how to do something slightly advanced that may be broken and they just go completely silent then say thank I hope I helped today cya! Posted via the Windows Central App for Android

That's free support for you though I suppose. Forums are easily the best places to get advice, and YouTube has the answer to learning pretty much anything these days.

Yes, exactly. Do a little research on your own and you would be amazed at the answers you find. Same support for the majorest problems.