UK Xbox One buyers can get a free controller battery door with their gamertag soon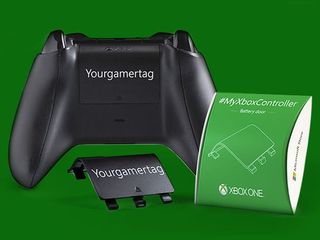 If you live in the UK, and want to get a new Xbox One for yourself or a friend for the holidays, you might want to wait until a new offer on the Microsoft Store site goes into effect. The site says that it will soon give anyone who buys the game console from the site a custom battery door for their Xbox One controller for free.
The custom door will have the Xbox Live gamertag of the owner laser printed on the surface. That's a small but nice custom freebie, and it certainly makes its easy for owners who have more than one controller to make it easier to find their favorite. There's no word on when this special offer will go live, nor is there any word on if it will be made available in other Xbox One markets like the U.S.
Thanks to Darrell for the tip!
Source: Microsoft Store UK (opens in new tab)
I tipped this :)
Be good if we could purchase this too be nice thing as a gift.

My family really needs this! Please bring it to the US and for existing xbox users.

Or you could just buy a label maker or etcher and label all your controllers whatever you want for less than $20

Your dingers are naturally oily and if there are children that label will be ruined quickly. Posted via the Windows Central App for Android

And the people that supported xbox one from day one? Nothing?

Oh no don't worry, we get $hitty controllers that get analogue drift ! Never buy day one, I know that now! (Edit: wow cant swear, wtf)

The custom battery door cover is a nice novelty, but how often would one actually look at the bottom of the controller to determine which controller it is? As it is for me, I have one Day One controller, and one additional standard controller. The Day One markings and d-pad distinctly identify each - but even if this wasn't the case, I doubt I'd care what controller I was using, unless there was a distinct difference in capabilities / function. My Day One controller just started drifting - left stick is always moving slightly up now. I've met my demise by falling off of a couple platforms / cliffs / buildings in Fallout 4 due to this annoyance. I'd love to move up to an Elite controller, but that is out of my price range right now.

My LS on my Day One controller just started drifting up too. I might try a repair. Also, hopefully, I'm getting a new controller for christmas. I'd love the elite, but $40 (sale price) vs $150 is just too much to justify.

It is worth noting that, until Microsoft stole the feature away, controllers could be assigned to players, identified via Kinect and IR technology. Just one of many instances of Microsoft reneging on features after they sold the product to customers.

I was just thinking about this. MS should think about (but not promise) rewarding day one buyers with small things on a routine basis. Limbo was awesome. If they could throw some other small games, avatar items, and/or digital incentives from time to time, it would further incentivize day one purchases. Starting now can only help the next generation console. (if there is one, that is...)

This is one thing MS does seem to do quite well. I just got a $25 gift card for being one of the first Xbox Rewards members 5 years ago. Pretty sweet!

Interesting, I only got a $15 gift card. I'm curious what determined the payout.

Probably just a random lottery draw

Don't you have day one imprinted on your controller?

It'd be cool if personalised doors became a standalone product.

Probably will like their 3d printed avatars

I have a label printer if anyone needs one.

The font and its scaling doesn't look good!

Nice for those who want to go that little bit extra. Though there are easier ways to do it yourself. The cheapest (or the stingiest depending at how you look at it) method of all - Using a stencil and a sharpie :P. Also I would have preferred if it wasn't on the battery door but the controller itself, to prevent that age old method of switcheroo. On the flipside replacing it would be a pain....

Gamertag worth every penny ?

Yeah this is pretty cool, but it's a shame you can't get one of you have already bought a console or even pay to have it done, I know they are trying to bring in new customers but show some appreciation to your loyalists!!!! :p
Windows Central Newsletter
Thank you for signing up to Windows Central. You will receive a verification email shortly.
There was a problem. Please refresh the page and try again.