Ultimate Torch - a simple Windows Phone flashlight app from the developers of myAppFree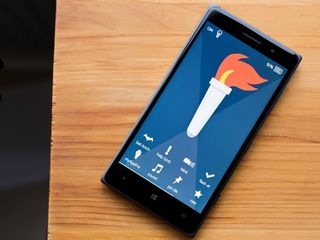 While there are plenty of flashlight apps in the Windows Phone Store, Ultimate Torch is a simple option worth considering that has a bit of flare to it.
The Windows Phone app comes to us from the developers of myAppFree and has a very clean interface along with a Batman mode to give the app a little personality. Ultimate Torch makes a nice first impression and if you are in the market for a Windows Phone flashlight app, you'll want to check it out.
Again, the interface with Ultimate Torch is clean and simple to use. At the top of the app's main screen, you will find a battery indicator and an on/off icon. Across the bottom of the screen is a host of features with your torch icon displayed center screen (swipe to the left to see all the features).
Ultimate Torch will utilize your Windows Phone's camera light or screen to illuminate your surroundings. Features include:
Three flashlight modes (solid light, blinking light, SOS mode)
Sound effects (crackling of the flame, Batman's theme, etc.)
Batman Mode that enables the Bat Signal
Voice recognition support to turn off the light
Enable/disable light on app start up
Live Tile support featuring several Batman themed tiles
If your Windows Phone lacks a camera light, Ultimate Torch has the option to use your phone's display as the torch. The gray blue screen will turn to a bright white when the torch is activated in these cases.
Should you opt to turn off the light when you launch the app, all you need to do is tap the screen to brighten things up. Tap again to turn it off or blow on the Windows Phone microphone (if enabled).
Ultimate Torch is currently rated at 4 Stars in the Windows Phone Store. After tinkering with the app for a short while, the rating may be half a star too low. I like the battery meter being present and being able to blow the light out is neat.
Let us know in the comments below if you give Ultimate Torch a try and remember to rate Ultimate Torch in the Windows Phone Store.
Download Ultimate Torch for Windows Phone (Free)
Windows Central Newsletter
Get the best of Windows Central in in your inbox, every day!
George is the Reviews Editor at Windows Central, concentrating on Windows 10 PC and Mobile apps. He's been a supporter of the platform since the days of Windows CE and uses his current Windows 10 Mobile phone daily to keep up with life and enjoy a game during down time.
Nec its not useful for you?

No that was the fart app.

If it is lame, then why don't you make an app too!

Wow, thanks for supporting developers... I might as well take down my unofficial and exclusive apps then huh? I can't believe people act this way, its pathetic. This is a very unique application, worked hard on.

Don't let a handful of negative comments discourage you, there will always be those types.

Snapchat, twitter and f*c*book aren't going to be of help when you need some light. This app has immediate use.

It could turn off the flash light when you blow in the micro. Nice, bro p/s: Stare your eyes on it and it will turn on. LOL :)

Flair. It's flair. "You know what, Stan, if you want me to wear 37 pieces of flair, like your pretty boy over there, Brian, why don't you just make the minimum 37 pieces of flair?

Awesome Office Space reference!

When will be the next build for phones?

First i thought this app have batman sign projection :P

This!!
I downloaded it cos if that.
Was a bit disappointed but then the app is simple and nice

Can't connect to store hmm

LOL. See that 1 star? I kinda made it

What are the app permissions like? That's where these torch (flashlight) apps get you, they ask for access to all your personal info on your phone to allow them to be free.

They should make it so that if you fart, the light goes out. It's magical.

Why would a flashlight app need all those permissions? DO NOT DOWNLOAD!

Hi, I'm the developer of the app, the app is requesting those permissions because those are default when you create a new project on Visual Studio 2013 (or even on my version). I'll check them manually and delete unused permission. I can assure you the app only turn on/off the flashlight ;)

Bat signal?! Can't. Download. Fast. Enough!

Hi Mate could u make the flashlight have a batman shape?
Hahaha.. Dreaming much I gotta wake up. Thanks for the app I downloaded it today and I love the interface

Maybe we are working on something ;)

If they are default but not used MSFT needs to update their app policy to only allow those services used by apps to be displayed.

I'm not sure about it, I just didn't look at the permissions. I'll investigate on it.

I'm not faulting you. The types of Personal info shared by apps should be something automatically populated somehow dependent on the code used.

What does the Flash At button do? As far as I can tell the flash status on either way. Thanks!

In WP 8.1 project, only Internet (Client & Server) Capabilities enable by default, I don't remember on WP 8.0.
Are you using 3rd Control like AdControl ?

This is WP8.0. We don't use AdControl at the moment.

In WP 8.1 project, only Internet (Client & Server) Capabilities enable by default, I don't remember on WP 8.0.
Are you using 3rd Control like AdControl ?

Google Store display apps permission when user click (before) install. Windows Store need to copy this feature.

app permissions are right there on install page.

Uninstalled.... Bigger hurray!!!!

Nice app, but my concern right now is the March build of Windows 10 TP for phone.

We're sorry, some things came up and we had to rebuild the music, video, messenger and people apps from the ground up. The update will be live in November. Thanks for the patience!
/end sarcasm

Verizon will have them in December...2018.

Also, don't expect gapless playback or really, anything good about the music app. We just outsource this stuff to local Seattle elementary schools every few weeks.

I would like the title that shows myapp free to acutally open my app or to chenge it, vause else is useless, as i would also like a more plain design, plain wp, simple no background design. And to chose the background to. I like black, i want a black background. But for me right now, this app replaced the most rated of all flashlight apps. And that is: Flashlight xt. And this means something. Is faster and hat that something you want to stick around:).

Why this thing requires access to microphone and data??? Looks suspicious

Microphone so you can blow it and turn the light off. Data for ads? Not sure there.

We need something new like adjustable light
Windows Central Newsletter
Thank you for signing up to Windows Central. You will receive a verification email shortly.
There was a problem. Please refresh the page and try again.