The ultimate Xbox One (PC-free) Mixer streaming setup
The best gear to get to stream directly from your Xbox One to Mixer.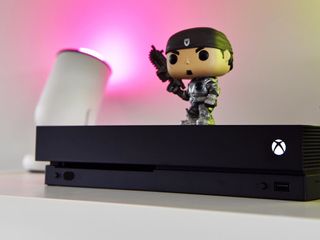 (Image credit: Windows Central)
Streaming your Xbox One gameplay to Mixer is a great way to enhance your overall experience, have a lot of fun and even build yourself a community of online gamer friends. Streaming continues to grow in popularity and with Mixer and the Xbox One you don't need anything else to get started.
Streaming to Mixer is built right into the console, but the basic experience is, well, basic. But never fear, there are things you can use that will improve your stream quality without the need to use a powerful PC. Here's our ultimate Xbox One PC-free streaming setup.
Xbox One X
It's not so much for 4K because you wouldn't want to stream in 4K anyway right now, but Xbox One games look their absolute best on the Xbox One X. Six teraflops of graphical Va Va Voom will do that for you.
Much is used for the resolution but the added power means better textures, draw distances, faster frame rates, a whole bunch of things that can be added together to make seriously awesome looking games. It's also Microsoft's smallest Xbox One yet, on top of being the most powerful.
It's not cheap at around $499, but it's the best Xbox there's ever been.
See at Amazon (opens in new tab)
Logitech C920 webcam
Logitech's C920 is one of the best cameras on the market right now, with a balance of quality and affordability suitable for any type of Xbox user. Recording at 1080p, the webcam will ensure you're getting the maximum resolution for Xbox One, alongside fast autofocus technology and low-light compensation for late-night gaming sessions.
The C290 also uses dual microphones, allowing the device to record rich audio on supported Xbox One applications. This setup means the device can filter out various background noise, making for a much clearer output in comparison to other options on the market.
While for Windows PC users, we recommend the superior Logitech C922, its main draw is additional software not usable on Xbox One. As a result, purely in terms of hardware, the C920 is an outstanding offering fit for any situation. It's also well priced at just over $50
See at Amazon (opens in new tab)
Razer Thresher Ultimate headset
Razer's flagship headset is a winner, delivering spacious 7.1 surround sound in a supremely comfortable package.
As a wireless headset, Razer's Thresher Ultimate comes bundled with a tidy stand, boasting 15 hours of battery life and an impressive 40 ft wireless range (with a signal strong enough to penetrate walls). It also has an impressive frequency response for a wireless headset, delivering crisp audio that won't disappoint.
The Thresher Ultimate isn't cheap at $250, but if you're looking for a wireless solution that delivers superb audio and has a pretty decent microphone for party chat and stream audio, it's hard to beat right now.
See at Amazon (opens in new tab)
Xbox Elite Wireless controller
A great controller is central to any good gaming experience, streaming or otherwise. And for Xbox gamers the one to get is still Microsoft's Elite Wireless.
This controller was developed with pro-gamers in mind, and as such it's higher quality, more durable and feature packed than the standard controller you get in the box with your console.
Besides just higher quality components all around, you get four removable paddles on the rear that can be customized to whichever buttons you want, as well as the ability to have two separate profiles stored on the same controller. You've also got trigger stops for those faster than fast reactions in a shooter, and a nice rubberized grip so it won't go sliding out of your hands in the heat of battle.
It retails for $159 and can go out of stock from time to time, so make sure you don't get scalped by a reseller.
See at Amazon (opens in new tab)
Xbox Chatpad
You shouldn't need to type in chat on your stream that often, but if you need to type at all on the Xbox, you should use a chatpad. Because no-one has time for moving the analog sticks around the virtual keyboard.
The Chatpad is a little keyboard that hooks up to the bottom of your controller, is backlit and essentially does what you'd expect it to: Type on the Xbox with ease. All the major functions are there, as are volume/mute controls and there's a passthrough so you can still hook up your headset.
It also doesn't interfere with the Elite Controller paddles, and for $35 it's not a huge spend, either.
See at Microsoft (opens in new tab)
Turtle Beach Stream Mic
One of the great things about Turtle Beach's Stream Mic is the fact you can customize a great deal with the companion app. There's also headphone output on the unit itself for playback without any latency, a must-have for those who rely on the best in sound recording quality and need to have everything set up perfectly. It also helps that the microphone is sensitive enough to pick up voice from afar.
A downside to the microphone is that the raw recording quality isn't going to win any awards, but for $60 it'll still outperform most headset microphones.
It also connects directly to the Xbox One over USB (you change mode with a switch) on the back, so you can up your audio game for not a lot of money and without the need for a PC.
See at Amazon (opens in new tab)
Lightstream
Lightstream gives Xbox streamers something previously only available to folks who were using a PC and some dedicated streaming software. Now it supports Mixer, by connecting your account to Lightstream, your Xbox feed will first pass through Lightstream, then applying overlays and custom alerts, graphics and such without the need for a PC.
What it means is that PC-free streamers can set up a professional, fancy looking stream that works directly from your console, or even your phone if you're using Mixer Create. It also has a mobile app which allows you to remote control your stream, again, without the need for a PC or browser.
Get started with Lightstream Studio
Bonus: A tablet
Without using a PC to stream with, you're going to be limited to what information you can get on your screen at once. The easiest way to keep tabs on your chat is by having a tablet (or a phone) at the side of you with your channel open.
If you're running a Windows tablet, there are a couple of third-party (opens in new tab) Mixer applications, or you can just open the website. On iOS or Android you've the official Mixer apps. The larger screen of a tablet is definitely more helpful for at a glance chat information, but using something as a second screen will help better your interactivity with your audience for sure.
Updated April 16, 2018: We added Lightstream to our list to give you professional looking streams without the need for a PC. Check it out!
Richard Devine is an Editor at Windows Central. A former Project Manager and long-term tech addict, he joined Mobile Nations in 2011 and has been found on Android Central and iMore as well as Windows Central. Currently you'll find him covering all manner of PC hardware and gaming, and you can follow him on Twitter and Instagram.
Thanks for this! So many people out there keep writing about streaming and PC. Well uh, I don't have a PC I game on lol. Looks good, Ill definitely check some of these items out. I have pretty much everything except the chatpad, camera and the optional tablet.

What about a little resource to do this: Upstream bandwidth? The article should include minimum and recommended speed requirements for each resolution.

I have 150mbps down / 25mbps up, but my streams are always blocky. Is there a way to fix this? I have a X1X, X1S, X1, and when I do speed on them the results are 160+mpbs down but only 1-2 mbps up.

Consoles have crappy WiFi cards. Use a wired connection. This can be part of the problem. I had a PS4 but don't use it and bought a PC for gaming largely because I couldn't relocate the console due to the bad WiFi adapter. XBox one had the same issue. I initially returned the PS for an Xbox but returned that for the PS when I realized it was just as terrible.

A perfect fit for Ultimate Mixer Setup!!
Windows Central Newsletter
Thank you for signing up to Windows Central. You will receive a verification email shortly.
There was a problem. Please refresh the page and try again.