unBand unleashes the Microsoft Band for PC users with custom backgrounds, data export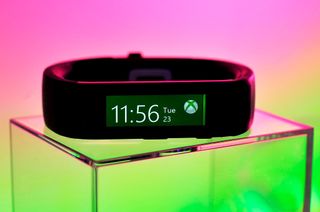 The Microsoft Band fitness device is a cool piece of technology, but it can also be limited if you don't have a Windows Phone. A new third party app called unBand is now available that allows desktop PC owners to unlock some hidden functions of the Microsoft Band, including Me Tile images and data export.
Currently, unBand allows Microsoft Band users with a desktop PC to change the device's accents to custom colors, along with the background to user-selected images (aka Me Tile wallpaper). unBand is similar to what the Pimp My Band app for Windows Phone allows users to do but without the need for a Windows Phone device.
unBand can also export a user's activity data from the Microsoft Health cloud service, which is definitely a first for the Microsoft Band. The app's web page adds, "We also support exporting GPX files for those of you who like viewing your runs elsewhere."
The beauty here is, of course, that now owners of the Microsoft Band, who do not use a Windows Phone can customize their device. Apps like Pimpy My Band are Windows Phone exclusive, knocking out a good segment of Band owners.
The app installs easy enough on any x86 or x64 PC (so this does not work on an RT tablet). At only 424 kb, it' is also very light on resources. From there, you hop through the various menus to customize the Me Tile wallpaper, accent colors, and view/export your data. The app's UI design is excellent and overall, it looks to be a solid project worth following. Plus, yes, it is free.
unBand's developer, Oren Nachman, has more plans in store for unBand, including graph live sensor outputs (like the app Band Sensor Monitor) and he's also taking suggestions from the public.
It should be interesting to see how this desktop app evolves over time and we will keep an eye on it. Follow the source link below to get started!
Source: unBand Thanks to Chris for the tip!
"PIMPY My Band" love that!

Nice! It's my favorite band ;D

I love selfless, dedicated developers like this, they help make life better for everyone. :) That said, I hope they're not starving because they're giving all their work away for free. :P

I would use this, but I can't find a Microsoft band anywhere so you know..

There are plenty in Houston, TX, we have several Microsoft stores. I can help y'all get some :)

If you really need one now, try to get one. Otherwise, you might be better off waiting till band 2 comes out. I really hate the fact that I can't go 2 days without charging it. But over all I do love the thing.

Microsoft stocks their store with the band units they make. So anyone keen on getting a band should call into the store and then go. You are very unlikely to get it online, as this SEEMS to be what they are doing with the units they produce. Ship it to the stores. So you will have better luck getting the band in an acutal MS Store than online.

I take a shower every day and charge it while I'm in the shower. This "solves" the battery issue for me. Quotes because, naturally, it could be better (I'd be cool with a two-day battery if I could just Qi charge it).

Twice I've forgot to take of my band and got in the shower got a little wet it would turn on buts that's it. I let it dry and all set, so now I remember to remove it 1st.

see for some more details here: http://forums.windowscentral.com/microsoft-band/338787-unband.html I am exporting my cycling/running tracks to gpx, convert to kml and import into Google Earth Pro. Maybe not very practical but cool to play with...

I don't understand why Microsoft can't do this themselves...

How does that promote good development and partnerships? That's just selfish thinking... =[

Of course they can, I think their development/submission iter is only a little bit longer, I m sure we will see awesome Band apps from Ms too.

If only I could buy it now... Any ideas when this pops up in Europe?

Comon microsoft! Release this thing worldwide! It will sell , and it will boost MS as a good brand more than just Windows!

That's what they suck at. Worldwide marketing.

* ahem * you mean if users don't have a smartphone, because the band is cross platform, isn't it?! @_@

The Pimp by Band app is Windows Phone only.

Wow that is amazing for the US PEOPLE WHO CAN OWN ONE!!!!!!!! HOW MUCH LONGER DO I HAVE TO WAIT?

John, you forgot to ask a question at the end of the article. Everything alright? :D

It's around £250 to buy in the UK via 3rd parties atm. Which is about £100 more then the US. If MS haven't launched it here in the next few months, (when i get off the treadmill and it's warm enough to take to running & cycling the streets) I may just have to buy one from eBay at a huge cost grrrrr

By that time, let's hope there a new version out with a curved display panel to fit the wrist. Hopefully, it'll be sleeker and lighter as well. The current version is far too bulky.

Not to mention with gorilla glass, apparently the screen protector well likes to take off and leave the screen unguarded often :p.

The bulkiness bothered me for like, a day. Now I don't notice it. Unless battery tech get a whole lot better, I don't see it getting much smaller without sacrificing some sensors.

I can't find this in the windows 10 beta store

I cannot get the program to see anything but sleep, and one workout......

it won't launch in window 10 consumer preview, it errors and closes. Sucks for me so have a band.

I am using it in windows 8.1. Have not figured out why its only showing sleep even when unchecking boxes lol

Would it not be nice if the "Microsoft Band" was available in UK ?? Has anyone here any news of release dates yet ?? It looks the dogs dangles !!

Great app, kudos to the dev :) !!!

Does nothing but crash on W10 TP. Oh well, guess I'll just have to stick with Pimp My Band for now.

Actually got it to launch. You have to have the MS Band Sync App installed. but the band won't connect to my surface. Says "unrecognized device" or just keeps connecting and disconnecting. Womp womp.Fail!

I cannot get this app to work on my surface pro 2. I sign in with Microsoft, and then it tells me to plug in my band. I connect my band via the USB to the SP2's USB port, and nothing happens. Tried it a bunch of times and nothing ever happens. I know the USB port is working and the charger is working because I use both all the time. WTF?

Thank you to the developers! I've been waiting to upload my gpx files for the sites, I like using (smashrun)

Does not load in Windows 10 Technical Review.

Cool. I'd rather do this on my laptop than my phone. I bought Pimp My Band, I'll probably use this more. Any actual Band software updates in sight? They seem to have gone silent.

For those who need to download your activities in GPX format, download XportBand from the Store: https://www.microsoft.com/en-us/store/apps/xportband/9nblggh5g0bp It's a Universal App, so, you can run it on Desktop/Mobile Windows 10 devices.
Windows Central Newsletter
Get the best of Windows Central in in your inbox, every day!
Thank you for signing up to Windows Central. You will receive a verification email shortly.
There was a problem. Please refresh the page and try again.