Unlocked-Mobiles now taking Lumia 950 and 950 XL pre-orders, launch set for December 2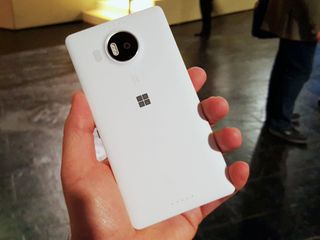 UK retailer Unlocked-Mobiles has commenced pre-orders of the Lumia 950 and 950 XL, offering 32GB SIM-free variants in white and black color options. However, the retailer is stating that first stock won't be due until December 2.
The Lumia 950 is listed for £479 ($743) including VAT, while the 950 XL can be pre-ordered for £529 ($820). That's slightly lower than what's listed on the Microsoft Store in the country.
Several retailers will carry Microsoft's latest handsets, but at this stage, Unlocked-Mobiles is the only vendor to begin taking pre-orders. We should be hearing from the likes of Carphone Warehouse, Clove (opens in new tab), and others shortly.
Hands-on with the Lumia 950 XL
Windows Central Newsletter
Get the best of Windows Central in your inbox, every day!
Harish Jonnalagadda is a Senior Editor overseeing Asia for Android Central, Windows Central's sister site. When not reviewing phones, he's testing PC hardware, including video cards, motherboards, gaming accessories, and keyboards.
And a shit ton more expensive in the UK after monetary conversion...

£529 minus 20%VAT translates to around $675 which is 4% over what the SRP in US is ($650) .. So hardly a ton more expensive.

Thank you, people always forget to take taxes into account.

Yes but will the second sim be restricted to 2G like all the previous dual sin models?

On the msft store and unlocked mobiles? Or just unlocked mobiles for now? Cpw will hopefully announce soon, and I'd love to know what carriers - like ee for WiFi calling.

Don't hold your breath on cpw, they never stocked the 640xl forcing me to go to amazon.

Carphone did a hands on with the 950 and 950xl so there is hope. Posted via the Windows Central App for Android

Vodafone say they are coming in a couple of weeks. No other details yet, though.

Why are they showing 550 for 950 news

Also since when does a low-end phone have flash like that? LOL

Does those preview phones in MS Store has Final Windows 10 build?

They are all preorders. They won't ship until OS is done

There will never be a final windows10 build

When is the new build coming for phones?

Any sources for it please?

At exactly 9:55pm eastern standard time next Friday.

So much buzz and noise around this phones. I like it.

As they specifically mentioned Deutsche Telecom in Europe (in the other article), that would indicate it will be available from EE again also.

Another Timed exclusive, I got my 920 unlocked off clove when EE had their timed exclusive. So it's not a big deal imo. It was far cheaper than what EE were offering that's for sure.

Tell me about it! EE ripped me off with my 920. :(

Wait to see what clove and cpw is offering before I dive in

Annoying that it looks like will have to order from France, Spain or Germany for the dual SIM model. Why they can't do the Dual Sim options in the UK I have no idea. Sure I'm not the only one needing two SIMs due to restrictive corporate policies on use of work SIM data and calling (let alone the double misfortune of the corporate phone being on Vodafone who can hardly give you a data conneciton in London even).

I wonder what the import levies will be on these devices -.-". Nope, you're not the only one needing dual sim.

Zero... If you live in the EU. Better hurry though, UK most probably exit soon...lol

If importing from the EU mainland to UK no charge surely as part of the EU

At least in Germany there won't be the Dual Sim 950XL for sale. For the 950 carriers already announced that they won't ship dual sim neither (though you can get the 950 non-XL dual sim from indepentent dealers).

Ah thanks, I'd just assumed on Germany but yep checked the German MS store and single SIM. France and Spain MS stores both list Dual SIMs for the 950XL so looks like I'll just have to keep an eye on those. I've asked Unlocked Mobiles and a few others such as Expansys if they can source Dual SIM models in the meantime.

Isn't there going to be a bundle? At these prices we need some freebies. The 930 came with wireless charger and a wireless speaker.

It's not looking like it. Some carriers might decide to bundle, but Sim Free won't be bundled this time. At least not in the UK. I'm more than happy with the UK prices considering the spec's of these phones, I think they are priced just right.

Self-entitled bullshit. Why should you get freebies with a device carrying top flagship specs and a maximum cost of £529?! Jesus the iPhone 6s starts at £539 for just 16GB! Not to mention nearly every other flagship is around the £599 region..

Man, the double standards people have is just hilarious.

True but at this stage the specs might be top but the ecosystem isn't, it's not even close. A bundle might be the thing that pushes consumer interest into msfts favour, especially as Christmas is coming up. In my opinion that is the right time to incentivise purchasing.

It starts again available in Nov. Now he comes Dec, here we go again

This is just when this retailer currently expects to have stock. Microsoft may well sell before this date.

Rich, I hope you're right... Because we've waited too damn long for these phones. I thought the mobile OS would be finished by now and seeing that EVERYTHING else is launching October 26th, my wife and I thought it was that date. Then they said early November so I had to convince my wife to hold off from buying an iPhone. I can't tell her December now, this is ridiculous. This is really getting out of hand now! Even us loyal fans patients are waning!!

Both phones are extremely overpriced... This is not price for market share fight

Really and what about the nexus phones? Hmm? You get alot more here than those nexus phones in terms of tech. The o/s is neither here or there. Depends on what you want to use.

Nexus phone has android... System that people "love".... They can set up price like that... But if you have market share like WP a assumed extremely sharp price. How they can steal few percentage if price are high? For android people are risk to buy new WP phone if android similar phone are for +- same price...

They are no longer actively competing via artificial growth, these phones are for WP enthusiasts basically. What I mean by Artificial growth is that they are longer pumping out handset after handset every other month as before. As that is not going to work at all, being platform agnostic is going to canibalise sales. These phones are miles above the competition in terms of tech, the liquid cooling being a prime example - the OEMs who have used the 810 cheap have it to throttle like crazy under demand. Which really does kill the purpose of using the 810 chip, it's the upper end of the spectrum where the chip becomes alive whereas at the lower end - it's no different then the 808 to be honest. The nexus 6p has the 810 clocked at 1.8Ghz whereas on the 950 XL it is 2.0Ghz. Furthermore the latter has msd card support upto 2Tb. The nexus phones do not... the list is endless.

Agreed, 950 xl has way better hardware.

They're not after a market share fight. I think the pricing is quite good. It will come down a bit quick enough. Posted via the Windows Central App for Android

@IEhegeizl, the cult like mental people have is just... Unspeakable.

Microsoft could not care less about market share fights. They intend to build and sell quality products at a quality product price.

I wouldn't by anything from Clove, bought a few phones for myself, friends and family. They all arrived with a note saying they opened the packet for testing. All phones have a near visible scratch in the same place.
5 phones and a scratch in the same place?
Too much to be coincidental. Edit: It's on the screen, near the speaker but all the scratches were different in length.

slightly concerns me that some of the description is wrong! "a 5mp rear camera!!"

Why the price difference is so high compared to whats in US? What is VAT in UK, 13%?

Because the us prices are without taxes. I inform you the equivalent of vat in Italy is 22% lol

VAT is 20% Posted via the Windows Central App for Android

Gonna wait for 1020 successor

you will be in for a wait! check out the camera demos! its gona be quite close if not better in most cases.

Not going to come. The 1020 was a cool gadget but current software solutions have, for the most part, bypassed the need for a huge sensor.

The 1020 successor will be the Surface Phone...not until next year though...

Anyone actually used this site ?

Three uk haven't responded to my tweet re the 950's. Vodafone mention the 950 only, as do O2. No love for the XL...my contract is up for renewal so don't want to buy sim free!

Don't think three is doing it.

Balls!! Been with them for about 3yrs. Will just have to leave them...

Clove uk preorder available now. Go get it folks

im going to be waiting to see what offers come with purchasing the phone, plus what carriers will be offering the best tarrifs before pre-ordering. When i got my 925, Three (3) the cheapest by about £5 a month, that adds up when you consider over a 2 year contract. Im hopefully going to buy this phone contract free tho, I've started putting £200 a side each month.

Cool. Be in your hands for Xmas

I'm unsure still about what one. God dam it. Think Il sell my jolla phone and tablet.

Regular or xl model. Which one?????

I think the prices are good for the hardware and what these phones can do but also think it won't help help to win many new WP users.
A lot of standard users don't care about liquid cooling etc, they may go "ooh, sounds interesting" but it won't be enough to make them change ecosystem if they are in same price bracket as something they know and have invested money for apps in.
These are great phones and price's for us in the enthusiast market but I think they have missed a chance by not being more aggressive with pricing.
Let's hope for some massive marketing and help from retail and networks.

Dont compare those lg and Huawei nexus devices with the 950..

Wouldn't it be fantastic if the headline included "UK"?

I plan to getting an unlocked version of the 950 to use in TMo US...

Hmm... Less than Apple and Samsung. Good price.

Living in the UK, just ordered from the France store for the Dual sim 950XL version. I hope that the phone is fully configurable from the get go to never see French again? Haha.